The West Nile virus appeared in Massachusetts. The African virus, which killed seven and sickened dozens of Americans last year, has also been identified in New York, New Jersey, and Connecticut. Last week New York City temporarily shut down Central Park to spray for West Nile-infected mosquitoes. Epidemiologists' spin: Exotic infectious diseases may become the United States'$2 21st-century scourge.
The White House and online advertisers agreed to privacy regulations. The Federal Trade Commission and the Commerce Department struck a deal with a group representing 90 percent of online ad companies. The voluntary restrictions on the use of consumer demographic data aim to avoid legislation. Consumer advocates' spin: This agreement is weak. White House's spin: Self-regulation will cover more of the industry than Congress has jurisdiction over.
Viruses may contribute to obesity. Mice and chickens injected with a human cold virus accumulated far more fat than uninfected mice did. The same virus is prevalent among obese humans. Circumspect spin: Obesity is caused by many factors, only one of which may be viruses. Speculative spin: Viruses may cause far more human maladies than we suspect.
A record-industry lawsuit shut down Napster. The federal court injunction against the free music-download Web site begins Saturday at 3 a.m. EST. An appeals court will rule on Napster's appeal by noon Friday EST. Judge's spin: Napster enables copyright infringement. Napster's spin: We enable users to make legal copies for personal use. Record labels will suffer for shutting us down. Legal analysts' spin: Napster is the tip of the iceberg. Other, more legally savvy sites will replace it. Napster users' spin: Download now, before it's too late! (To read Slate's "Moneybox" on the true scourge of sites like Napster, click here.)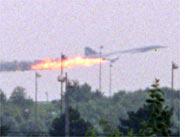 The supersonic Concorde jet suffered its first crash. The Air France crash on takeoff in Paris killed 113, mostly German tourists. Investigators said an engine fire began on the runway. One of the faulty engines had been repaired just before takeoff. The three-and-a-half-hour trans-Atlantic flight costs about $10,000. Industry spin: This is the first Concorde crash in 25 years; it's still a safe plane. Media analysts' spin: Crash stories are especially interesting when they produce photos like this and this.
Stephen King continued selling his online book on the honor system.The Plant—a dusted-off manuscript about horrors in the publishing industry— sold at less than one-fourth the rate of his last online offering, Riding the Bullet. Seventy-eight percent of downloaders paid the voluntary $1 fee. King has offered to publish new chapters if at least 75 percent of readers pay. King publisher Simon & Schuster, which helped promote and sell Bullet online, was offered no part in The Plant. King's spin: This is just an experiment. Book publishers' spin: Only one author in a million can sell books on his own. Besides, after King pays credit card fees he won't make much money. Analysts' spin: If self-publishing becomes viable, the book industry will drown in slush.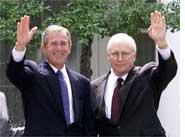 George W. Bush chose Dick Cheney as his running mate. The former Wyoming congressman, who served as secretary of defense for Bush's father, had spearheaded Bush's vice-presidential-search committee. Pro-Cheney spin: He's experienced, respected, pro-life, and loyal. Anti-Cheney spin: He's daddy's best friend, a dull campaigner, and has a history of heart trouble. (To read the pundits' take on Cheney, click here; to read about Cheney's shrill wife, click here; to read why John McCain and Colin Powell are still in the running, click here.)
The Camp David talks ended in failure. Despite President Clinton's last-minute attempt to negotiate an agreement, Israel and the Palestinians failed to resolve issues such as borders, refugees, and the status of Jerusalem. Clinton's spin: Yasser Arafat and Ehud Barak have pledged to continue informal negotiations this summer. Analysts' spin: If it doesn't come this summer, it might never come; once Arafat declares Palestinian independence on Sept. 13, there will be no turning back.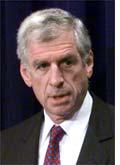 An independent federal review cleared the government in the Waco disaster. The committee, led by former Republican Sen. John Danforth, concluded that the Justice Department did not cause the fire and did not shoot at the Branch Davidians. It criticized several officials for withholding testimony, which fueled unfounded conspiracy theories. The report evaluated"whether government agents engaged in bad acts, not whether they exercised bad judgment." Danforth's spin: This should restore faith in our government. Waco critics' spin: The DOJ may have followed procedures, but its rush to end the standoff triggered the fire, which burned to death dozens of women and children.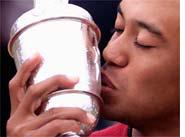 Tiger Woods won the British Open. The 24-year-old is only the fifth player in history—and the youngest ever—to win a Grand Slam. Conventional spin: Not that we needed more evidence, but Woods may be the best ever. He should best Jack Nicklaus' career records by his early 30s. Golf trainers' spin: We used to think athletic training was irrelevant to golf. Woods has proved us wrong. Money-counters' spin: Woods may become sports' first $1 billion man. (To read a Slate"Sports Nut" on how daunting it will be to keep up with Nicklaus' career pace, click here. Click here to read what Woods has in common with the Buddha and Gandhi.)
---