The idea came from Patty Stonesifer, formerly a Microsoft vice president—Slate's boss!—and now co-head of the Bill & Melinda Gates Foundation. At lunch one day, she said, "What you need is a shopping cart like Amazon, so I can go through Slate saving articles I want to read."
We thought, "What a dumb idea." (Thought it but didn't say it.) After all, every Slate article is permanently available on the home page or in the archive. It's not like a shopping site, where you accumulate items to buy. But then we thought some more and decided, "What a brilliant idea." (Decided this even though Patty was no longer our boss.) After all, this is how many people read traditional paper magazines: glancing through them when they first arrive, choosing articles to come back to later. Or actually tearing out articles and adding them to the reading pile.
Meanwhile, readers have been demanding, since we began publishing four years ago, a convenient way to print out individual Slate articles or groups of articles. Slate on Paper, our weekly Word document containing everything published in Slate that week, has gotten humongous—70 or 80 pages—and we've been forced to consider the possibility that even our most loyal readers might not want the whole thing.
Putting these elements together, and adding some extra whiz-bangery, Slate's crack software development team has come up with what we believe is the coolest set of personal options of any content site on the Web.

So, suppose you're reading an article in Slate. This shouldn't be hard, since you actually are reading an article in Slate. At the top, you'll find the following icons:
As a typically insightful Slate reader, you can probably handle these opportunities without too much handholding. But here's a little anyway.
Save places an all-text version of the article in an online folder at a site called Driveway.com, from which you can access it with any Web-connected computer. Details and registration appear the first time you use this feature.
E-mail sends you an e-mail reminder every five minutes until we receive a notarized letter from you swearing that you've read the article. No, actually it's what you think: It allows you to send the article by e-mail to yourself or anyone else.
Print prints out an all-text version of the article, formatted for standard-size paper.
MySlate adds the article to your personal MySlate reading collection.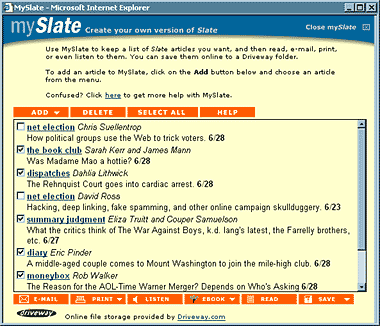 Once you've added articles to MySlate (which you can do from the MySlate page as well as from the article itself), the fun really starts. MySlate compiles the articles you have chosen—one, two, 20, or 100—into your own edition of Slate. When you have made your selection (and an excellent selection it is, too, madam, if I may say so), MySlate will take this very special personal edition and print it, save it online, e-mail it, or convert it to audio. 
But wait! There's more!
If you act immediately (in fact, even if you don't act immediately), MySlate will throw in the following extra features absolutely free of charge: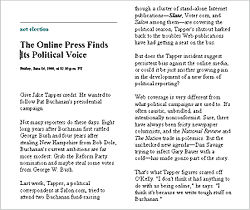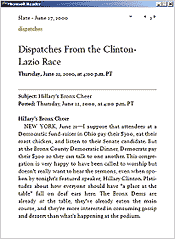 Meanwhile, MySlate can also compile your selections into a single, nicely formatted Web page—with its own table of contents—which you can read online or save on your computer to read off-line (or save online to Driveway.com or transfer to a Rocket eBook or other device or put on your own Web site or carve into the side of a watermelon or simply stare at and appreciate how cool it is).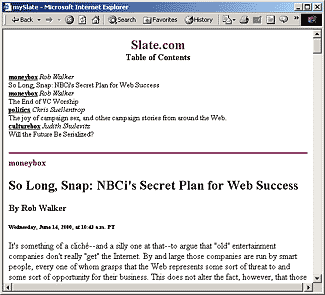 In coming months, we'll be adding new features to MySlate. As mentioned above, you will be able to read a customized eBook version on your full-sized computer. There will be an AvantGo version for PalmPilots and other devices. Further down the road, you will be able to have your favorite Slate features or authors added to MySlate automatically.
Still in the planning stages are even more rococo variations. Suppose you want every "News Quiz," except when Randy Cohen is on vacation, plus anything written by Emily Yoffe, along with all political articles not written by William Saletan, and any "Culturebox" that mentions Susan Sontag … it's yours! Ultimately, you will be able to specify the ideological coloration of every article, choose your level of toleration for puns and word play, listen to musical interpretations of your favorite Slate features (using Microsoft's patented text-to-music software), and generally relieve Slate's editors of any responsibility for what we publish.
For the moment, though, please go to MySlate and try out its various features. We've tried hard to make them self-explanatory, but for detailed instructions go to the Help file.
Now, if you'll excuse us, we'll go back to trying to produce a bit of journalism worthy of all this swell technology. 
---