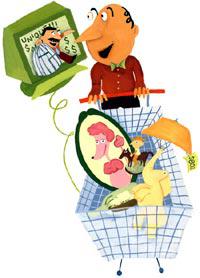 The most telling fact in the strange case of Kenneth A. Walton—the Sacramento lawyer who sold a painting for $135,805 on eBay after suggesting it could be the work of artist Richard Diebenkorn—was that he lied about having a wife. While this fib may seem small in light of Walton's greater fraud, it was a smart marketing move. The story of how this wife came across the painting at a Berkeley garage sale made its origins all the more believable. Who wouldn't trust a guy who's good enough to be loved by someone? (eBay canceled the sale after discovering that Walton had violated the site's rules and bid on his own item to raise the price. The FBI is now investigating.)
Walton crafted a smart pitch that drew people to his auction and persuaded them to put up tens of thousands of dollars for a painting that wasn't worth a dime. Companies blow big marketing budgets on persuasion skills like these, but on eBay, advertising and marketing are twin crafts that have been co-opted, sometimes pretty convincingly, by people who are usually their targets.
"Eames-era colors!" "Shabby chic!" "L@@K!" A short tour through just a handful of eBay's various auctions reveals that eBay auctioneers are no longer just collectors or hobbyists in search of the perfect Beanie Baby. They're one-person spin machines. The auction site sales patter is so thick that one earnest seller leads off, "So often on EBAY rare and important doesn't mean much."
Of course, many of these pitches are as flimsy as the items they're pushing. Everything made in the midcentury period—from dingy homespun needlepoints  to knock-off lounge chairs—is described as "Eames-era." "Think this delightful needlework would look great in shabby chic decor!" one auctioneer suggests, as though Martha Stewart Living had just done a five-page feature spread on "Homes of the Stylish but Poor." One glance at the scanned photograph will tell you the decrepit, framed needlepoint being sold is indeed shabby but has never been chic. Tales of British soldiers bedding down with Tahitian women are rolled out to sell an otherwise unremarkable ship in a bottle with a plaque that reads "Bounty." And there's always this classic, thinly veiled deceit: "Someone told me this could be real Amethyst and genuine gold!"
But for every 50 bumbling promotions, there is at least one elaborate and engaging pitch. A worn and faded wooden locksmith sign is, we're informed, the work of "an elderly man who was a sign painter in the 1930's and 1940's. When things were slow he would paint whimsical signs to peddle and supplement his income." Who is this old man? Does he have a name? Who cares! In light of this revelation, the unattractive sign becomes "great folk art" and "a great piece and story for you sign collectors or for your rec room."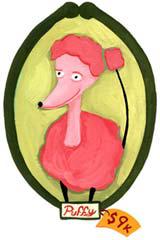 A n autographed Michael Jordan rookie jersey is the kind of item that requires little explanation, but the seller tells the whole story of how her friend won it on a radio call-in contest. "The funny thing was that she had no idea who he was (remember, this is 1986). Her answer was something like 'Huh? That's it?' She was so disappointed about not winning the stereo that she put the jersey away in her closet." True story? Perhaps. But what does it matter? The caller won the jersey, thought it was useless, and then you came along and shelled out a thousand bucks for it! Happy ending! Please bid!
Apparently inspired by Psychic Friends Network infomercials, the seller of " Totally Gorgeous Ganesh Bronze—Magic" statue explains that buyers of previous statues have been blessed with good business fortune. After lending his friend a statue just like this one, the seller explains, he "received one of his largest sales orders in the entire twenty-plus-year history of his business. It was totally unexpected and a marvelous 'coincidence.' " Totally unexplained is why the magical Ganesh is photographed next to a can of Coca-Cola.
Familiar folk tales get trotted out too. Hence, a diamond ring is more desirable because it was supposedly owned by a modern-day Miss Havisham whose fiance was killed: "The woman never married and she lived to be in her '90s." Need to unload a bland and probably worthless print of angels? Tell the story of how you unearthed it from behind a cheap rummage sale painting (of Jesus, no less!).
A Vietnam vet selling "AN ACTUAL HANOI HILTON PRISON 'SOLITARY CONFINEMENT' CELL BAR WINDOW" (starting bid $4,000) begins his pitch with an evocation of John McCain's well-known tale of endurance: "ASK JOHN McCAIN HOW HARD THIS WAS TO GET OUT!!" (All caps are very popular on eBay.) In a mini photo-essay about how he came to possess this item, he juxtaposes bombastic appeals to bid—"A piece of Vietnamese, French and American history!! A ONE OF A KIND!!"—with simple photographs.
Sold? If so, there's this beautiful painting you should check out. The artist's initials are R.D. … 
---