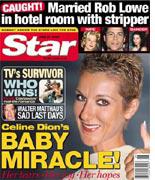 So what do you do when you're a weekly publication and 97-year-old Bob Hope is hospitalized in critical condition just prior to your close? Entertainment Weekly's June 16 "Monitor" section erred on the side of caution, reporting straightforwardly that "At press time, [Hope] was in stable condition."US Weekly, apparently with a bit more time on its hands, reported in its June 19 issue that Hope was "recovering" from a "gastro-intestinal bleeding, a non-life threatening condition that often afflicts elderly people."People noted that two days after being admitted, Hope was improving and his doctor predicted a "full recovery."
But the tabloids clearly have no use for such prosaic fact gathering. "As of press time"? "A non-life threatening condition"? "Full recovery?" Pshaw. With a major, elderly celebrity like Hope in the hospital—and the mere mention of the word "bleeding" in the mix—the tabloids were practically licking their chops in anticipation.
True to form, the Globe pounced most aggressively. By the time it became clear that Hope had actually taken a marked turn for the better, the Globe's June 20 issue had apparently already gone to bed—just in time for Hope to pick up the magazine, resplendent with headlines such as "Brave Comic, 97, Leaves 'Em Laughing" and "Thanks for the Memories! Brave Bob Hope, 97: a fighter to the end," on his way home from the hospital. We hope he enjoyed the retrospective on his career, thoughtfully titled "The jokes will last FOREVER."
Tabloid deaths generally come in two varieties. One is the "Sad Last Days" passing, in which the subject dies alone, troubled, heartbroken, and/or having failed to attain some final wish or accomplish some important last objective. The other is the "Brave Last Days" story, in which the subject, preferably ailing and frail, says goodbye with great flourish, happy memories, and no regrets. Sometimes, a celebrity death will achieve crossover status, as when "Grandma" Ellen Corby of The Waltons passed away last year; the Star spun a pathos-laden account of the "sad last days" in the "lonely life of a childless Hollywood spinster," while the Enquirer painted a sunny vision of a triumphant Corby "at peace and happy to the end." Variety is, after all, the spice of life.
The coverage of Hope's non-death is similarly spicy. The Globe goes the Brave Last Days route, with Hope ready and willing to check out at any time. "Bob told [his wife] Dolores all his affairs are in order and he's ready to go," a "pal" tells the Globe. "He said he just wants to be in peace. He told her, 'I'm going to enjoy every day I have left. But when the time comes, I'm going to go with a smile on my face. … The best thing that could happen is for me to go to sleep one night and not wake up.' "
The Star, however, favors a Sad Last Days treatment. Its account insists that Hope has that all-important unfulfilled final wish: to tell his estranged daughter Nora that he loves her. "I want to hug her one more time before I die," he is quoted as saying. And apparently Keeping Tabs is the only person on the planet who isn't privy to Bob and Dolores Hope's conversations. "He told Dolores: 'I don't want to go with this heaviness on my heart,' " a "family friend" tells the Star. "I want to make peace."
The tabs can't seem to agree about just what's on Dolores Hope's mind, either. "I can't imagine life without Bob, and I won't imagine it—now or ever," she reportedly asserted to a Globe source. "I'm praying for him to hit 100. Then if God chooses, I'll let him go." Perplexingly, Dolores then had a complete about-face when confiding in a Star source: "As much as I love him, I don't want him to suffer any more. If he's got to suffer, I wish that God would take him now."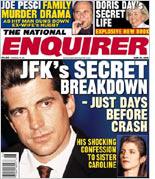 The National Enquirer— perhaps trying to live down its May 2 "Bob Hope Deathbed Vigil" story, which predicted that it would be a "miracle" for Hope to live until his May 29 birthday—goes for a just-the-facts-ma'am approach, trying to reconstruct the Hope health crisis with a heart-pounding "minute by minute" account. A special shout out to the Enquirer for scoring the actual photos of Hope being put into an ambulance; the Globe and the Star have to settle for the same "exclusive" photographs of a bedridden, pajama-clad, very sick-looking Hope—photos for which he is said to have "patiently posed" in April, even though he's barely looking at the camera. The pictures were snapped by one of those ubiquitous "family friends"; you know, the kind who take snapshots of bedridden elderly celebrities and sell them to tabloids.
Anyway, no detail escapes the Enquirer's attention, not the time Hope was discovered (11:14 a.m.), the time of the 911 call (11:17 a.m.), nor the time of his arrival at the hospital (11:36). We find out the state he was found in ("unconscious and bleeding profusely from his rectum") and even the names of the paramedics who ministered to him (Craig Hauenstein and Russell Chambers). We also get a "family friend" to explain precisely what Dolores Hope did upon finding her husband's underwear "soaked" in blood: This pal tells the Enquirer, "She cried out to longtime family chef Ingrid Cossentino, 'Oh my God, there's so much blood! He's dying. I'm losing him.' "
Speaking of morbid detail overkill, whose big idea was this week's special Globe issue, with its mind-numbing 30 pages on the "Secrets of the Hollywood Morgue"? Even Keeping Tabs, who enjoys a little behind-the-scenes autopsy report now and then, could barely slog through the whole thing. Readers can be edified on everything from the precise size of Nicole Brown Simpson's throat wound (5 1/2 by 2 1/2 inches) to the contents of Karen Carpenter's stomach ("50 to 60 cc. of a dark green, dry material which has the consistency of dried tea leaves") to the color of Florence Griffith Joyner's last toenail polish (purplish).
Finally, the tabloid buzzards are circling around actor Walter Matthau. The Star hauls out the "Sad Last Days" headline on this week's cover, while the inside headline asserts that the "End Is Near" for the actor, whose kidneys have reportedly failed. "Tragically, it is only a matter of time," says a "close family friend."
Fear not, Matthau fans. A quick search uncovered the June 1, 1999, Enquirer with "Walter Matthau's Tragic Last Days" on the cover. (Although the inside headline is "Walter Matthau's Brave Last Days." Make up your minds, folks!) The entire story was written in the past tense, as if Matthau were already gone. His "heartbroken" wife reportedly told a friend that her husband was "in God's hands now." "Walter has been living on borrowed time the past few months," said a "source close to the family." Borrowed time? And how. Keeping Tabs certainly hope he hasn't been paying interest. 
---