The House passed the China trade bill by an unexpectedly wide margin. Despite fierce opposition from labor unions, protectionist conservatives, and some environmentalists, legislation to permanently lower most tariffs between the United States and China passed 237-197. Three out of four Republicans voted Yes, while two out of three Democrats voted No. Approval in the Senate, which is likely, would seal a foreign-policy triumph for President Clinton. White House's spin: This isn't a gift to China, it's an opportunity for us.  Hollywood's spin: Hear, hear! AFL-CIO's spin: We just gave China a "blank check" to abuse human rights. Business' spin: We just rewarded Chinese workers with jobs. AFL-CIO's counterspin: You don't care about Chinese workers, you just care about profits for your industrialist supporters. Business' counterspin: You don't care about human rights, you just care about protecting unproductive union jobs. Gore's spin: I agree with both of you.
American Express will no longer cover online porn purchases. The upscale credit card told X-rated sites that billing disputes over smut result in prohibitively high administrative costs. AmEx's spin: Every time a wife confronts a husband with a porn purchase, the husband plays innocent and disputes the charge. Analysts' spin: It's a $1 billion market. Visa and MasterCard will be more than happy to fill the void. 
The Democratic National Committee held the most lucrative fund-raiser ever. The $26.5 million casual-dress "barbecue" beat the $21.3 million the GOP raised in one night last month. Another GOP event last night netted $14 million. Democrats' spin: Our cheap seats go for $50, while the GOP's go for $1,500. President Clinton's spin: It's not corrupt to take money for good causes. Al Gore's spin: Move over, Bill, I'm the star here.
A hijacker parachuted out of a plane at 6,000 feet.  A man, apparently suffering from family problems, robbed the passengers on a Philippine Airlines flight to Manila. When the plane was depressurized, he jumped out with a parachute. All the passengers survived.
United Airlines will acquire US Airways and spin off a minority-owned company. United, the world's largest carrier, will have twice as many flights as its nearest competitor. Washington, D.C., routes were sold to a new carrier owned by the founder of Black Entertainment Television, who plans to call the company D.C. Air. Analysts' spin: D.C. Air is a sop to regulators to get the merger approved.
A study suggests caffeine may prevent Parkinson's disease. The Journal of the American Medical Association reports that Japanese-American men who drank coffee were less likely to develop the neurological impairment than coffee teetotalers. Media's spin: Hey, everybody—coffee prevents Parkinson's! Put on another pot. Analysts' spin: Correlation is not causation. This study raises more questions than it answers. Consumers' spin: If we weren't jaded by misleading studies, we'd be ecstatic.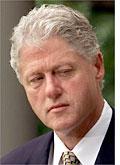 A court-appointed panel in Arkansas recommended that President Clinton be disbarred. The state Supreme Court's Committee on Professional Conduct said that Clinton should lose his state license for lying in the Paula Jones civil suit. Clinton's lawyers will defend him before an Arkansas circuit court judge, but Clinton has refused to appear in court while president. Conservatives' spin: This is the next best thing to conviction for impeachment. Liberals' spin: Unlike an impeachment conviction, this is appropriate punishment. Clinton's eulogy of Nixon now looks apt. Clinton's spin: Disbarment is disproportionate punishment. Besides, technically I never lied under oath.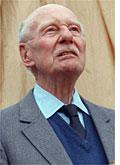 Sir John Gielgud died at 96. " History's greatest speaker of Shakespearean verse" was, with Sir Laurence Olivier and Sir Ralph Richardson, the last of a trio of British knight-actors. Gielgud said that acting requires "punctuality, efficiency, good nature, obedience, intelligence, and concentration." At 25 he played Hamlet in London, and at 92 he was in Kenneth Branagh's Hamlet. West End's spin: " [He] was challenged only by Laurence Olivier for the title of greatest English actor of the 20th century." Skeptics' spin: But he disdained working-class roles, dialects, and "smut." Sentimentalists' spin: That was part of his charm.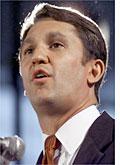 Rudy Giuliani dropped out of the New York Senate race, and Rick Lazio replaced him. Giuliani said his prostate cancer treatment would have distracted him from campaigning. The New York GOP immediately converged around Lazio, a Long Island congressman, as its nominee apparent. Giuliani's spin: I discovered I am a mere mortal. Pundits' spins: 1) Lazio has Giuliani's moderation without his notoriety; and 2) Lazio has Giuliani's conservatism without his money or name recognition. (To read Slate's "Ballot Box" on why Rudy never had a chance, click here.)
Last winter was the United States' warmest in more than 100 years. January through April was the warmest period in the 106 years of U.S. weather records. In the 1990s, winters averaged 2 degrees above normal. In the 1930s, the century's second-hottest decade, temperatures were only 1 degree above normal. Enviro-activists' spin: This is more evidence of global warming. Enviro-skeptics' spin: You can't conclude anything from 106 years of data. This is probably just a byproduct of El Niño.
---