Nike cut off funding to three universities for their anti-sweatshop politicking. The company canceled monetary and apparel donations to Brown University, the University of Michigan, and the University of Oregon because of their membership in the Worker Rights Consortium, which seeks to regulate Nike factories overseas without the company's input. Nike sits on the board of the more moderate, U.S. Labor Department-sponsored Fair Labor Association, to which other universities belong. Nike's spin: The WRC is a pawn of organized labor whose real agenda is protectionism. WRC's spin: How can we monitor factory conditions when company management sits on the monitoring board? U. of O. president's spin: Wait a minute, Nike. Let's talk this over.
The "love bug" has infected computers worldwide. In less than 12 hours, the computer virus infected at least half of the corporations in the United States. It arrives as an e-mail with the subject line "ILOVEYOU." When opened, it steals passwords and sends itself to e-mail addresses found in both personal and corporate Rolodexes. The culprit may be a teen-ager in the Philippines. Computer users' spin: We just wanted to be loved! Techies' spin: When it comes to cybercrime, this is the tip of the iceberg.
Cardinal John O'Connor died at 80. He was "the most important public figure in the American Catholic Church" (New York Post). Career highlights: He defended Vietnam intervention, decried the nuclear buildup, denounced Geraldine Ferraro and Mario Cuomo for supporting legal abortion, and supported Pope John Paul II and Catholic doctrines against homosexuality and women priests. Jews' spin: He may have compared abortion with the Holocaust, but he befriended Mayor Ed Koch and healed Vatican-Israeli relations. Liberal intelligentsia's spin: He may have been conservative, but he championed the poor. Cuomo's spin: "None of the great American philanthropies have done more for society's most vulnerable people."
The National Rifle Association is wrapping itself around George W. Bush. The NRA has stopped negotiating settlements of the 31 state and county lawsuits it faces, hoping instead that a Bush administration and GOP Congress will give it immunity. NRA Vice President Kayne Robinson said that Bush would be "a president where we work out of their office" and would appoint "a Supreme Court that will back us to the hilt," the Washington Post reported. Bush's spin: Nobody sets my agenda but me. Pundits' spin: Gun control may become a decisive election issue.
Advertising, news, and movie trailers are coming to ATMs. Wells Fargo released four " enhanced" cash machines with ads, MSNBC.com headlines, and eventually Internet access. The bank will upgrade a fifth of its California machines this year; other states will follow. Cynics' spin: Now customers will face longer lines and will spend their money before they even leave the bank. Realists' spin: Banking is becoming as commercialized as … everything else. Urban thugs' spin: Customers spending more time out in the open with their cash? Perfect.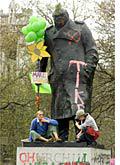 European anti-capitalists rioted on May Day. London rioters tore up Parliament Square, stormed a McDonald's, and defaced a statue of Winston Churchill. Neo-Nazis charged anti-fascist demonstrators in Berlin, and French rightists marched behind a mock Joan of Arc. Italian labor groups suspended traditional protests and rallied at the Vatican, where the pope, Lou Reed, Alanis Morissette, and the Eurythmics urged Third-World debt relief. Tony Blair's spin: There's a difference between political protest and "mindless thuggery." American spin: Isn't Europe strange? European bourgeois spin: At least the buses ran in Italy.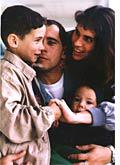 Juan Miguel González asked a court to dismiss Elián's asylum application. Juan Miguel said the application could take two to six years to decide, forcing him to choose between his son and his country. The federal court will hear oral arguments from the government and from Elián's Uncle Lázaro on May 11. Lázaro's spin: Elián should have a court guardian to represent him. Juan Miguel's spin: Just a minute, I have to phone Castro. Public's spin: Elián who?
Time Warner agreed to transmit ABC. A dispute over compensation for Disney's premium channels had provoked Time Warner to block the network from 3.5 million cable TV subscribers, including those in New York and Los Angeles, during sweeps month. (Disney owns ABC.) ABC's Who Wants To Be a Millionaire swept Monday-night ratings despite the blackout. Disney's spin: Memo to the Federal Trade Commission—if Time Warner can do this without America Online, what will it do with it? Time Warner's spin: Disney was trying to leverage its cable stations by threatening to pull ABC. We called its bluff. Media's spin: Regis is still king. Consumers' spin: We may not have access to ABC News, but we still have CNN. Wait a minute …  (Read an "Assessment" of Regis here.)
The Littleton, Colo., Fire Department eliminated the music soundtrack from the Columbine surveillance tapes. For $25, the public can purchase 25-30 minutes of footage taken in the high-school cafeteria and library and from news helicopters. The tape originally had a pop anti-gun soundtrack, including the song If It Were Up to Me, by Cheryl Wheeler. ("Maybe it's the movies, maybe it's the books/ Maybe it's the bullets, maybe it's the real crooks.") Fire department's spin: The tape doesn't show any students being shot. It's just blood and bodies. Victims' families' spin: This is an outrage, but we're pretty numb.
A study concluded that Saint Johnswort impedes birth-control pills. The herbal antidepressant can reduce the pill's efficacy by up to 50 percent. Researchers' spin: Wort has caused many unplanned pregnancies. Mothers' parental spin: Just because you're a "wort baby" doesn't mean we don't love you. (Slate's Seth Stevenson tests Saint Johnswort here.)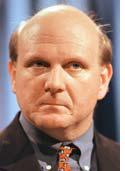 M icrosoft stock rose 5 percent after the Justice Department proposed to split the company in two. The DOJ and 19 state attorneys general want a federal judge to separate Windows from the rest of the company, which includes Web networks and software. Analysts' spin: A breakup might make Bill Gates less powerful but more wealthy. Investors' response: The way the market is changing, the antitrust suit may not make a difference. (To read Slate's Moneybox on the media's post-crash histrionics, click here. To read Moneybox on whether the government hates tech stocks, click here. To read a "Frame Game" lampooning the blather of stock analysts, click here.)
---