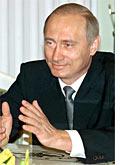 Vladimir Putin suggested a joint American-Russian missile-defense shield. He broached the possibility in an interview Thursday. He intends to propose the idea to President Clinton at this weekend's summit in Moscow. He also called communism a "beautiful but harmful fairy tale. … There is nothing that can substitute [for] this ideology except democracy." The West's hopeful spin: This is the democratic, internationalist Putin that Yeltsin promised us. White House's spin: Give us some time to think this over.
Long-distance rates may drop for three out of four Americans. AT&T and Sprint promised the Federal Communications Commission they would offer long-distance plans with no monthly fee—the primary long-distance cost for most telephone users. (Seventy-three percent of Americans use fewer than 10 long-distance minutes a month.) The FCC also lowered local-line access fees for the companies, which promised to pass the savings on to consumers. Optimistic spin: Consumers are finally reaping the benefits of telecom competition. Pessimistic spin: The FCC has no way to enforce the promises.  
Gov. George W. Bush stayed the execution of a Texas death-row inmate. The 30-day delay to test DNA evidence from the crime scene is the first reprieve Bush has granted in 131 executions. Partisan spins: 1) Bush is a hypocrite who changed his mind for political expediency. If a tornado hadn't interrupted the first execution attempt, this prisoner would be dead now anyway. 2) Bush is a principled death-penalty advocate who merely values due process. Nonpartisan spin: 3) Who cares why Bush changed his mind? Deferring to DNA evidence is the right thing to do.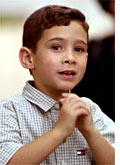 A court ruled against Elián González's asylum request but will allow an appeal. A federal appeals court said that the Immigration and Naturalization Service has the authority to determine custody and legal representation for Elián. The boy must remain in the United States for two more weeks while his Miami relatives appeal. Little Havana's spin: It's not over yet. National media's spin: Don't hold your breath.
Barnesandnoble.com will open a free online "university." The book retailer will team with notHarvard.com to provide a curriculum, beginning this summer, for any interested students, with no obligation to buy books from the site. Educational traditionalists' spin: There is no attendance requirement or mandatory coursework. This is just an elaborate book reading. Educational futurists' spin: This is a miniature version of higher education's destiny: corporate sponsorship.
Northern Ireland's Catholic-Protestant government resumed power. The restoration of the provincial government came after the largest pro-British group voted to accept a disarmament offer from the Irish Republican Army. The power-sharing government, an outcome of the 1998 Good Friday accords, was disbanded after only 72 days in February when the IRA refused to abide by a Protestant disarmament timetable. Irish-Catholic spin: We've conceded a lot. Let's hope Protestant extremists don't scuttle everything. British-Protestant spin: We've conceded a lot. Let's hope Catholic extremists don't scuttle everything.
Martha Graham's dance company went bankrupt. The Center for Contemporary Dance, founded by the legendary American choreographer and dancer in 1927, shut its doors "temporarily" after going several hundred thousand dollars into debt. Cultural pessimists' spin: This is another example of the decline of the high arts in America. Cultural optimists' spin: This is just the result of petty disputes among Graham's heirs. It'll all get worked out.
The House passed the China trade bill by an unexpectedly wide margin. Despite fierce opposition from labor unions, protectionist conservatives, and some environmentalists, legislation to permanently lower most tariffs between the United States and China passed 237-197. Three out of four Republicans voted Yes, while two out of three Democrats voted No. Approval in the Senate, which is likely, would seal a foreign-policy triumph for President Clinton. White House's spin: This isn't a gift to China, it's an opportunity for us. Hollywood's spin: Hear, hear! AFL-CIO's spin: We just gave China a "blank check" to abuse human rights. Business' spin: We just rewarded Chinese workers with jobs. AFL-CIO's counterspin: You don't care about Chinese workers, you just care about profits for your industrialist supporters. Business' counterspin: You don't care about human rights, you just care about protecting unproductive union jobs. Gore's spin: I agree with both of you.
American Express will no longer cover online porn purchases. The upscale credit card told X-rated sites that billing disputes over smut result in prohibitively high administrative costs. AmEx's spin: Every time a wife confronts a husband with a porn purchase, the husband plays innocent and disputes the charge. Analysts' spin: It's a $1 billion market. Visa and MasterCard will be more than happy to fill the void.
United Airlines will acquire US Airways and spin off a minority-owned company. United, the world's largest carrier, will have twice as many flights as its nearest competitor. Washington, D.C., routes were sold to a new carrier owned by the founder of Black Entertainment Television, who plans to call the company D.C. Air. Analysts' spin: D.C. Air is a sop to regulators to get the merger approved.
---