Trip Sellers, Film, '94, owns the pet services firm IPD (Important People's Dogs) Ltd., with offices in New York, Los Angeles, and Washington, D.C.

Walter B. Caldicott, English, '90, is writing "erotica to order" under the nom de plume W. B. Caldicott.
J. B. Webster, Engineering, '76, has just turned 45. "I am not as fat as I thought I would be," he writes, "but I have less hair."
Robert Mathers, Management, '73, recently appeared on a nationally televised baseball game. Mr. Mathers, resplendent in a "Go Green" warm-up jacket, was wresting a foul ball from a child. "I offered to help with the hospital bills, but the family told me to get lost," he reports.
The performance artist formerly known as Birdsong, Peace and Conflict Studies, '71, is an inmate at Allenwood Federal Penitentiary. Her latest work, Bomb All Federal Facilities: A Love Poem and Performance Piece for Emma Goldman, has been accepted for review by the U.S. Court of Appeals for the Fifth Circuit.
Bruce Levine, Mathematics, '81, still has that brown plaid couch that everybody hated.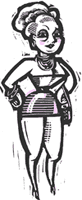 Tiffany Lambrusco, Drama, '89, recently broke a New Jersey record when she was named as a corespondent in divorce proceedings for the 17th time. The suit was filed by her old friend Karen Albertson Gelman, Drama, '88.
Walter Francis Gelman, Kinesiology, '86, writes, "The marriage had gone south way before I met Tiff."
Barton O.Daniels, Management, '72, writes, "I have recently discovered that I am no longer respected by my peers. Then again, I'm not sure I ever was."
Kevin Clark, Political Science, '59, is Deep Throat.
"As puss
festers
on a gangrenous wound,
SO MY SOUL."
—L. Patrick Milwood, Poetry, '89.

Theseus, Classics, Bronze Age, reports that he has slain the Minotaur in the Labyrinth, defeated the centaurs, and united Athens as one city-state. 
Darren Hasselhoff, Law, '83, celebrated his expulsion from the Rhode Island bar by opening a private detective agency. His clients include the Alumni News.
Consequently, we know that Angeline MacWilliams, Communications, '97, is circulating a résumé that contains several outright lies.
And that Andrew Neary, Physics, '91, is no longer able to buy automobile insurance.
"I find myself becalmed by ambiguity," writes Becky Alt, Philosophy, '75. "I have no real values—it all seems relative—which is not to say that that's necessarily bad."
Brother Columba Kelty, Religious Studies, '61, has achieved "the peace that surpasseth all understanding."
But getting back to Mr. Hasselhoff, he predicts that David Witherspoon (as he now calls himself), Russian Studies, '71, will make a prompt and generous gift to his alma mater if he knows what is good for him.
Sandy Quince, Fine Arts, '84, is "Patient L" in the national best-seller Dysfunction: The Confidential Files of a Sex Therapist. (Mr. Hasselhoff made her the same offer, but she chose to call his bluff.)
Abelard Mourningdove, the last surviving member of the Class of 1913, recently marked his 105th birthday with this missive to his alma mater, "For the love of the sweet baby Jesus, take me off this damned mailing list." Happy Birthday Abe, and thanks for your recent gift! The negatives are in the mail. 
---