Scientists performed the first successful gene therapy. The French researchers cured three children with "bubble-boy" disease, an immune disorder requiring the patient to live in an artificial, germ-free environment. It is the first unequivocal gene-transplant success after a decade of frustration. Researchers' spin: The science for gene therapy has always been there; it's the technical hurdles that matter. Glass-half-empty spin: The technical hurdles for curing this disorder are much lower than for other disorders. Glass-half-full spin: Without this success, no others would be possible.

New York Mayor Rudolph Giuliani has prostate cancer. A routine test caught the malignancy in its early stages. Mayor Giuliani's spin: The prognosis is good, but I don't know how this will affect my Senate run. Analysts' spin: It can't help. New Yorkers' spin: Get well soon, Mayor.
Seven gun companies sued the government over the Smith & Wesson gun-safety agreement. The Clinton administration refuses to procure police-department weapons from manufacturers who do not comply with restrictions such as trigger locks. Only Smith & Wesson has agreed to them. Gun makers' spin: Gun policy cannot be set by the executive branch alone. Government's spin: The government can vote with dollars just like any other consumer. Housing and Urban Development Secretary Andrew Cuomo's spin: Our lawyers will eat your lawyers alive.
The Republican National Committee collected $21 million in one night. This breaks the previous one-night record by 50 percent. Al Gore will try to top the GOP on May 24. GOP's spin: We raised our money "without Air Force One, the Lincoln bedroom, or the Chinese Communist military." Democrats' spin: Our fund-raising event is grass roots, because guests will wear blue jeans instead of tuxedoes.
The stock market weathered inflation fears. The Dow and Nasdaq dived after Thursday's news of furious consumer spending and soaring worker pay but rallied by closing. The Nasdaq is now 26.5 percent below its high on March 9. The Dow has gained 11 percent since its year-low on March 7. Wednesday's spin: The market is not recovering from April 14's sell-off. We might even be in for a recession. Thursday's spin: The economy is growing too fast. Sell! Wait, Alan Greenspan will take care of it. Buy! (To read Slate's Moneybox on the media's post-crash histrionics, click here. To read Moneybox on whether the government hates tech stocks, click here. To read a "Frame Game" lampooning the blather of stock analysts, click here.)
The Supreme Court may overturn a Nebraska "partial-birth abortion" ban. In oral arguments, a majority of justices seemed to think that the statute is vague enough to cover other constitutionally permissible procedures. If the court rules broadly, it might outlaw "partial-birth" bans in general. Justice Scalia's spin: Partial-birth abortion is infanticide. Justice Ginsburg's spin: No, it's the termination of a pre-viable fetus. (Click here to read a Slate "Dispatch" from the courtroom and a doctor's investigation of the procedure.)
The Littleton, Colo., Fire Department is selling the Columbine surveillance tapes. For $25, the public can purchase 25-30 minutes of footage taken in the high-school cafeteria and library and from news helicopters. The tape has a pop anti-gun soundtrack, including the song If It Were Up to Me, by Cheryl Wheeler. ("Maybe it's the movies, maybe it's the books/ Maybe it's the bullets, maybe it's the real crooks.") Fire department's spin: The tape doesn't show any students being shot. It's just blood and bodies. Victims' families' spin: This is an outrage, but we're pretty numb.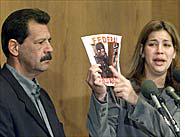 The GOP will hold Elián hearings next week. Sixty percent of Americans approve of Saturday's raid, although 45 percent think the Immigration and Naturalization Service used excessive force. Sixty-eight percent do not want congressional hearings. Last weekend Lázaro González and Marisleysis González flew to Washington, D.C., to visit Elián, but were rebuffed. Miami relatives' spin: We were on the brink of a deal when they broke down our door. Justice Department's spin: Nonsense. They were never willing to concede custody. Conservative spin: Waco II: The Return of Big Brother. Liberal spin: Family Values 101: Father and Child Reunion. Al Gore's spin: Were I a part of this administration, I would have done things differently. Wait a minute … (Slate stories: To read the TV pundits' take on the raid, click here; for the foreign-press reaction, click here; for a cop's-eye view, click here; for analysis of the pictures, click here; for an analysis of the INS's search warrant, click here.)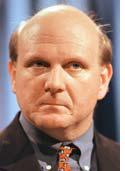 T he Justice Department will propose to split Microsoft in two. The DOJ and 19 state attorneys general want a federal judge to separate Windows from the rest of the company, which includes Web networks and software. Analysts' spin: A breakup might make Bill Gates less powerful but more wealthy. Investors' response: The way the market is changing, the antitrust suit may not make a difference.
Larry Ellison has nearly eclipsed Bill Gates as the world's richest person. Gates lost $10 billion during Monday's 15 percent drop in Microsoft stock, bringing his wealth down to $49.4 billion, within $1.5 billion of Ellison, the Oracle chairman. (Both stocks gained slightly Tuesday.) Microsoft has dropped 45 percent from its year high, while Oracle has gained 544 percent from its year low. Media's spin: Larry who? Pro-Gates spin: He may not be the richest man, but he still has power—until the government splits his company. OK, he's still famous. (Slate's Moneybox explains Microsoft's drop.)
Riccardo Muti may succeed Kurt Masur as music director of the New York Philharmonic. The philharmonic board had declined to renew Masur's contract, which expires in 2002. The board may offer the executive director job to Zarin Mehta, brother of former music director Zubin Mehta, the New York Times reported. Insiders' spin: Masur's German discipline improved the philharmonic from the Zubin Mehta days. Pro-Muti spin: He's a great conductor. Anti-Muti spin: He wants too much money and is a snobbish Italian.
---