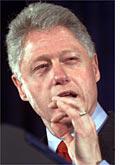 President Clinton said he would not accept a pardon. Although Independent Counsel Robert Ray threatened to indict him after he leaves office, Clinton said he would not pardon himself or accept a pardon from a President Gore. "As a matter of law, Constitution and history, [impeachment] was wrong," he said. Clinton's spin: I have nothing to hide. GOP's spin: Famous last words. (To read an "Explainer" on whether Clinton can pardon himself, click here.)
A German court found America Online liable for bootlegged music on its network. The Munich court said that if AOL Germany provides electronic transport, it must monitor its content. A similar suit in the United States pits the record industry against MP3.com and the producers of music-copying software. AOL Germany's spin: Monitoring our networks is "technically almost impossible." This amounts to censorship. Record industry's spin: No, this merely rewards artists for their labor. Tort lawyers' spin: Cyberspace, here we come!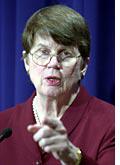 Elián González's Miami relatives won a temporary injunction against the Justice Department. After an 11th-hour meeting with Janet Reno failed, Elián's great-uncle, Lázaro, defied the DOJ's deadline to surrender the boy and won a reprieve from the 11th Circuit Court of Appeals. Meanwhile, the House GOP invited Juan Miguel to visit Capitol Hill. Lázaro's spin: "They will have to take this child from me by force!" Haitian refugees' spin: Hey, can the attorney general pay us a visit as well? (Read about the talk shows' take on Elián in "Pundit Central." Or check out this "Frame Game" on conservatives' impossible demands and this "History Lesson" on civil disobedience.)
The South Carolina Senate voted to take down the Confederate flag. The 36-7 vote backed a compromise plan to remove the Stars and Bars from atop the Statehouse and fly it on the capitol grounds. The measure will likely pass the House and be signed into law. NAACP's spin: The flag is still flying, and our boycott stands. Black legislators' spin: It's this or nothing. The boycott hasn't worked, anyway.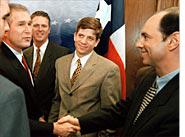 George W. Bush held his first explicit meeting with gays. Bush said the meeting with handpicked supporters made him "a better person." He did not meet with national leaders of the Log Cabin Republicans, who have not endorsed him. Bush's spin: I'm against gay marriage, but as a Christian I'll treat everyone as God's children. Log Cabin Republicans' spin: Let's hope that conservative gays demand some policy changes before they jump on the Bush bandwagon.
Historian David Irving will try to pay his legal bills through lectures to Holocaust deniers. The disgraced historian claims to have already raised $500,000 toward his debt, which resulted from his loss in court earlier this week. Irving, who represented himself in a British court, had sued historian Deborah Lipstadt for branding him "a Holocaust denier." Lipstadt presented evidence for the Shoah, including Adolf Eichmann's long-sealed memoirs. The judge's spin: Lipstadt's book isn't libel. It's the truth. Irving's spin: The decision is "perverse." (Anybody want to help pay my $3.2 million legal bill?) (For links to Slate articles on the trial, click here.)
The Nasdaq fell to its lowest point since January. It lost 2.5 percent Thursday, after losing more than 7 percent Wednesday. It has fallen more than 28 percent since its high on March 9. The Dow has gained 11.5 percent since its year-low on March 7—an impressive performance given the weight of its tech stocks. Pessimistic spin: We've entered a bear market, and the tech sector will never recover. Optimistic spin: This is a correction provoked by the Microsoft verdict and sluggish computer sales. Blue chips have value but not growth. Keep your tech stocks.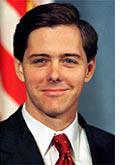 Ralph Reed apologized to George W. Bush for secretly lobbying him on behalf of Microsoft. The company had hired the former Christian Coalition leader to encourage Bush's opposition to the government's antitrust suit, the New York Times reported. Reed had not disclosed his agenda to Bush, whom he advises. "Interest-group" spin: Microsoft has the same right to lobby as anybody else. "Clean-government" spin: This isn't lobbying, this is litigation through influence peddling. (To read Slate's "Ballot Box" on the controversy, click here.)
Scientists dismissed the value of some supplemental vitamins. The National Academy of Sciences said there is no evidence that nutritional supplements such as vitamin C, vitamin E, selenium, or beta carotene fight cancer, heart disease, diabetes, Alzheimer's disease, or other illnesses. Economists' spin: There goes a $5.7 billion industry. Social observers' spin: Health stores sell "lifestyle," not science. Besides, yuppie fads die hard.
North and South Korea will hold a summit. Secret talks in Beijing produced an agreement for South Korean President Kim Dae-jung to meet North Korean leader Kim Jong-il in June in North Korea. They will discuss peace proposals, family reunification, and economic aid. Both countries made the announcement simultaneously, three days before the South's midterm elections, and each claimed to be the invitee. Koreans' spin: This represents "the greatest triumph in the political life of Kim Dae-jung" and is the first step toward the South's German-like reabsorption of its destitute sibling. South Korean opposition party's spin: The government has bought peace—and electoral victory—at the price of billions in economic aid. Geo-strategic spin: After years of stalled negotiations and arms buildups, reconciliation is worth any price. Humanitarian spin: After years of famine in the North, no one should complain about cost. 
---