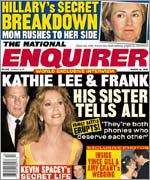 Keeping Tabs must confess that, every so often, the mere thought of the tabloids getting hold of a particular news story makes her positively giddy with anticipation. Such was the case with the Who Wants To Marry a Multi-Millionaire? fiasco, a saga that seemed like it might as well have bypassed the mainstream media altogether and gone right to the pages of the National Enquirer— the tabloid equivalent of "straight to video," as it were.
As is sometimes the case in Tabloidland, however, the tabloids totally dropped the ball in the early days of the brouhaha, offering nothing more than a few ho-hum recaps of the loveless honeymoon that anyone who'd seen the Today show, Good Morning America, Dateline, People, or Larry King Live could have learned firsthand from Darva Conger and Rick Rockwell.
But luckily, the tabs were back to their old tricks in no time. The National Enquirer led the pack for a change, with a "Special Report" on Conger's "Shocking Secret Sex Life," which quoted former high-school classmates dishing the dirt on the "shy, blushing bride" and her supposedly racy past. Apparently, attending "orgies" was quite a regular thing for high-schoolers in Barstow, Calif., in the '80s. Who knew? Most amusing, though, was that the "Special Report" was reported by no less than five Enquirer staffers, the kind of team coverage most news outlets usually reserve for presidential impeachments and wars. Can a CNN logo and theme song be far behind?
Last week, the Enquirer stepped up to the plate again, this time running an "exclusive" interview with an aggrieved Air Force wife who maintains that while stationed in Utah, Conger "used her feminine wiles" in a manner most unbecoming a shy, blushing bride. "It was a sorry day for me when I introduced her to my husband!" the woman in question is quoted as saying. "I confronted her in a bar one night and beat the hell out of her!" And how. The angry wife claims to have knocked Conger's contact lenses clear out of her eyes during the "old-fashioned barroom brawl." And you know how Keeping Tabs loves a good cat fight!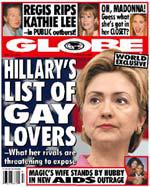 Oddly enough, the Globe, which recently weighed in with a particularly thoughtful headline about the first-grade shooting in Michigan ("6-Year-Old Killer Hated Everyone —Reveals Jailbird Dad"), has taken the moral high ground where Conger and Rockwell are concerned. This week, for example, the tab has managed to get the dirt on Hillary Rodham Clinton's supposed lesbian proclivities, but the best it can do in the Rockwell department is a lame story about a Florida woman who now realizes that the millionaire groom was one of the hundreds of men who responded to her online personal ad. The headline reads "My Internet Dates With 'Millionaire' Hubby Rick Rockwell," but as it turns out, she never even wrote him back, much less went out with him. Bo-ring.
Maybe it's all for the best, given Globe reporter Marlise Kast's gripping first-person account of her "nightmare date" with Rockwell. (Subtitle: "How creepy Rick Rockwell made my skin crawl—and then PROPOSED to me.") Kast, who is described as a "crack reporter" and a "minister's daughter," is dripping with righteous indignation toward the "shameful" Rockwell, a stance that seems at odds with her ostensible journalistic interest in him. She clearly states that she was meeting Rockwell for a "detailed interview," but then appears to change the rules midstream and appraise the encounter as if it were a bad blind date. When Rockwell tells her, for example, that women have been sending him naked pictures of themselves, the hardened 24-year-old newswoman says she thought to herself, " 'Hey, give me a break.' I'd just met this guy." Later she fumes that "frank sexual talk from a man I barely knew seemed totally inappropriate," bristles when he touches her back while showing her how to use a NordicTrack machine (she asked!), and complains that at lunch her "tightfisted datemate" wanted to share an entree until she made it clear that she was treating. (At which point the lout ordered "the most expensive omelet on the menu.") And when Rockwell jokingly asks the tabloid scribe to marry him at the end of the interview, she becomes "unnerved" by his "odd behavior" and does her best imitation of a soap opera ingénue, screaming, "You two-timing jerk! You're already married!" just as the Globe's photographer captures her feigned shock for posterity.
Keeping Tabs' favorite Globe writer, Charlene Tilton, also looks down her nose at Who Wants To Marry a Multi-Millionaire?, averring (in one of her weekly Larry King imitations) that the scandalous aftermath is "a fitting way for this outrageous show to end. It cheapened the whole idea of love and marriage, and I'm glad we won't be seeing more of it." Cheapened? Psst! Charlene, honey! Has anyone told you lately that you make a living writing gossip? For the Globe?
And finally, though it has nothing to do with Conger or Rockwell, Keeping Tabs can't resist sharing the following gem from the Enquirer, which is the winner of the tabloid "Correction of the Month" award: "An article in our January 11 issue about a party given by Nancy Sinatra was incorrect. … Nancy and Tina Sinatra have both contacted us to say that although they did toast their dad, they did not attempt to summon his spirit. The Enquirer regrets the error."  
---