The Web has encouraged the development of a new kind of news source, which for lack of a better term you might call the newsportal. The editors of newsportals do not report or gather news in the traditional sense. Instead, they practice a sort of meta-journalism, guiding readers to news from various sources. (Slate's "Today's Papers" and "In Other Magazines" perform a similar function.) Through the use of hypertext links, these Web sites encourage grazing for news from multiple sources, rather than getting it all from a single outlet.
Not all newsportals are dedicated to political content (see Jim Romanesko's " MediaNews"). By the same token, not all political portals are newsportals. Politics.com maintains a small newsportal as one element of its Web site, but its more impressive features are its collection of political advertisements and its directories of political sites and campaign-finance information. And of course, newspapers and magazines on the Web that offer original reporting have their own sections dedicated to politics, but those pages generally offer political content from a single news source rather than from multiple sources. Slate's own , which I maintain, uses a hybrid of these two approaches. It aggregates Slate's political content while at the same time highlighting some of the most interesting political stories elsewhere on the Web.
With those qualifications, here's a look at six sites that qualify as political newsportals: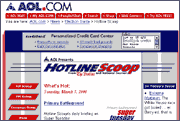 In the beginning, there was the Hotline. Since 1987, the Hotline has summarized political news each weekday for Beltway insiders lucky enough to work for someone willing to fork over $4,800 a year for a subscription. But the Hotline also now provides some of its pricey content for free at Hotline Scoop. The site offers an "A.M. Scoop" that is posted at 8:30 in the morning ET, and a "P.M. Scoop" that is posted at 5. The P.M. Scoop contains information from press releases as well as from news reports and tells you who will be on the cable news shows that night. Each weekday, the site also features a political ad, a poll, and a column from NationalJournal.com. On Mondays, the site also posts part of that day's Hotline, but it doesn't link to the stories it discusses, making it merely the digital equivalent of a paper version.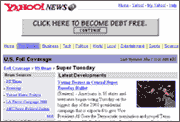 Yahoo! Full Coverage: Presidential Election
Like Yahoo! itself, this site is mostly an agglomeration of links without much information about them. But it is probably the most comprehensive briefing, featuring links not only to newspaper stories but also to audio stories from sources such as NPR, Pacifica Network News, the BBC, and the Online NewsHour, as well as to video stories from TV news. There are few summaries and the sheer quantity of links can be daunting, making the page difficult to read. The site does contain a useful directory of related Web sites.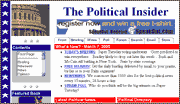 This site posts a daily briefing each morning at about 8:30 a.m. ET that users can opt to receive in their e-mail inbox. It's fairly comprehensive, though the format makes it a little hard to read and the distinctions between categories can be confusing. What's the difference between "Election 2000" and "Politics," for example?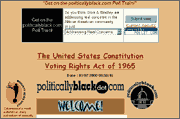 Billing itself as "the official online source of black politics," this site's Minority News Daily features headlines and links that focus on African-American news. The headlines are organized by subject, such as politics, education, and civil rights. Minority News Daily also provides links to the African press, Caribbean press, and African-American press. "Politics … on the Groove," politicallyblack.com's weekly e-zine, contains headlines and links from America's black press.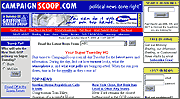 The Web was supposed to make everyone a journalist, but CampaignScoop takes it one step further. At this site, everyone is a portal editor. "YourWire—The Newswire You Control" allows readers to post links to their favorite stories for others to read. The idea yields a more diverse mix, with links to the Boston Phoenix, the Phoenix New Times, and 2000GOP.com. Unfortunately, however, YourWire is updated infrequently. Even in its more traditional briefings, CampaignScoop is the most customizable site around, offering wire stories organized by region. Readers can also sign up for e-mails that include stories about their region or a chosen candidate.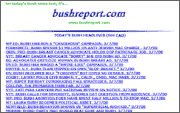 Part of the Bush Watch, this site is for those who want their news to be all Bush, all the time. The site is nothing more than a long list of links to Bush-related stories on the Web, updated daily, with headlines such as WP ED: BUSH HAS RUN A "CANCEROUS CAMPAIGN" or AP: BUSH DOES BETTER ON TONIGHT SHOW. Stories about both Bush and Gore are signified by the phrase "Gore-Tex," and McCain is called "Mac," but strangely, Bush is never referred to as "W." The site's focus has gotten slightly broader during the course of the campaign, but the page's editor still sees stories about other candidates as merely "background to an ongoing story about Bush." 
---