The House "resolved" its chaplain controversy. After months of fending off insinuations of anti-Catholicism from Democratic and Republican colleagues, Speaker Dennis Hastert appointed a Catholic chaplain by fiat. The House leadership had originally picked a Protestant candidate over a more popular Catholic candidate. Democrats' spin: At last, the House's first Catholic chaplain. (And given Bob Jones, it's about time.) Hastert's retort: We are not anti-Catholic! Democrats' reply: We never said you were. Hastert's retort: This is "ugly" and "destructive" politics. Media wags' spin: We kid you not, the new chaplain is named Father Coughlin. (To read a Slate article on the "myth" of anti-Catholicism, click here.)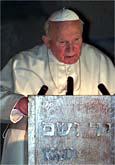 The pope said he is "deeply saddened" by the Holocaust. Visiting Jerusalem's Yad Vashem, John Paul II expanded on his recent apology for crimes committed by the Catholic Church but stopped short of apologizing for the church's perceived inaction during World War II. On Wednesday the pontiff visited the West Bank and defended the Palestinians' "natural right to a homeland." Jews' spin: The pope's apology was heartfelt and praiseworthy—not that it would have killed him to say more. Palestinians' spin: John Paul supports a Palestinian state! Vatican's spin: The pope said nothing about Palestinian statehood, and he has reached out to Jews more than to any other religious group. Why does everybody want him to be a politician?
Glock and Browning will not join Smith & Wesson in agreeing to safety restrictions on handguns in return for immunity from lawsuits. Last week Smith & Wesson signed a "code of responsible conduct" with the White House that includes child-safety locks. As a show of gratitude, the Department of Housing and Urban Development and the mayors of Miami, Detroit, and Atlanta pledged to procure law-enforcement weapons from Smith & Wesson. The National Rifle Association's spin: Smith & Wesson is capitulating to legal extortion by the executive branch. The White House's spin: The NRA is blocking action by the legislative branch, so we're doing what we can. Glock and Browning's spin: The Smith & Wesson deal is an "absurd" intrusion into the legislative process.
The Senate voted unanimously to abolish the ceiling on Social Security benefits for older workers. The bill, which President Clinton will sign, removes a provision that penalized 64- to 69-year-olds $1 for every $3 earned above $17,000 a year. It will boost the income of 800,000 people before Election Day. Senate's spin: Penalizing seniors for working is a Depression-era relic. Budget hawks' spin: Social Security will run dry in 2017. Thank God we won't be around.
The Supreme Court ruled that the Food and Drug Administration cannot regulate tobacco as an addictive drug. The 5-to-4 decision was a rare victory for the tobacco industry and a defeat for the Clinton administration's litigious FDA. The Supreme Court majority's spin: According to Congress, the FDA must either ban cigarettes or not regulate them at all. The minority's spin: That's " counter-intuitive." A ban is not practical, so regulation is the next best step. (Besides, Congress would have wanted it that way.) Anti-smoking activists' spin: The government presented a weak case. The tobacco industry's spin: We've already restricted our marketing and ponied up for lawsuits. Now at least we have a little, er, breathing room. The media's spin: Enjoy it while it lasts, boys. Justice Rehnquist and Justice Scalia's spin: Brethren, please excuse us while we duck outside for a smoke.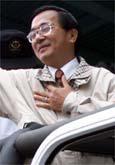 Taiwan's president-elect declared support for China's entry into the World Trade Organization. Chen Shui-bian's comments to the Los Angeles Times may mollify some GOP opponents of Clinton's WTO bill. In other conciliatory gestures, Taiwan's parliament ended a 51-year ban on trade with the mainland, and Chen's party said it would remove a pro-independence clause from its platform. Despite threats from China, on Saturday a plurality of Taiwanese voters elected Chen, who at one time supported Taiwanese independence. Members of the outgoing Nationalist party blamed party leader Lee Teng-hui, the island's first democratically elected president. Nationalists' spin: Lee is a traitor! Off with his head! China's spin: All eyes are on you, Mr. Chen. Especially ours. Chen's spin: Let's not do anything irrational. United States' spin: Let's not do anything irrational. (Slate's "International Papers" rounds up worldwide press reaction to the elections.)
MicroStrategy's stock recovered a fifth of its recent losses. But the company canceled a plan to sell more shares. Michael Saylor, its 35-year-old CEO, saw its stock plummet more than 70 percent early this week after it said it actually lost, not earned, money in 1999. Last week Saylor gave $100 million to build a studio in Washington, D.C., to film the brilliant and famous as they explain the world of ideas. He says he won't pay the lecturers, arguing that the intelligentsia will participate for publicity and posterity. Saylor's spin: "Universities will lose control of knowledge, as they should." Universities' spin: It's a long way from a pipe dream to the Ivy League. Wall Street's spin: Beware the fool's gold of Internet philanthropists. (To read David Plotz's "Assessment" of Saylor, click here.)
The Fed raised interest rates a quarter point. The stock market yawned at the expected move. Even the lagging Nasdaq finished the day higher. (For a take on Greenspan fatigue, see "Moneybox.")
Stephen King plans to serialize a novel online. He told Time he wants to build on the success of his e-book, Riding the Bullet (read an excerpt here). Last week Simon & Schuster's Web site crashed after cybershoppers clamored to download the 65-page story. Simon & Schuster's spin: We couldn't publish a 65-page work any other way. Cyberwags' spin: In 20 years, Mr. Middleman, you won't be publishing anything.
The Vermont House approved "civil unions" for gays. The measure, which was prompted by a state Supreme Court decision and is expected to become law, is the most "marriagelike" gay-union provision in the country. It would give homosexual unions the same inheritance and state-tax rights as married couples and would settle gay "divorces" in the same court as heterosexual ones. Gay activists' spin: This is a huge step for civil rights. Gay dissidents' spin: "Separate but equal" marriage—yeah, big advance. Other states' spin: We'll be damned if we're going to recognize Vermont's "unions" in our jurisdiction.
---