Miami relatives of EliánGonzálezsued the United States to demand a hearing on his fate. His Cuban-American relatives had argued that he should remain in the United States after he was rescued from a shipwreck in which his mother died, but the Immigration and Naturalization Service ruled that he should be reunited with his father in Cuba. The INS's spin: He's being reunited with his family. Cuban-Americans' spin: He's being denied a better life in the United States.
Winters may be colder in the northern United States for decades. Scientists say that the current La Niña–a one-to-two-year pattern of severe winters in the northern states and aridity in the Southwest–may be part of a decadeslong oscillation in the world's climate. If so, scientists say they may be able to predict world climate change years in advance, as opposed to the several-months' warning currently given to shifts in El Nino-La Niña cycles. (Click here for an "Assessment" of El Niño, and here to see a satellite map of La Niña-like water temperatures.) The rosy spin: A decadeslong La Niña cycle will cool the Earth and alleviate global warming.
A second test of the Pentagon's missile defense system failed. The Pentagon said that the $100 million test went perfectly until the final six seconds, when an infrared sensor failed. Last October's first test was successful. After one more attempt, the Pentagon will determine whether the missile shield can be deployed by 2005, and President Clinton will decide whether to proceed with the program. Critics and opponents of the program urged President Clinton to delay his decision until after the election. The program's supporters–who compared the project to trying to " hit a bullet with a bullet"–said that 1) success in the next test will justify a go-ahead; and 2) the setbacks result from Clinton's unrealistic timetable.
The wealth of most American families is increasing. The Federal Reserve found that the median family's net worth rose 17.6 percent between 1995 and 1998. Other good news: 1) More families own stock than ever before; 2) finances improved even for those who didn't own stocks; and 3) minorities' net worth increased faster than whites'. The bad news: 1) The richest families reaped most of the gains; 2) the poorest families' wealth shrunk; and 3) the average family's debt jumped nearly 50 percent. Optimists said the survey revealed the breadth and robustness of the economic expansion. Pessimists said it showed the expansion's fragility and warned that a bear market would bring it all crashing down.
Forty-six thousand protesters demanded that South Carolina remove the Confederate flag from its capitol. The Martin Luther King Jr. Day march came one week after supporters of the flag had rallied at the capitol. Flag boosters' spin: It's a symbol of Southern heritage. Flag detractors' spin: "Your heritage is my slavery." Most observers termed the protest a success, saying it: 1) drew twice as many participants as expected; 2) far outsized the pro-flag rally; and 3) attracted many whites. Skeptics questioned whether "sheer numbers and deafening decibel power alone" could change legislators' minds.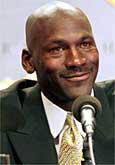 M ichael Jordan will become head of operations for the Washington Wizards. Jordan will own a stake in the team and supervise trades, free-agent signings, and front-office hirings. The NBA's spin: Air Jordan is back! The cynics' spin: Jordan can probably manage a team as well as he can … hit a curveball. Wizards fans' spin: After a 12-year playoff drought, there's nowhere to go but up.
President Clinton proposed more spending on gun law enforcement. His $280 million proposal would add hundreds of Alcohol, Tobacco, and Firearms agents and fund the hiring of 100 federal prosecutors to focus on violations of gun laws. The National Rifle Association said Clinton was finally coming around to the gun lobby's preference for enforcement, not new laws. The Clinton administration said it was calling the NRA's bluff, obliging the organization to find a different tactic to prevent new gun legislation.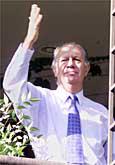 C hile narrowly elected a socialist president. Ricardo Lagos is the first socialist to lead the nation since a 1973 coup ousted President Salvador Allende. Lagos is a former dissident and veteran politician characterized by the New York Times as " more moderate than … his fellow Chilean Socialists." He was forced into a runoff with a "telegenic, pragmatic" rightist candidate. Observers hailed Chile's democratic health, only 10 years after Pinochet stepped down. Cynics pointed to the near-victory of Pinochet's former adviser.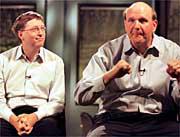 Bill Gates stepped aside as Microsoft's CEO. Company President Steve Ballmer will take over as chief executive. Gates will remain chairman and become "chief software architect," overseeing development of the "next generation" of Windows. Observers debated whether the move was 1) dramatic, since the world's most successful businessman would no longer be at the helm; or 2) insignificant, since Ballmer has long directed the day-to-day business, and Gates will still be the Über-boss. Possible reasons for the move: 1) Gates is an enthusiastic techie; 2) Gates has been battered by the government's antitrust suit; 3) Microsoft is prepping new executives to take over if the Justice Department breaks up the company. (Slate's Matt Alsdorf sorts out the differences between a chairman and a CEO, in "Explainer," and James Surowiecki asks if Gates is expendable as a CEO, in "Moneybox.")
Israel suspended peace talks with Syria. The halt comes less than a week after Israeli Prime Minister Ehud Barak and Syrian Foreign Minister Farouk Shara returned from the United States without an agreement on Israel's withdrawal from the Golan Heights or Syria's guarantees of security. The Clinton administration had deemed the talks a success, saying 1) no one expected a breakthrough in the first round; and 2) the unprecedented discussion of substantive issues was a breakthrough. But observers attributed Monday's postponement to both sides' frustration with the talks' slow progress. Separately, Israel and Palestine agreed to accelerate their peace talks, which some viewed as a signal to Syria that "Israel has other options if Syria does not want to return to negotiations."   
---