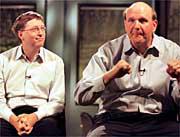 Bill Gates stepped aside as Microsoft's CEO. Company President Steve Ballmer will take over as chief executive. Gates will remain chairman of the board and become " chief software architect"–a position from which he will oversee development of a new version of the Windows operating system. Observers debated whether the move was 1) dramatic, since the century's most successful businessman would no longer be at the helm; or 2) insignificant, since Ballmer has long directed the day-to-day business, and Gates will still be the Über-boss. Possible reasons for the move: 1) Gates is an enthusiastic techie; 2) Gates has been battered by the government's antitrust suit; 3) Microsoft is prepping new executives to take over if the Justice Department breaks up the company. (Slate's Matt Alsdorf sorts out the differences between a chairman and a CEO, in "Explainer.")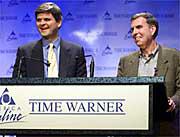 America Online is buying Time Warner. The $166 billion deal is the biggest corporate merger ever and would create the world's largest media company, valued at over $350 billion. Analysts hailed the marriage because 1) Time Warner will be able to market its movies, music, and magazines to AOL's 20 million subscribers; and 2) AOL will be able to use Time Warner's massive cable network to deliver high-speed Internet access. Reporters tripped over themselves to describe the importance of the deal, saying, in order of increasing excitement: 1) it signals "convergence between old media content and the new medium of the Net"; 2) it presages more megamergers, as other companies struggle to keep pace; 3) it " marks the passage of the Internet from an exotic technology into a mass media industry"; and 4) it represents "the triumph of the Internet as the irresistible force in business." Customers were tepid, wondering whether the mammoth company would improve consumers' access to products or increase investors' access to profits. ("Moneybox" asks if AOL paid too much for Time Warner, and "Chatterbox" wonders if Nora Ephron brokered the deal.)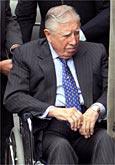 Augusto Pinochet was ruled unfit for trial. British doctors deemed him too frail mentally and physically to stand trial in Spain on charges of crimes against humanity dating from his days as dictator of Chile. Britain will likely return him to Chile within weeks, and Spain has promised not to fight the decision. Relieved parties: 1) Pinochet, who may escape trial in his home country; 2) Britain, whose relations with Spain and Chile had been strained by the controversy; and 3) human rights groups, who feared public reaction to the prosecution of "a sick, elderly man." The spins, in order of increasing optimism: 1) A murderer got off the hook; 2) a tyrant got a lesson in compassion; and 3) dictators learned that imminent death is their only protection from international law. (Slate's "International Papers" rounds up world reaction to the doctors' findings, and "Explainer" describes the correct pronunciation of Pinochet.)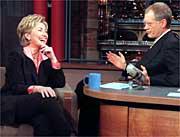 Hillary Clinton appeared on the Late Show With David Letterman. The host had badgered her for a month to be a guest, but she did not relent until a poll showed that New Yorkers favored her appearance by a margin of 2-to-1. Clinton aced a pop quiz of New York trivia, criticized and complimented Rudolph Giuliani, and traded one-liners with Letterman. The Washington Post said she came across as relaxed, funny, and likable. But critics said it looked like a cold and calculated effort to make Clinton look as though she isn't cold and calculated. 
Three Chinese stowaways died on their way to the United States. Their bodies were discovered, along with 15 survivors, inside a metal shipping container unloaded in Seattle. About 100 illegal Chinese immigrants have been arrested in West Coast ports since the new year–almost all on container ships from Hong Kong. Unless the stowaways can prove they were persecuted in China, they will be sent home. Officials were incensed by: 1) the greed of the smugglers, who charge up to $60,000 per person and sell the immigrants into indentured servitude; 2) the complicity of the shipping lines; and 3) the negligence of Hong Kong authorities. The gloomy spin: This shows the desperate measures people will take to escape Chinese oppression. The rosier spin: This shows the desperate measures people will take to gain American freedom.
The Supreme Court handed down four mixed rulings. It decided that 1) states are exempt from age discrimination lawsuits; 2) states are not exempt from federal laws banning the sale of personal information; 3) police may be justified in searching a person simply because he or she flees; and 4) defendants do not have a constitutional right to defend themselves on appeal. Conservatives called the decisions "nuanced" and "moderate" and hailed the trend toward states' rights. Liberals applauded some small victories but protested the trend away from civil rights.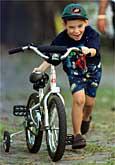 A Florida court granted temporary custody of Elián González to his Miami relatives. The state judge ordered González to remain in the United States until a hearing in March. Attorney General Janet Reno deemed the decision invalid, saying the Immigration and Naturalization Service–which ruled last week that González should be reunited with his father in Cuba–had sole jurisdiction over the 6-year-old's fate. Observers said the INS was in a bind: It has legal authority to forcibly return González, but would create an ugly scene if it did so. Last week's cynical spin: The INS caved to political pressure from Cuba. This week's cynical spin: Florida caved to political pressure from Cuban exiles.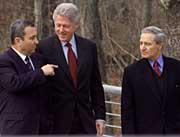 Peace talks between Israel and Syria wound down. Israeli Prime Minister Ehud Barak and Syrian Foreign Minister Farouk Shara are returning home without an agreement on Israel's withdrawal from the Golan Heights or Syria's guarantees of security. Their delegations will continue to negotiate, and the leaders will likely meet again in late January. The Clinton administration deemed the talks a success, saying 1) no one expected a breakthrough in the first round; and 2) the unprecedented discussion of substantive issues was a breakthrough. Skeptics said the progress was minimal and questioned whether the "well-rehearsed technique of locking Israel and its adversaries in a negotiating arena, cut off from other distractions, still works as well as it once did."
Al Gore and Bill Bradley reiterated their support of gays in the military. Gore said he would insist that potential appointees to the Joint Chiefs of Staff support allowing gays to serve openly. Bradley said he would require his Joint Chiefs to carry out such a policy but would not require them to agree with it. Gore later asserted that he meant what Bradley said. Military officers and the Republican candidates blasted Bradley and Gore for crossing "a boundary between social politics and military policy." Separately, Britain ended its ban on gays in the military, making the United States the only NATO nation that maintains the prohibition. Analysts variously said the hubbub revealed that 1) gay voters are increasingly important to Democrats; 2) the candidates are willing to sacrifice popular support in order to court them; and 3) Bradley is better than Gore at doing so. (Slate's Jacob Weisberg defends Gore's initial suggestion of a "litmus test" for Joint Chiefs nominees.)
The flu is hitting the United States. Flu season arrived earlier than in previous years, and the number and severity of infections are higher than average. Some hospitals are delaying elective procedures to deal with the influx of flu patients. The good news: 1) The most widespread flu strains are covered by the current vaccine; and 2) new medications are effective if taken immediately after symptoms appear. The bad news: 1) Fewer than 10 percent of people take the vaccine; 2) a vaccination taken now may not take effect until after the season has peaked; and 3) people usually react too slowly to flu symptoms for the new medications to be effective.
---