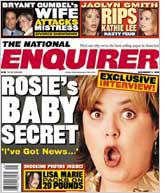 Now that the bustle of the holiday season is officially underway, it appears that the residents of Tabloidland have been getting … busy, if you know what we mean. There's been a serious explosion of ardor in the pages of the tabs, with celebrities of all stripes doing their very best bunny rabbit imitations.
Tabloid staple Celine Dion, for one, "plans to make love like there's no tomorrow," according to the National Enquirer. With her husband-manager Rene Angelil's cancer in remission, Dion is taking a much-needed career hiatus to focus on getting pregnant–a plan that supposedly includes spending time "puttering around the kitchen because it makes her feel maternal." Although the Enquirer concedes that Angelil's treatment may have affected his fertility, a "joyful" Dion says she'll give it the old college try: "Rene and I are lovers like we've never been before, and we plan to spend all our free time in bed!" she's quoted as saying.
Also reportedly spending a lot of free time in bed is "sassy" Latin talk show queen Cristina Saralegui. The Globe says that Saralegui's second husband, musician Marcos Avila, is "an adventurer in love" who "awaken[ed] her to the joys of sex." Saralegui waxes poetic about her husband's "marvelously sensual and virile" nature and is particularly wowed by his toe-sucking prowess. "For a woman who grew up in a convent school to have someone suck your toes is an amazing sexual experience," Saralegui explains. (Keeping Tabs didn't go to convent school, but we'll take her word for it.) And the picture of domestic bliss she paints? Positively charming. "When we get home, exhausted from taping, once I take off my false eyelashes and we crawl into bed, Marcos says, 'Give me some lovin'–and I do!"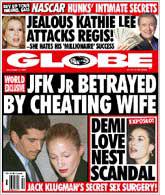 Is there something in the water? The National Enquirer reports that as Renée Zellweger and Jim Carrey checked in for a romantic weekend at the Stonepine Resort in Carmel Valley, Calif., she was giggling as he whispered in her ear. "They rented two rooms, but occupied just one–and hardly ever left it," smirks the Enquirer. While Keeping Tabs was particularly fond of the Enquirer headline announcing that Cameron Diaz "Likes Loud Sex & Hates Matt Dillon," she was duly impressed that the Globe's prurient interests managed to extend even to the great beyond. They report that the late Bette Davis relieved her frustrations during the shooting of the 1944 film Mr. Skeffington by romping in the proverbial hay with director Vincent Sherman. "She'd be fine for five days then would tighten up again," Sherman explains. "We'd have another evening together."
The only tabloid types not scoring this week, it seems, are those on higher moral ground. Avowing their virginity are tennis player Anna Kournikova ("I do not let anyone even have a peek into my bed") and singer Enrique Iglesias, who's said to be waiting for the right woman. ("Good for you, Enrique," coos the Globe's Charlene Tilton.) In a story titled "Richard Simmons' Sad Lonely Life," the Globe reports that the flamboyant exercise guru prefers food to sex, which he says is "overrated." Meanwhile Lola Falana, now a devoted Christian who spends much of her time at a Carmelite monastery in Las Vegas, tells the Globe she's been celibate for years.
When they're not having constant sex or actively refraining from it, celebs seem to be busy entertaining flirtatious, schoolgirl crushes on one another. We're not sure if Jim Carrey knows it, but the Globe says that Renée Zellweger has a "huge infatuation" with Paul McCartney, while the Star reports that Britney Spears has a "major crush" on Britain's Prince William and even tried to ply him with "provocative photos showing off her famous curves." (But then again, she really is a schoolgirl, so maybe that's all right.)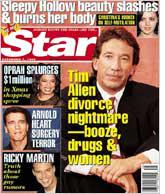 Perhaps the strangest mutual admiration society is that between President Bill Clinton and the famously curvy queen of soul, Aretha Franklin. The Star says that the two traded saucy mash notes behind the scenes at this year's White House Correspondents' Dinner–ferried between them, no less, by "a young, red-headed intern." Hillary Clinton has reportedly long been "suspicious" about her husband's "fixation" on Franklin and once had to elbow him in the stomach "to get him to stop staring at her unbelievable cleavage" during a White House concert. It's apparently all in the cleavage. According to the Globe, Mrs. Clinton's recent display of her own décolletage was actually a pronouncement about the state of her marriage: That revealing new wardrobe and snazzy haircut are a dead giveaway that "it's just a matter of time" before she divorces the president. "Whenever women really change their hairstyle dramatically," the Globe explains, "they're maybe looking to change their romantic life, too. Watch out!"
Finally, the Globe says that both Jennifer Love Hewitt and George Michael are crushed out on "swivel-hipped" Ricky Martin. The Enquirer concurs, reporting that Michael is "smitten" with the Latin heartthrob, and is "particularly taken with his smile." Meanwhile the Star–which also labels Martin "swivel-hipped"–investigates the possibility that the singer might be gay with all the meticulousness of a Supreme Court proceeding. On one hand, there is the incriminating fact that Martin "wouldn't do anything to his five-bedroom, all-white Miami Beach pad without the advice of his decorator"; on the other, singer Alejandra Guzmán insists that Martin's "moves are as great as his kisses," and dancer Adriana de Biega claims that her night of lovemaking with Martin was "pure magic." Keeping Tabs can only wonder if there was toe-sucking involved.
---