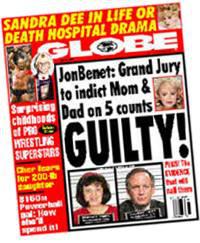 Blame it all on Calista Flockhart. Having apparently grown tired of obsessing over just how skeletal the Ally McBealÜber-waif has become, the tabs take a different tack: They bare their fangs and become positively McCarthyesque in their zeal to rat out celebs who've become the least bit unsvelte. Fat jokes are the order of the day–the meaner, the better.
Where to begin? With the Globe's snippy caption for a photo of "tubby" Alec Baldwin "nearly blocking an East Hampton street"? Or with the Star's complaint that Titanic star Kate Winslet "ballooned up the minute she got off the boat and loosened up her corsets"? (The story goes on to say that she put on all of 10 pounds, for the record.) How about the Globe's report that at the bash to celebrate her Saturday Night Live appearance, Monica Lewinsky "hit the buffet table like a toothy tornado"? Lewinsky, the Globe explains, is in the midst of a "frantic food frenzy"; the paper even provides a helpful restaurant diary that details where she has been spotted and just what she has indulged in. Sample entry: "She wolfed down a 20 oz. goblet of sugary hot chocolate at the Upper East Side's Serendipity 3."
The Globe also claims that Cher–who has gained 12 pounds of her own, according to the Star–fears that her daughter, Chastity Bono, is "eating herself into an early grave." "I've seen her eating ice cream out of the carton," a source confides. (If this is a warning sign, Keeping Tabs fears for the health of 90 percent of the American population.) And the Globe's hit list goes on. "Pudgy" Martha Stewart is said to have put on 20 pounds. An intrepid Globe reporter interviews a vacationing Patsy Ramsey, mother of JonBenet, while swimming in the Caribbean and observes that she has "obviously put on weight." And, according to a Globe cover story, Oprah Winfrey has "pack[ed] on 47 lbs.–& DOESN'T CARE!"
The good news for all those who've been nailed by the tabloid fat police is that the Globe has the secrets of Sen. Ted Kennedy's "love diet," a seaweed-rich plan that has helped the "bloated blimp" with "enough ballast to sink the Titanic" become a shadow of his former self. Can it be coincidence that the Star claims it was a "wacky seaweed therapy" that helped "hefty and hippy" Sophie Rhys-Jones drop 20 pounds before her recent wedding to Britain's Price Edward? Furthering the maritime theme, the Star reports that Austin Powers star Mike Myers lost 25 pounds on the "salmon salad diet."
When they're not obsessing about who's eating what (check out the Globe's scintillating two-page photo spread of celebrities' favorite breakfast foods), the tabloids take time to remember that it's wedding season. Royal wedding intrigue dominates, with the Globe raising the possibility that Prince Edward may be gay–perhaps forgetting that only a week earlier, it had him confessing that he was actually in love with his late sister-in-law, Princess Diana. But there's no rest for the weary in tabloidland. A week after the royal wedding, the National Enquirer had already reported that the honeymoon was "over" and that cracks were "already showing" in the marriage.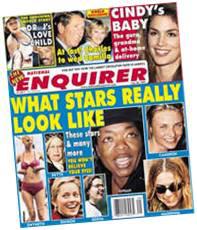 A t the wedding of Courteney Cox and David Arquette–who'll be getting the requisite Gucci nipple rings to celebrate, according to the Star–the Globe says that "no one was paying more attention" than Brad Pitt and Jennifer Aniston, because they are preparing to take the plunge themselves. Brad and Jennifer will have to take a number. Among those the tabs say are eager to walk down the aisle are Demi Moore and new beau Oliver Whitcomb, Minnie Driver and Josh Brolin, Heather Graham and Ed Burns, Prince Charles and Camilla Parker Bowles, Mariah Carey and Luis Miguel, Julia Roberts and Benjamin Bratt, and Michael Douglas and Catherine Zeta-Jones. The Enquirer says that actress Bridget Fonda is "stocking up on bridal magazines," while country singer Dwight Yoakam shops for her engagement ring, despite a concurrent report in the Globe that a "heartsick" Fonda "can't find Mr. Right."
So much love is in the air that a number of stars are flying back into their former lovers' arms–or at least trying to. And naturally, at the forefront of this wave of celebrity reconciliations are Pamela and Tommy Lee. According to the Star, the couple are thinking of getting remarried the old-fashioned way: on pay-per-view TV, complete with a video montage of their "non-explicit romantic moments together."
Perhaps inspired by action star Jean-Claude Van Damme, who recently retied the knot with ex-wife Gladys Portugues (making her wife No. 3 and No. 5), Lisa-Marie Presley is "desperately pleading" with ex-husband Michael Jackson to get back together, says the Enquirer. "I'll treat his two adorable kids as my own," Lisa-Marie is quoted as saying, in the unmistakably stilted syntax of tabloidese. The Star, on the other hand, has Presley busily planning her wedding to boyfriend Luke Watson, although at least one member of the Jackson clan will reportedly be at the altar: Janet Jackson is said to be the maid of honor.
Prince Andrew must be unfazed by how "chunky" the Globe says his ex-wife, Sarah Ferguson, has become, because they are also talking remarriage, according to the Enquirer. And when she's not worrying that her daughter is about to keel over, Cher has been rekindling her romance with her ex Rob Camilletti, according to the Globe, which also reteams Madonna with her baby's father, Carlos Leon, and Oscar winner Gwyneth Paltrow with her ex Ben Affleck. (Ben might want to check out the Star, which claims that Gwyneth could be the next to jump on that Gucci nipple ring bandwagon.)
The Globe stretches the reconciliation theme to new heights with a story suggesting that the "fates" are trying to bring John F. Kennedy Jr. back to his ex Daryl Hannah. The evidence? Hannah was recently spotted in New York wearing a hat with a star on it, while Kennedy was photographed elsewhere in the Big Apple wearing a T-shirt with–are you sitting down?–the "same celestial sign." The Globe notes conspiratorially that his wife, Carolyn Bessette-Kennedy, was "nowhere in sight."
One couple we definitely don't expect to see reconciling anytime soon is Cybill Shepherd and her former fiance Robert Martin. The Globe runs what it says is Martin's "open letter" to Shepherd, in which he pleads with her to "open [her] heart and do what's right" by repaying him the $4,000 she reportedly owes him. Confidential to Martin: You might have had a better chance of getting your money had the Globe not run a "World Exclusive" interview in which you're quoted disclosing "titillating details" about your ex's sexual fantasies and happy-hour proclivities. Keeping Tabs would never presume to speak for Ms. Shepherd, of course. It's just a sneaking suspicion.
---