I start my day at the 9 a.m. meeting for NGOs (nongovernmental organizations). All the "partners" meet to coordinate service and plan what will be needed if the political situation changes. There are people from all over the world here trying to organize a rational response on the ground. It's like trying to get an elephant to stand up. It may just be changing position. Things are visibly better now than when I arrived two months ago. Cleaner, logical. New refugees are brought from the border and met at the main square. A Doctors Without Borders/Medecins Sans Frontieres medical person does triage looking for people who need medical help or support because they are fragile. There are others offering information, a place to get clean, have a meal, and find shelter until a place in a camp is found or transportation to the south is arranged. Some are on foot, some have come on tractors trailing carts covered with plastic sheeting and carrying the family, some belongings, and so often the cradle. The babies are wrapped in tight and rocked, hard. They seem to love it.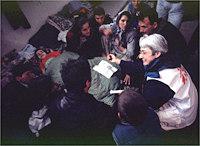 The first stop in the main square must be overwhelming, so much information to be absorbed at once. Refugees who arrived earlier come to look for relatives or friends. It's a ridiculously simple way to search and the best part is how often it works. This morning the square is relatively quiet. Later today it could be Grand Central. I get coffee, meet a UNICEF guy, and introduce an Amnesty International guy, and then go to the camp for morning groups. People from a course I teach in stress management meet in the psychology tent. We sit on the blankets on the floor and talk about how their work is going, how they see people responding, and what more they need to know. They worry the new refugees are having a hard time, as they recognize their own experience in the newly arrived. Their listening is becoming more acute. I need to train more people, need to make time each day to find more people who want the training. I need a longer day much more here than at home. I won't be back to the house before 6 p.m., and then there will be two-hour long meetings. I'm impatient, I want to go eat in peace and quiet. I dread these meetings at 11 a.m., just to keep myself miserable.
Doctors Without Borders runs a nursing home in the health center for people who are fragile. Here in the middle of this artificial city of a camp, there's the familiar routine of a geriatrics service: great nurses, same routine. I try to get a mental status, find an immediate practical response to behavior that seems incomprehensible. I ask my Kosovar translator Hamdi what he hears. He is next to me all day, unfailing on details and subtleties. Gentlemanly, not formal. He is curious about every clinical move I make, follows through, knows the drill, no hesitation. Schizophrenia, anxiety, stress, normal development. He learns it once and it's filed. It feels less and less like translation. He's clear on his own situation: He has no documents–everything was taken from him when he left Kosovo. Now he can be anyone. Why not Steve? All he wants is to go back to his normal life, rebuild. All this is temporary.
Photograph by Roger Job/MSF.
---