Last night, at an auditorium in Hartford, Connecticut, home of Wallace Stevens, I took the stage, before a large audience, along with Hartfordians who read favorite poems aloud, including: a professional dancer who read Langston Hughes; a university president who read Robert Frost; a librarian who read "In the Library," by Charles Simic; a Vietnamese immigrant who read (actually chanted, with great beauty, soprano) from the "Tale of Ki kieu"; a college student who read Hopkins; an English teacher who read "Ay! Ay! Ay! De la Grifa Negra," by Julia de Burgos; a lawyer who read Matthew Arnold; an administrator who read Walt Whitman; a stage director who read Tennessee Williams; and for our finish, the president of Scott's Jamaican Bakeries, who read "The Song of the Banana Man," by Evan Jones.
       No Stevens, you notice. Someone explained to me that an organization recently founded as "The Friends of Wallace Stevens" encountered so much negative feeling about the man himself that it has changed its name to "The Friends and Enemies of Wallace Stevens." This reminds me of my recent visit to Oxford, Mississippi (another wonderful Favorite Poem Reading), where William Faulkner is still considered a drunken, lying no-goodnik by surprisingly many citizens.
       In my introduction I tried to salute the local master, and start things off with a light touch, by quoting Wallace's "The Pleasures of Merely Circulating":
The garden flew round with the angel,
The angel flew round with the clouds,
And the clouds flew round and the clouds flew round
And the clouds flew round with the clouds. Is there any secret in skulls,
The cattle skulls in the woods?
Do the drummers in black hoods
Rumble anything out of their drums?
Mrs. Anderson's Swedish baby
Might well have been German or Spanish,
But that things go round and again go round
Has rather a classical sound.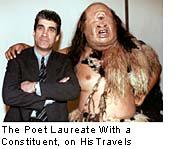 As I get the poem, it is a darkly comical meditation on how arbitrary it all is: philosophically, anything amounts to anything else, or might be anything else. And the bawdy joke about Mrs. Anderson's past reflects the joke that sound has on sense. Or something like that. The variety of poems, as of people, made for a pretty wonderful show. The Vietnamese poem was part of a narrative about a young woman who must sell herself to ransom her father from captivity, and her eventual reunion (Platonic), after years of prostitution, with her betrothed, to whom her heart has remained true. The translator related this plot symbolically to Vietnamese history; the keening, melodic voice like part of a strangely appropriate but various feast–following Simic's poem "Library" and preceding, in English and immensely dramatic Spanish, the Puerto Rican poet Julia Burgos's fiery poem about kinky black hair and the heritage of slavery: pain and sadness for the descendants of slaves, but shame for the descendants of slave-owners. I think one reason these events work so well–you can hear the audience's relief that it is having a good time–is that the readers root for one another, listen to one another with great respect and interest. The audience sees that drama onstage, and gets the idea: These are not necessarily great performers, or poets, but rather are people who know they have a treasure and are willing to show that treasure with their voices. Some of the accounts of the poem's personal significance could bring tears to your eyes; some were droll. And not that some of these readers aren't great performers. George Scott, the Jamaican baker, could take his banana man on the road, and so could the lawyer John Murphy, with his expressive, though understated, reading of Arnold's "Dover Beach." Tomorrow (Wednesday), an early plane to California, where I will lecture on Dante at the Huntington Library tomorrow night–composing the next Diary on the plane, I guess. There's a pleasing contrast between this technology of laptops and scanners and air travel, on the one hand, and the ancient "technology" of the human voice saying certain words aloud, on the other. And here, I hope, some harmony between the two, as well. (Some readers may have noticed that the link to the Favorite Poem Project has not been working. By midday Wednesday, that should be fixed. And in February, actual people will be reading actual poems on that virtual site.)
---