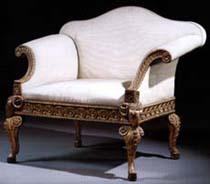 When, in the early 1940s, my grandmother set about refurbishing Shieldhill, a reacquired ancestral home in Scotland, she called upon her friend Dolly Mann, a fashionable London interior decorator with a shop in Mayfair. And in this shop were two chairs of an unusual and beguiling character.
They had all the formality and grandeur my grandmother could desire, but there was also much charm in the gilt decoration of their wooden frames. They had rams' hooves for feet and rams' heads on their front corners, and lots of leaves and flowers between. My grandmother took them up to Shieldhill and placed them on each side of the drawing-room chimney piece. We don't know how much she paid, for both she and Mann are long dead, and Mann's shop and its records were demolished by one of Hitler's bombs. But my uncle Robin Chancellor believes she bought them for something like £50 each. He does not believe his mother knew or cared about their provenance.
The chairs ultimately found their way to Robin's Northamptonshire home, where they remained for another 35 years, during which time my childless uncle generously made me a gift of his property and, he believed, its contents. So the chairs were thought to be mine when a country neighbor, James Miller, dropped in for tea last June and looked longingly upon them. Miller, a vice president of the London auction house Sotheby's, thought they might be extremely valuable. Might he return with a furniture expert from Sotheby's?
When Miller returned with Joseph Friedman, head of Sotheby's furniture department, he told Robin, "If they are what we think, they could be worth a king's ransom," perhaps between £300,000 and £500,000. Miller asked if they could take a chair to London for closer examination, and Uncle Robin (and I when he consulted me) readily agreed.
We waited impatiently for the Sotheby's verdict. Money was urgently needed for all kinds of purposes, and my confidence that I would win the national lottery was waning. At the request of Sotheby's, the second chair was dispatched to London. Friedman kept in touch, declaring mounting optimism about the chairs' value, but there always seemed to be some further test to be made or expert advice to be sought.
Their aim was to authenticate the chairs as belonging to a famous suite of 18th century furniture designed by the architect Robert Adam for the chief merchant-adventurer of his day, Sir Lawrence Dundas ("The Nabob of the North"). Dundas had commissioned the suite to adorn his stately home, Moor Park in Hertfordshire (now a golf clubhouse). The furniture was made by a little-known cabinetmaker–James Lawson–whose invoice of 1764 survives. Lawson charged Dundas a total of £122.5s.0d for two sofas, six chairs, and two stools, making the sale one of the most expensive recorded in England in that century.
While Sotheby's was beavering away, its rival Christie's carried out a spectacular sale of two other Adam chairs commissioned in 1765 by Dundas for his London house. The two gilt and red damask chairs sold for the incredible sum of £1,706,500. I began to see my chairs not just as a solution to pressing financial problems but also as a means of transforming my entire way of life.
But my euphoria was premature. There was a world of difference between the "Dundas Chairs" sold at Christie's and mine. They had been manufactured by the legendary Thomas Chippendale and were opulent-looking chairs on which any fat, ignorant, cigar-smoking billionaire would have contentedly rested his bottom. By contrast, the "Moor Park Chairs" were, in one expert's words, "awkward" and "lacking in sex appeal."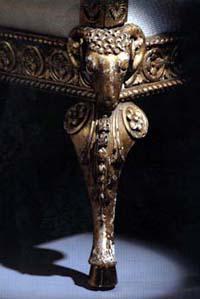 A nd then, of course, the authenticity of my chairs had still to be established. (For a brief rundown of the Moor Park suite's history, click.) At the end of July, just as I was about to set off for a holiday in Italy, I got a message from Friedman. He was tremendously optimistic but needed to take the chairs up to Kenwood House in Hampstead, a property administered by English Heritage, to compare them in detail with authenticated Moor Park chairs there.
At my first holiday stop, among the other guests was Desmond Fitz-Gerald, who represents Christie's in Ireland. When I produced some photographs of my granddaughters, he was less interested in them than in the chair on which they happened to be besporting themselves. Did I realize what an important chair this was? I said I did, and that its pair was currently at Sotheby's. Fitz-Gerald then made it his holiday mission to wrest the chairs away from Sotheby's and into the hands of Christie's. He told me that nowadays anyone with something valuable to sell would invite proposals from competing auction houses. I told him I was committed to Sotheby's.
Afew days later, Fitz-Gerald telephoned to press his case. But only a few minutes earlier I had received a telephone call from Robin, who said that Sotheby's had rung to tell him regretfully that they now believed our chairs were copies of the Moor Park originals, with a value of perhaps £20,000. I told Fitz-Gerald this disappointing news. Still, he said, since the chairs were in London, Christie's might like to take a look at them. Soon afterward I got a call from Orlando Rock of Christie's furniture department, who arranged to have the chairs taken to Christie's.
Several weeks later, Rock telephoned me to say his investigation of the chairs was complete, and "I am completely certain that the chairs are 'right.' " They had been taken to pieces, and the webbing was right, the tufting was right, and under the top layer of cheap modern gilt paint lurked a layer of authentic 18th century oil gilt. Christie's would like to auction the chairs as the star attraction of its sale of Important English Furniture on Nov. 13.
There was, however, less-good news. The sale might be difficult because of the conclusion reached by Sotheby's that the chairs were copies. Negative "back chat" could deter some potential bidders. So, Christie's recommended a cautious reserve price of £150,000 that they might raise to £200,000 if we insisted.
For the childish reason that £200,000 is more than £150,000, we chose the former and waited excitedly for the sale. Two days beforehand I received a call from an agitated Rock. The dreaded "back chat" had broken out. The Sunday Telegraph's arts reporter, Catherine Milner, had been telephoning London's top furniture dealers suggesting that the Moor Park chair on the cover of Christie's lavish catalog was a later copy. He had been unable to convince Milner that the chairs were "right." She said she wasn't going to publish an article on the subject because she hadn't enough evidence, but he feared she had done sufficient damage to threaten the auction.
When I called Milner–a former colleague whom I knew and liked–she told me that unnamed furniture experts had told her the chairs looked fishy. The chairs' decorations differed from those in a published design for a Moor Park stool, and the construction differed from that of an authenticated one at Kenwood House.
My conversation with Milner took place on the eve of the sale, and there was no time to investigate these claims. By the time I went to bed I had learned from Rock that of half a dozen people who had earlier expressed an interest, only one was now expected to bid for the chairs–a collector in Los Angeles. But next morning, he too pulled out and, at the auction, the chairs failed to reach their compromise reserve price of £180,000.
We were certainly much disappointed, but before the day was out, Rock's boss, Robert Copley, called to say seven people had approached Christie's since that morning to say they were interested. He proposed conducting an informal telephone auction among them. After several days Copley called to say the highest bid was £180,000. We accepted it at once. Christie's wouldn't identify the buyer, but they said he was a British collector who planned to restore the chairs to their original condition. Whoever he is, I would like to thank him here for making out his check with such exemplary promptness.
So the sale finally achieved a satisfactory outcome. When the chairs had failed at auction, however, I had telephoned Robert Holden, an independent fine art agent who had shepherded the Dundas chairs to their triumphant Christie's sale. He was certain of our chairs' authenticity and outraged by what had happened to them. Holden's advice is that anyone with anything important to auction on the art market should first seek the help of an independent consultant. One would expect him to say that, but my experience with the Moor Park chairs suggests that he may have a point.
I see I'm calling them the Moor Park chairs again, but what of all the doubts about their authenticity? Sotheby's Friedman still maintains they are copies. An early enthusiast, he says he changed his mind upon seeing one of ours next to one of the authenticated Kenwood ones. Ours was different in construction and much inferior in quality. Julius Bryant, director of collections at English Heritage, says he has no doubt the chairs are of 18th century construction but doesn't feel able to state categorically that they were part of the original Moor Park set. But if they weren't, what could they have been? Rock maintains there is no shred of evidence to suggest that suite was extended later in the century.
B ryant's colleague Treve Rosoman, an English Heritage curator and furniture historian who was present at the visits of both Sotheby's and Christie's to Kenwood, says that after their side upholstery had been peeled off, he, by contrast, became certain the chairs were "absolutely right." (Click for the convincing details.)
Christie's Rock says he genuinely believes Milner's calls to dealers "effectively ruined the sale." But it seems strange that a body of experts in such a specialized field should be put to rout by a few inquiries from a journalist claiming no expertise at all. If Rock is correct, the art market is as vulnerable to unwarranted crises of confidence as the market in foreign exchange.
Still, my Uncle Robin and I are very happy, for £180,000 still seems to us an awful lot of money. As for you, dear readers, do not forget that one stool and one chair from the original Moor Park suite are still out there somewhere, unaccounted for. If you happen to own either of them and wish to sell it, I hope you will now be a little better prepared to judge how best to proceed.
If you haven't already, you can click to read more about the history of the Moor Park suite (including the brief loan of one sofa to President and Mrs. Kennedy) and to review the evidence in support of the authenticity of Uncle Robin's chairs.
---