Slate's Employee of the Month Live at the Sundance Film Festival
Slate, in collaboration with Dropbox, presents Employee of the Month with Catie Lazarus at the Sundance Film Festival. Writer and talk show host Catie Lazarus has honored and interviewed Lin-Manuel Miranda, Gloria Steinem, Patton Oswalt, Keegan Michael-Key, and, of course, Miss Piggy, amongst others, about their careers. At this special live recording of her podcast, Lazarus will interview and honor Utkarsh Ambudhar (Brittany Runs a Marathon), Tony winner Lisa Kron (Fun Home), Desiree Akavhan (The Miseducation of Cameron Post) and Nisha Ganatra (Late Night) to give credit to the credits. Plus, music from DJ J.PERIOD (Hamilton Mix-Tape, The Roots, Lauryn Hill, Tribe Called Quest) and more.
Be sure to RSVP for this free show and reserve your spot today. Seating will be available on a first come, first served basis and will not be guaranteed.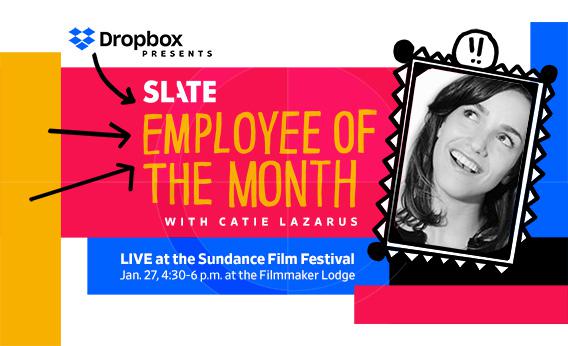 Filmmaker Lodge, 550 Main St., 2nd Fl, Park City, UT