Slate Plus 5th Anniversary Party in San Francisco
With Matthew Dessem, Inkoo Kang, and More!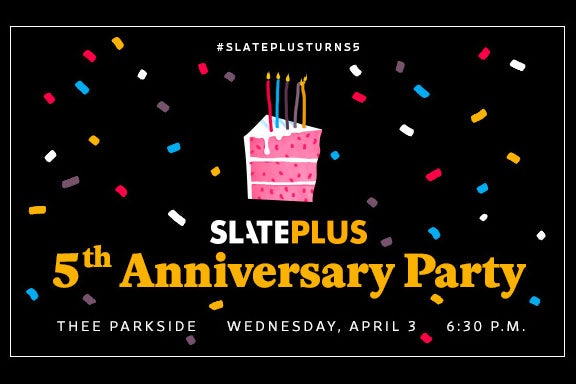 Date: April 3, 2019 6:30 PM EDT
Location: Thee Parkside, 1600 17th Street, San Francisco, CA 94107 (map)
Tickets: $15
Slate Plus is celebrating its fifth anniversary this year, so we're throwing parties across the country. Enjoy a festive evening with some of your favorite Slatesters – like Matthew Dessem and Inkoo Kang – over drinks for a fun night of conversation and trivia—the first drink is on us! (Don't live near any of these cities? We're encouraging members to organize their own meetups across the country. Just fill out this form if you're interested in hosting and we'll help you take it from there.) And thank you. Whether you've been a member for five years or five days, your support makes our work possible.
Not a Slate Plus member? We've got you covered. Subscribe today and get in free! You can sign up here.