Political Gabfest 15th Anniversary Show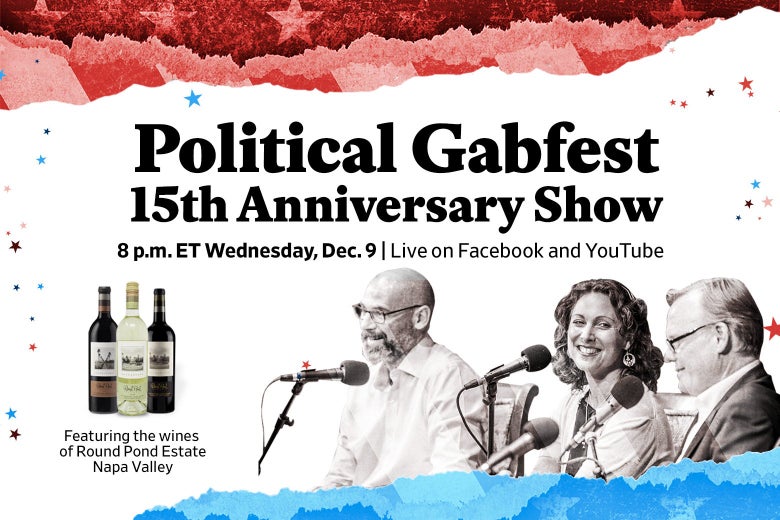 Date: Dec 9, 2020 8:00 PM EST
Location: Facebook Live | YouTube Live
Tickets: Free
Fifteen years ago, Emily Bazelon, John Dickerson, and David Plotz recorded their first podcast together, and the Political Gabfest was born. Since then, they've gabbed weekly about politicians, scandals, and countless court cases with millions of listeners joining them along the way. Now it's time to celebrate 15 years of analysis, laughs, disagreements, and, of course, cocktail chatter.
Join us on Wednesday, Dec. 9, at 8 p.m. ET/5 p.m. PT for a very special live show that will stream on YouTube and Facebook. Emily, John, and David will look back on their most memorable moments, chat with some surprise guests, and you, dear listener, will get to ask them the questions you've always wondered about.
For 15 years, you've been listening in on the best cocktail party in Washington. For the first time, with our 15th anniversary live event, you can join the party virtually from home. With our friends the Winemakers, we've selected three wines from Round Pond Napa Valley to drink throughout the evening—and you can join us from home in this virtual gathering and wine tasting.
To join us from home, you can order the 15th anniversary Gabfest companion 3-pack now. Just text GABFEST to 351-444-WINE (9463). Gabfest listeners will receive 35 percent off, but supplies are limited, so order as soon as possible to ensure receipt in time for the live event on Dec. 9.
Round Pond Estate 3-pack $221 $150
2019 Rutherford Sauvignon Blanc
2017 Left Bank Napa Valley Blend
2014 Rutherford Cabernet Sauvignon (special library selection)
This conversation will stream live on both YouTube and Facebook. If you'd like to become a Slate Plus member, click here.