Dear Prudence and Friends Live in Denver
Slate's beloved advice columnist Daniel Mallory Ortberg will hit the road to Denver for the Dear Prudence and Friends National Tour. Join Danny and his former partner at the Toast, Nicole Cliffe for fun and lively conversation dissecting reader questions about relationships, home, work, and more! Stick around for audience Q&A, where you'll have the chance to ask your burning questions live and meet other Prudie fans.
Date: March. 6, 2019 7:30 PM MST
Location: The Soiled Dove Underground, 7401 E 1ST AVE, DENVER, CO
Tickets: $30 - $45
Doors open at 6:30 p.m. for the live show.
If you are a Slate Plus member, you will receive 30 percent off your purchase. Use your Upcoming Events tool in the Slate Plus dashboard on the right side of the Slate Plus home page to receive your individualized discount code to access tickets.
If you'd like to become a Slate Plus member click here.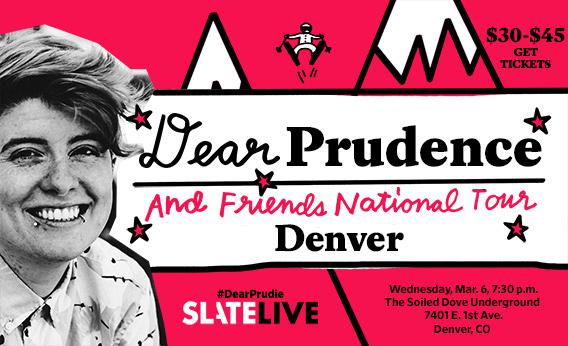 The Soiled Dove Underground, 7401 E 1st Ave, Denver, CO