Amicus Live: Full Court Press
Join us on May 24 in Washington, D.C.!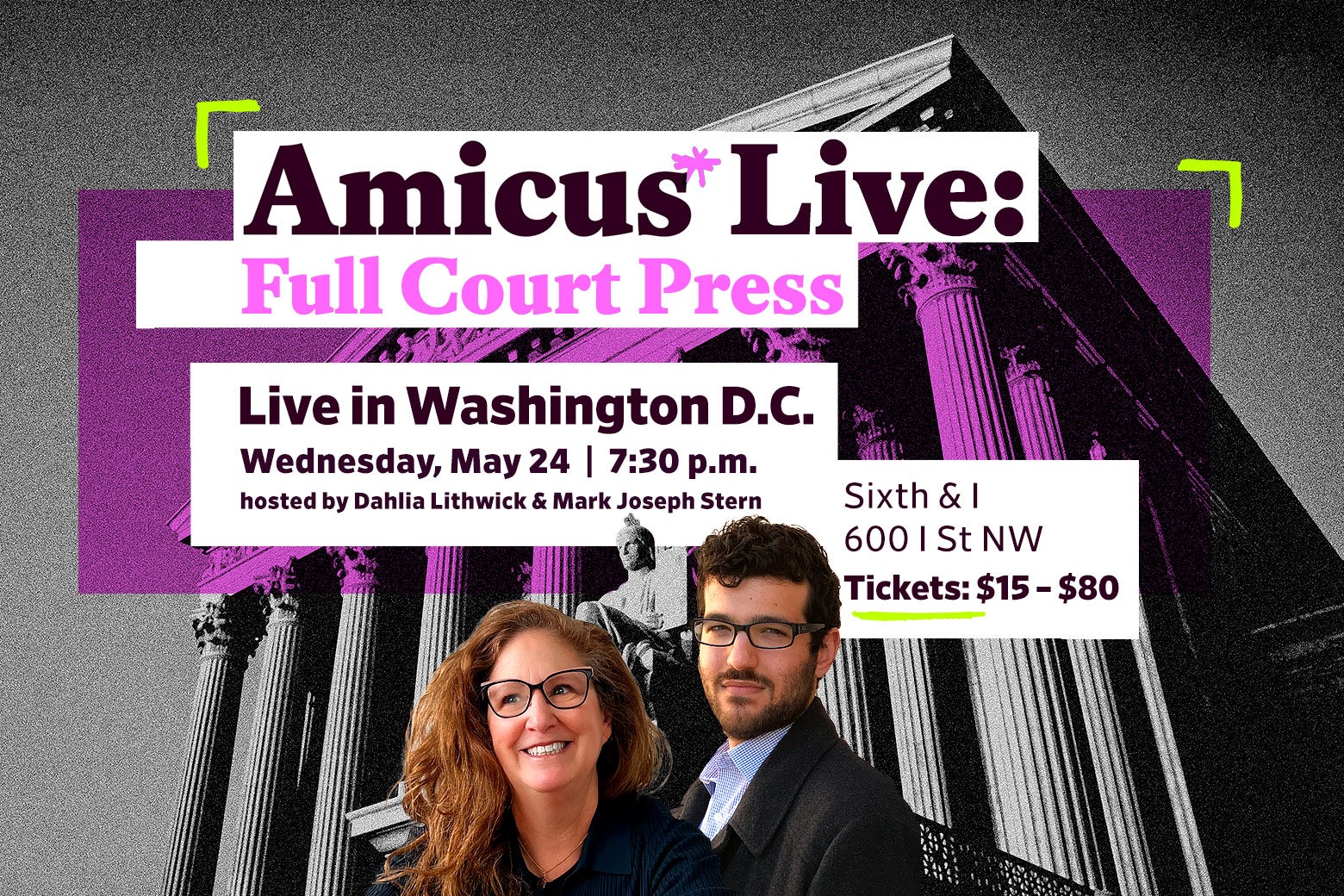 Date: May 24, 2023 7:30 PM EDT
Location: Sixth and I600 I Street, NW Washington, DC 20001
Tickets: $40
JUST ANNOUNCED: Congressman Henry C. "Hank" Johnson, Jr. (GA-04) will be joining Amicus Live: Full Court Press to discuss his proposed legislation with Senator Whitehouse, the Supreme Court Ethics, Recusal, and Transparency Act, Supreme Court Justice Thomas' ties to billionaire GOP donor Harlan Crow, and calls for Justice Thomas to resign.
Join Slate's Dahlia Lithwick, Mark Joseph Stern and special guests, including author and Justice Correspondent for The Nation Elie Mystal, and Editor-in-Chief of Balls & Strikes Jay Willis, for a live conversation about the court, the media, and the relationship between the two. Just in time for yet another banger Court Term!
As a special treat for our Slate fans, we have a limited number of VIP tickets available. VIP tickets include admission to the live show and access to an exclusive happy hour at a nearby location with your favorite Slate reporters and hosts before the show.
Slate Plus members receive an exclusive discount by using the discount code listed under the "events" tab in your account page. Find more information and grab your tickets.
Some details

• Learn more from our friends at Sixth and I

• Location: 600 I Street, NW Washington, DC 20001

• Virtual attendees will receive the event access link 3 times: 48 hours, 2 hours, and 10 minutes before the event begins. Virtual ticket buyers will be emailed instructions for accessing the recording.

•VIP attendees will be emailed the location and details for the happy hour the week of the event.
Recently on Amicus

Listen to this week's Amicus online, or however you prefer to listen to podcasts. You can also read the full interview here.

Visit the Amicus show page, or see the latest below.