A Bachelor Spectacle LIVE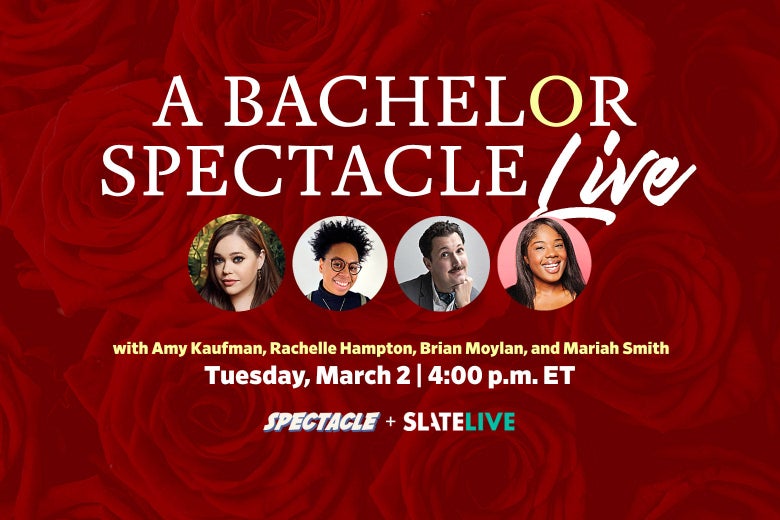 Date: March 2, 2021 4:00 PM EST
Location: Facebook Live | YouTube Live
Tickets: Free
Join Slate and the Spectacle podcast for the most dramatic livestream ever! Spectacle is a new podcast about the history of reality TV. Each week, host Mariah Smith covers one iconic show at a time, revealing how it's shaped our culture and how our culture shaped it.
As another season of The Bachelor comes to a close, we're gathering three culture critics and an insider for a deep dive into all the fun and drama of this particular spectacle. Nearly 20 years after launching, the Bachelor franchise is a staple of network TV and beloved by millions, but even the most devoted fans can be frustrated by how slow the show is at reflecting the social changes in the country. The first Black bachelor appeared on screen just this year, there has only been one LGBTQ storyline in nearly 100 seasons and spinoffs, and the show can feel woefully dated in its expectations of gender roles.
Meet the hosts:
Rachelle Hampton, Slate staff writer
Brian Moylan, Vulture writer and author of The Housewives: The Real Story Behind the Real Housewives
Mariah Smith, comedian, writer, and host of Spectacle
Amy Kaufman, LA Times staff writer and author of Bachelor Nation
This conversation will stream live on both YouTube and Facebook. If you'd like to become a Slate Plus member, click here.