This essay is adapted from the book The Pornography Wars: The Past, Present, and Future of America's Obscene Obsession, by Kelsy Burke, published by Bloomsbury.
Shortly before I met Inka Winter, I realized I did not know what a feminist porn director would look like. Bright red lipstick, maybe? No, that was wrong. Winter was just getting out of her old Hyundai when I arrived at the parking lot of a large, nondescript warehouse. "Kelsy?," she said as she approached, perhaps because I looked clearly lost.
Winter describes herself as an artist, activist, feminist, and porn director. I flew to Los Angeles to observe her at work. She is the founder of ForPlay Films, an all-woman production company that creates what she describes as "erotic short films through a feminist gaze."
Winter is petite, with brown shoulder-length hair and cropped bangs. That day, she was wearing a worn gray sweatshirt, black sweatpants, and lace-up leather ankle boots. I suddenly felt overdressed in the same clothes I wear to work as a college professor: dark jeans and a cardigan buttoned all the way up. I helped her unpack her car, which was full of equipment piled on the passenger seat, on the back seat, and in the trunk. We hauled lights, a foam mattress, and various other boxes and bags into the building, to the end of a long hallway, and into a studio room that Winter rented from noon until the evening.
Eventually, Winter's crew arrived: "Everyone is always late," she said, laughing. Barbara, a woman in her 20s wearing leggings, a zip-up gray hoodie, and Converse sneakers, drove herself in a car slightly newer than Winter's. Susy, also in leggings under a baggy white T-shirt and a flannel shirt tied around her waist, got out of an Uber. Both Barbara and Susy worked full time in television as producers and cinematographers, but they believed in the mission of ForPlay Films and work with Winter on the side.
Winter joked with me that the day I would spend with them wouldn't exactly be representative of most porn shoots. All the lights and props were rented, thanks to Winter's friends, who helped her secure good deals. Winter explained that to book studio spaces, she generally asked permission beforehand to shoot adult content, to which she received mixed responses. Susy jumped in to tell the story of one studio they considered renting for this shoot, saying that it looked to be the perfect space—except for the fact that it was right next to an office where the studio's owner worked. Winter asked, "Are you OK with adult films?" "The look on the man's face," Susy said, "when he realized that we were wanting to shoot porn. It was so funny, because he never expected that from us." The answer the man eventually gave was no.
Winter started ForPlay Films for herself, she explained to me, not to become famous or start some lucrative career. "I was feeling broken in my own sexuality," she said, and she wanted something to help her feel more sexually alive. But she couldn't find it when she turned to porn. "Men watching porn—I have no judgment. They can do whatever they want and whatever turns them on. And I know there are some women who watch mainstream commercial stuff, and I'm like, 'Great for you,' but personally, I'm just not into it." She took control of the camera for her first shoot and said it felt like she was reclaiming her sexuality. In her words, "I get to direct, and that is really empowering. I'm kind of rescuing that which was broken."
Winter got her start directing porn working with "real people and real relationships," as she described it. "In our films, people have sex for pleasure. I don't tell them what to do. Whatever they do to enjoy the sex, that's what they do." She maintained this philosophy as ForPlay Films expanded, but she now works primarily with industry performers. She doesn't typically have a budget to pay them, so she creates films for "trade," which means both ForPlay Films and the performers can use and monetize them. For the past four years, she has also produced videos for people wanting to enter HUMP!, Dan Savage's amateur porn film festival. Twice, she won the award for Best Sex.
Before the talent arrived, Winter, Barbara, and Susy prepared the set, hanging a long black drape from the ceiling down to the floor, testing the lighting, and preparing the "bed" (really just a foam mattress on the floor) with a silky black sheet.
On the shoot I observed, Winter had arranged to film commercial performers for trade. She was hoping to sell the film to an adult website that had taken an interest in her work, and the performers would use the film on their sites, such as OnlyFans. She met with Darius, a tall, seemingly experienced performer, first for coffee and told him her idea. He agreed to the role of "male talent," as Winter described him to me, and Winter asked him to choose a female partner with whom he had chemistry and enjoyed working with. He invited Kristi, a young, thin woman in her early 20s. She arrived to the set first. Winter had never met Kristi in person, and so they first sat in a small dressing room off to the side of the main room to discuss the scene Winter envisioned. Kristi had brought lingerie, and Winter asked if she could restyle her hair to bring out a natural and messy curl rather than the sleek, straight style with which she'd arrived. Darius presented his STI test results to Winter. Kristi followed suit. Then the two filled out more paperwork, standard forms giving consent for filming.
The setup for the shoot took hours, but no one seemed in a hurry. "A lot of snacking and chatting," I wrote in my field notes. At one point, I entered the dressing room, where the snacks were located, before realizing that Kristi was in the room, topless and pulling a lacy bra from her bag to put on. She casually recommended the salsa to me ("It's bomb") as she adjusted her bra straps.
As Susy made final adjustments to the lights, Kristi stretched her legs with a few yoga poses. Darius scrolled on his phone. And then the camera was ready. Winter reminded Kristi and Darius that the film was intended to be all about a woman's fantasy.
"In terms of sex, it would be nice if you would just think about it as your fantasy and to do the things that you or maybe that a lot of women want to do," Winter said to Krisi. "No legs behind the head, things like that."
Kristi responded that, as a matter of fact, she had just had sex the other day, and she did put her legs behind her head. "I think it's a habit," she said, laughing. Winter nodded, but held firm: "You'll have to deprogram the porn star. Just think about regular women."
"I'll just take a back seat," Darius said in response. With his warm smile and demure disposition, I had a hard time imagining him as the stereotypical aggressive man in porn films.
Susy, behind the camera, spoke directly to Kristi and Darius before she started recording: "If you ever need to stop, take a break, get some water, just let us know. Or, if you want to keep going, even if we're adjusting the camera or lights or whatever, you can do that, too."
Darius and Kristi gave each other a gentle hug and a peck on the lips and then got into position for the first shot, with Darius off camera at first, then entering to stand behind Kristi to begin kissing her neck and stroking her shoulders. Winter intervened as soon as the camera started recording, and Kristi began to sway her hips and rub up against Darius. "Don't be concerned about pleasing him or pleasing the camera. This is all about pleasing you. Maybe think about it being more like a sex scene in a movie, not mainstream porn." Kristi nodded in amused understanding: "I'm trying not to say, 'It's so big!' "
The sex that followed was not so different from that in real life, I thought, for how they struggled with buckles on pants, hair sticking to their faces, and the awkward noises. Of course, none of this comes through in the final film, which Winter produced to be a sensual and sleek 20 minutes of a woman's fantasy. But at the time of the shoot, Darius and Kristi let their actions unfold slowly, performing in various positions, while the camera worked around them. After about an hour, I wrote in my field notes that porn sex could be "long and boring," as I started thinking about what I would eat for dinner and my to-do list for the week.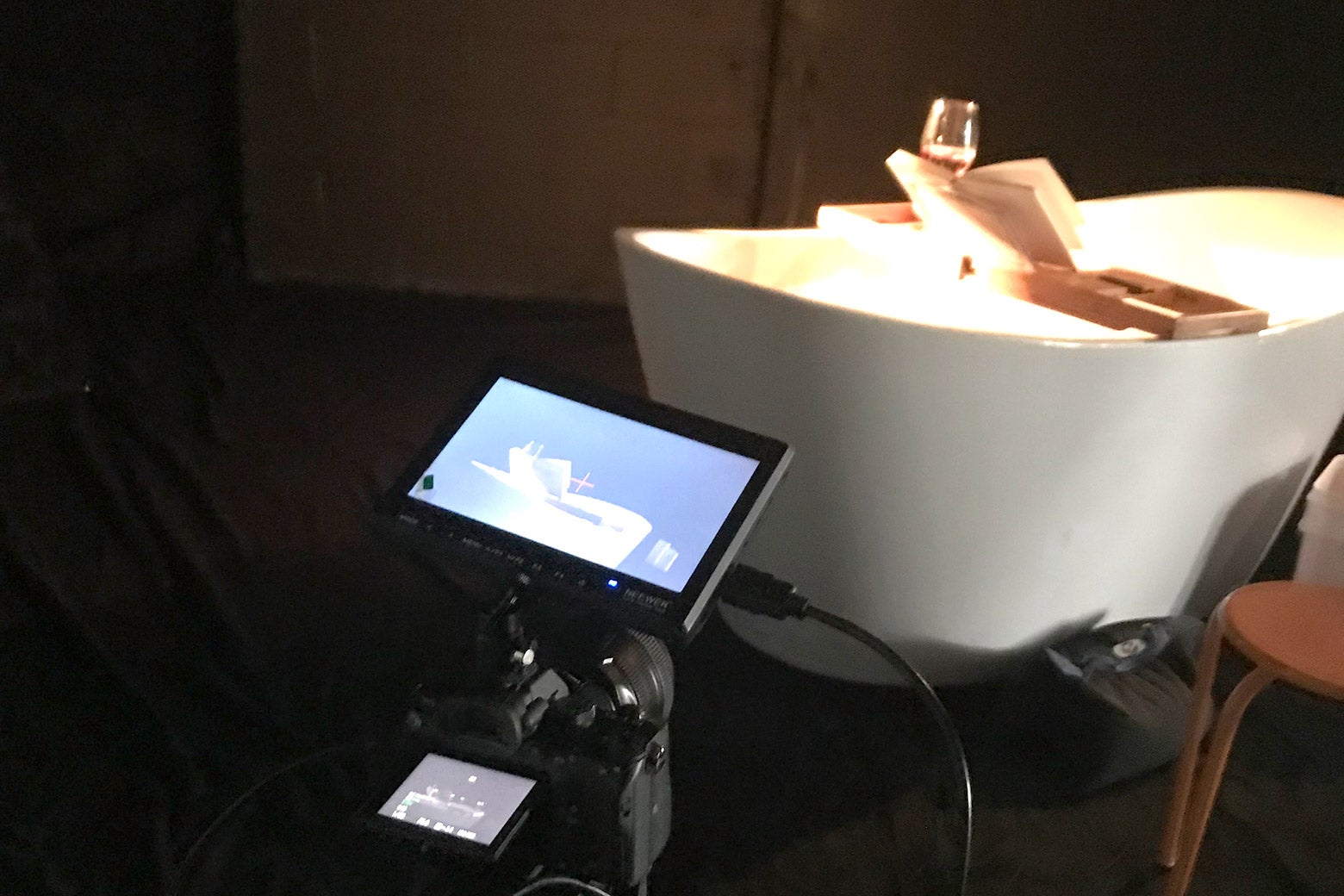 Finally, it was time for Darius to finish. He ejaculated on Kristi's thigh; this was followed by a few minutes of filmed caressing and cuddling and holding hands. This was Darius' last scene, while Kristi moved on to film what would become the first and last scene of the film, her character in a large clawfoot tub, touching herself. All the women on the set giggled while rolling the tub into place—as a film prop, it was set atop wheels and was indeed the reason Winter had rented this particular studio space. She hauled in a five-gallon bucket of warm water, which Barbara used to sponge Kristi's neck and chest, to give the illusion that she was soaking in hot water. In the produced film, the sex scenes between her and Darius take place in her character's mind while she is in the tub.
Winter calls herself a "feminist pornographer" on the heels of feminist women in the porn industry who for decades have advocated for what she calls "a feminist gaze." Feminist pornography developed as a brand in the 1990s, and in 2006, a Toronto-based sex toy shop hosted the first Feminist Porn Awards, recognizing leaders in the industry. For a film to be considered for this award, it must meet at least one of the following criteria: a woman helped create it, it depicts "genuine female pleasure," or it challenges stereotypes of mainstream porn. Though it is not as lucrative or popular as the sites owned by MindGeek, like Pornhub, the "feminist" work created by independent producers and directors like Winter has birthed a market alongside free streaming sites and for-pay subscription sites.
"What people think when they think 'porn' basically has nothing to do with me," Winter told me. And yet, directors like her are making and selling porn. They are the porn industry, at least one arm of it, and that brings a lot of baggage.
For one thing, the genre is dismissed by anti-porn feminists as an oxymoron. "Akin to climate change deniers," anti-porn feminist activist Gail Dines has argued, signaling that feminists making porn are in denial about pornography's harm to women. Other commentators take less of a hard line than Dines', but they still set feminist porn aside to focus on mainstream misogyny. "Watching natural-looking people engaging in sex that is consensual, mutually pleasurable, and realistic may not be harmful—heck, it might be a good idea," journalist Peggy Orenstein has written. Yet in her investigations of pornography's impact on teenagers, she found that feminist porn is simply not what teens are watching. Sociologist Bernadette Barton puts it this way: "This content does not solve the problem of sexism in internet porn because feminist porn is a niche."
Winter and nearly every other porn-positive person I interviewed shared concerns over sexism in commercial porn. But they insist that feminist-created porn can serve as a remedy to the problem and is not simply an outlier to be cast aside.
Still, for all the ethical motives behind feminist or ethical porn, proponents of these genres must also contend with the fact that they can be labels to generate profits, too. Feminist pornography is "hot," as industry magazine XBIZ once put it, but it is not without controversy. Melissa Harris, a former porn director and performer, pointedly responded to my questions about the genres of feminist and ethical porn: "Feminist porn is not real. Ethical porn is not real. These are marketing terms. I would say the only ethical and feminist content is from independent producers."
Andre Shakti, an independent sex worker and porn performer, is also critical of the "feminist porn" label. She disagreed with one of the hallmarks of feminist porn, as described by the Feminist Porn Awards, that porn should depict "genuine pleasure." "I'm a performer. This is my job," she told me. "And I'm going to put on a great performance regardless of whether my orgasm is real or not." Stoya, the famous porn performer and sex advice columnist for Slate, has made similar points: "My politics and I are feminist," she has said, "but my job is not." "I use my body to make gender-binary, heterosexual-oriented pornography for a production company that aims to have as much mass appeal as possible." Nothing about this is feminist, Stoya argues, but it is consensual—and the way she makes a living.
In her book Female Chauvinist Pigs, journalist Ariel Levy insists that the problem with contemporary culture in the aftermath of sexual liberation and the women's movement is that it appears to liberate women's sexuality but, in fact, confines it to a limited narrative. Some women (namely, the pretty, young, white ones) may feel entitled to express their sexual desires and showcase their bodies, but Levy insists that this has come at the expense of their actual and authentic sexual pleasure. Citing Olympic athletes appearing in Playboy, the Victoria's Secret Fashion Show airing on prime-time TV, or the hugely popular Girls Gone Wild franchise that profits on drunk female college students willing to lift up their T-shirts, Levy blames "raunch culture" for limiting women by catering to straight men's desires and pockets.
The argument goes that, in the wake of the feminist movement, young women grew up believing they could pursue educations and successful careers alongside men. Most American women, as well as men, say they believe that marriages should be egalitarian and that each partner should actively participate in both the domestic and the work sphere. People have pushed back against conservative values that forbid sex outside marriage and that shame women for having sexual desires. The contradiction is that for all the gains in the name of so-called sexual freedom, women's sex lives have not been radically transformed for the better. In one of the largest surveys of sexual experience since the work of Alfred Kinsey, sociologists Elizabeth A. Armstrong, Paula England, and Alison C. K. Fogarty found that 9 out of 10 female college students reported that they do not experience orgasm in a one-time "hookup." Studies find that, within heterosexual marriages, women are less sexually satisfied than men. Rates of self-reported rape and sexual assault against women appear to be on the rise.
Sociologists make sense of these data by describing a "stalled revolution," as many goals of the women's movement (like equal pay for equal work) have been largely unmet. When it comes to women's sexual liberation, Levy calls it "the future that never happened."
When the filming at the ForPlay Films porn shoot ended, I helped Winter, Barbara, and Susy pack up the props and was reminded of an exchange on the set that happened hours earlier. Before she agreed to wrap up the scene with Darius, Winter asked Kristi, "Did you come?" and Kristi responded casually, "Oh yeah. Like six times."
I found myself automatically skeptical, and I asked Winter if she believed Kristi. "Yeah, sure. I think she was telling the truth," she said.
My skepticism of Kristi's performance and her assertion of multiple orgasms is the same as Levy's critique: the exaggerated moaning and the Yes, don't stops as Darius used his hands and his mouth to pleasure her seemed so performative, so quintessentially "porn star," that I doubted those six orgasms were real. They seemed to me not unlike the "orgasm" of Sally Albright, who simulates one in a deli while sitting across from Harry Burns in When Harry Met Sally.
Slate receives a commission when you purchase items using the links on this page. Thank you for your support.
The anti-pornography position of Dines and other feminist activists rests on the distinction between good and bad sex. Good sex (which Dines calls "wonderful, fun, and deliciously creative") is never truly found in porn, which by definition is, according to her, bad sex (debased, dehumanized, formulaic, and generic). In this thinking, to be ejaculated on, to be penetrated by more than one object, to be choked—all scenes that are common in mainstream commercial porn—is so obviously violent and degrading that there is no alternative reading of pornography's treatment of women. Even Levy, who is careful to insist that she is not anti-porn, falls back on similar values judgment by assuming she knows what authentic sexuality for women should look like.
What makes feminist anti-pornography positions problematic, along with my own reaction to the claim of a porn star's authentic orgasms, is that we end up taking on the authority of other people's desires and pleasures. We dare to assume that we can distinguish real from fake when virtually everything about sex is a little bit of both. Sex is a deeply social recipe, mixing together the ingredients of our childhood, the media, our values, and our peers. Sociologists John Gagnon and William Simon call the result "sexual scripts," in which not only what we think about sex but also how we think about it stems from the social world in which we live.
In the 1970s, Gagnon and Simon pioneered the radical claim that our deepest physical and private sexual feelings and desires are in fact produced within a specific social context. They are never presocial (that is, mere biological drives), as was the focus of much early sexological research, nor are they suprasocial (repressed psychic desires), as was the focus of Freud and the psychoanalysts. Rather, according to Gagnon and Simon, the social world teaches us a series of sexual scripts that we learn and internalize over the course of our lives. Perhaps the efforts of feminist and ethical pornographers to literally change the script in porn films is one strategy to change our internal desires. But until then, given that we all experience sex with society at our side, any assertion about "authentic" sexuality is pretending that sex can ever leave its social baggage behind. Maybe Kristi was onto something.