The phenomenon of feeling as if you know a famous or semi-famous person is frequently thought of as a modern problem, a consequence of the age of social media, podcasts, and smartphones. But it's not actually all that new, as the new documentary Judy Blume Forever proves: For thousands of kids who traded snail mail with the author over the years, Blume was the original parasocial friend. Except parasocial relationships are usually one-sided, and when kids wrote Blume letters, she wrote back.
Blume is the celebrated author of seminal books for young adults like Forever, Deenie, and Are You There God? It's Me, Margaret, the last of which has a major movie adaptation set to release next week. The documentary landed on Amazon Prime on Friday, just in time to ride the wave of Margaret hoopla. It attempts to accord Blume the Won't You Be My Neighbor? treatment, giving the 85-year-old author her flowers for being generations of readers' entry point into frank discussions of puberty and sex. But as several critics have noted, the highlight of the film might be its recounting of the stories of a couple of readers who became pen pals with Blume as kids. As Mashable put it, "by far the most moving contributions come from Lorrie Kim and Karen Chilstrom, two readers who corresponded with Blume for years."
Kim and Chilstrom are grown women now, but both began writing to Blume during their childhoods in the 1970s and '80s. These weren't simply fan letters: Sensing in Blume's books someone who would understand them, both girls wrote to the author about the often-difficult times they were going through. Viewers of the film even get to see the actual letters and hear the women reading them in some of the movie's most misty-eyed moments. One of Kim's begins, "Dear Judy, You may have noticed that whenever I have a problem I unload it on you. I can't say anything to anyone else. I used to confide in my diary but everyone keeps reading it."
Blume's letters are part of the collection of Yale University's Beinecke Library, which the film's directors, Davina Pardo and Leah Wolchok, visited for research. And while it tells two correspondents' stories, they're clearly stand-ins for dozens, hundreds, maybe thousands more letter-writers who developed relationships with Blume over the years. Kim, who is now 54 and a writer herself, told me, "If I poured so much emotion into my letters, and she was getting 1,000 or 2,000 a month, how much collective American emotion is in that collection … is beautiful."
Kim said she got involved in the movie when Pardo and Wolchok asked for Blume's permission to reach out to some of her pen pals. "Because there are protections on the letters," Kim said, "they can't contact any of the people directly. Judy has to contact them. So I was one of the people Judy reached out to and said that she really trusted Leah and Davina and she believed in their vision for the movie."
Kim wasn't exactly dying to revisit her juvenilia. "I don't want to be in a movie, and I don't want to see my face up on the screen ever," she recalled thinking when she first heard about the movie project and her letters. "I didn't ever want to think about them again. Over decades, [Blume] had frequently said to me, 'I have all your letters. Do you want them back?' And I would say, 'Oh God, no.' "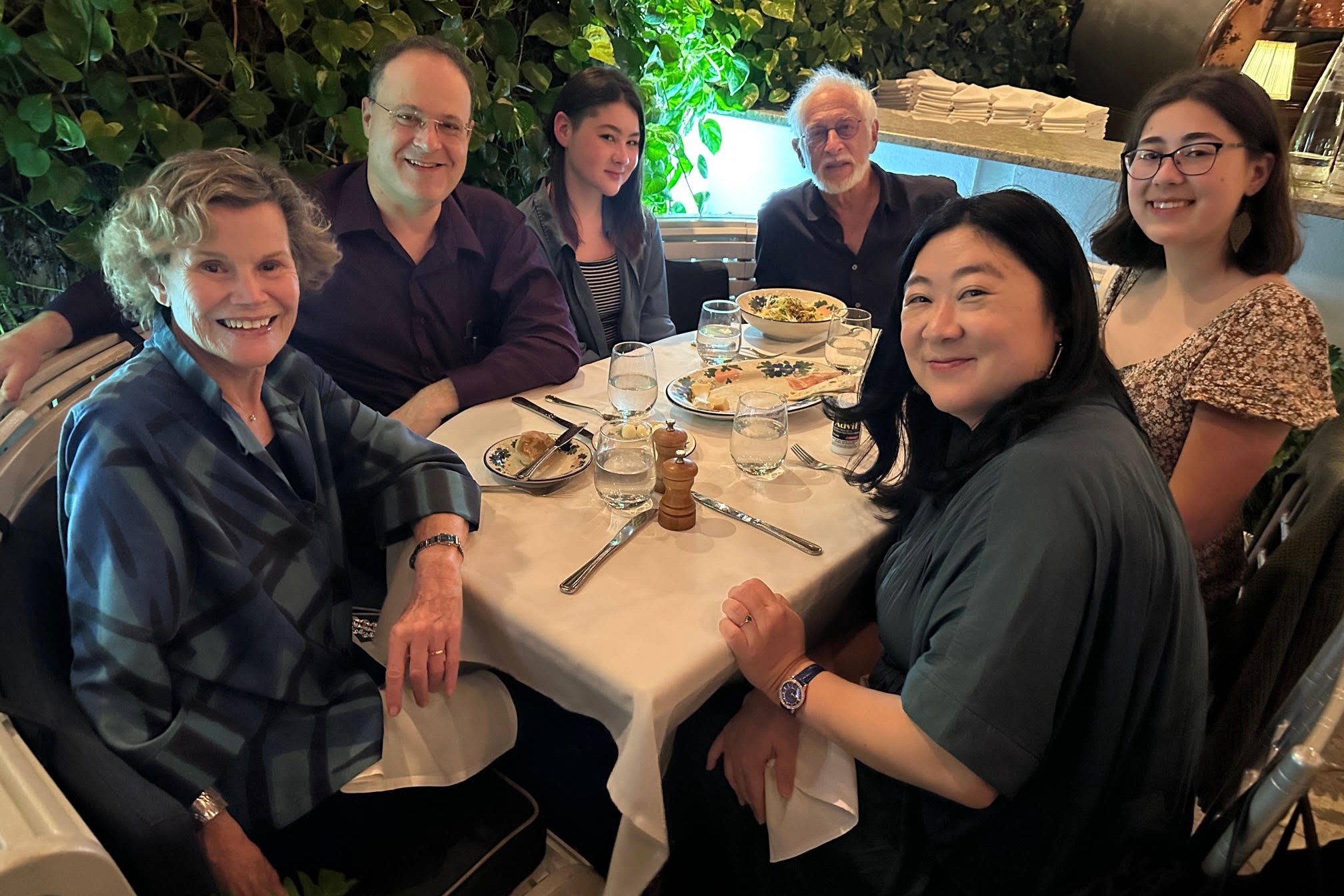 She changed her mind out of devotion to Blume and all the generosity she had shown her over the years. "She did a lot for me for no reason except to be kind, and I'm not the only one."
Kim was originally introduced to Blume's books by some pushy but well-meaning classmates. "I was the only Korean girl in school, and these incredibly sophisticated, worldly Jewish girls who were in my fourth grade class decided that I was just too naïve and I really needed to be told things like what menstruation is," she said. "They made me come to that part of the library and they said, 'You need to read Judy Blume.' "
The same girls gave her the idea to write to the author too. Blume reads the first letter she wrote back to Kim in the documentary: "I just loved your letter. Are you really in fourth grade? You sound so much older." She told Kim to keep in touch, and she did as instructed, all through the rest of her school years. At her most isolated point, when Kim's family had moved from America to Korea, she was writing once a week. They became close.
"The first time she called me at home, my mom answered the phone," Kim said. "My mom was so overcome that she just sort of gave the phone to me and then afterward, she felt bad, like, 'I should have said thank you.' I should have said, 'You've taken such a good interest in my kid; you've been so kind.' "
Kim had always been interested in reading and writing, but Blume's letters provided some of her earliest exposure to what it really meant to be a working writer. "In her letters, she would write about the life of being a writer," she said: research, drafts driving her crazy, touring eating up her writing time. "She was always giving advice on writing … trying to tell everybody, 'No matter who you are, you have a story.' " Kim grew up to write pop culture and literary criticism and is the author of a book focusing on Harry Potter's professor Snape.
The help didn't stop there. "She also offered to help with my college applications," Kim went on. "There were a couple of colleges where I asked her to send in recommendations. One of the colleges, which I didn't go to, was the one where her son was a current senior, and they're a very casual college, so she said she just picked up the phone and called the admissions office."
"It was really marvelous and affirming," Kim said of Blume's support.
She ended up attending Bryn Mawr, a women's college in the suburbs of Philadelphia. One of Judy Blume Forever's most memorable bits is when Kim briefly shares the story of Blume attending her college graduation. "My parents had some issues with international travel right before my graduation," Kim told me. "I just didn't want to be the only person at graduation that had nobody. So I called and I said, 'Would you come?' And she was very firm: 'Yes.' "
They had been writing to each other for more than a dozen years at that point, but they had never met in person. "She's exactly the way you think she's gonna be," Kim said. "There was no sense of strangeness. It really was sort of like, 'Wow, I can't believe we've never met before.' You know, by that time she knew every single detail of my life since I was 9."
Graduation was memorable. Blume attended with her husband, George Cooper—the documentary also briefly tells the story of how they met. It was 1990, and one of Supreme Court Justice Antonin Scalia's daughters was in Kim's class. "He had just been part of some extremely oppressive, anti-gay legislation, and this was not popular on my campus," Kim remembered. Some protesters approached him at a garden party. "They did a kiss-in, a lesbian kiss-in. And they also did a pagan ritual to bind him and his power."
Kim remembered watching George notice the ruckus and him asking her if that was really Scalia. She said, "I said yes, in a very negative way. And then, to my shock, George got up and walked over and shook his hand. My world just exploded." Kim was briefly horrified to think that Blume had married someone who approved of Scalia's politics … but it turned out he had just known the justice from law school—and meanwhile had a strong record of anti-apartheid and civil rights work. Phew. "My idea of Judy was correct," Kim said. In over 40 years of friendship, Blume has always come through for her.