This year, for the first time since 1961, the carpet trodden by stars arriving at the Oscars was not red. The "champagne carpet," as entertainment broadcasters awkwardly forced themselves to pronounce on Sunday evening, made a murky backdrop for the scores of white and whitish gowns that paraded across it, and before too long, it was stained with whatever Hollywood's finest had tracked in on the bottom of their Gucci loafers.
But the clothes wore on, with trends both sexy (extreme slits, exposed boning, slinky fringe) and showy (spacious skirts, rambling trains) announcing themselves.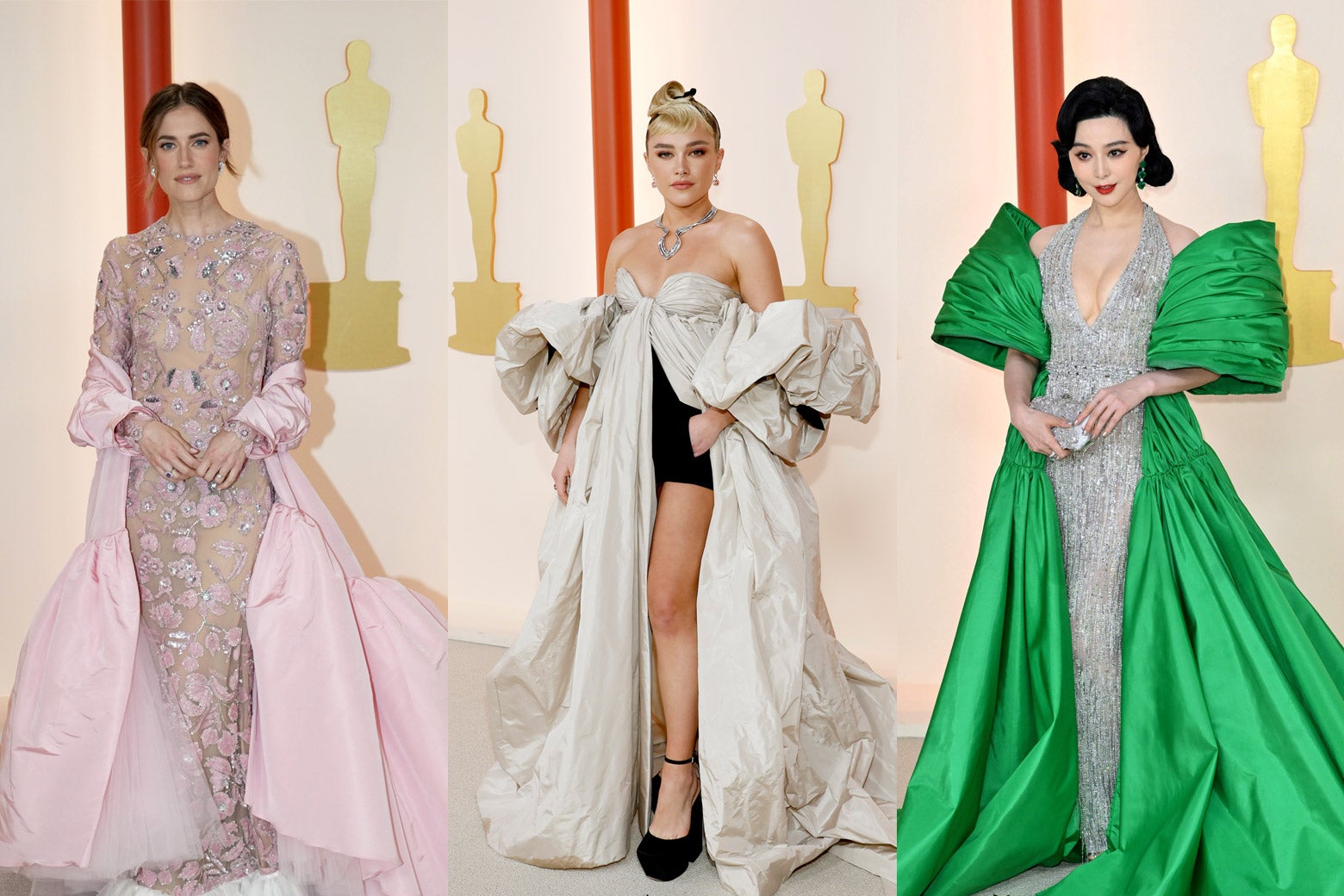 Voluminous garments that blurred the lines between skirt, shawl, and sleeves made an especially strong showing this year. On Allison Williams, it was a ballerina-pink overcoat that she wore low on her arms, like a cape for her lower half—a refreshing departure from the empty-sleeves look usually favored by the fancy. Florence Pugh's studiously wrinkled, concrete-toned sleeves were so perfectly puffed, Valentino might have hidden a wire skeleton underneath. Ditto the shamrock-green shell that lay atop Fan Bingbing's fringed sequins, which added a good two feet to her circumference. Thoughts and prayers to the people seated next to her!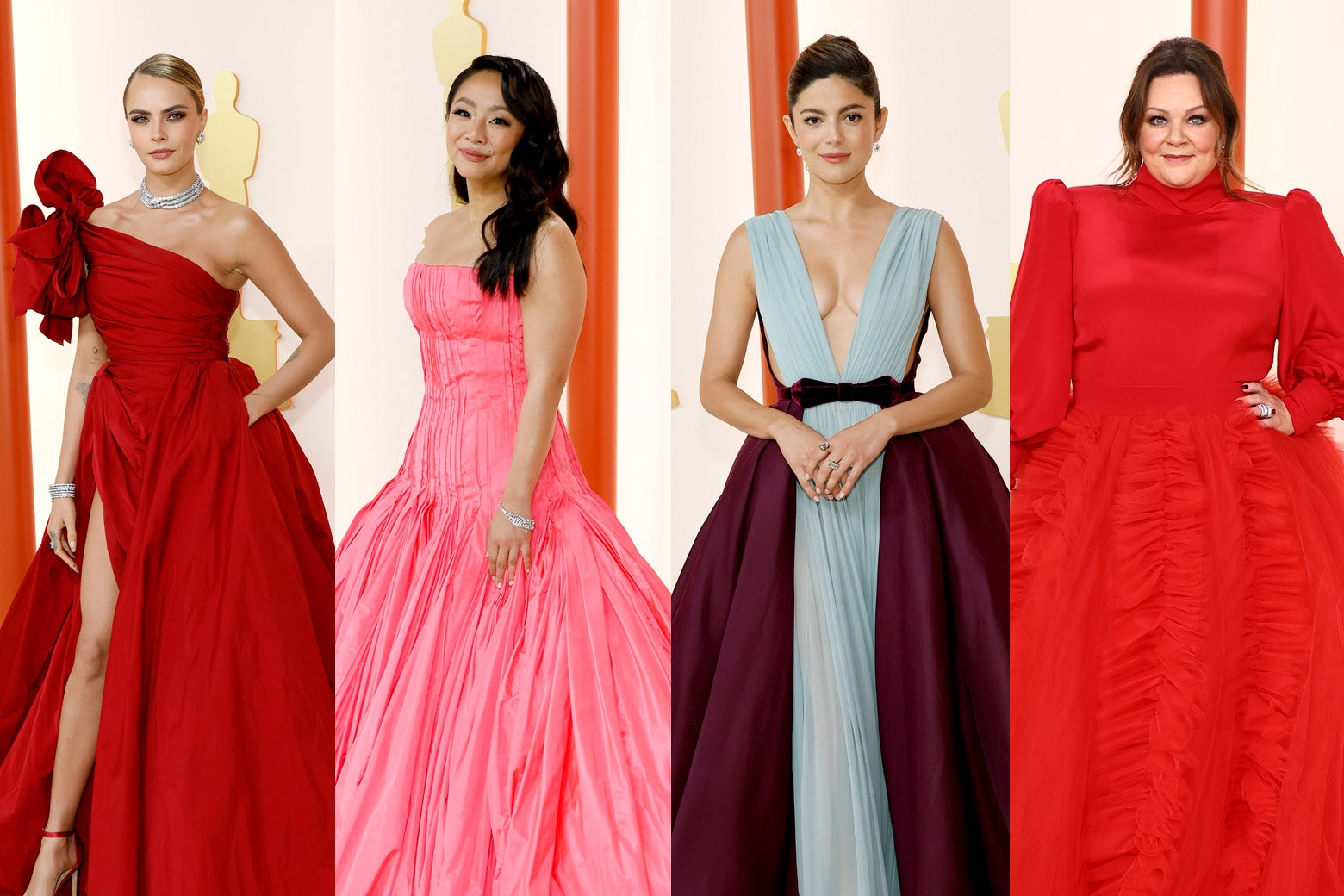 Spare another moment of silence for the next-door neighbors of the biggest skirts of the night, which made me think about how fluffy ballgowns were probably invented to prove that upper-class women could afford to buy many times more fabric than they would need to cover their actual bodies. Anyway! Cara Delevingne had a hip-high slit that she labored to show off through the folds of her Elie Saab Couture dress. Stephanie Hsu looked like pure joy in a bubblegum-pink, bubble-hemmed gown that crinkled luxuriantly under its own weight. Top Gun: Maverick's Monica Barbaro had the dreamiest color combination of the evening, a sky blue and burgundy pairing that precisely evoked the feeling of mid-March. Melissa McCarthy's choice was a striking mix of practicality (turtleneck!) and frivolity (so much tulle!).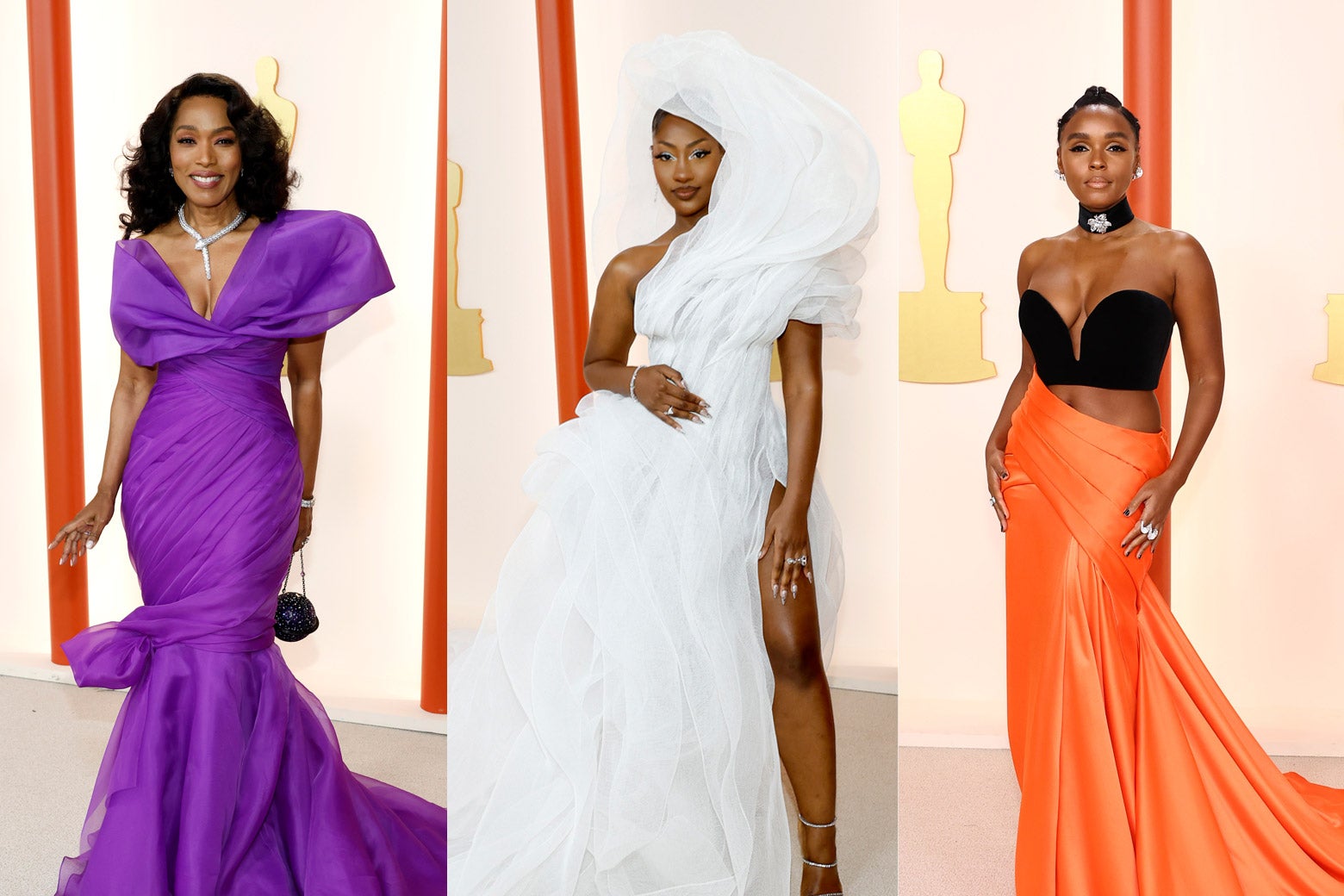 Angela Bassett wore a swirling mermaid gown of purple organza, topped with a flourish that looked fit for modern royalty. It was a showcase for the art and science of garment tailoring, without which it would have bagged and bunched. Instead, it floated over Bassett like a layer of mist. Trophies should also go to the craftspeople responsible for the Asawa-esque sculpture that adorned Nigerian singer Tems and the asymmetrical construction cone that enveloped Janelle Monáe.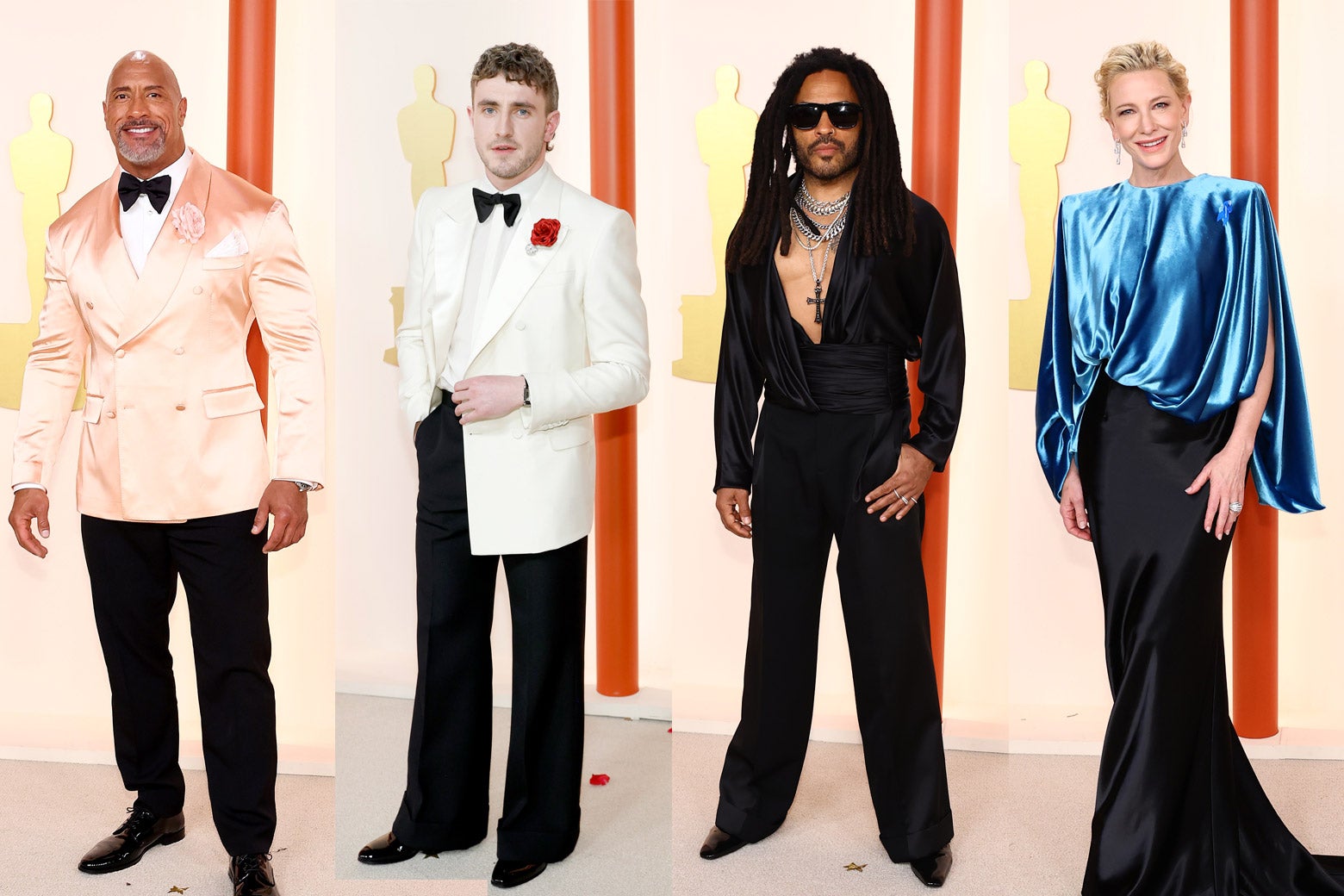 Catching the light in shiny tops were the Rock, in a perfect-for-him peachy blush; Paul Mescal, in a Euro mullet and wide-leg pants; Lenny Kravitz, who looked like a ballroom dancer with his plunging neckline (how else to display his necklace collection?); and Cate Blanchett, whose exquisitely draped Louis Vuitton blouse was a pleasing shade of denim-ish blue that rarely appears at the Oscars.
Spring sprang onto the chests of Mescal, the Rock, and Sarah Polley, who all sported cheeky boutonnieres. Nicole Kidman and Halle Berry, too, wore blossoms on their shimmering, extravagantly slitted gowns.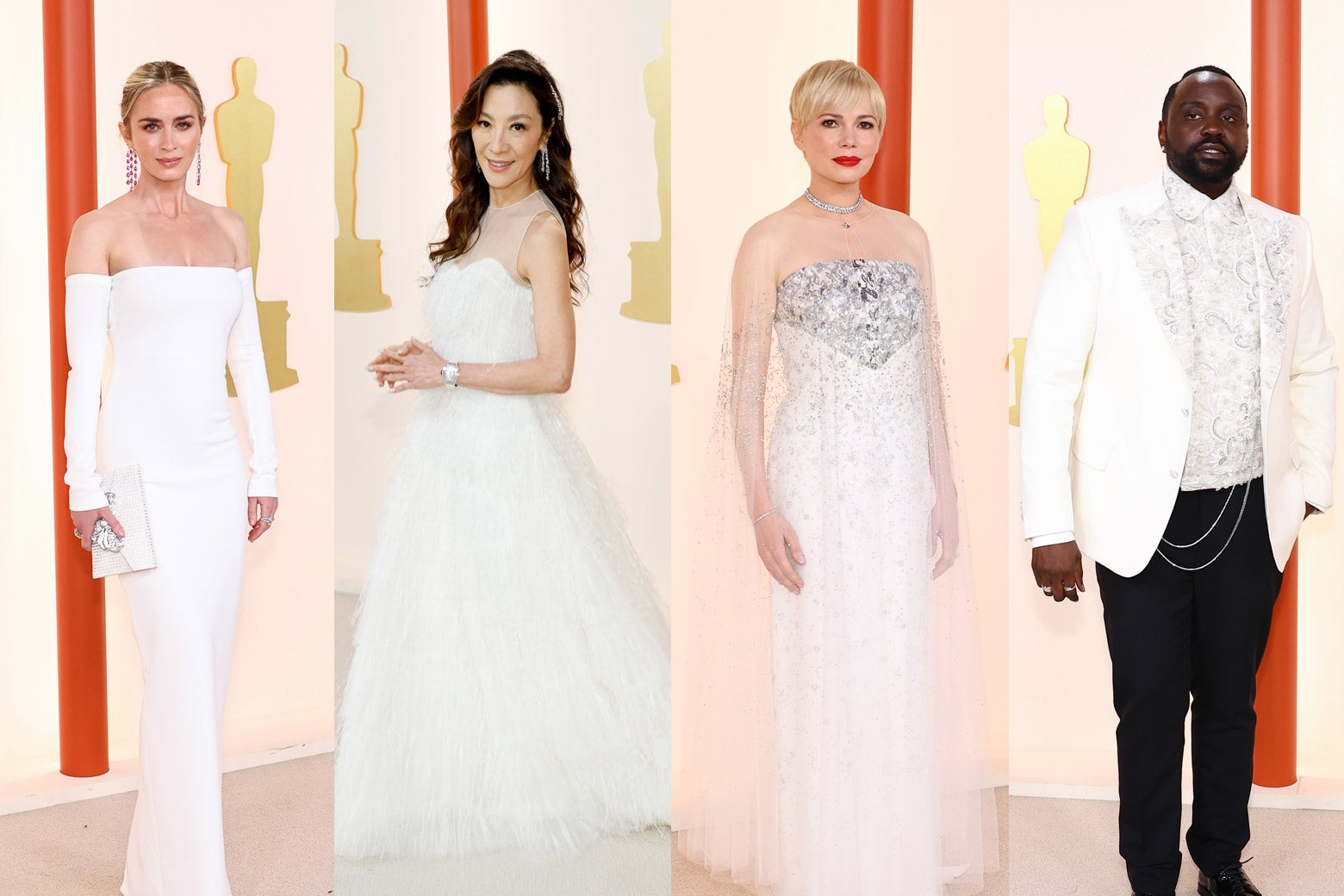 For four divergent takes on one of the most popular colors of the night, check out these poor souls who ended up blending into the Oscars decor: Emily Blunt wore the red champagne-carpet equivalent of a white T-shirt. Michelle Yeoh's allover fringe, from Dior Couture, appeared to be made of individually sculpted feathers, an unimaginable luxury only she could possibly warrant. Michelle Williams was a bit primmer in an impossibly delicate, lightly bejeweled full-body veil. The captain of Team More Is More was Brian Tyree Henry, in a baroque three-piece suit with both shirt and vest covered in sequined floral appliques.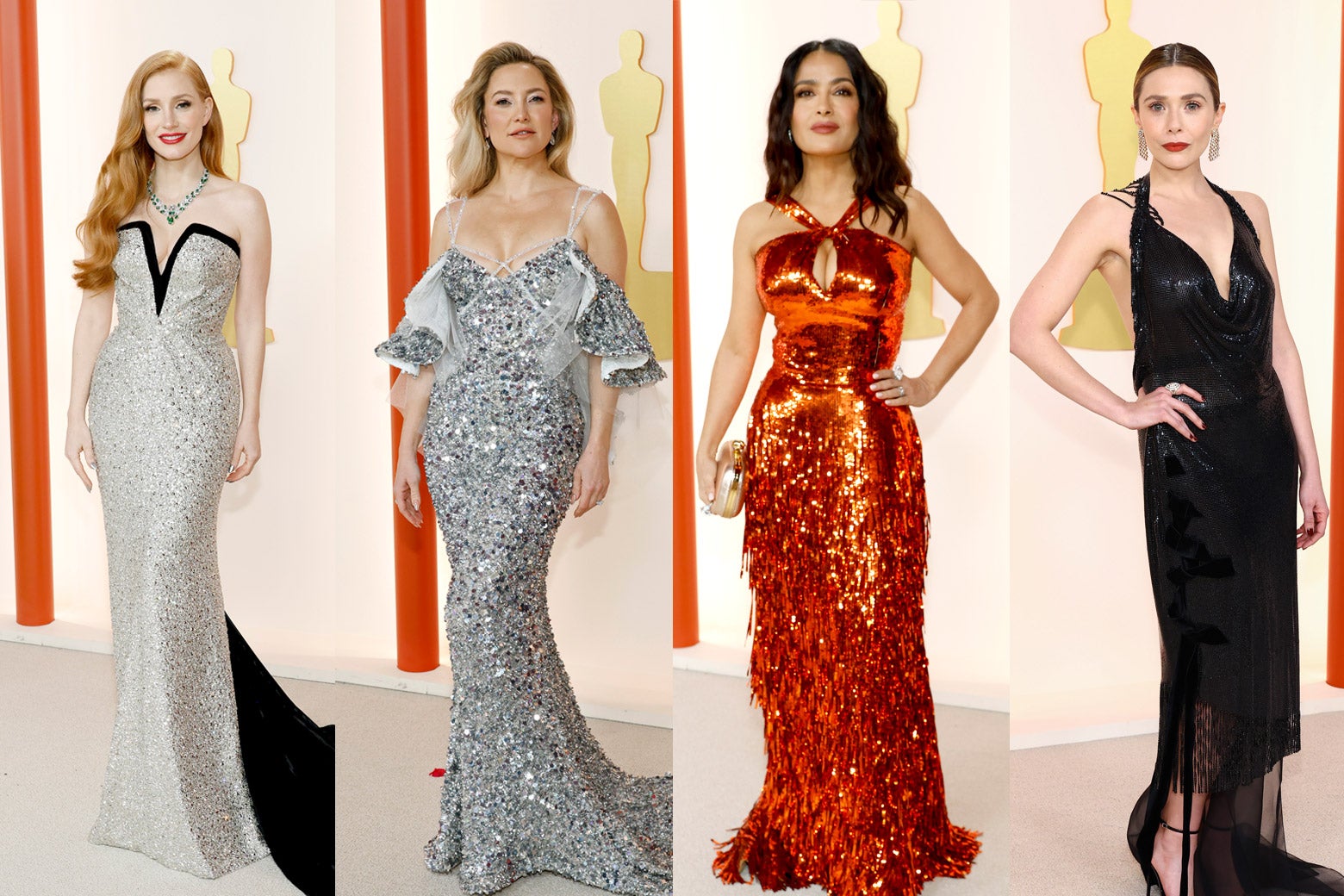 On the glitz-and-glamour front, Jessica Chastain brought traditional Oscars sparkle with allover sequins set off by striking black trim. Kate Hudson's gown was every embellishment everywhere all at once with its chunky sequins, ruffles underlaid with tulle, and jeweled straps that looked too delicate to adequately support the heavy-looking train. (Maybe that's why they were angled and crisscrossed like the beams of a truss bridge?) Salma Hayek Pinault took advantage of the lack of red carpet to try a rich, fringed persimmon gown that would have otherwise clashed with the floor. Elizabeth Olsen wore fringe as well, on a mishmash of a Givenchy dress that was made of ultrafine black chainmail and also included velvet bows and a gauzy underlayer that trailed on the floor.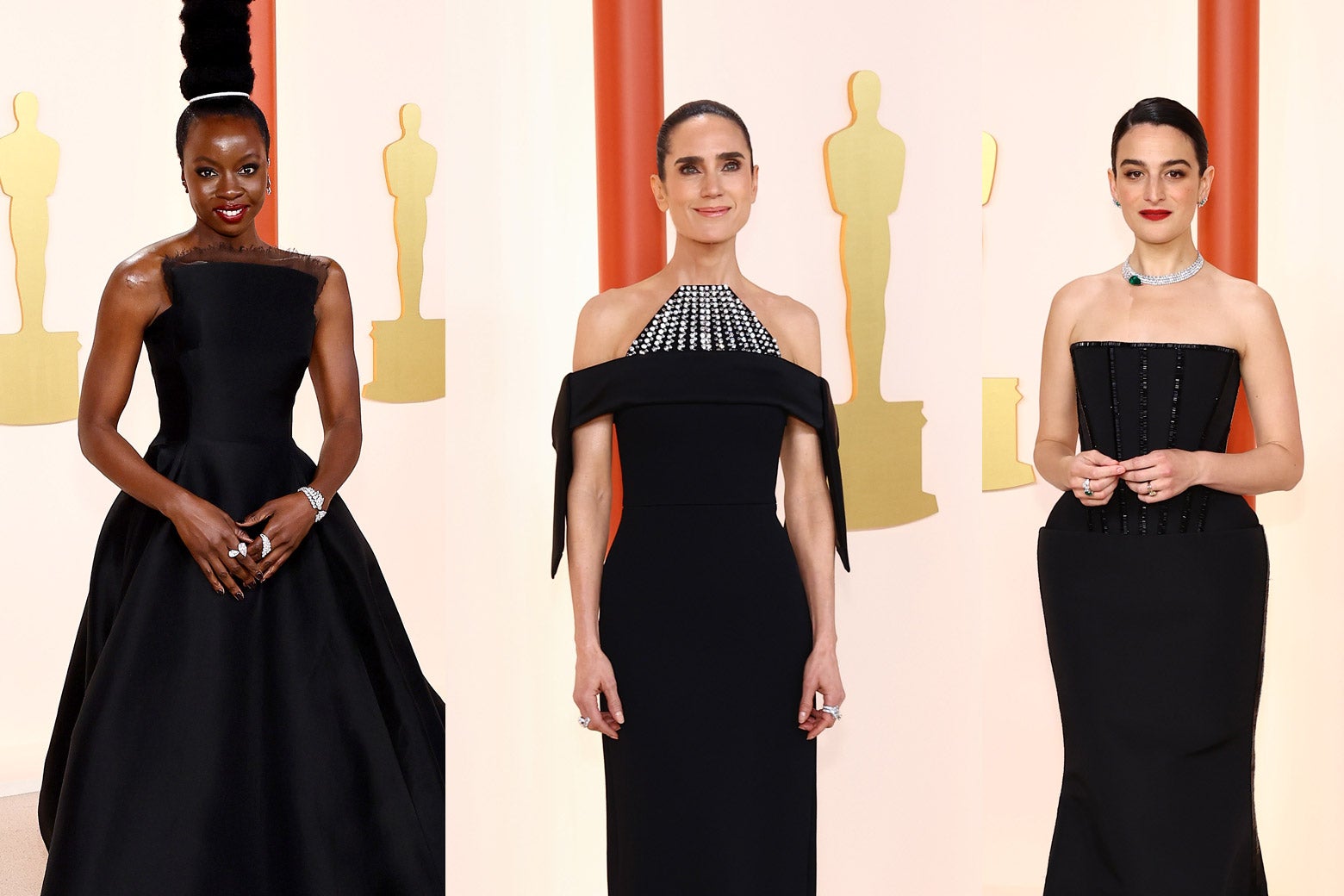 Simple black gowns were dolled up with a bit more visual interest on Danai Gurira, with a frayed collar atop the bodice of her otherwise sleek Jason Wu number; Jennifer Connelly, in a gem-encrusted panel that recalled the black velvet display box at a jewelry store; and Jenny Slate, whose stiff corset top flared into (maybe?) padded hips.
Without a doubt, the most prevalent newish trend of the evening was corset and bustier tops with exposed boning, which lent a bit of a subversive edge to the black-tie dress code. Jamie Lee Curtis wore a Dolce & Gabbana gown covered in constellations of jewels, the largest of which recalled the googly eyes from the film that earned her a Best Supporting Actress win tonight. In custom Vera Wang, Mindy Kaling had the full bell sleeves and peplum of a business-casual dress—a smart contrast with the flashier bodice. The Little Mermaid star Halle Bailey, going for a trend twofer with brief-baring tulle, looked right at home in a sea of marine fluff.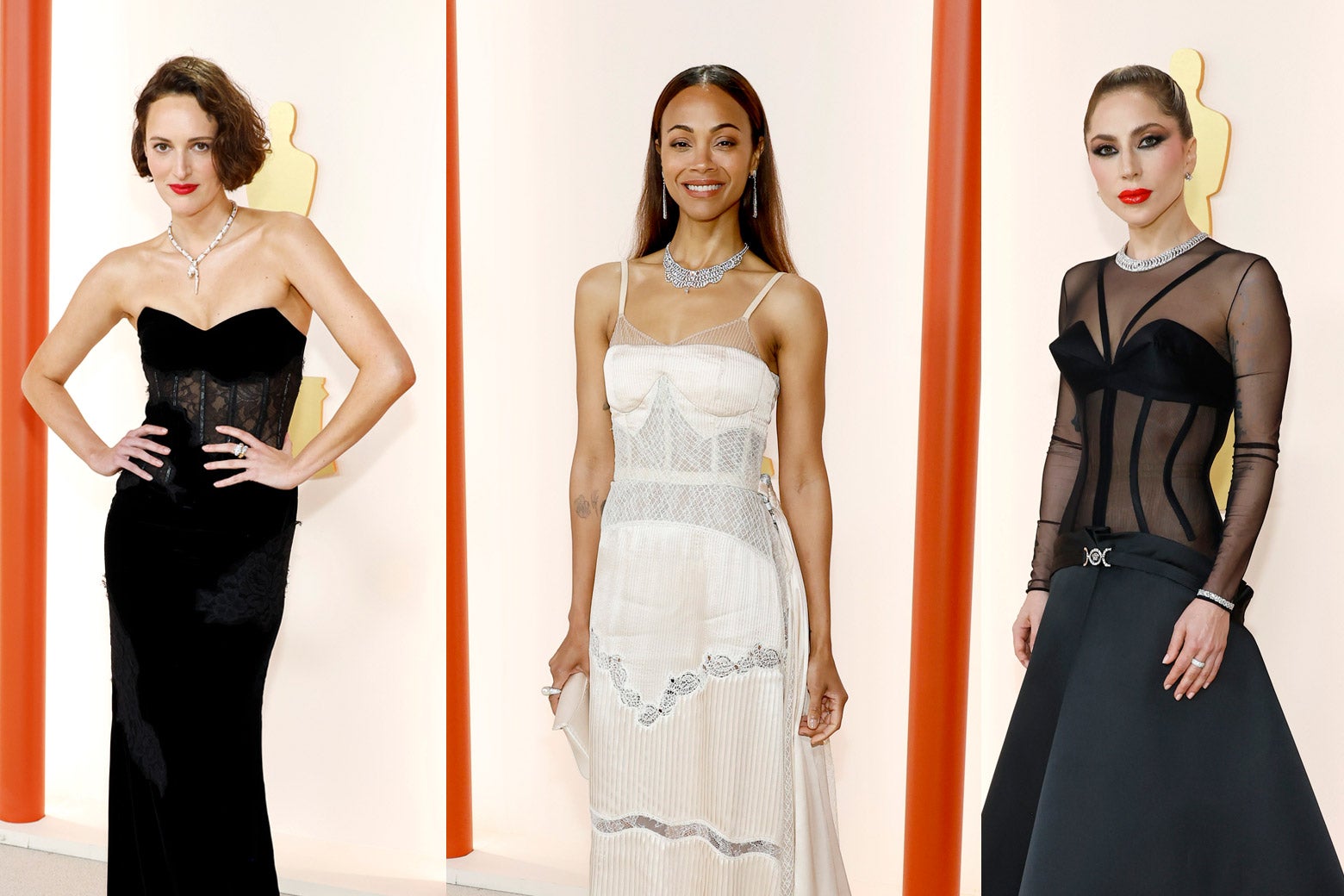 Also on the exposed-boning bus: Phoebe Waller-Bridge in goth-adjacent lace; Zoë Saldana in a tablecloth-chic Fendi Couture slip; and Lady Gaga, whose deeply dropped waist revealed a hint of rarely-dared butt cleavage.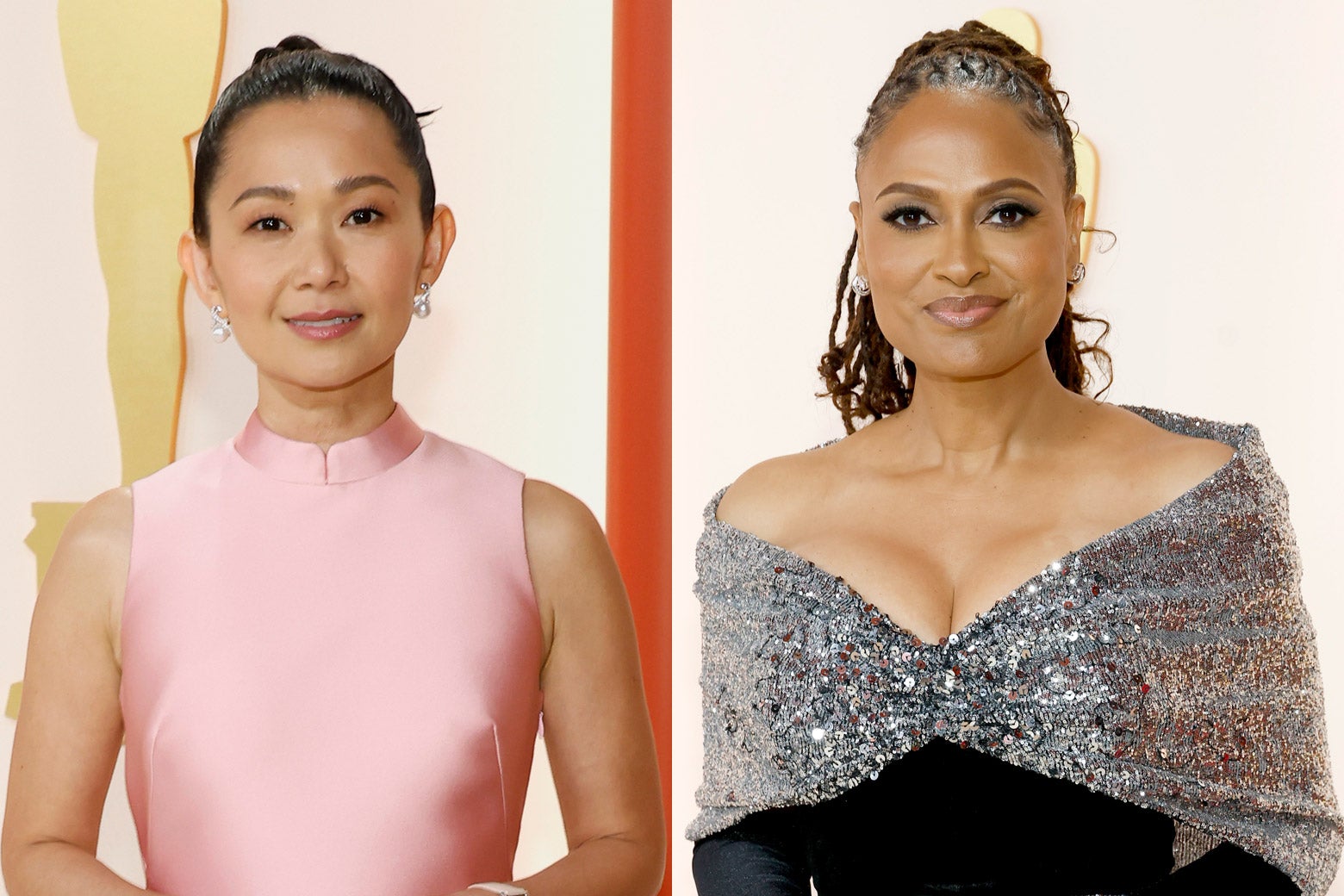 A champagne carpet loves a train that luxuriously froths over the top, and two of Sunday's best stood in beautiful contrast to the dresses they festooned. Hong Chau, who asked Prada to add a Mandarin collar to her dress as a nod to her Vietnamese roots, trailed what looked like thick, seaweed-y tinsel behind her pristinely tailored, smooth-as-marble gown. Ava DuVernay brought black-tie drama in long gloves—an underused Oscars accessory, if you ask me—and left a galaxy of sequins in her wake.
Remember that terrible time a decade or so ago, in the years right after Baz Luhrmann's 2013 Great Gatsby adaptation, when every wedding and milestone birthday party was Gatsby-themed? So do Ariana DeBose and Eva Longoria, whose geometric patterns (Atelier Versace and Zuhair Murad Couture, respectively) brought Art Deco vibes and nauseating flashbacks of flapper-inspired photobooth props.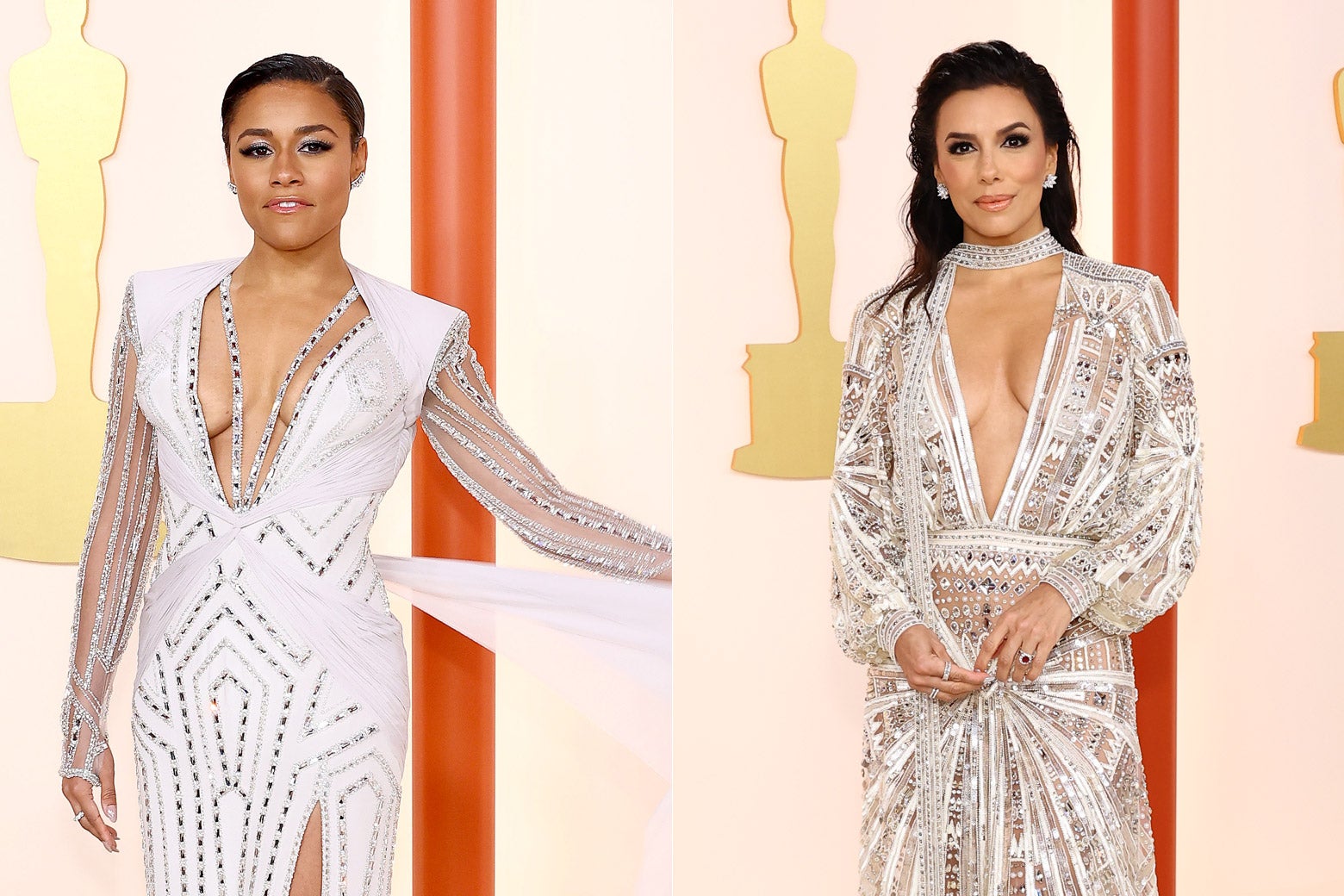 The newly minted Oscars "crisis team," originally established to handle any potential physical confrontations or other such ruckus, should investigate this disturbing fashion development.