In summer 1962, a 12-year-old named Josh began a six-year journey at Camp Tavor, a socialist Zionist summer camp sponsored by the youth movement Habonim, first as a camper, then as a counselor-in-training (CIT), and then, in his last year, as a full-fledged counselor. As Josh reflected on his romantic experiences at camp in an interview for my new book, The Jews of Summer: Summer Camp and Jewish Culture in Postwar America, a number of scenarios came to his mind representing each of these ages and stages: big bonfires every Saturday night with "skits and singing" in which boy campers "would invite girls to sit on their blanket with them" for "a little bit of making out"; how counselors went around with big flashlights they called "Zug Busters" ("couple busters"), embarrassing campers who were off canoodling instead of participating in activities; a more experienced friend teaching him how to hold the hand of the girl camper he was "going out" with. At 16, he advanced from holding hands to "kissing and fondling" his girlfriend behind the chadar ochel (dining hall), and as a 17-year-old CIT, he recalled the romantic energy when the group held singing circles and deep conversations at night in a room lit by a single candle. "Well, in the dark," Josh explained, "a lot of things would happen." In Josh's case, he remembered "holding a girl, and holding her breasts," with coupled-off CITs around him taking part in similar acts of cuddling, petting, and kissing.
Slate receives a commission when you purchase items using the links on this page. Thank you for your support.
There is plenty of evidence in popular culture to suggest that romance and sexuality permeate American camps of all kinds. If popular culture holds a mirror up to real life, however, it is worth noting that most movies and TV shows that relate to romance and sexuality at camp correlate to experiences their creators had at Jewish camps of various kinds. The cult classic Wet Hot American Summer reflects director David Wain's experience at a Jewish camp; the creator of the Nickelodeon show Salute Your Shorts attended Camp Weequahic, a historically Jewish camp with Friday night services; in the HBO series Girls, a Jewish character, Shoshanna, reconnects with a boy from Camp Ramah on the streets of Manhattan; Gorp, starring Fran Drescher, was set at a Jewish summer camp in 1980, and, according to an affectionate roundup of camp movies in the Jewish publication the Forward, "focuse[d] its energy on the important things: sex, poop, and rabbis." More recently, Netflix's Big Mouth had a camp-based puberty-and sexuality-focused episode based on creator Nick Kroll's experiences at a "Jew-ish" summer camp, and included an appearance from comedian Seth Rogen, who attended a Habonim Dror camp in Canada. In the pop culture landscape, the majority of references to sex and dating at camp turn out to be drawn from experiences at Jewish camps or camps with majority-Jewish populations.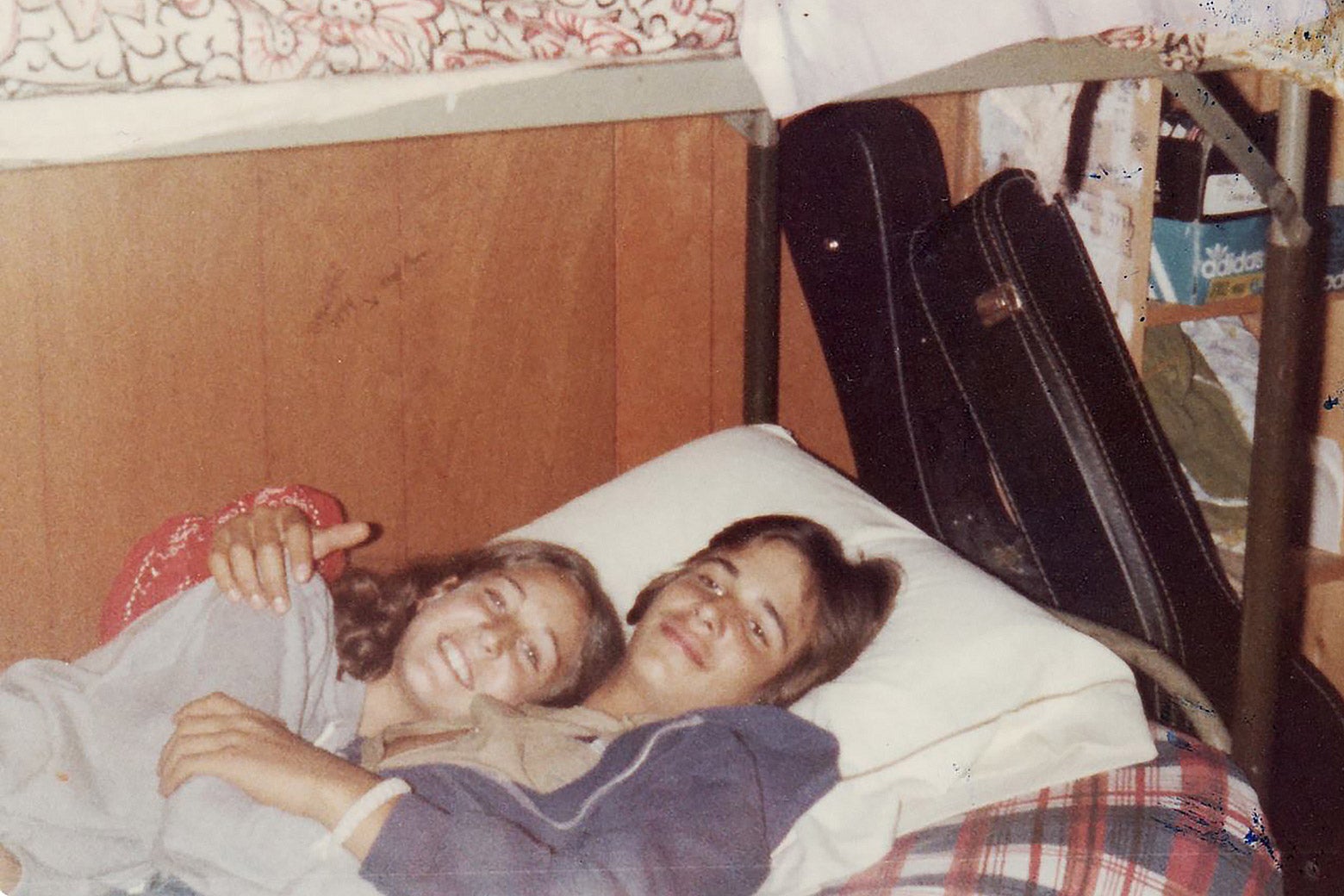 What makes Jewish camps' romantic and sexual cultures distinctly free, well known, and widespread relates to how and why camping leaders have managed, directed, and encouraged them from the top down. That adolescent campers would arrive interested in dating and sexuality from the mid-20th century onward was all but inevitable and obvious; that camp leaders would fuse those inevitable interests with communal and ideological goals—curbing assimilation, imbuing children with Jewish nationalist sentiments or religious identity, and combating rising rates of interfaith marriage—was specific to the Jewish camp. Mingling like campers at the social, the generations at camps fostered these sexual cultures together, less through discourse than through everyday decisions that sought to balance leniency, ideology, and control.
While rising rates of intermarriage between Jewish and non-Jewish Americans began to deeply influence Jewish camps' approaches to camper dating from the 1960s onward, Jewish organizations began to embrace coeducational camping for adolescents in the 1920s with a particular kind of enthusiasm. In the early 20th century, most American summer camps operated as single-sex environments. As both progressive reformers and proponents of muscular Christianity began to see the impacts of industrialization and urbanization on children as a problem, most early camps focused on "masculinizing boys" or producing healthy urban girls in camps segregated by sex. At the turn of the century, many private camps for well-established Jews and philanthropic camps for the children of immigrants followed a similar single-sex trajectory, serving Jewish boys and Jewish girls separately.
This early norm of single-sex camping came into question beginning in the 1920s, as psychologists such as Sigmund Freud and G. Stanley Hall advocated for the importance of heterosocial development to counter the development of homosexuality, a prospect they viewed as undesirable. In response, some boys-only camps integrated girls in the 1920s or 1930s, while others built or associated themselves with a "sister" or "brother" camp nearby so that campers of both sexes could occasionally interact. But while most camp leaders came to support coeducation in principle, wrote historian Leslie Paris, "the degree to which children had the right to be sexually exploratory was controversial," leading most camps that served adolescents to remain single-sex. Through the 1930s, coeducational camps largely operated for preadolescent children, who, most camp leaders and parents believed, "were too young to create sexually charged environments."
Although they initially followed a similar trajectory, Jewish organizations embraced coeducational camping for adolescent youth more quickly than many of their counterparts in the American camping sector writ large. Jewish "fresh air" camps, as Paris described them, founded at the turn of the century, like camps Tamarack and Wise, were coed from the outset; so, too, were camps with radical or progressive politics that were founded in the 1920s and 1930s, like Kinderland, Wo-Chi-Ca, and Pioneer Youth Camp. Historian Abigail Van Slyck further confirms that Jews took on coeducational teen camping earlier and more vociferously than other groups. "Like other camps organized around ethnic or religious affiliations," Van Slyck wrote, Jewish camps "were typically coeducational" as they "encouraged young people to marry one of their own." Progressive politics and an interest in encouraging marriages between Jews of similar backgrounds and political affiliations made coeducational camping a norm within Jewish organizational camping, except for a few camps for children from Orthodox families. When camps with more explicitly Jewish educational purposes opened in the 1940s and 1950s, they emerged out of this tradition of the ethnic, progressive, and nonprofit Jewish camp, separating campers into girl and boy bunks, but otherwise combining the sexes in most activities from dawn to dusk.
While the prevalence of coeducational Jewish camping is relatively clear, it is more difficult to decipher whether the sexual cultures of Jewish summer camps were substantially more lenient than those that proliferated in other kinds of postwar American camps. A lack of existing research on the sexual cultures of other kinds of postwar camps makes such sweeping generalizations impossible. Although most religious Christian camps had policies discouraging sexual contact or kept their programs single-sex, a scholar of Christian camping, Jacob Sorensen, confirmed for me that many campers at religiously Christian camps met their spouses as campers.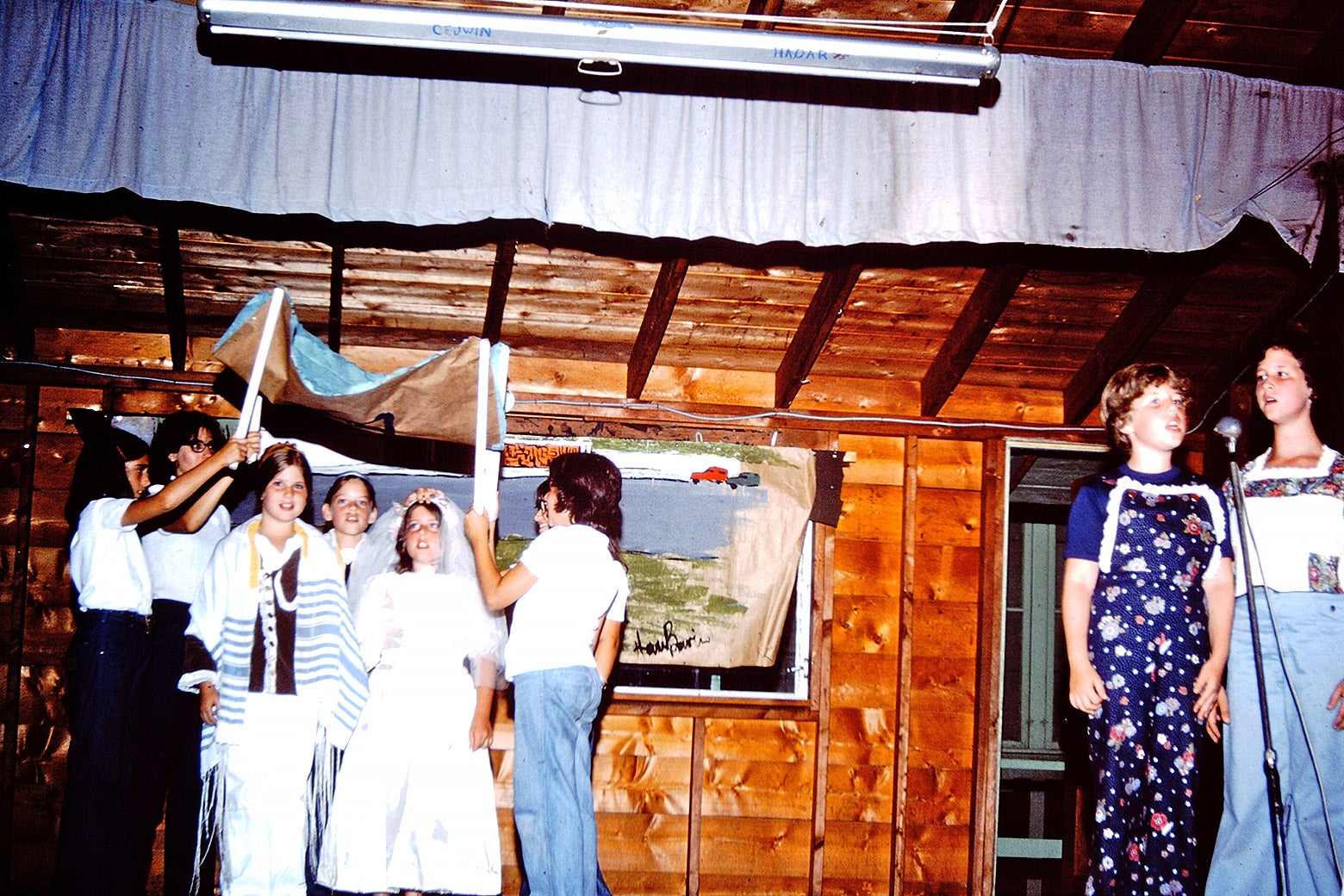 While unable to make a side-by-side comparison, I nevertheless wondered how the anxieties and agendas of postwar Jewish leaders shaped the sexual and romantic experiences of young Jews at Jewish summer camps. To complement my archival findings, I set out to interview former campers about their summer flings and the messages they received at camp about gender and sexuality. Sarah, a camper at one of the Conservative Movement's Ramah summer camps in the 1950s, explained that a feeling that "everyone needed a boyfriend or girlfriend" permeated the camp atmosphere, with campers divided into "two classes of people: those who had successfully coupled off, and those who had not." An alumna of Camp Hemshekh, a Yiddish-oriented socialist summer camp, recalled a similar feeling from her time at camp in the 1960s: "If you were going with someone, there was a certain status attached to it. … You'd come back to the bunk; 'Oh, what did he do? What did you say? How did he do it?' " After experiencing such attention on a personal level one summer, she moved through the rest of her years at camp believing that "the camp season was only successful if you were able to go with someone for at least part of the time."
Real and metaphorical Zug Busters did not need to flash their lights at every camper. Of the 30 former campers I spoke with who went to Jewish camps in the postwar era, eight said they never had a boyfriend, girlfriend, or summer fling in their many years as campers, deeming camp romance as the domain of "cool kids," older campers, counselors, or, in the case of campers who came out as gay or lesbian later in life, straight kids. And while the romantic atmospheres of camps presented opportunity for discovery, they also had the potential to perpetuate peer pressure, group hierarchies, and social anxiety. Since sexuality permeated the camp environment through public displays of affection, spin-the-bottle games, public and in-bunk sexual humor, sexual graffiti on bunk walls, and late-night gossip, no camper was completely impervious to its significance within the everyday life of their camps. Those who did not couple off often left feeling that they had missed out on a crucial part of the camp experience.
Sequestered in the countryside, sleepaway camps of all kinds are defined by their spatial remove from the everyday and by the act of entering a separated, devoted site with its own culture, norms, and routines. But the power of camp space is the opportunity it offers to control inhabitants' time: With so few moments left unoccupied, campers often expressed how long, intense, and significant their times at camp felt, the accumulation of jam-packed days for one or two months making the total experience feel epic in its proportions. For campers who did engage in romantic or sexual exploration, their experiences contributed to the overall ability of camp to heighten emotions and bend time. Since campers spent nearly every hour of every day together, former campers described their relationships—even those that lasted only a few days—as playing more significant roles in their lives than dating may have during the school year. Although such relationships were rare, camper romances that lasted beyond the summer proved even more meaningful within the life histories of the former campers. While their memories of everyday camp activities often came with a disclaimer of uncertainty, their stories of dating, romance, and sexual relationships left some of the most indelible traces on the memories of the former campers I spoke with, recalled with a unique degree of confidence and clarity.
When I asked the alumni if they could recall times when their camps' rules or their counselors' oversight curbed their relationships, few to none could. But while laissez-faire approaches toward romantic and sexual expression gave campers a feeling of freedom and autonomy, camp leaders played crucial roles in shaping the camp sexual and romantic cultures from the top down. Counselors cheered or egged on their campers, participating in or overhearing the before-bedtime who-kissed-who discussions, encouraging campers to make moves, and doling out advice. From camp dances to dating games, moreover, staff members scheduled moments for heterosexual romance to bloom, educated campers about puberty and sexuality in both educational and informal activities, and emphasized Jewish marriage as an ideal through role modeling, education, and simulated wedding ceremonies. Observing the behavior of counselors as their older and cooler role models also affected how children and teens understood their camp's norms and expectations around dating and sexuality. Sarah noted that impressions of what counselors were up to in their own romantic relationships "set a tone" for the entire camper body: Campers aspired toward their more advanced relationships, gossiped about their potential sexual escapades, and developed crushes on them.
In some cases, teenage campers even ended up dating staff members, their small age differences blurring the disparity of their roles and power dynamics during the summer.
Despite this relative openness, camp sexual cultures did operate with certain limits.
During and after the sexual revolution, the prospect of campers advancing to sexual intercourse raised more concerns than the kissing and petting of earlier decades; camp directors began to try to control camper sexuality to some degree, lest campers become "too advanced" for their ages. Camp leaders and camper culture, moreover, encouraged only heterosexual coupling. To borrow a term from feminist scholar Adrienne Rich, camps of the postwar period promoted compulsory heterosexuality—romantic and sexual exploration modeled only through a heteronormative lens. While campers who later came out as gay or lesbian noted a whole range of feelings stemming from their experiences at camps, none experienced the kinds of sexual liberty that straight participants reflected on with nostalgia.
At the same time, Jewish camping leaders focused less on limiting sexual contact than on guiding its inevitability toward their own evolving objectives. Dating and sexuality emerged as central to the camp experience because campers sought those exciting firsts, but also because camp leaders saw benefits in allowing these romantic cultures to flourish. Logistically, giving campers the ability to pursue the opposite sex helped foster the association of camp life with the freedom essential to receiving buy-in from campers, much like the creation of camper governments, or permissiveness surrounding raids, pranks, and raunchy humor. From an ideological angle, however, romance at camp also helped shape campers' values surrounding marrying fellow Jews, as staff responded to rising rates of intermarriage from the 1960s onward. Zionist leaders also found ways to fuse camper culture with notions of Zionism's "promised erotic revolution," their laxness surrounding sexuality adding to camps' emulation of Israeliness. Dating and sexuality became core to camp life not only because campers arrived curious; pre-, mid-, and postpubescent; and desiring, but because adult leaders figured out how to harness the behavior of their teens and preteens to their own evolving missions and interests.
Excerpted from The Jews of Summer: Summer Camp and Jewish Culture in Postwar America by Sandra Fox, published by Stanford University Press, ©2023 by Sandra Felicia Fox. All Rights Reserved.