Recently, I fell down my stairs and sprained my ankle badly. I couldn't walk on it for nearly two weeks. My partner took on the noble role of being my live-in nurse. He'd bring me my ice pack from the freezer and securely compress and wrap my ankle. He'd retrieve my books, the remote, a blanket, art supplies, and any other object I needed. He cooked each meal and picked up after our messes every day.
I was in a lot of pain—but I was also afraid to admit that I was simultaneously in paradise. I was enjoying being relieved of my household duties maybe just a little too much. I've always feared I didn't my part. And while I was itching to be back on my feet again, I was also dreading the disappearance of my current luxurious state, which required me to do absolutely nothing.
During those weeks, I came across a TikTok video of a married, heterosexual couple playing a new-to-them card game. "The patriarchy can mess with how women perceive themselves in marriages, just as it does men," the husband said in the video. Then, he recounted the eye-opening experience of playing the game, which is meant to help couples distribute household tasks in a fair, balanced way. During their first round, they divided their household chores as they normally would, with each person taking a card corresponding to a duty they usually did. Unsurprisingly, his wife's pile was at least four times the size of his. After taking in that stark visual, they re-dealt the cards and settled on a more even division of tasks—though not quite 50-50.
The game is called the Fair Play Deck, and it's an extension of a system created by organizational management expert Eve Rodsky in her book Fair Play. The book came out in 2019, but became especially popular during the pandemic, when millions of people who were stuck at home were forced to contend with who really did which chores and when. The results weren't pretty: According to a 2022 study in Population Research and Policy Review, the division of housework briefly became more equal in heterosexual relationships during the first few months of the pandemic, but gradually reverted to the old "men do less" convention as time wore on.
This problem never really seems to die. According to a 2020 Gallup poll, women in heterosexual relationships still take on the larger share of household responsibilities, and chores continue to be divided along traditional lines: women do most of the laundry, cleaning, and cooking, while men keep up cars and do yardwork (the latter being tasks that don't take as much daily effort). This was true for all age groups—even Gen Z didn't report major changes in the division of household labor.
Since the release of the book, Rodsky has created a franchise capitalizing on these anxieties. She now has a documentary, a second book diving into her idea of a "unicorn space" (what she coins as each partner getting a designated time and space to pursue their creative passions), a podcast, and, of course, her deck of cards. Her gamified system, though heavily targeted toward married heterosexual women with children, is supposed to help "all couples" establish healthy habits.
Save for the kids, my partner "G" and I fit right into her scheme. We're in a heterosexual relationship and are in our mid-20s. We've been together for five years—we'll have been living together for three of those by this summer. Still, I scoffed at the idea that we'd need a game to motivate ourselves toward a fair partnership, and I was terrified of how my cards would stack up. Would I be revealed as a fraud? Had I somehow found a way to escape the traditional binds of gender, only to become a caricature of the worst kind of man?
Intrigued, I asked G if he wanted to play the game. "Sure," he said. "But what if we end up fighting about it?"
"That would be perfect for my article," I replied.
The game suggests playing when you're both relaxed, so I made us Aperol Spritzes to start. The rules are fairly simple. First, you have to build your deck by choosing the cards that are relevant to your household. For us, that meant getting rid of all the child-related cards, of which there are many. We also got rid of cards like the "designated person for writing thank-you notes." (Perhaps another tradition that millennials and Gen Z killed?) There are 100 cards, but the goal is to end up with as few as possible. We went weeding, chose 44 cards that applied to us, and tucked away the rest.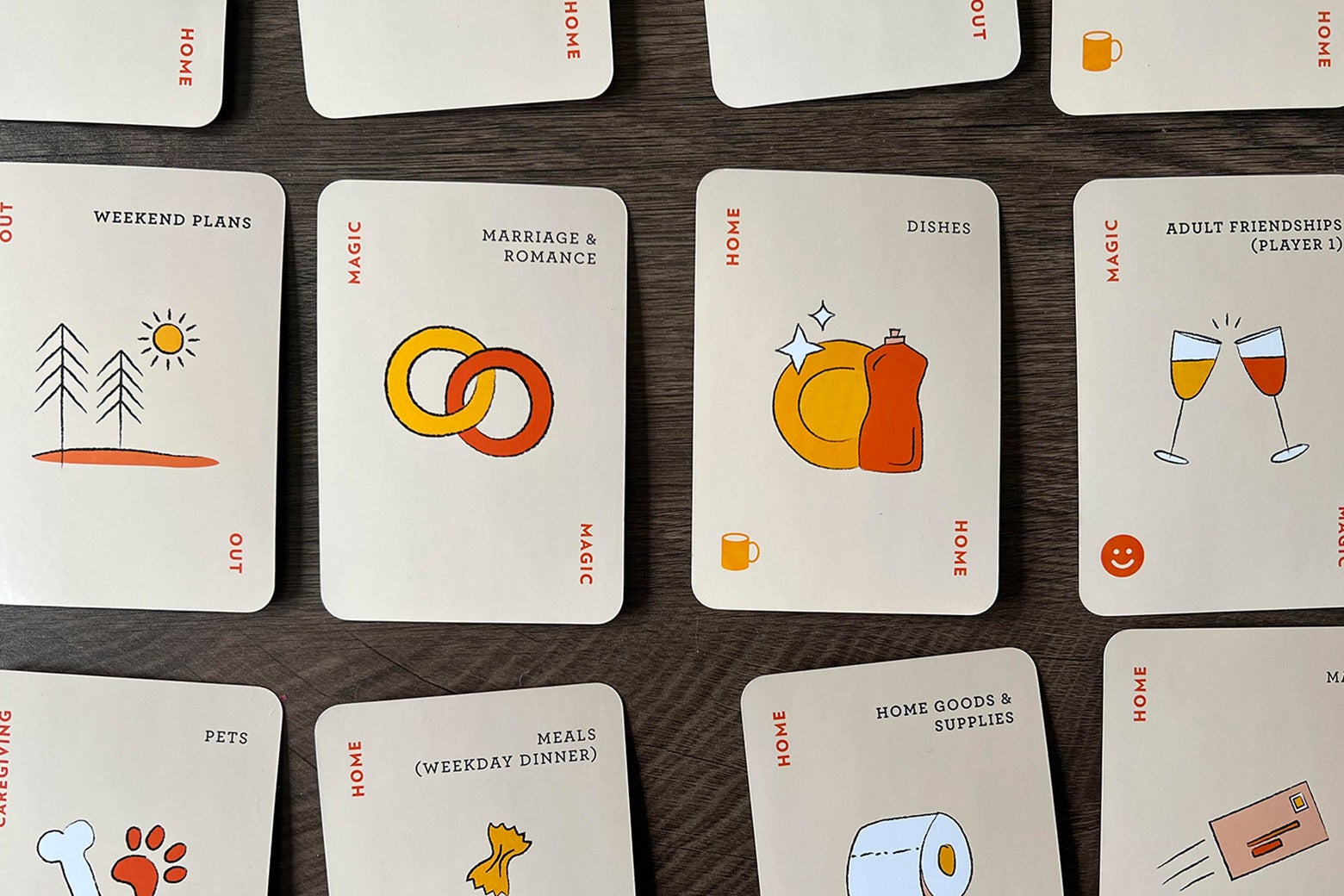 This is where we veered off known terrain. In the next stage, couples are supposed to talk through each card and decide who gets which task assigned to them. But we couldn't pass up the obvious opportunity for scorekeeping. We thought it would be more entertaining to divide the cards per our current reality (pre–ankle injury, of course) and discover who is, in fact, doing what. From there we could even out our decks if there was an imbalance—something the game heavily presumes you'll do. (The promotion materials tout "rebalancing your to-do lists" and "reclaiming your time," and the instructional video shows a husband and wife doling out most cards to the wife's hand.)
Some tasks were fairly easy to assign. G got car care because we share his vehicle. I got laundry because it's the chore I chose to own when we first moved in together. G got garbage because that was his pick.
Then, he reached for the "lawn and plants" card. "Hey, that's my card," I said, trying to yank it from his hand. He pulled it to his chest: "Excuse me, but we have one plant and I water it with my leftover kettle water. So this is mine." This wasn't the first time I'd tried objecting to him laying claim to a card. "I don't know what you're trying to prove here," he said, eyeing me skeptically.
Over the course of our dealing, we accumulated a number of cards for our "shared" pile, which the instructions explicitly advise against. You're supposed to take ownership of the whole card—meaning the conception, planning, and execution—without ever asking for help from your partner. It's supposed to free up the mental real estate certain tasks take up in your brains. But there were a slew of cards in our shared pile I could never imagine executing alone, like the "cleaning" card, which failed to account for the litany of tasks that exist under the word.
When we pulled the pet card out for deciding, G reached for it first. "No, I'm sorry," I said as I snatched it out of his hand and added it to the shared stack. We've already neatly divided our duties around our cat: G scoops the litter, cleans any vomit or hairballs, and fills her water fountain. I clip her nails and brush her fur and teeth. Together, we fill up her food bowl whenever we walk past and it's looking closer to empty. Sure, G takes more charge of the daily grind, but I get to wrestle a writhing, screaming cat every other week. This is my ideal image of household harmony.
The game stresses that it's not about having an equal number of cards—some cards might need more daily maintenance or thought than others. But G ended up with 10, I had 11, and we shared a pile of 23. We then went through the process of divvying up the shared stack and putting aside any that wouldn't be relevant in the coming weeks. G picked up the "partner life coach" card because he was proudly working hard at keeping me consistent with my writing. I scooped up the hosting card because, well, I love throwing a themed party. G took the mail card, meaning he's in charge of throwing away our pile of ads and credit card applications. I grabbed dishes. He grabbed cleaning. I'll cook weekday breakfasts. He'll cook dinners. I grabbed "weekend plans," and "marriage and romance." He grabbed a card dedicated to our social life. What could go wrong with one person fully in charge of our social agenda and the other dictating our entire romantic connection?
In the end, we each had 19 cards. G had a couple more "daily" grind cards than I did. He shrugged it off. I sighed in relief knowing I'm not dead weight.
Still, these divisions felt completely arbitrary. Sure, we could try to stick to these clear compartments, but what about our weekend routine of blasting loud reggaeton while G vacuums and I wipe down surfaces? What makes these chores feel fair and balanced is doing them together, and sharing the load in a tangible way we can watch take place. Despite what the game says, there's a lot of joy to be found in sharing a card. Just this weekend, G and I stopped in at a few stores to pick up essentials together (a task I'd taken for my deck). We ended up sticking our noses in dozens of candles for 10 minutes and debating the merits of "Island Breeze" versus "Mango Delight." I would've skipped the candle aisle if I'd gone alone.
We tried to stick to our decks for a few days after the game. "I'm doing my card!" I'd shout to G from the kitchen as I made us breakfast. "Look, I'm ripping up our mail!" he'd tell me while waving a letter in the air.
But we dropped off as the novelty of the jokes did. Our system of sharing is a way of caring for each other. We're both lazy unless prodded, so we each know how much neither of us wants to be doing these menial tasks. "I couldn't let you clean the whole house while I just sat and watched—that's cruel," G told me. That was the gnawing feeling I had wrestled with as he commandeered the entire household while I rested my injured ankle. My innate desire to do nothing was at peace, but I was also forced to watch G shoulder two people's lives and responsibilities alone. For a short period of time, our setup wasn't fair, and knowing that didn't feel good—even as I felt the fleeting thrill of not being needed at all.
The Fair Play Deck is a decent attempt to find a solution for what has been—and continues to be—a very real problem for many households. I believe the couples who say this helped them. I can also imagine that if you have kids, freeing up mental space for each other might feel like a precious gift.
But I also think a game like this—which asks women to buy a deck and pose it to their husbands as a fun solution for their marital strife without stirring any of the complicated feelings a conversation like this should surface—doesn't get at the root of the issue. Where's the husband's desire for fair play? And why doesn't he feel gnawing guilt as he watches his wife pile on more cards than she can handle? Most importantly, why is "cleaning" one solitary card?! The idea is cute, but it's just not realistic.
We're finding new ways to approach what many women have been trying to change forever, but for now, I think G and I will stick to sharing. When I grab the cat toothbrush, that screaming cat isn't going to hold itself.