Six p.m. and there are already 18 tickets on the line. The printer sings a little electronic jingle and spits out another one. Asad Chaudry snaps the new order off and adds it to the length of twine duct-taped to either end of his long glass counter, dozens of clothespins wiggling as he clips it on. He grabs a polystyrene container of chicken from the pass-through and spoons sides into it, returning after each vegetable to squint at the receipt to the far left of the line.
The front door opens, letting in an icy burst of wind and two more customers, adding to the dozen or more already waiting around the seating area. "How y'all doing," Asad calls out, barely looking up as he dumps a spoonful of chickpeas into the container. The customers say good, how are you, and Asad says, "Blessed, blessed. Be with you in one minute, OK?"
Asad is the co-owner of Charga Grill, a casual restaurant in a run-down strip mall in suburban Arlington, Virginia. Back in the kitchen, his uncle and co-owner, Iqbal Chaudry, oversees the six employees working their butts off this Saturday night to cook Charga's four styles of chicken, its tandoori meats, burgers, and sandwiches. But out front there's only Asad, delivering takeout bags, taking orders, managing expectations. A guy who's been waiting a long time asks to switch his order to carryout. "Michael to carryout, got it, big brother." Another customer asks after her chicken sandwich. "Miss Pat, right?" He checks the line; there's her ticket, still five orders from fulfilment. Asad says what he always says: "Yeah, I got your order coming out right now."
Last year, business was pretty good. But not like this. Everything changed on Jan. 3. That's when the Washington Post's Tim Carman placed unassuming Charga at the top of his list of the area's top 10 casual restaurants. Food critics might be the last local journalists flexing 20th-century levels of media power: Overnight, business almost doubled at a restaurant that, like many, had struggled to staff, supply, and stay afloat in the COVID era.
It's a crucial opportunity for Asad and Iqbal, not too long after the pandemic almost killed their restaurant off. But it's also a stress test. When you launch a small business, you wait for a break like this: the review, the endorsement, the Instagram post that goes viral and sends a wave of curious new customers to your door. But you're never quite ready for what instant success actually looks like.
For Asad, it's looked like 17-hour days trying to make the most of his big break. It's looked like barely seeing his 4-month-old baby while his wife, a nurse, has been on maternity leave. It's looked like waves of new customers, foodies and trend-chasers who show up at the peak of the dinner rush expecting not only amazing chicken but the "bear hug" service Carman extolled in the Post.
How's Asad feeling about all this? Blessed, blessed. During the evening I spent at the restaurant, I saw both sides of the remarkable power of a great review. He's making money. He's positioning himself for his next big move. But before the night was out, Asad would confide, "I feel like I'm having a mental breakdown sometimes."
Asad Chaudry grew up in Woodbridge, about 25 minutes down I-95 from here. His dad ran restaurants, some of which failed and some of which succeeded. His uncle Iqbal ran a place in the Tysons Corner food court called Sabrina's. Asad drove a truck for a while, and then, in 2019, his eyes were opened.
"During Ramadan, my mom sent me to a restaurant to pick up dinner," he said. The Arlington halal joint he went to was packed, and yet the chicken sandwich with which he broke his fast was, Asad said, "completely disgusting." He laughed, recalling the moment. "This is frozen chicken, those frozen burger patties. My whole community has to deal with this garbage place!" Two months later, he and his uncle had rented a restaurant space with a rotisserie, built a menu featuring types of Pakistani chicken not often sold in the U.S., and launched Charga.
"We struggled for six months," Asad said. The strip mall where they could afford the space had little parking and zero foot traffic. Cars flew by on Lee Highway—soon to be renamed Langston Boulevard—but hardly anyone noticed yet another chicken place. Asad found that even South Asian customers needed the restaurant's four types of chicken explained to them: "We got charga, that's a Pakistani chicken, steamed and then flash-fried. We got sajji, that's also Pakistani, marinated, rotisserie. We got a Peruvian chicken. And we got a very spicy peri-peri that I do not recommend to anyone, unless you love spicy."
Very slowly, word of mouth built. "Especially the foodies," Asad added. "We've always been big with foodies. But then, right after we got our first real check, the corona hit. I was like, Dang, it's over." He prepared himself to go back to trucking, but Iqbal urged him to keep working. "He kept me sane," Asad said. "He knew the ups and downs of the restaurant business."
A series of small-scale publicity hits kept things afloat: a good Nextdoor review, a post from a popular Instagram account called Not Your Average Halal. A regular sent a tip to Carman, who writes about "affordable and under-the-radar restaurants" for the Post. Carman's first review, which ran in January 2022, probably saved the restaurant, Asad said. "The day that piece came out, I swear, the electric guy was out front to cut off our power."
But nothing has compared to the response following Carman's list of the area's best casual restaurants, which features a Maryland pupuseria, a three-outlet Chongqing noodle chain, and, right there at No. 1, Charga. The photo accompanying the piece shows Asad and Iqbal smiling proudly—a little nervously?—in the restaurant's small kitchen.
"Honestly, I cried. I was super, super happy," he told me. Regulars love to dap him up and congratulate him on his accomplishment. "No. 1, baby," Asad says to them. "The first halal restaurant at No. 1."
Then the deluge arrived.
Seven p.m. Twenty-three tickets on the line, and another five hanging out of the printer. Every table is occupied, and every empty space in the dining room is filled with people waiting for their food. The phone rings and rings. Asad's long since given up on answering it. "Turn the apps off!" he shouts to the kitchen. "Grubhub, DoorDash, Uber—turn 'em all off!"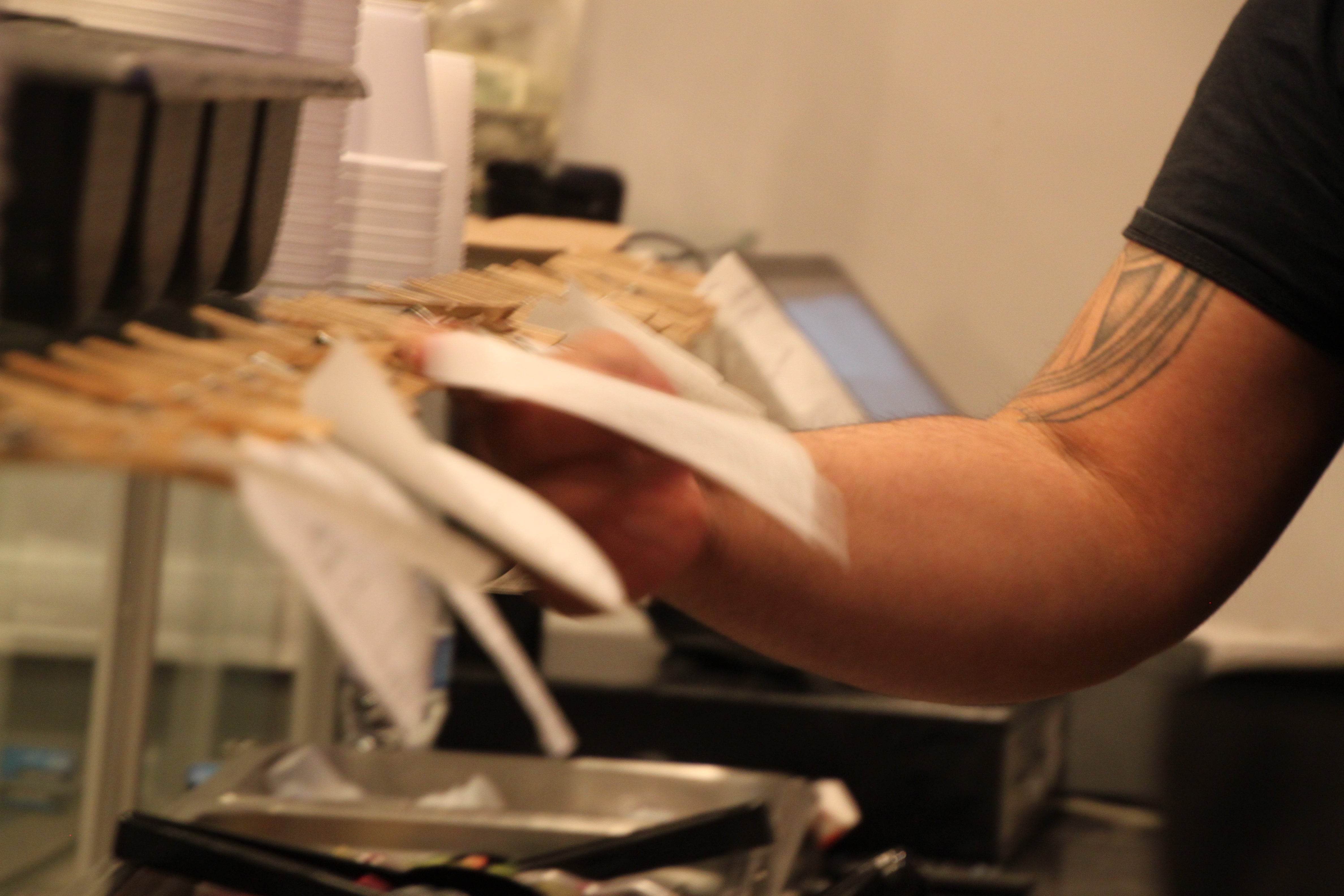 In the kitchen, Iqbal is hand-stretching naan after naan and dropping them into the tandoor. When they're done, he uses a steel hook to fish them out. Another cook comes up behind him to grab fries out of the fryer basket and smoothly dodges the back end of the hook. Behind the kitchen is a maze of little rooms, plastic tubs of food everywhere you look: 10 pounds of chickpeas soaking on the floor, 16 half-chickens red with Iqbal's sajji mix on a counter, 20 gallons of yogurt in the fridge. Way, way at the back, in the office where they also store all the dry goods, lives the computer logged into all the delivery apps.
Asad was supposed to have a second guy at the counter with him, but that employee called in. "His wife is sick or something. What can you do?" Asad's a big guy, wearing loose athletic pants with reflective cuffs; his gray T-shirt shows just the bottoms of the tattoos on both biceps. He takes a charcoal beanie off when he gets hot, revealing a shaved-smooth skull; he slips the beanie back on when the open door blows in the cold.
He never stops moving: packing sides in cups, stacking orders in bags, running to the side fridge for sauce, tapping transactions into the point of sale, delivering chicken to tables, sliding steaming trays of chickpeas from the insulated CaterGator in the hallway. And he never stops talking—to the kitchen, to customers, to himself. "All right, let's go, let's go." "First time here, big brother?" "Ajay, I need more mixed veggies in the box!" And always, whenever anyone asks after their food: "Yeah, I got your order coming out right now."
The mood is getting a little tense. Some customers have been waiting half an hour or more, but no one wants to be the first to complain. The customers are mostly white, mostly new to the restaurant; Asad's given his spiel about his four kinds of chicken so often that long-waiting customers must have it memorized. It's difficult not to admire him, how hard he's working. But these Arlingtonians spent all day working, too, as lawyers and lobbyists and government staffers, and their kids are hungry at home. The most anyone will do is ask Asad, "It's busy, huh, since the Post?"
"We gonna get through it," Asad replies. "Honestly it's not as bad now as the first couple of weeks."
A DoorDash driver gripes that he was supposed to pick up two orders, but only one is ready. "My man, I'm doing my best," Asad says. "I had like 50 orders come in in an hour." The printer beeps happily and another ticket rolls out. "The apps!" Asad calls. Getting no response, he wipes his hands on his apron and heads back to the office laptop himself. He sometimes hears the printer in his dreams.
A group of five twentysomethings enter in a blast of frozen air, phones out, laughing loudly. They came from D.C. "Hey, I just want to make sure you know," Asad tells them, "it's gonna be 45, 50 minutes. I don't want nobody cussing me out like last night." They depart, phones still out, now searching for somewhere else to eat.
And now, everything grinds to a halt. Something's gone wrong in the kitchen, and Asad has stopped moving for the first time all night. He's just staring at the empty pass-through, his back to the 30-plus orders on the line and to the customers. It's finally a break, but it's no break at all, because two dozen restive people are staring at him. He squints at tickets, stocks up on sauces, prepares plastic bags, and waits.
The driver complains again, and Asad finds the man's second order, still on the line. "This one came in 30 minutes after the first one!" he exclaims. Too many drivers don't know how restaurants work, Asad feels. The driver should never have accepted both orders during the Friday rush, should never have assumed they'd somehow be ready at the same time. He points to the first carryout bag, clenched in the driver's fist. "You gotta deliver that other one and come back. You messed up, man. They're probably gonna cancel on you. I'm getting paid regardless." The driver leaves, cursing. Once one person complains, Asad knows, it gives everyone a license to complain.
Finally, the food starts coming out of the kitchen again. A customer approaches, her annoyance cloaked in apology: "I'm sorry, but you said a half hour and it's been an hour."
Asad nods, scooping lentils: "It's coming up, it's coming up."
A guy came in last week with an offer to move Charga into a building he owns, a former laundromat. "He wanted 50 percent of my business!" Asad said, amused. "He's thinking, This guy's a foreigner, he doesn't know how to read." Asad and Iqbal made a counteroffer that was sky-high, just to get him to leave them alone.
But Asad does want a bigger restaurant. Trucks delivering to the halal market next door block Charga's parking spaces; drivers zoom by before they even see his sign. "So I want more parking, yeah, but really what I want most is a bigger kitchen, so we can put out more dishes, more styles of food." Iqbal likes to tell regulars that he gets bored just making chicken and loves to hand out new experiments: a fiery biryani, a cheesesteak samosa, a meat-filled Nepalese dumpling. "He makes like 20 different styles of rice," Asad said. "He's like an artist, and it's preventing him from throwing out."
The fact is, Charga is really freaking delicious. Iqbal's experiments are good, but the chicken he's bored of cooking is remarkable. I'm a fan of the charga, which somehow tastes both fried and roasted, crispy but rich. Wrapped in Iqbal's naan and dipped in chutney, it's like the Platonic ideal of street food. The spices on the sajji bring your mouth to life. I certainly do not have the guts to try the peri-peri.
Landing at No. 1 on the Washington Post list, Asad said, represents his best chance to take his restaurant to the next level, if he moves quickly and acts smart. "Even with that review last year, we were still in COVID debt," he said. "Now we've paid off the water and the gas. All that's left is the rent." They pay the landlord an extra grand every month to chip away at that debt and expect to be square by the end of the year. Asad's hiring more and more staff, and bringing back people who had to leave during the pandemic. He's planning to keep the restaurant open later, until 11 on weekends. "My South Asian crowd—from Woodbridge, Chantilly—they come in late. It's a cultural thing."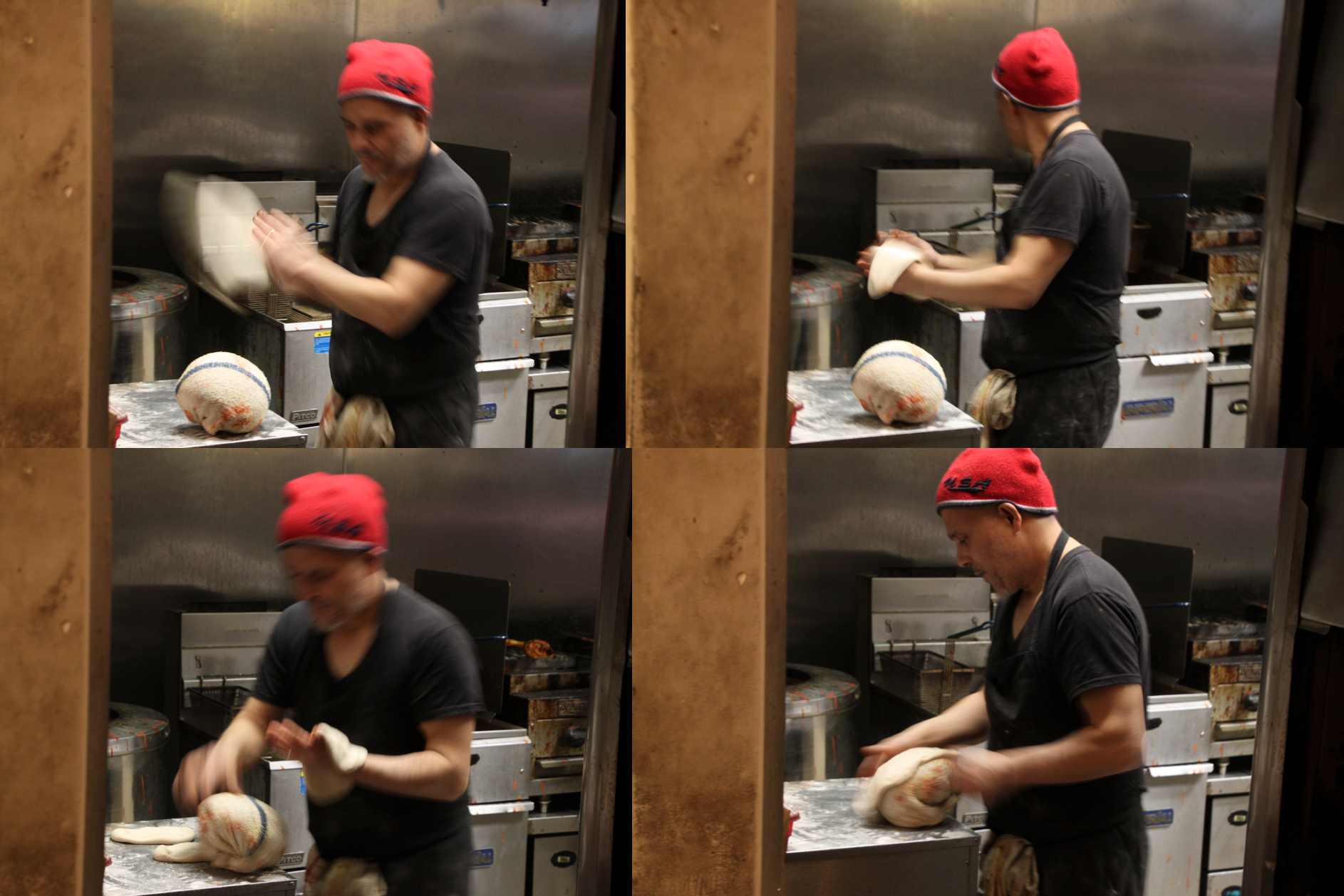 "I can see five places," he said, spread across the Northern Virginia suburbs, each run by one of the cooks who's now toiling in the tiny kitchen, learning from Iqbal. "I want the kids who grow up around here, when they're in their 40s, they say, 'My favorite place was Charga.' And then people will ask, 'Which Charga did you go to?' "
Nine p.m. and Charga is finally closed. The seats rest upside-down on the tables; Iqbal is loading up the fridge; Asad bags the trash. His lower back is aching, despite the thick-soled hospital shoes he wears every day. "Something was going on with the fryer," he says about the catastrophic kitchen interruption. He laughs at the memory of being stuck in front with nothing to do: "It became this awkward silent stare with everyone, like, Holy shit, what am I doing?"
This was busy, he says, but not as busy as it could have been; the 20-degree cold kept some people away. "We did about 145 tickets today," he said. Almost 120 of them came in during the dinner rush. "Last week it was 185." Before the Washington Post list, he adds, a good day meant 90 orders, max.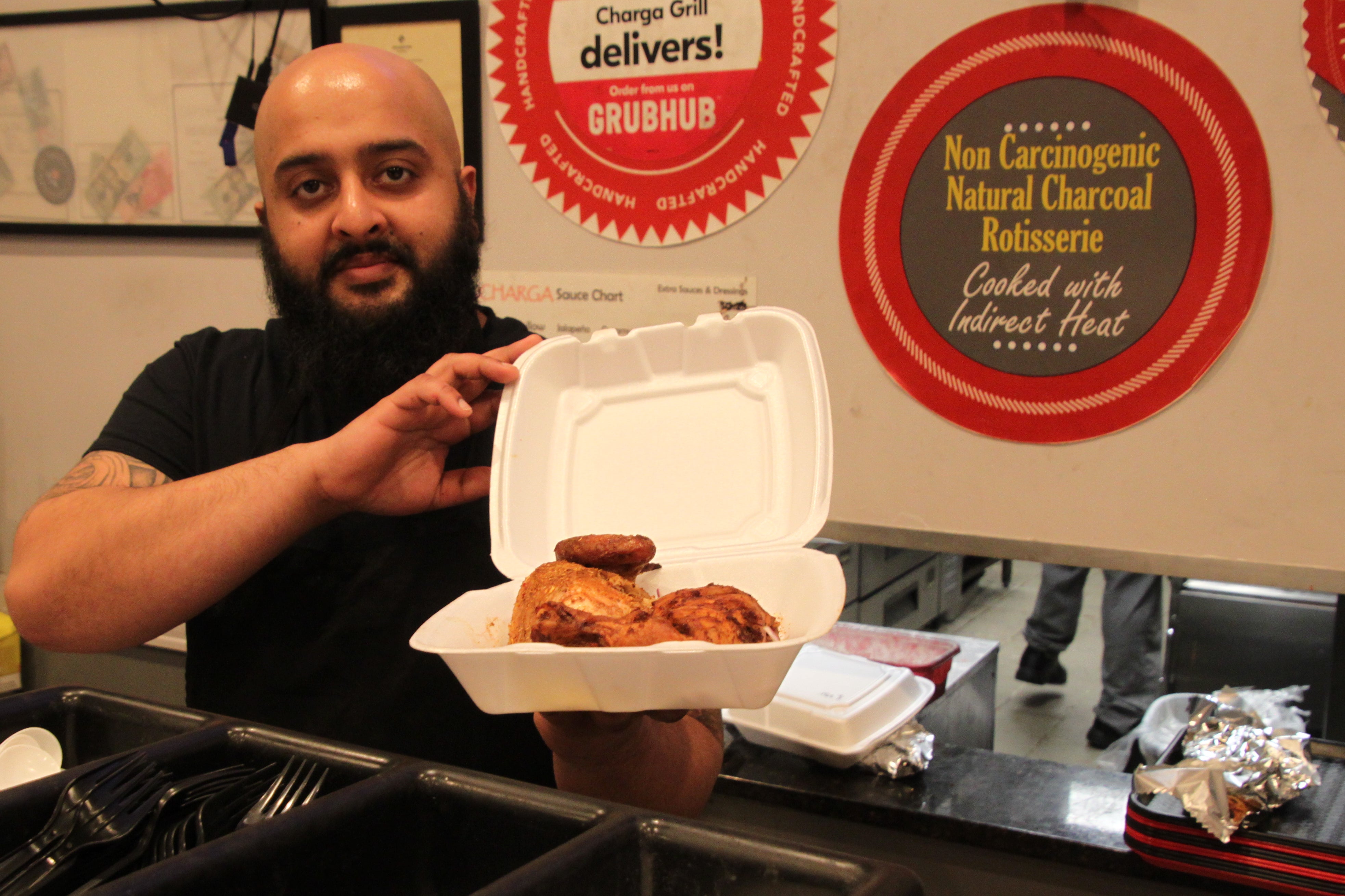 He worries about all the people like those Washington foodies, or my daughter's softball coach, who walked in to the restaurant for the first time just before 8, saw the crowd, and asked, bewildered, "Is this all from the Post?" He doesn't want to turn people away. "In the last month we've probably turned away a hundred customers," he says. Every one of those customers is a missed opportunity to turn a newbie into a regular, someone who will stick with Charga when the furor from the Post list fades away—someone who will follow Charga to a new location, a new franchise, an empire.
But that's later. For now, Asad needs to lock up and get out of here, drive home to Shirlington, to his baby and his wife. Tomorrow an early morning, preparing the catering orders, getting ready for a Saturday that's likely to be even busier than Friday was. Then Sunday, then Monday, and so on, as far as the eye can see. Once upon a time, the restaurant was dark one day a week. Not anymore. "We're making so much money, we got no choice but to stay open," he says, laughing. "I dream of a snow day. Where's the snow?" He's certain that next week or the week after, he'll finally get that day off.
He twists the trash bag closed and ties a knot. "Tomorrow," he says, "I'm gonna shut the apps off at 5."