oh my god you're never going to believe this
It was not the text message I hoped to receive from my girlfriend in our new home of Troy, New York. She had arrived in the Capital Region a few days ahead of me and was sending updates from the new apartment. Still reeling from the wild circumstances that had led us to suddenly move in together, I had yet to leave the city.
I stared at my phone, apprehensive. Gas leak? Black mold? Poltergeist?
a place around the corner has MINI CHILI DOGS
I told her she was right to text me. I demanded photos. And when I arrived in Troy later that week, I was delighted to learn that the mini chili dog is, in fact, a signature cuisine of this little sector of upstate New York. Maybe the move would turn out okay.
I love to eat. I'm a big guy with insatiable appetites and food nourishes me physically and spiritually. Take me to a new place, and I will ask: "What do we get to eat?" What produce is in season? Do they sell a certain kind of sandwich here? What is the elusive thing that we can eat right now that we cannot find anywhere else?
Wasting no time, I ate my first mini wieners on my first day in town. At Famous Lunch, a long, historic counter diner on Congress Street, we bought the special: four mini dogs and an RC Cola, $5.75. We took it home and ripped the franks out of their brown bag, stained with magma-orange "zippy sauce"—delightfully greasy, a little spicy, distinct from any other hot dog I had ever eaten, and gone in one and a half bites.
What's really remarkable is that Famous is but one of half a dozen or so localized quick-service spots that serve the little dogs and, like many of the other restaurants, they've been doing it forever. As their website's story goes, Famous Lunch opened as the Quick Lunch, but in 1958 a U.S. Marine from Troy stationed at the embassy in Moscow requested some dogs from home. "Operation Hot Dog" became a media sensation, necessitating the name change. Famous stands out a bit from the other wiener vendors because their hot dog grill is—smart—pressed right up against the street-facing window. They keep about six dozen 3-inch dogs sizzling 15 hours a day, alongside a bubbling brown crock of zippy sauce.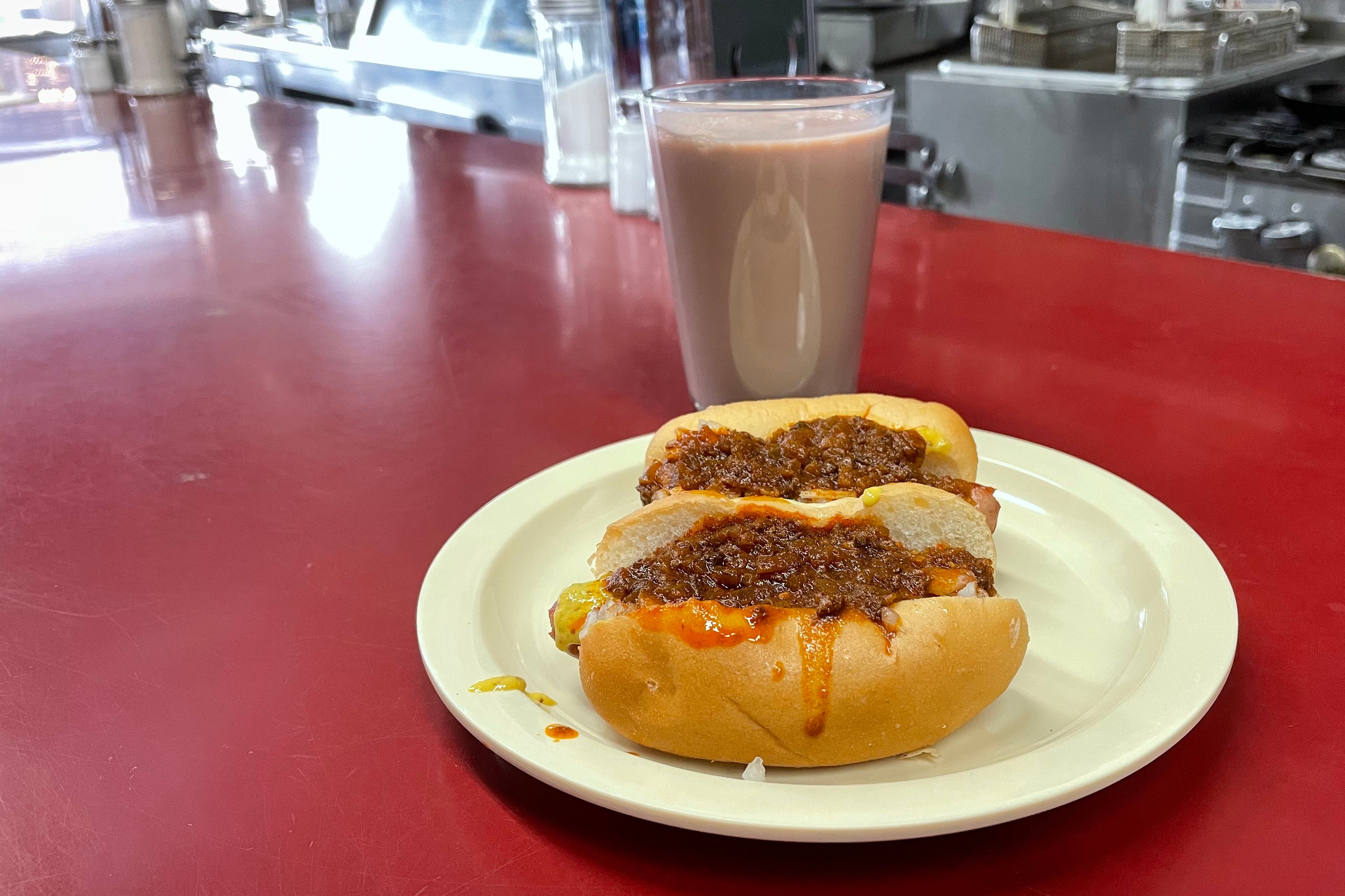 The franks themselves are a pork and beef blend, about 3 inches long, slender, with a little pinch at the end on either side—not exactly the machined, blemish-free tube you see in the grocery store. They are, actually, a little delicate. They're that classic brownish-pink color, too, the platonic ideal of indeterminate hot dog shade. And yes, they have that snappy natural casing—I can hear all the frankfurter fans hollering.
Extensive research into their origin, though, led to some conflicting information. Currently a company named Hembold's—itself a subsidiary of Old World Provisions—manufactures the tiny dogs served by Troy's bounty of wiener stands. According to copy on their website, the mini wieners started with a German immigrant named Fritz Hembold and his Troy butchery, opened in 1913, about 50 years after the birth of the first American pushcart hot dog. Local news, however, seems to indicate that until the business closed in 2008, the Troy Pork Store—originally opened in 1918, now a long-suffering vacant storefront at 4th and Ferry—supplied mini franks to most local joints.
I reached out multiple times to representatives at Hembold's for some clarity. I wanted to know why these dogs got mini in the first place, plus how many they sell a month, but chatting via text with an unnamed representative, I received only the most anodyne of comments, as if they were running for governor:
We make our Helmbolds mini dogs the same way they have always been made with the same recipes … All I can say about the future is that Helmbolds and Troy Mini Hot Dogs have been a tradition for over 100 years and we will keep doing our part to keep them as a part of the community for 100 more.
They ignored my follow-ups, but I suppose meat companies get a little on edge when people ask too many questions. Besides—does anyone really want to know too much about where their hot dogs come from?
Well, let's look at the sauce instead. From where does the beanless chili (aka zippy sauce) hail? That would be Greek immigrants fleeing economic turmoil in the early 20th century, the same diaspora that would bring Coneys to Michigan, install shining chrome diners throughout the Northeast, and eventually create beloved and notorious Cincinnati chili out of saltsa kima, a tomato-based spicy meat sauce.
Another Capital Region wiener spot, Hot Dog Charlie's, just celebrated their 100th year in business. Founded originally as New Way Lunch by Greek immigrants in 1922, Charlie's now operates four stores throughout the region, giving their small chain more of a fast-food form factor: no dark corners, more space, repeatable results. But it is not a slick operation. The walls feature lo-res wall decals of Photoshop-skewed franks and, proudly, many iterations of the chain's founder lining up rows of hot dogs on his bare arms, an art lost to history and health codes. Their hot dogs are a bit more mustard-and-onion forward, and their "twister fries" are simply fantastic, seasoned just so. The adventurous eater may choose to add cheese sauce to various menu items and, crucially, they do offer a serviceable milkshake. May we have another 100 years of Hot Dog Charlie's!
Gus's Hot Dogs in Watervliet, just across the Hudson River from Troy, lacks Hot Dog Charlie's corporate polish, but does have a je ne sais quoi—in summer, when the flowers are in bloom around their weathered picnic tables, one feels a sense of abundance. Stickers from various local unions cover the takeout window; work crews seem to send one guy out from the site to get lunch for everyone, so you'll often see a man in a hard hat carrying dozens of dogs at a time. Notably, their wieners are still $1.10 (boldly challenging the inflated $1.20 price seen elsewhere), and single buns can be purchased out of the trash bag in which they are delivered to the restaurant for 25 cents each.
And what about those bitty buns? We've traced the origin of the frank and the sauce, but who makes the specially sized rolls? I can only speak for the last seven decades or so. An industrious Italian immigrant opened Bella Napoli Bakery in Troy in 1957 and immediately began filling the unique regional need for 3-inch buns. They're a notable local spot in their own right, with sprawling dessert cases and an astonishingly wide selection of goods (Sfogliatella! Apple cider donuts! Cook-your-own pizza dough! Breakfast sandwiches! Black and white cookies! Pasta fagioli on Tuesdays!) Bakers at the Troy location cited an incredible bun-per-week figure: between 15 and 18 thousand units sold, nearly four miles of tiny buns a month.
Which leads us to this delightful sentence: The cherished mini hot dogs of Troy, New York, start with shrunken German wieners, add tangy Greek meat sauce, and tuck it all into an Italian baked good. A diasporic melting pot of zippy sauce and cased meat, resulting in a highly localized cuisine that efficiently feeds any passerby with a dollar and a quarter in their pocket. More than the flag or the anthem, this honest new-world striving stirs up a little patriotism—I would pledge allegiance to these wieners.
This is local cuisine: a cultural object that is the result of the societal conditions and history on the ground in a particular place, not the construct of a top-down, international food conglomerate. Nothing bums me out quite like seeing a Sysco truck pulling up to a restaurant, knowing that the same shitty foodstuffs available in cafeterias and airports the world over will soon be sold here, too. The mini hot dogs of Troy, New York, are not healthy or trendy or even the most delicious thing I've ever eaten, but they do represent a little act of rebellion against a domineering monoculture, against disordered diet trends, against painstakingly styled TikTok food. Plus, they're just really cute.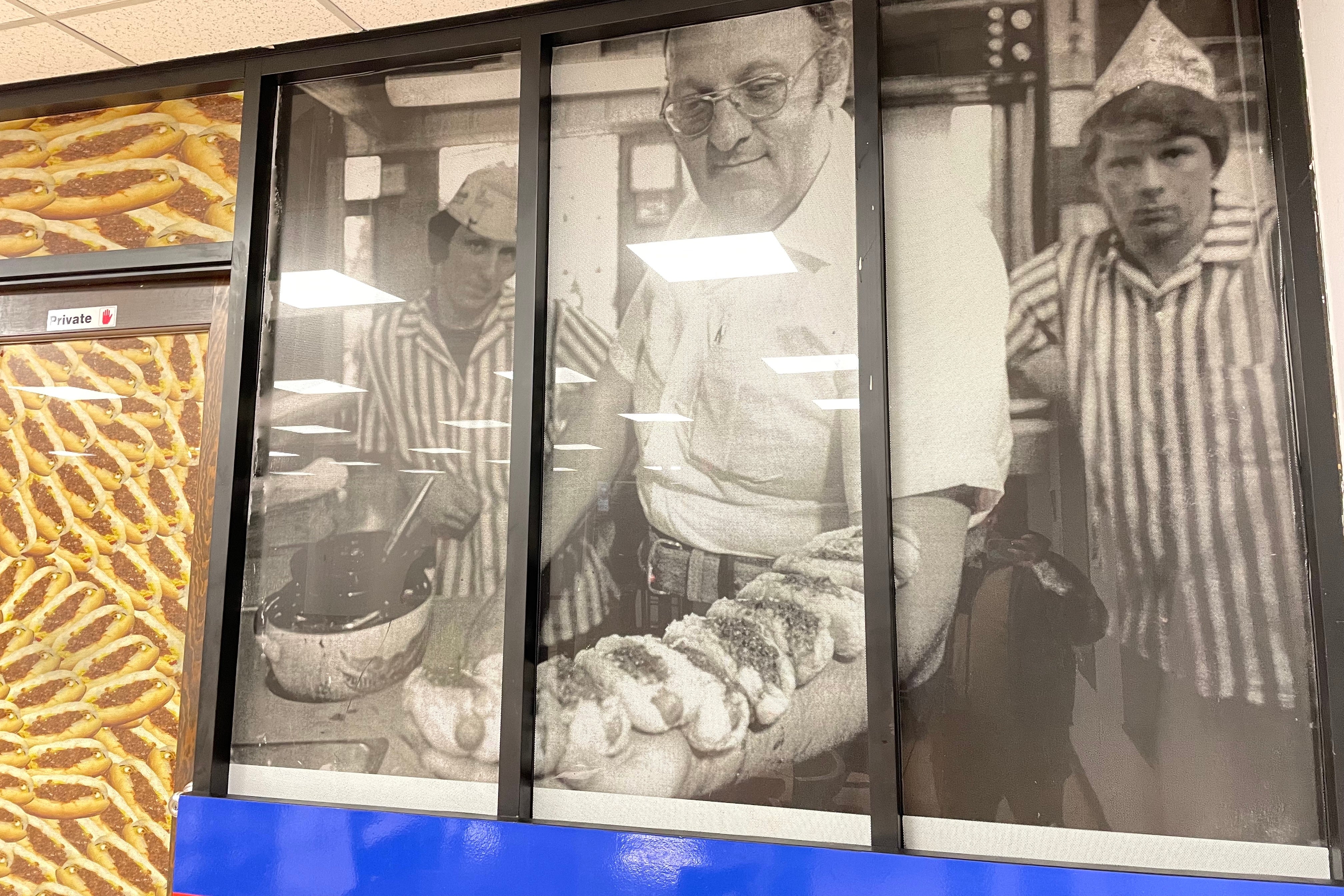 This is by no means a definitive account or an authorized census of the Empire State mini chili dog. I have yet to mention beloved local chain Ted's Fish Fry, for instance, or the seasonal bliss of Jack's Drive-In, which, in addition to mini franks, slings a burger with the most delicious caramelized onions I've ever tasted. I'd love to eulogize other local spots, too—directly across the street from Famous Lunch lived Jimmy's Luncheonette, a greasy-spoon breakfast spot that never fully set both feet in the 21st century. Jimmy's widow vacated the spot only a few months ago, leaving a tall stack of National Geographics sun-fading in the doorway.
Can a hot dog be named a national landmark? Should the recipe for zippy sauce be archived in the Library of Congress? Will Hot Dog Charlie's still be in business another 100 years from now? Everyone in the world would love the mini hot dog, but only those who happen into Troy get to enjoy them. There's something holy in that for me. What can we eat right now that we cannot eat anywhere else?