Time to raise your glasses. We're celebrating the Slate Political Gabfest's 15 years with this list of politics-themed cocktail recipes, submitted by the hosts and by their faithful listeners. So get out your drams, coupes, and tumblers, and let's toast to many more cocktail chatters to come.
This list is available to Slate Plus members only—thank you for your support! And thank you to everyone who submitted recipes.
The Restraint

Submitted by John Dickerson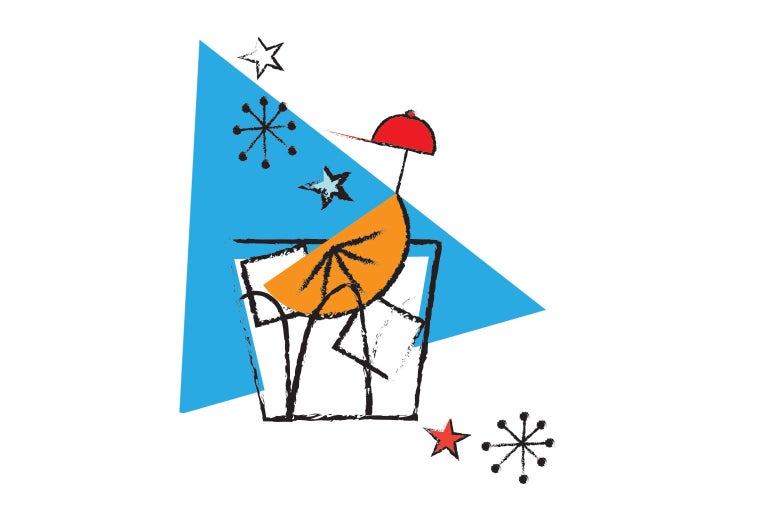 Place 2 oz. of freezing-cold gin in a martini glass that has been chilled with ice and water. The gin can be made cold in a shaker with ice. Add one olive. Restrain from adding Vermouth. Restrain from adding more than one olive. Restrain from adding olive juice. Restrain from making it a "dirty martini." Restrain from replacing the gin with vodka. Restrain again from adding another olive or olive juice or any other damn thing that you think makes a dirty martini. If I wanted salt, I'd have had a pretzel.
Please Just Wake Me When It's Over
Submitted by David Plotz
Salt the rims of two glasses, and fill them with ice. Mix 3 oz. fresh lime juice, 4 oz. tequila, 2 oz. Cointreau in a cocktail shaker with ice. Shake. Pour into the glasses. Top off with club soda. Drink the first one cheerfully. Start watching some cable news. Decide to not save the second one for your friend. Drink the second one. Watch more cable news. Have an edible—one of your good, new edibles, not the old, dry ones you got in Colorado in 2018. Flip over to the new season of The Crown. Fall mercifully asleep on the couch.
Summer Freedom

Submitted by Emily Bazelon

Elderberry rum
Lime
Fresh sage
A little water, maybe
Ice

My dear friend Chani made this cocktail on the first night of a camping trip in Maine a couple of summers ago. Car camping, but still. She had all the ingredients ready and poured in sparkling jam jars while I was still looking for the mug I'd brought. I'd never had elderberry rum before. It was refreshing and delicious and perfect and I CANNOT WAIT to return to outdoor lounging with friends. Here's to all closeness and no distance. Someday. Maybe even this summer, I will dare to hope, if the world is very good and very lucky.
Majority Whip

Submitted by Jeffery Rebitzke in Dallas, Texas

2 oz. tequila (I use reposado)
1 oz. Cointreau
1 oz. simple syrup (if you make your own cook equal parts sugar and water)
2 oz. fresh squeezed lime juice
2 oz. egg whites
2 oz. heavy whipping cream

For salt rim:
Equal parts coarse salt and pink Himalayan salt
Peel from 1 lime, finely grated

For garnish:
1 slice dried lime (dehydrate in oven at 150 degrees for 3 hours)

Line the rim of your glass with lime and coat the rim in the salt rim mix. Add all of the cocktail ingredients in a cocktail shaker. Dry shake for approximately 30 seconds. Add ice and wet shake for approximately 30 seconds. Pour cocktail in one of the shakers filtering out the ice but making sure the cream head gets included. Dry shake one more time for 30 seconds (the key is to shake a lot and include at least one wet shake to get a cream head). Slowly pour into your glass; the cream head filling out the top. Place in the freezer for about 5 minutes. Add lime garnish and enjoy.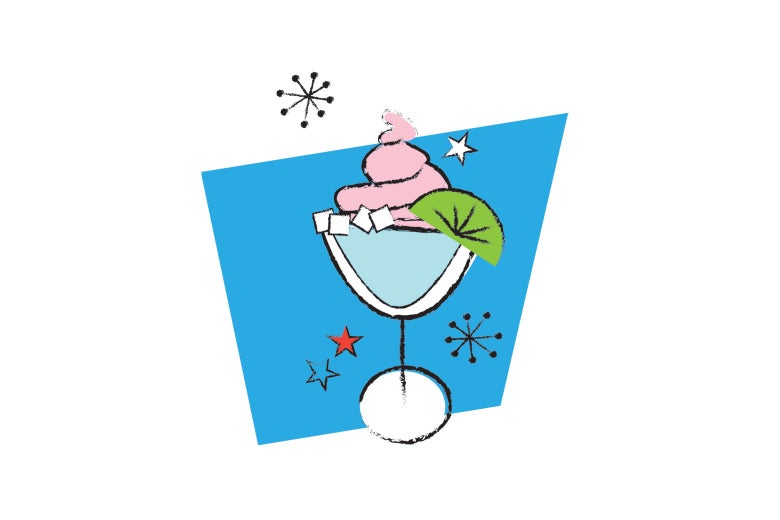 Count "The Vote"

Submitted by Waldemar Vinovskis in Allentown, Pennsylvania

The perfect Political Gabfest cocktail: Gin-based for John's love of G&Ts. Liberty Gin because it is self-evident that all Americans have the right to life, liberty, and the pursuit of a damn-good cocktail. Palmer's Liberty Gin because it is distilled in Philadelphia, Emily's hometown (and it has an awesome label). "Count" is the play on the original Negroni, named for "Count Negroni." Negroni because it has three equal parts: David, Emily, and John. The orange twist is the producer—not the center of attention, but the drink would not be the same without them. The bitterness of the Campari reflects the bitter mood the drinker is in waiting for all the votes to be tallied. (If your candidate loses, go for the Punt e Mes vermouth for an extra bitter cocktail.)

2 oz. gin (London dry, prefer Drumshambo Gunpowder gin from Ireland)
3/4 oz. simple syrup
1/2 oz. fresh lemon juice
1 oz. fresh grapefruit juice
2-3 oz sparkling wine (crisp cava or cremant be burgougne is best, prosecco if it's your only option, champagne if you're fancy)

Fill a mixing glass with ice. Add all the ingredients to the mixing glass and stir 15 times, for each year of the Gabfest (if in Pennsylvania, stir for at least five days after the election). Strain into an ice-filled rocks glass. Garnish with an orange twist.
EU 93

Submitted by Vidya in the Cayman Islands

It's a twist on the French 75, named after a large gun.

2 oz. gin (London dry, prefer Drumshambo Gunpowder gin from Ireland)
3/4 oz. simple syrup
1/2 oz. fresh lemon juice
1 oz. fresh grapefruit juice
2-3 oz. sparkling wine (crisp cava or cremant be burgougne is best, prosecco if it's your only option, champagne if you're fancy)
1 oz. simple syrup (if you make your own, cook equal parts sugar and water)

Mix all ingredients (except sparkling wine) in a mixing glass with ice. Stir. Strain into champagne flute. Top with sparkling wine. Can also be served on the rocks. Garnish with a twist of lemon or grapefruit. Careful—it goes down easy and is super boozy.
The Low Barr

Submitted by Rachel McFadyen in Venice, California

A spirit-forward cocktail with just enough sweetness to soften the blow of witnessing the destruction of the rule of law in America.

2 oz. bourbon
½ oz. Luxardo Cherry Sangue Morlacco
Juice of half a lemon
2 dashes cranberry bitters

Stir gently while protecting the kakistocracy and tear gassing American citizens exercising constitutional rights. Garnish with cherries soaked in contempt for legal norms and values.
The Smoke-Filled Room

Submitted by Dan Hooper in Chicago, Illinois

In a mixing glass, combine a dash of tobacco bitters, 1/3 oz. demerara syrup and 2 oz. rye whiskey (ideally 100 proof, I typically use Rittenhouse). Set aside. Using a propane torch (or a gas stove top), light a piece of wood from a bourbon barrel slat. Once the slat is smoking, hold a chilled rocks glass above it, upside down, capturing smoke for a period of about two seconds. Turn the glass right-side up and immediately pour into it the contents of the mixing glass. Add one large ice cube, and a twist of lemon. Top off the drink with 1/3 oz. of green chartreuse (which should coat the surface of the drink). After all, there is a lot of green that covers the events that take place in many smoke-filled rooms.
Berry Goldschlager

Submitted by Brad Hunt in Temecula, California

1 part Goldschläger
1 part blackberry schnapps
1 part tawny port

Mix the Goldschläger and schnapps then layer over port as a shooter or mix all three and serve over ice in cocktail glass of choice. A standard 750 ml bottle of schnapps and Goldschläger and a typical size bottle of Port serves 52.
Fall of the Republic

Submitted by David Aja in Arlington, Virginia

1 oz. 100 proof applejack
1 oz. bourbon
1/2 oz. falernum
Dash of Bittermen's mole bitters
Dash of angostura bitters

Combine all ingredients in mixing glass, add ice, stir, and strain into coupe. No garnish.
Trumpy Sour

Submitted by Rob Ellard in London, England

2 oz. bourbon or scotch, fatwashed with tumeric and the grease from non-authentic New York pizza eaten with a knife and fork
3/4 oz. citrus juice
1/2 oz. simple syrup
Dash of bitters

Shake the lot over ice, screaming "I easily win!" 232 times. Look for election fraud and a martini glass, then use the drink as accelerant to set fire to the bar and leave with a lukewarm Diet Coke.
Jackie & Tonic

Submitted by Evan Johnson in Hartford, Connecticut

The story goes that Jackie ordered gin and tonics while lunching at the Carlyle in New York City, and favored the Negroni while in Greece.

Fill a glass with ice top with 1/2 oz. gin and 1/2 oz. Campari, top with tonic and garnish with grapefruit peel.
The President Trump

Submitted by Sean Murphy in Cincinnati, Ohio

Add 2 ounces vodka and 1 ounce Kahlúa over ice. Top with a generous splash of heavy cream and stir. Garnish with a slice of orange swept across the top. For authentic pseudo-authenticity, serve in a gold cup or the the biggest, most beautiful Old Fashioned glass you've ever seen to make it great again.

It is important to note that there is "NO KAHLÚA! No Kahlúa with the white Russian whatsoever!* Believe me." ("The President Trump" totally has Kahlúa with the white Russians.)
Rosa Delauro Is a Fucking Hipster

Submitted by Ben Martin in West Haven, Connecticut

The name of the cocktail is lifted from a great blog from a while ago called Rosa Delauro Is a Fucking Hipster that, based on Delauro's sartorial choices, decided she was a hipster and played with the idea. It was good fun. This drink I invented is simultaneously a take on a boilermaker and a shandy. Fernet is a spirit much enjoyed by hipsters, Old World types, and people with good taste, so I thought it a fitting tribute to Rep. DeLauro.

Add 45 milliliters of Fernet Branca into a mason jar, add to that 22 milliliters of freshly squeezed lemon juice, open a can of cheap beer like Natty Light or PBR and top the mason jar, give the drink a gentle stir to combine, drink the balance of the can, express the oils of a slice of lemon peel into a mason jar (rub the piece of lemon along the rim of the mason jar for good measure, drop the peel into the jar. Drink, ideally, while listening to something weirdly cool that's waiting for a comeback—on vinyl naturally—like Herb Alpert and the Tijuana Brass.
Referendum on the Screwdriver

Submitted by Mark Allender in Cleveland, Ohio

1.5 oz. chilled vodka
6 oz. fresh squeezed orange juice
0.5 oz. fresh squeezed lime juice
2 splashes of aromatic bitters
Dickerson DixieCup

Submitted by Stefano Hightower in Glen Ellen, California

1/4 oz. fresh ruby grapefruit juice
1/4 oz. Dubonnet Rouge
1/4 oz. Campari
1/2 oz. Bombay Gin (or your fav)
1 1/2 oz. Belvedere Vodka (or your fav)
1 dash Peychaud bitters
A couple drops of lemon juice

Shake all ingredients with ice in a cocktail shaker. Serve in a Nick and Nora martini glass with a twist of grapefruit.
Emily Bedazzled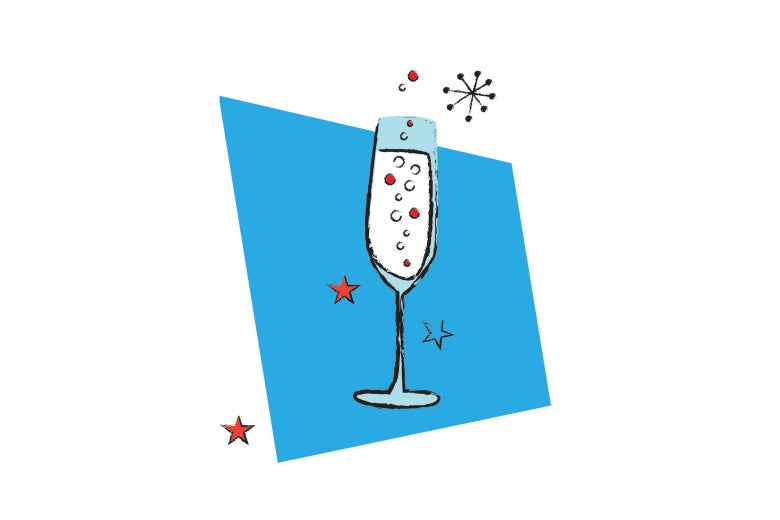 Submitted by Stefano Hightower in Glen Ellen, California
4 oz. French Champagne
1/2 oz. French Sauterne
1/2 oz. Bas Armagnac
1/2 oz. Imperial gold-leaf vodka
Pour three last ingredients in a flute, tilt, add champagne down the inside to avoid over-fizzing.
Plotz'd

Submitted by Stefano Hightower in Glen Ellen, California

2 1/2 oz. Jack Daniel's Single Barrel Select Tennessee Whiskey
1/2 oz. Nardini Italian amaro
1/2 oz. Dolin white vermouth
1/2 oz. Bas Armagnac (or cognac)
2 dashes Fee Brother's Orange Bitters

Combine all ingredients in a short cocktail glass with one large round (or square) ice cube. Twist a Meyer's lemon peel into the glass.
Canadian Rye-ding

Submitted by Chad Laidlaw in Victoria, British Columbia

Named for the Canadian electoral districts, which in turn are not named for being "a day's ride" from their seat, but rather from an Old English word meaning "a third (of a county)."

1.5 oz Canadian rye whiskey
0.75 oz. gin
6 oz. ginger beer
2 dashes of maple bitters
Lime wedge

In a shaker, mix all liquid ingredients with ice. Served in a Tom Collins glass, garnish with lime. Imbibe while contemplating how Canadian electoral districts are apportioned.
Mint Giuliani

Submitted by Jeff Cleary in San Francisco, California

Mix a bunch of liquors that don't make any sense, served with a mint leaf.

Also: If you're at a holiday party and your friend Denise has had too much to drink, say very loudly so everyone can hear, "It's time to DEFUND THE DENISE!" (Pause for applause.)
Ryescoe Conkling

Submitted by Andy Ashton in New Paltz, New York

2 parts rye whiskey (preferably from a New York State distillery)
1 part apple cider
1/2 part campari

Dust with sumac and serve in a highball glass with crushed ice.
Signal and Noise

Submitted by Stephanie Kovalchik in Melbourne, Australia

This cocktail pays homage to the rise of the data-driven political analyst and takes its name from the best-selling book on forecasting written by Nate Silver of FiveThirtyEight. For both the 2016 and 2020 presidential elections, the FiveThirtyEight forecast gave Trump a 1-in-10 chance of victory leading into Election Day. This recipe is an effort to capture the antithetical realities implied by those odds and to demonstrate the mathematical truth that 10 percent is not equal to zero. Ninety percent of this recipe is an all-American riff on the Ampersand cocktail. This version takes equal parts Laird's 100-proof Straight Apple Brandy—a spirit described in the Cocktail Codex as "as old as America itself"—corn whisky from the Long Road distillery in Nate Silver's home state of Michigan, and dry vermouth from the Little City craft distillery in New York, where FiveThirtyEight's main office and studio can be found. A few dashes of Gary Regan's orange bitters adds a citrusy depth of flavor to the drink. And finally, the last 10 percent is the uncalled-for but undeniable Orange Fanta.

1 oz. Long Road Straight Corn Whisky
1 oz. Laird's 100-proof Straight Apple Brandy
1 oz. Little City Dry Vermouth
1/3 oz. Orange Fanta
2 dashes Regan's Orange Bitters

Combine the whisky, apple brandy, vermouth and bitters in a mixing glass with ice and stir vigorously for 30 seconds. Strain into a Nick and Nora glass and top with the chilled Fanta.
Donny Wallbanger

Submitted by Cynthia Lerner in Northbrook, Illinois

6 oz. orange juice
2 oz. Mexican tequila
1 shake of bitters
1 oz. of triple sec

Pour into a cocktail shaker with a lot of ice and shake it. Pour into a highball glass and and put a wedge of orange on the rim of the glass.
The Erdogan Cocktail: Kicked in the Testicles by a Horse but Still Ballsy

Submitted by Cat in Turkey

The wheatgrass and apple components are for the horse. The raki is for the man's testicles. The turmeric and chili pepper is for everything else. Any added ice is to stop the swelling.

8 oz. spicy turmeric chili pepper kombucha
2 tsp (more or less according to preference) wheat grass powder
2 tsps (more or less according to preference) organic apple cider vinegar
1 or more tbsps raki (peferably Yeni Raki)

Mix. Add ice if you feel your horse-kicked balls require a cold pack.

NOTE: Raki is usually mixed with water (1/3 to 1/2 glass raki with the remainder water and often ice) and consumed with an equal sized glass of water. For this cocktail, add raki as sampling drink to gauge your raki tolerance.
Drink Your Ossoff

Submitted by Bill in Atlanta, Georgia

Perfect drink after you complete your absentee ballot.

3/4 oz. old fourth ward vodka
3/4 oz. Richland Coastal rum
3/4 oz. Ivey Mountain Peach Brandy
3/4 oz. Atlanta United Gin
3/4 oz. triple sec
3/4 oz. simple syrup
3/4 oz. lemon juice, freshly squeezed

Stir to combine. Coca-Cola to top.
Gustavo's Cup

Submitted by Sam in London, England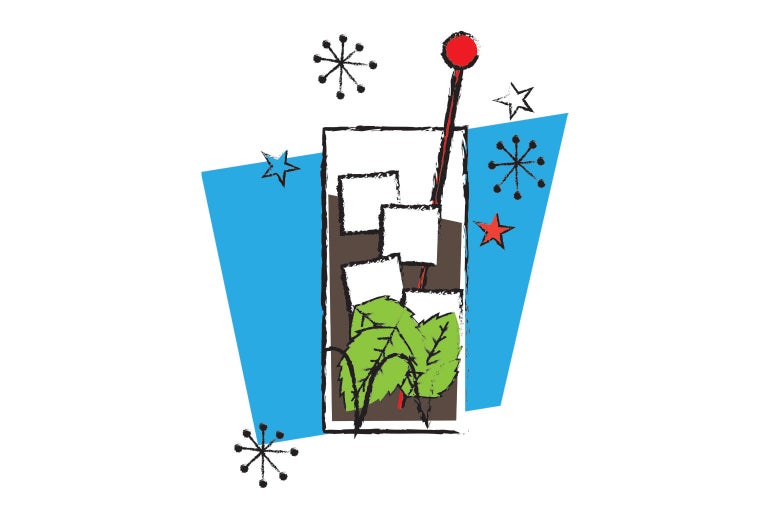 Infuse in Blanco tequila for 10 hours: a big bunch of mint, a small bunch cilantro, a jalapeno, chopped, the zest of four limes. Strain well.
Now, per drink:
2 oz. infused tequila
1 oz. lime juice
1 oz. simple syrup
A quarter of a peeled cucumber
Mash together in a tin shaker, add ice, and shake very well. Strain into your glass, sprinkle a very small amount of salt over the top, and enjoy.
White Russian Meddling

Submitted by Matt Silverman in Colorado

Put three drops of American Bitters on one brown sugar cube in a highball glass. Muddle well. Add cracked ice, one shot of Russian vodka and fill with 1-percent milk. Stir up recklessly. Dribble a line of a Mexican liqueur like Kahlua across the top. Slurping optional.
The Tony Blair

Submitted by Alan Divack in New York, New York

So-called because is it slightly pink and leaves a bitter taste.

Lots of ice
Fresh mint (spearmint, if possible)
1 oz. Campari
2 oz. gin (less if you like a less strong drink)
1 oz. freshly squeezed lime juice
Ginger beer to fill glass, about 4 ounces, I use Gosling's
lime wedges to garnish

Rub some of the mint around a 12-ounce glass to "season" it with mint oil, then fill the glass with ice. Add the Campari, gin, lime juice, and simple syrup and stir. Top off with ginger beer and garnish with lime and a sprig of mint.
The Dr. Anth-Honey Fauci

Submitted by Margaret Mueller in Chicago, Illinois

Rim a glass with honey and a cinnamon-sugar mix. Add 1 part honey whiskey, 2 parts apple cider, a splash of lemon juice, and a rosemary sprig to garnish. You could also use regular whiskey, but our signature twist is the honey whiskey. Enjoy, and put your mask back on once you're done!
Trumpster Fire

Submitted by Gretchen Roffler in Juneau, Alaska

Add to a shot glass 1 oz. of Campari and 1 oz. of green chartreuse. Top with a jigger of Bacardi 151 white rum and garnish with a orange peel twist. Light on fire and watch it all burn down. Drink after extinguishing.
Frost/Nixon

Submitted by Claire Syrett in Eugene, Oregon

Gin for the hard-drinking Nixon, and British gin to honor Frost. It's cold like Nixon, and frosty for obvious reasons. And it is a blended drink in the style of that period.

1 cup Tanqueray gin
1/3 cup lime juice
1/3 cup simple syrup
1 tray of frozen ice cubes made from tonic water
handful of ice
lime salt (for the rim of the glass)

Blend all ingredients except the lime salt in blender until ice is fully crushed, salt the rim of glasses with lime salt, pour blended ingredients into glasses and top off with tonic water.
Quincey Adam

Submitted by Andrea Liu in Swarthmore, Pennsylvania

John Quincy Adams has come up a lot in the last few weeks because he won the 1824 presidential election, which was thrown to the House of Representatives when no candidate won a majority in the Electoral College.

2 oz. rum
1 oz. freshly-squeezed lemon juice
1 oz. grenadine
1 oz. quince syrup

To make quince syrup: Poach 3 thinly sliced quinces with several star anise pods, cardamom pods and a cinnamon stick in just enough honey water (make by dissolving 1/8 cup honey per 4 cups of water) to cover, until quince is extremely soft; save the syrup, which will be rose-pink, and discard the fruit. This will make a few cups of syrup.

Shake with ice and serve in a rocks glass with fresh blueberries for red/white/blue! If you're content with pink/white/blue, you can leave out the grenadine and use 2 ounces of quince syrup, but then you might want to add more honey to taste.
The Cloture Motion

Submitted by Ross Gottesman in New York City, New York

Picture this: It's been a stressful senatorial day. You've been standing for hours. Suddenly your colleagues' actions have finally forced you to stop talking. You may have spent the day in the purported world's greatest deliberative body, but your body won't deliberate over the deliciousness of this libation! Reposado means restful. And after continuously standing at a lectern with no relief, you will find yourself thankful for the chance to sit back and throw one back. Depending on what side you're on, it's bitter for some, sweet for others. But no matter what, after a day of passionate partisanship, this pungent nightcap ends all debate for the evening.

1 part Reposado tequila
2 parts cranberry Juice
1/2 part Pimms
A few to several dashes of Angostura bitters

Shake all ingredients in a cocktail shaker with ice. Pour into a rocks glass with one large ice cube.
Sharpie-Gaterita

Submitted by Amanda in Florida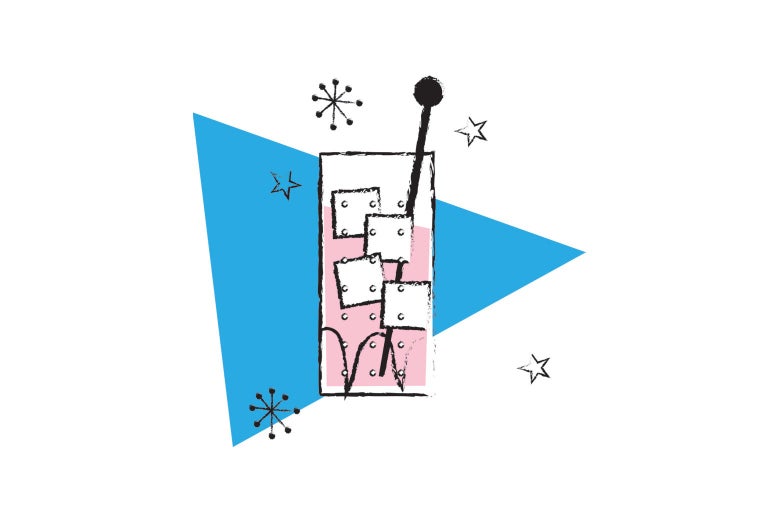 I'm a meteorologist and I truly can't believe a hurricane forecast became a politicized thing. Very much a low moment for many in the field. Thus, I had to name my drink after Sharpie-gate!
2 oz. tequila
1 oz. triple sec
1/2 oz. agave
1 freshly squeezed lime
Shake in a shaker with a bunch of ice. Pour into fancy glass of choice. Top it off with amaretto— your choice in how much you want! (Don't have agave? Honey works too, but agave pairs much better with this!)
The Rosalynn Carter

Submitted by Anne Lambert in Charlotte, North Carolina

The Rosalynn Carter is my take on a vodka gimlet. I call it the Rosalynn Carter, even though she was a teetotaler, because it is lovely and refreshing, with a spicy hint of feminism.

2 parts vodka
1 part Simply Limeade
1 part ginger liqueur (like Domaine de Canton)

Serve over ice. Add a dash of sparkling water like LaCroix Lime for effervescence if you like.
Old Fascist

Submitted by Jeremy Petch in Toronto, Ontario

2 oz. bourbon (I like Knob Creek in this recipe)
1 oz. Amaro Montenegro
1 Luxardo cherry + a hit of cherry syrup
2 dashes of orange bitters
A Christmas Clemency

Submitted by Joshua Roberts in New York, New York

1 ½ oz. bourbon
¾ oz. Cointreau or Grand Marnier
¾ oz. pure unsweetened cranberry juice
¼ oz. fresh lemon juice
¼ oz. honey or agave (or spiced honey syrup if you want to do a little prep)
Half an egg white
1 cinnamon stick
1 star anise pod
A few whole allspice berries

Combine all the ingredients in a shaker with ice. Shake vigorously and strain. Give it a dry shake (with the remaining ice, cinnamon, anise, and allspice strained out), then serve in a chilled cocktail glass with an orange peel or cinnamon stick for garnish.

Feel free to substitute gin for the bourbon: Call it a Christmas Commutation!
Purple State

Submitted by Rob Meyerson in Pacifica, California

1 oz. gin
1 oz. Dolin Blanc vermouth
0.5 oz. Campari
0.5 oz. Blue Curaçao

Add gin and vermouth to clear glass. Slowly add Campari and Blue Curaçao, in alternating pours, until desired color is achieved (assuming you're able to make that decision). Add ice and stir rapidly to chill. Garnish with a slice of Florida orange.
The Crédit Mobilier

Submitted by Jon Delozano in Chicago, Illinois

Adapted from a French 75 and based on the Crédit Mobilier scandal. The American sparkling wine represents the false French bank, and the orange simple syrup represents the New York Sun, who broke the story.

Gin
American sparkling wine
Lemon juice
Orange simple syrup (simple syrup with orange peel steeped)

Serve in a champagne flute.
Jim de Menthe

Submitted by Eric Kingsbury in San Francisco, California

2 oz George Dickel Whiskey (a South Carolina favorite)
1 ½ oz Crème de menthe
½ oz Benedictine

Shake with ice. Serve up.
Ciroc Obama

Submitted by Michael Warhola in Philadelphia, Pennsylvania

Fill a standard pint glass with ice, then add: Half an ounce each Red, White, and Blue Ciroc (Red Berry, Coconut, and Original flavors), fill to almost top with sour mix (club soda and lemon juice)
spritz of cranberry juice. Shake well and enjoy while reading your copy of A Promised Land!
Sage Counsellor

Submitted by Daniel Fabiano in Toronto, Ontario

The cocktail is a nod to Ben Franklin (generally, and as "Sage of the Constitutional Convention").

2 oz. mastiha liqueur
1 oz. fresh lemon juice
0.5 oz. Lillet blanc
0.25 oz. spruce tip syrup

Shake with ice. Strain into a coup. Garnish with a sage leaf (clap it between hands before garnishing).

Spruce tip syrup is made by boiling springtime spruce shoots in simple syrup. As a quick substitute, use simple syrup mixed with a few drops of edible essential oils (spruce, balsam, etc.).
Strange Bedfellows

Submitted by Jim Drinkwine in Bellingham, Washington

Best served on a snowy night in front of a fire while reading The Hardest Job in the World or Charged.

1 cup hot milk
1 pack of hot chocolate mix
1 oz. bourbon
1 oz. vodka

Garnish with marshmallows and a candy cane (for more spice, use cinnamon whiskey or peppermint vodka).
The Partisan Divide

Submitted by Don Boehm in Washington, D.C.

2 oz. bourbon
1 oz. Aperol
1/2 oz. Blue Curacao
1/2 oz. orange juice

Add ingredients to a cocktail shaker with ice. Shake vigorously to relieve the tension that you feel when you think about the aimless and intense (and performative) partisanship. Serve in a rocks glass with ice and garnish with an orange slice or orange twist. Please feel free to dilute the partisanship with club soda or sparkling water to make the bitterness more manageable.
Coup de Toddy

Submitted by Alexia Margaret in Ohio

Perfect to heal a nation in crisis, the Coup de Toddy is a play on the Irishman's Hot Toddy, and it will help any American get through an attempted coup of the democratic electoral system. This drink offers a bipartisan comfort of a simpler time, when votes were votes and grown men accepted them. Though be warned, after indulging in the warm embrace of this cocktail, you will likely not be in a position to participate in a hand recount of anything. Drinkable in all four seasons, it's also the perfect nightcap to a day of total landscaping. Enjoy on or before January 20, 2021.

1.5 oz. Jameson
1 tbsp honey
0.5 oz. lemon juice
1 cup of hot Irish Breakfast brewed tea
1 cinnamon stick
Ayanna Pressley

Submitted by Colin Brown in Norwood, Massachusetts

Someone doing hard work in politics these days who deserved a cocktail named in her honor. It's an attempt to adapt a Ward 8 (with all its Boston political history) to her tastes and story.

1 1/2 oz. rye whiskey (preferably Putnam New England Rye)
1/2 oz. Belle de Brillet pear liqueur
1/2 oz. fresh lemon juice
1 tsp grenadine
1/2 tsp absinthe (use Malört if available)

Shake with ice and strain. Garnish with cherry.
Maniac

Submitted by Qiyu Liu in Washington, D.C.

It's called the Maniac because the rye is the least alcoholic ingredient and you'd have to be a maniac to drink it (for those trying times). Tasty though!

2 oz. rye
3/4 oz. fernet
1/2 oz. green chartreuse
2 dashes Angostura bitters

Stir with ice and serve up with an orange peel.
The Chris Christie (a.k.a. "The Bloviator")

Submitted by Theresa Dinan in New Jersey

I only call this "The Chris Christie" because I'm from New Jersey.

In an old-fashioned glass, combine the bourbon, tomato water, lemon juice, and bitters. Add the ice cube. Top with sparkling water and the twist of lemon.
The Ruby Giuliani

Submitted by Jackie Hogan and James Decker in Peoria, Illinois

2 oz. Maker's Mark Bourbon
1 oz. tomato water
1/2 oz. lemon juice
2 dashes Angostura orange bitters
Sparkling water
1 large ice cube with two M&M's frozen inside
Lemon twist

Official cocktail of Four Seasons Total Landscaping.

2 oz. Stoli Ruby Red Vodka
1 oz. triple sec
3 oz. fresh ruby red grapefruit juice
1 oz. fresh Florida orange juice
A dash of Bittermens Hopped Grapefruit bitters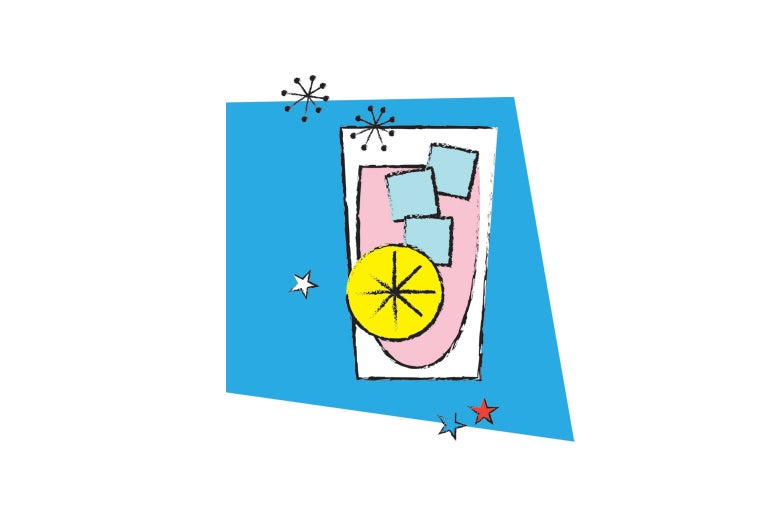 Shake with ice vigorously and as loudly as possible. Strain into a carnival glass goblet and serve with a garnish of sour grapes. Note: may be made without the OJ, but addition of Florida orange makes it ridiculously fruity.
Moscow Mitch McConnell Mule

Submitted by Aaron Grant in New York, New York

This recipe requires two people to make it as well as one mug and two glasses.

1) PERSON ONE fills GLASS ONE with ginger beer and a little lime juice.

2) PERSON TWO takes a traditional Moscow mule mug and garnishes it with limes.

3) PERSON TWO fills the traditional Moscow mule mug with ice.

4) PERSON ONE fills GLASS TWO with vodka and lime juice.

5) PERSON TWO swishes the ice in the mug while critiquing PERSON ONE.

6) PERSON ONE passes both glasses to PERSON TWO whose job it is to mix the final concoction.

7) PERSON TWO takes the glasses does nothing with them. PERSON TWO then waits for the ice in the mug to melt. Suggests that people can eat the lime garnish instead.
Fourth of You-Lie

Submitted by Stephen McGurk in Canada

Fill a glass half-empty with Trump Vodka (if you can find it… like the president, it seems to have disappeared). Chill with the ice that runs through Melania Trump's veins. Agitate until there's pandemonium. Serve with a mask on… oh no, wait… skip the mask—the drink will disappear on its own.
No Dram-a Obama

Submitted by Jon in New Hampshire

Oban 14-year whiskey

Pour 1 dram of whiskey over a single large whiskey ice cube. Take a sip and let your anger translator do the work.
Transitionally Sour Grapes Whiskey

Submitted by Cliff in Saint Paul, Minnesota

2 oz. bourbon, rye, Scotch, or other whiskey of choice
1 oz. lemon juice
0.5 oz. simple syrup
0.5 oz. grape juice
Egg white
Aromatic bitters (optional for garnish).

Put everything except for the bitters into a shaker tin without ice. Shake vigorously to emulsify the egg white; add ice to the tin and shake some more to chill. Strain into a cocktail glass and garnish with a few drops of aromatic bitters. Enjoy in lieu of ascertaining an election winner.
Norwegian Buttigløgg

Submitted by Emily Ziring in Minneapolis, Minnesota

Makes 4-6 servings.

½ cup (100 g) granulated sugar
Zest of 1 large orange
Pulp from one ripe persimmon (an ode to Indiana's Persimmon Pudding)
1 teaspoon freshly grated nutmeg
1 star of anise
Cinnamon sticks (reserve enough to garnish each glass with one stick)
6 cloves
1 bottle (750 ml) dry red wine
½ cup Aquavit
Orange slices (optional)

Put sugar, zest, persimmon pulp, nutmeg, anise, one cinnamon stick, and six cloves into a large pot over low heat. Stir until the sugar dissolves and pulp begins to break down, about 8 minutes. Pour in the wine and gently heat for about 15 minutes. Stir in the aquavit. Garnish with cinnamon sticks and orange slices.
Manhattan 2021

Submitted by Dan Turner in Oakland, California

It's a Manhattan, without the orange peel and light on the bitters.
The Ultimatum

Submitted by Dave Fetter in Chicago, Illinois

This is our Italian-ish variation on the better-known Last Word. Thus, the name converts to Latin and celebrates (?!) the re-emerging populist fascism that, of course, traces its linguistic and political roots to Ancient Rome. The added soda water expresses our assessment (hope?) that this more recent phenomenon is both less substantial and less enduring than previous bouts. Given time, the bubbles pop, the fizz settles, and people move on—or pass out from too much imbibing. Don't wait that long, though; you should finish this indulgence much more quickly.

One part gin
One part cherry cordial
One part Italicus (bergamot liqueur)
One part lime juice

Combine all ingredients, shake with ice, strain into coupe. Top off with club soda and an (optional) dark cherry garnish.
The Bloombergito

Submitted by Sam in Brooklyn

A de-spiced bastardization of Latin American flavors, in honor of New York's half-heartedly bilingual former mayor.

1 oz. vodka
1 oz. tequila
1 oz. pineapple juice
1 oz. lime juice
1 tbsp jalapeno simple syrup
1 dash of celery bitters

To make the jalapeno syrup: De-seed and cut small jalapeño into quarter-inch slices. Bring a cup of water and a cup of sugar to a simmer on a pan and add jalapeños. Simmer for 10 minutes, then filter into jar.
The Texas Liberal

Submitted by Matthew Schoolfield in San Francisco, California

I grew up in Austin, Texas, and red grapefruits are a fairly unrepresented part of Texan culture, much like the many liberals who live there.

1 1/2 oz. whiskey (preferably rye, preferably Texan)
1/2 oz. sweet vermouth
1/4 oz. amaro
A few dashes of grapefruit bitters (this is very important, and dramatically changes the flavor of the traditional version!)

Stir. If served up, garnish with grapefruit twist. If served on the rocks, garnish with ruby/rio red grapefruit wedge (squeeze the juice in) and a slash of soda.
Come On Georgia, I Really Don't Want to Have That Drink With Mitch McConnell

Submitted by Ellis Michael in Seattle, Washington

1.5 oz. Kentucky bourbon
0.25 oz. lime juice
4 oz. ginger beer
Garnish with a fresh slice of Georgia peach

For best results, pour through a funnel into plastic bottle which you then affix the cap onto with cyanoacrylate, completely obstructing the drink.
Impeach

Submitted by Anders Emretsson in Gustavsberg, Sweden

2 parts bourbon
1 part triple sec
1 part peach liqueur (Bols)
2 dashes of orange bitters

Stir with ice, serve straight up in a stemmed glass. Garnish with a twist of orange peel.
Nordic System Ice Tea

Submitted by Roope Lehtinen in Helsinki, Finland

A cocktail that celebrates the Nordic political system, values and way of life. This drink has been developed to celebrate the fact that even if all the rest of the world look at us, the 25 million Nordic people, like we are unique and special, we don't agree. Ourselves, we want more to focus on how very different and odd the other people in the Nordic countries are. In a way the Nordic countries together are the perfect cocktail. I wish the rest of the world could drink it right now.

4 cl Absolut Vodka Blueberry & Lime
4 cl Tom of Finland Vodka
4 cl Lapponia Cloudberry liqueur
4 cl Norwegian Aquavit
A very small drop of Gammel Dansk Bitters
The Winning ♀icket

Submitted by Craig Gordon in San Francisco, California

This cocktail came from my girlfriend and me wanting to celebrate the historic event of a woman on the winning ticket. We also wanted to give a shout out to Harris's California roots. We couldn't leave Biden out, so the elderflower was perfect: He's the oldest president elected and he's a pretty sweet guy.

4 parts 49 Mile Bourbon (a San Francisco brand)
1 part St. Germain (elderflower liqueur for Joe, he's the oldest prez ever!)
1 part St. George coffee liqueur (distilled in Oakland)
Dash of orange bitters (politics can be bitter)

Combine ingredients, break glass ceiling, stir with ice. Garnish with lemon twist

And while we are loving Kamala Harris's ascent to the executive office, we realize that there will be some days we need to make one of those bourbon parts from Buffalo Trace, because even the best politicians are full of bullshit sometimes.
Moscow's Orange Mole

Submitted by Caitlin Khoury in Phoenix, Arizona

Vodka
Ginger Beer
Orange Juice

Garnish with Fake Bake-on (crispy turkey bacon) and Weak Sauce (mild hot sauce). Served in a McDonald's cup.
The Susan Collins

Submitted by Juan Manuel in Montreal, Quebec

You just say to the waiter you want a regular Tom Collins but, when the waiter brings it, you just leave it on the table and not drink it.
Last Flight (on Air Force One)

Submitted by Christopher Plaskett in San Francisco, California

The Last Flight cocktail is a mashup of the Last Word and the Paper Plane.

0.75 oz. bourbon
0.75 oz. green chartreuse
0.75 oz Aperol
0.75 oz. lemon juice.

Shake. Garnish with lemon peel. For the Air Force One variant, spear a lemon peel rose on a seafoam blue cocktail sword or toothpick and serve in a silver-rimmed Nick and Nora glass.
Lie and Turn Tail

Submitted by Sarah Chapin in Washington, D.C.

2 oz. honey whiskey
4 dashes orange bitters
1/2 oz. lemon juice
1/2 oz. allspice dram

Shake with ice. Pour into a coupe and garnish with orange peel.
Bye, Don

Submitted by Lisette Bahamondes in Oakland, California

This is a twist on the tequila sunrise, which of course happens at dawn, which in turn made me think of a funny yard sign I saw.

1 oz. tequila
3 oz. orange juice

Pour over ice in a Collins glass. Top with an amaretto float (about 1/2 oz.).
One for the Republic

Submitted by Bob Holdom in South Orange, New Jersey

A founding fathers take on the Manhattan.

2 oz. James E Pepper 1776 Rye
1 oz. Antica 1786 Vermouth
2 dashes angostura bitters
3 dashes aromatic bitters
2 Luxardo maraschino cherries (plus a dash of syrup)

Mix ingredients including a dash of syrup from the Luxardo bottle into a cocktail shaker. Add ice and shake vigorously. Add to a themed highball glass with two cherries on a star cocktail pick. Typical Manhattan would be served with ice strained, but I prefer with the ice!
The Dark NDA Stormy

Submitted by Sam Rutledge in Oregon

A twist on the classic "Dark and Stormy," this cocktail is dark rum in spicy strong ginger ale with a twist of lime. The only way to order this drink is for your lawyer to order it for you with his own money and without your knowledge.
The G7

Submitted by Adam Ertel in Honolulu, Hawaii

1/2 oz Italian limoncello
1/2 oz London dry gin
1/2 oz Japanese sake
1/2 oz U.S. whiskey (bourbon or rye)
1/2 oz Canadian whisky

Stir or shake…aggressively. Pour into a highball glass with ice. Add 1/2 oz. French Champagne and 1/2 oz. German Kolsch beer. Top to fill with soda/seltzer water (very neutral) or lemon/lime soda (if you want a bit of sweetness, and don't care about being neutral). Add a paper (climate change–safe) straw. Serve with a side 1/2 shot of chilled Russian vodka.

To make a G8, add the vodka into the cocktail.
Blago-lden Pay to Play

Submitted by Bridget Wilhelm in Seattle, Washington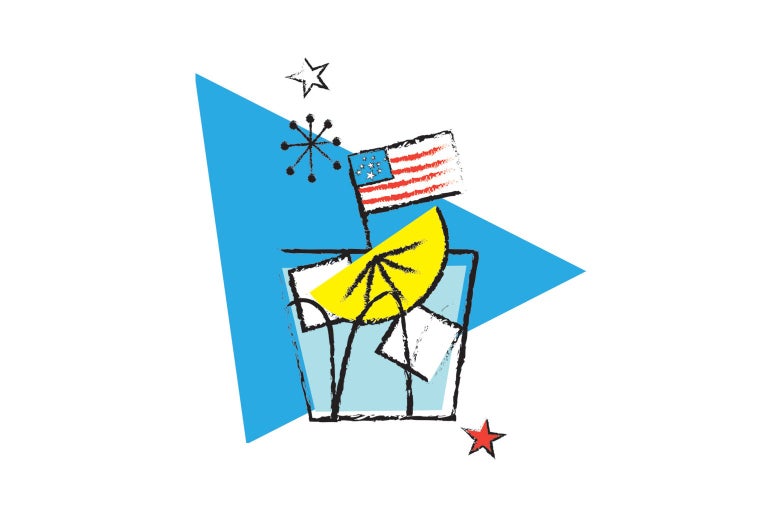 This drink honors my all time favorite political scandal: When the Elvis-loving governor of Illinois, Rod "Blago" Blagojevic, tried to sell Obama's vacant Senate seat to the highest bidder, stating in a taped phone call, "I've got this thing and it's fucking golden and I'm not giving it away for fucking nothing."
9 oz. Tennessee Whiskey (in honor of Elvis)
9 oz. ginger liqueur (such as Canton)
3 oz. fresh squeezed lemon juice
1 sheet edible gold leaf
Combine whiskey, ginger liqueur, lemon juice, and one sheet edible gold leaf (crumbled into flakes) in a pitcher and chill. Chill 6 cocktail glasses and pour whiskey mixture into glasses. Garnish with a lemon twist. Sell to the highest bidder.
A Drink You'd Wanna Get a Beer With

Submitted by Claire Wallace and Andrew Wallace in Queens, New York

2 oz. light rum
¼ oz. fresh lemon juice
¼ oz. fresh lime juice
¼ oz. orgeat
1 oz. IPA (we used Two-Hearted Ale)
Garnish: small lemon wedge, small lime wedge (if desired)

Shake rum, lemon juice, lime juice, and orgeat with ice until very cold (about 20 seconds). Strain into chilled cocktail glass. Add beer and give a quick stir. Add garnish. Chatter away!
Conundrum and Kahlua

Submitted by Daniel Y. Zohar in Los Angeles, California

1 oz. Kahlua
1 oz. heavy cream
1/2 oz. Grand Marnier
2 oz. Dr. Brown's cream soda
Splash of Scotch
Ice

To be enjoyed each year during the Conundrum Show.
Continental Brexit

Submitted by Norman Townsend in Toronto, Ontario

Pusser's was the original rum ration of the British Royal Navy.

1.5 oz Pusser's Rum (or similar aged rum, but Pusser's works the best)
0.75 oz Aperol
0.25 oz Cynar
Pernod (or some other anise flavored pastis)

Rinse a rocks glass with Pernod. Stir remaining ingredients with ice in a chalice. Strain into the rocks glass with fresh block of ice (or regular cubes if that's what you have). Express a strip of orange peel over the glass and garnish with it.
Donald's Last Gasp

Submitted by Alex Morrell in New York, New York

This drink is a bittersweet twist on a gin sour, amping up the sour and bitter notes.

2 oz. gin
0.75 oz. simple syrup
0.75 oz. fresh lemon juice
5 robust shakes of Angostura bitters
5 robust shakes of orange bitters
Garnish with orange slice

The goal is to imbue the beverage with an orange hue, and give a courser bite than the gentler traditional sour. Why? Because the orange, would-be autocrat doesn't go down easy—he goes down aggrieved and embittered, kicking and screaming. Whiskey of course could help accomplish this, but for a beautiful warm day, gin is a tad more refreshing.
Red Donkey

Submitted by Karen in New Hampshire

Pour a small heap of shaved dark chocolate in the bottom of a cocktail glass. Mix 1 shot Vanilla vodka and a splash of grenadine in a shaker. Pour over the chocolate flakes.