There are only two ways to get to Whittier, Alaska, a small strip of land about 60 miles from Anchorage that's wedged between Prince William Sound and a series of steep mountains. You can travel by boat, or you can drive through the Anton Anderson Memorial Tunnel, a single-lane, 2.7-mile-long highway tunnel—the longest in North America—burrowed through Maynard Mountain.
Since March, residents have cast a wary eye on the tunnel. It allows cars to leave town on the top of the hour and come in on the half-hour 18 times a day. As the coronavirus spiked in Alaska, residents wondered when it would make its way through.
The town has unique reasons to worry. In Whittier, 85 percent of the 280 year-round residents live in the same apartment building. The rest live in another, smaller condo building. (There are no single-family homes in town, and the Alaska Railroad owns 97 percent of the available land.) The main 14-story apartment complex, Begich Towers, contains 150 two- or three-bedroom apartments, the kind of density that could foster a devastating infection rate in the tiny population.
"There's always been this quiet level of anxiety, because we knew the clock was running for when it would come in," Jim Hunt, the city manager, told me. "The unknown is the most fear-causing aspect of this."
Sure enough, in mid-August—more than seven months into the pandemic—COVID-19 finally moved in to Begich Towers.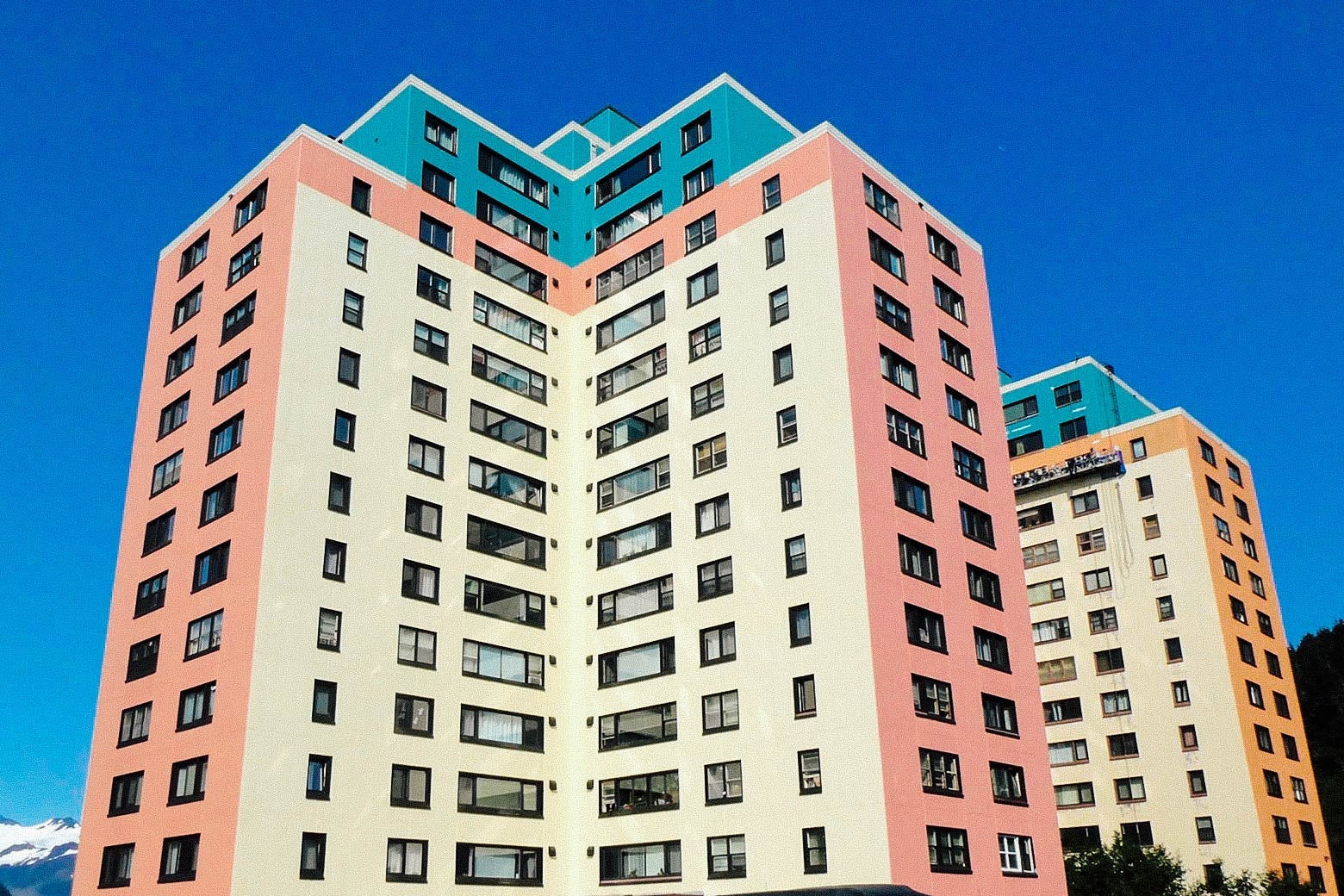 Since the pandemic began, Hunt said the town had already "dodged a couple bullets": Earlier this summer, two people working in separate businesses related to the waterfront tested positive, but they were quickly quarantined, and exposure appeared limited. Eleven seafood process workers temporarily in town also tested positive, but the cases proved contained.
Then, on Aug. 11, the state announced that six residents, all family members who share a single unit in the towers, tested positive for the coronavirus. The family immediately self-insolated in its unit, and the Whittier Community Health Center agreed to provide food and supplies for the length of the quarantine.
"I think we all knew eventually we'd end up with a case here, and we're very fortunate it took as long as it did," said Begich Towers' building manager, David Schofield.
Inside Begich Towers, the mood was matter-of-fact. "I'm just dealing with it," said June Miller, a resident. "I think we're all just dealing with it and doing our best to get through it. It's hard for everyone, but luckily, everyone is being polite and doing what we can to work together."
Two weeks later, as the family nears the end of its quarantine, no other cases have sprung up, said Hunt, the city manager. While the city is currently providing free testing to residents with funds received from the CARES Act, Hunt estimated that only about 15 percent of Whittier residents have undergone testing, leaving open the possibility of asymptomatic cases.
"I do hope to see more people getting tested," Hunt said. "We were one of the few communities anywhere that have rapid testing, which we needed to control the situation. We're a weird small town with a fishing problem, but we have testing mechanisms that many cities are envious of."
Schofield, the building manager, said the situation hadn't worsened because of increased cleaning and a series of emergency measures for residents. Most are boilerplate pandemic rules like adhering to social distancing guidelines, sanitizing washing machines and elevator buttons after use, and wearing masks in common areas. The town's post office, grocery store, and laundry facility on the first floor of Begich Towers are continuing normal operations, but the church and the public restrooms are closed.
Shortly after the announcement that there'd been a positive test among their ranks, Whittier started handing out notices with toll tickets at the entrance of the tunnel to the town. The new rules required face masks and also for anyone who enters to provide personal information to businesses, should contact tracing be necessary. The town also mandated 50 percent capacity in dining and entertainment businesses and limited gatherings to no more than 10 people indoors and 20 people outdoors.
In normal summers, oodles of cruise ship passengers disembark here, but this summer, with so few tourists visiting and fewer trains, the limitations on people occupying a space are rarely needed. Kelly Bender, the owner of Lazy Otter, a café and water-charter company near the harbor, has a sign on the door mandating the 50 percent rule but said most people are in and out.
Asked what the vibe in town is like, Bender said: "Depends on whom you talk to. There are some people who are very upset and worried and some others who think it's a hoax. But as a town, we're all adjusting and making it work."
Bender owns two apartments in Begich Towers, one for her family and one for her employees. She said she's personally extra-mindful of sanitation—she has a ninetysomething family member staying at the apartment—but the family is still coming and going as usual.
Even with the current cases, the city doesn't believe there was any local transmission: Schofield said the family contracted the illness while in Anchorage, the state's most populous city. So far, Whittier appears to be a small success story of community management.
"We knew it was going to happen. It was just a matter of time," Hunt said of the scare this month. If anything, the response to the positive cases has reassured residents: "Overall, the feeling of terror of what's coming through the tunnel has ratcheted down a few degrees. But we're still concerned."
Right now, Hunt said he's more worried about someone bringing an asymptomatic case into the city and unknowingly spreading the virus. Should more cases sprout up, the city's contingency plan is to set up an off-site quarantine building.
"We're doing our best to prepare for the worst, but just like everyone else, we're also on a huge learning curve," Hunt said.
Shutting down access to Whittier altogether, I learned, isn't on the table. Myriad goods and people come into Whittier's port to access the Alaska Marine Highway. Roughly 35 percent of Alaska's freight comes first through Whittier, and then its tunnel. Even if the city wanted to close the tunnel to limit potential COVID carriers from coming into town, it's unlikely that the state, which owns the tunnel, would allow it. Too much of Alaska depends on Whittier's port ability. So for now, the residents hunker down and wait.