Coronavirus Diaries is a series of dispatches exploring how the coronavirus is affecting people's lives. For the latest public health information, please refer to the Centers for Disease Control and Prevention's website. For Slate's coronavirus coverage, click here.
This diary from Jasmine Baker, an 18-year-old first-year student at the University of North Carolina at Chapel Hill, has been condensed and edited for clarity from a conversation with Heather Schwedel.
At the beginning of August, I moved into Granville Towers at the University of North Carolina at Chapel Hill as a freshman. Classes started Aug. 10. The next week, while I was in an in-person class, we got an email that said all classes were going to be moved to online. The email was very vague about housing. There were no specifics. Everyone kind of started freaking out. We'd only been there for a week. All we knew was that all the classes were going online. We learned about it at the same time the professors did.
Now it's three weeks later, and I've already moved out—and I am positive for COVID-19.
I lived in a four-person suite. About a week before we moved in, our suitemates texted my roommate and I and were like, "We're actually just not moving in anymore." They decided to get an apartment in Chapel Hill. Everyone knew we were going to get shut down. We didn't know it was going to happen that quickly, but we knew it would happen at some point.
For moving in, you had to schedule an appointment because only a certain amount of people were allowed to move in at a time. You could only have four people with you. We had a Zoom meeting with our RA, and that was it. It was a very temporary feeling. I didn't think we'd actually even make it to move-in, to be completely honest. I ordered all my stuff for my dorm about four days before I left. But during move-in day, I was like, "Maybe this is OK? We're here. There are a lot of precautions. Everyone's wearing their masks." Then I started hearing stories about frats or about people going out. That instantly made me think, "Oh, OK. So now we're just counting down the days. " I really didn't even unpack all the way because I kind of knew.
Starting off school, I had two in-person classes. They were both hybrid, but I chose in-person just because I was on campus. Mostly, all my friends had all online anyway. Not a lot of professors offered the in-person option. One of my teachers, we didn't even get a chance to meet in person because he was trying to figure everything out. By the time he did, it switched to online.
I'm taking comparative politics, which is a lecture with 300 people all on Zoom. And I'm taking a journalism class, like video storytelling, which is a bit crazy because our final project is interviewing somebody and making a video project out of them. My professor is awesome. She's really working with us trying to figure out the safest options. Originally, that was actually a hybrid class. There were about 10 people in person, and then, my professor worked it out really nicely, where she'd have all the Zoom kids on a projector and they'd be able to hear and speak out whenever they had a question.
I'm also taking a geology lab. My professor is really trying, but it's very hard to look at rocks on a computer screen.
We weren't allowed to be anywhere without a mask. Even if you had your door open in your dorm, you had to have a mask on. The only time you could have no mask was when you were eating in the dining hall and when it was just you and your roommate in the room with the door closed. I spent a majority of my college experience with a mask on.
It was definitely hard to make friends, a lot harder than it would be normally. Even if you did meet people, they had masks on. To be honest, half the people that I'm "friends with," I don't even know what they look like.
I really didn't know college life right now was going to be as—I would hate to say boring—but honestly, compared to what college is supposed to be, it was incredibly boring. My roommate and I would just sit in our dorms and do class all day because all of her classes were online. You had to make an appointment to go in the library.
My roommate was really the only person that I knew going to UNC because it's so much in-state. I used to live in Texas, which is where my roommate's from. So we have a ton of mutual friends. We had met each other a few times. So we decided to room together. This is not at all how we thought it would happen, but we have definitely gotten to know each other a lot faster. I also had a childhood friend here. She moved in the Monday before classes started. So by the time I got there, she had been there a week. Luckily for me, she had made a bunch of friends already. Her suite was close. By the time I got there, I kind of just jumped into her friend group. If I didn't have those girls, I don't know how I would have made friends at all.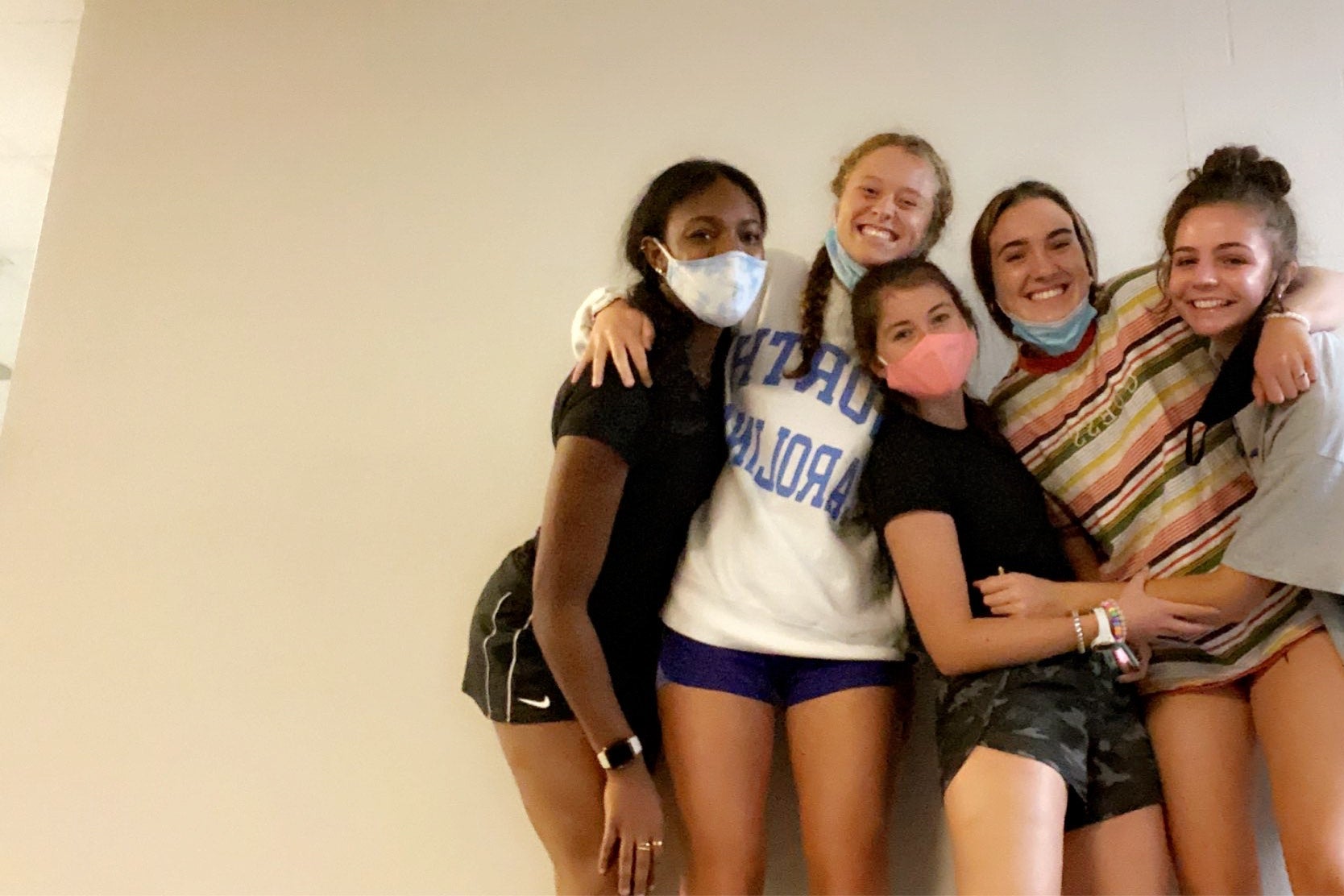 One of my best friends, she brought a popcorn-maker from home. We would make popcorn, have cookie dough, and just hang out. There was really just nothing to do. The nights that I have the best memories are just people hanging out in the dorms, which I guess we weren't even supposed to do. I just can't imagine us not doing that. Nights like that where we just hung out with each other are really the best memories. And quite honestly, the only memories.
My friends all got COVID on the same day, because I remember that day. That Friday everyone was just not feeling good. I didn't leave bed all day. I'm not exactly sure where we got it, but there was definitely no shortage of opportunities. My little friend group, whenever we'd see anyone outside of it, we'd get a text a few days later. We got ice cream with this girl who was in a sorority to talk about sorority stuff. Then two days later, she texted and was like, "Hey, I tested positive." We went to dinner with us and our guy friends. And then the next thing we know, they're all in isolation. I don't know anyone that didn't end up getting it. We were all in such close quarters. I know people that barely left their dorms, and they still ended up catching it.
Fortunately, my roommate feels fine now, but I still feel pretty sick.
If you were with somebody who got tested, you would get a call by the UNC Health Department and you would have to go into quarantine or be sent home. If you got tested through the school, whether it was positive or negative, while you were waiting for your results you had to be in isolation. You had 30 minutes to go to your dorm and pack up whatever. Then you had to go to the isolation dorm or an isolation hotel. Every day you would be on the elevator and you would just see someone with all of their belongings. You'd meet a person one day and the next day they were being sent home.
The isolation dorms filled up, so there ended up being isolation hotels and stuff. We just quarantined in our dorms. Then we got tested when we were leaving, that way we wouldn't have to stay in the hotel. The isolation dorm and the isolation hotel are kind of crazy. The food is really disgusting.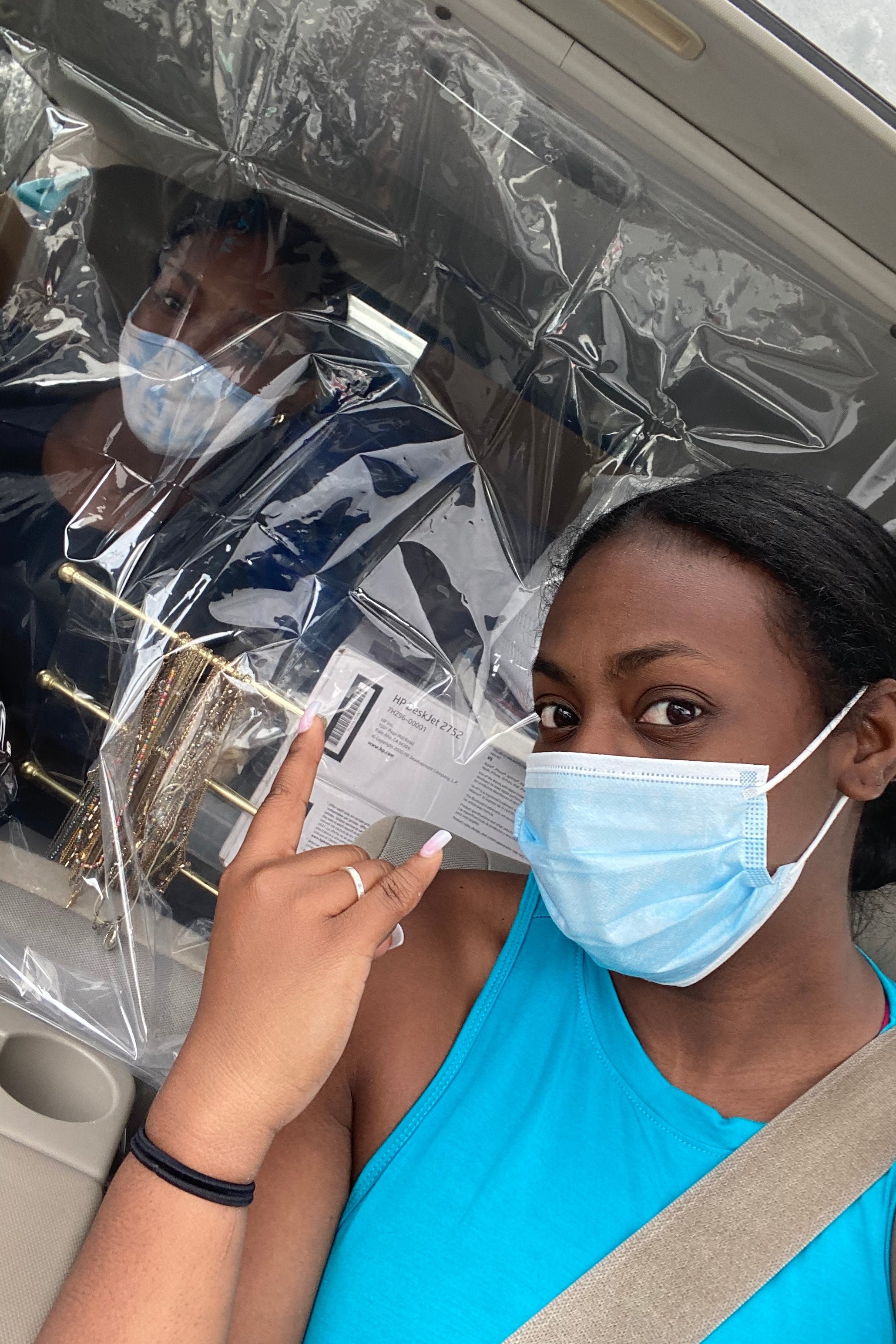 Last week, everyone started to leave. I cannot explain to you how stressful it was. My friends would be in chem labs online while they're trying to drive to their hometowns. Or they're packing up their dorms and having to stay in hotels until their parents can come get them. There was really not a lot of time to plan. It didn't help that basically everyone was sick with the coronavirus. We had to think about a million things at a time.
My roommate and I are both from out of state, and with COVID, we couldn't get on a plane, and we couldn't infect our families. Luckily, my family has an apartment in Charlotte, North Carolina, which is two hours away from Chapel Hill. We just came here to quarantine before we go back home.
No one had a car on campus. My sister had to drive down from D.C. to pick me up. Since I had COVID, she brought a shower curtain and tacked it between us to the top of her car so she wouldn't get sick.
I actually got written up the night before I left. My roommate and I were with a friend. Her roommate was moving out. We were helping her pack up and helping her load her car. We got written up for being with each other without masks on since we didn't all live together. The RA came and was like, "I need all y'all's student ID numbers." I understand it, but we're all living in the same building. We're all eating from the same dining hall. It felt like salt in the wound.
I'm paying out-of-state tuition right now. So many of my friends, if they were going to out-of-state school, they just ended up doing community college their freshman year, just getting the requirements done so you wouldn't have to pay like $50,000 to sit on your computer. There was definitely a lot to think about. UNC has a really good media and journalism school. I'm a pre-admitted student, and like 30 kids nationwide get pre-admitted into the Hussman School of Journalism. That was what made it worth it for me. I wasn't just doing requirements. I'm taking media and journalism classes.
I think that especially my class, we're just trying to hold on to a bit of normalcy. The spring is definitely a huge question mark. But no one's getting their hopes up anymore. Because we didn't have a senior graduation from high school. We've missed out on so much. I think people are just trying not to get their entire freshman year taken away from them. To go from being at college for two weeks and having all this freedom and making all these friends to the thought of having to do your freshman year at home with your parents in your hometown—when we were all having these virtual graduations or drive-through graduations or didn't get senior week, everyone would always say, "It's OK. College is so much better. Your freshman year is going to be amazing. You have so much to look forward to." Back in May, we really thought that August was going to look a lot different than it is now. It didn't really hit me until July when sorority recruitment went 100 percent online, clubs that I'd been looking forward to weren't happening, and UNC canceled intramurals. When things started getting canceled is when it became clear that this year would look a lot different.
At least for me, I am glad that I had those two weeks. It definitely was very bittersweet, but I'm glad that I met people there in Chapel Hill, so next year, I won't be as clueless. I'll know people. We got to make some memories. We got to have some good times. I got to experience a bit of my freshman year. Even though they were very short and it was a ton of hassle, I think it was worth it.