By Alex Arpaia
Wirecutter Staff
Mothers come in all shapes and sizes and ages and attitudes. Some moms run marathons, others run companies, and still others run around town, ferrying offspring from their violin lessons to tae kwon do classes to softball practice. Some still have a house full of kids; others are now empty-nesters. But these mothers all have something in common: They have at least one person (be it child, coparent, or admirer) who owes them a great big thank-you, accompanied by a thoughtful gift, for everything they do. Perhaps that person is you? If so, it's time to get on it!
The very model of a modern apron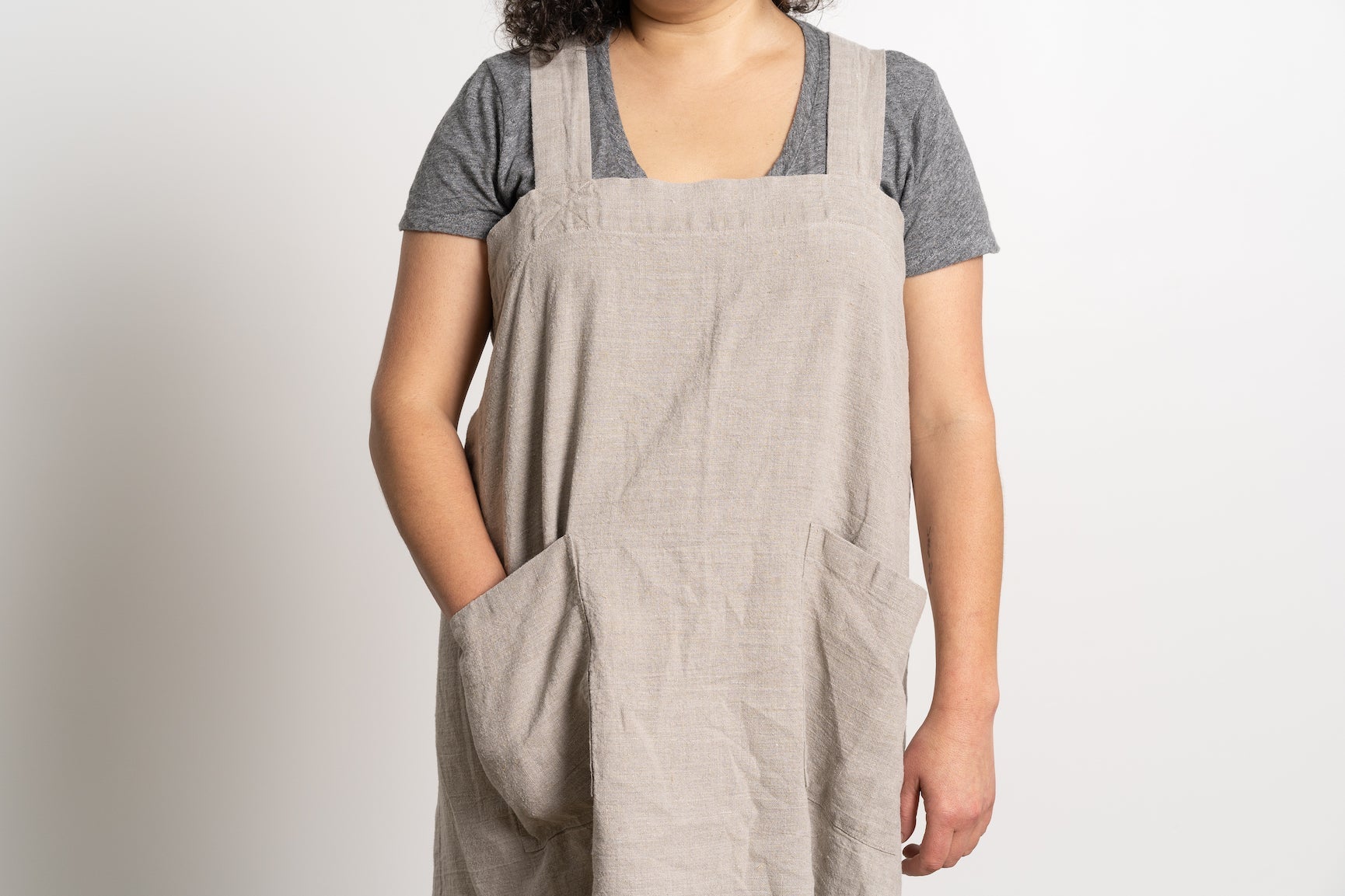 Rough Linen Pinafore ($85 at the time of publication)
Yes, buying Mom an apron might seem a tad too Leave It to Beaver, but the absurdly comfy Rough Linen Pinafore is good for anyone who spends time in the kitchen—regardless of how much they cook. (Even someone who's just "supervising" risks being splattered.) A rectangle of fabric with two straps and big pockets, the Rough Linen Pinafore looks less "prissy apron" and more "artsy smock," but it's actually really well designed. It's loose in all the right places, yet it won't slip around as your mom moves. When testing the apron, we also liked the two giant hip pockets, which can fit everything from a phone to a meat thermometer—and even folded dish towels.
Sew a little love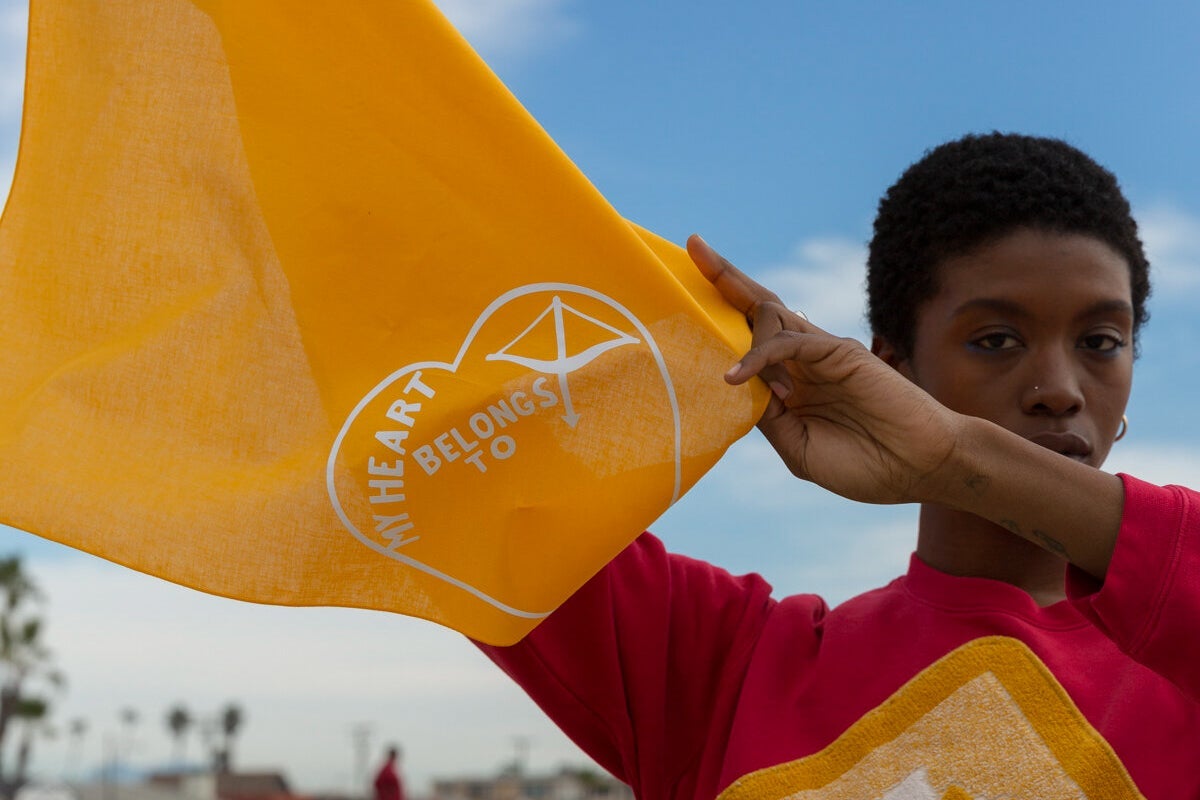 Carleen Heart Bandana ($16 at the time of publication)
The Carleen Heart Bandana is an ideal gift for the giver who likes to add a personal touch. Kelsy Parkhouse, owner of Carleen, recommends embroidering your name or a sweet message inside the heart printed on this bandana. If you're looking for a way to get a craft-obsessed teen involved in the gifting this year—or you are that craft-obsessed teen—this bandana is a charming and affordable option, and it comes in five colors. What mom wouldn't want to wear a scarf adorned by her kid?
A new kitchen heirloom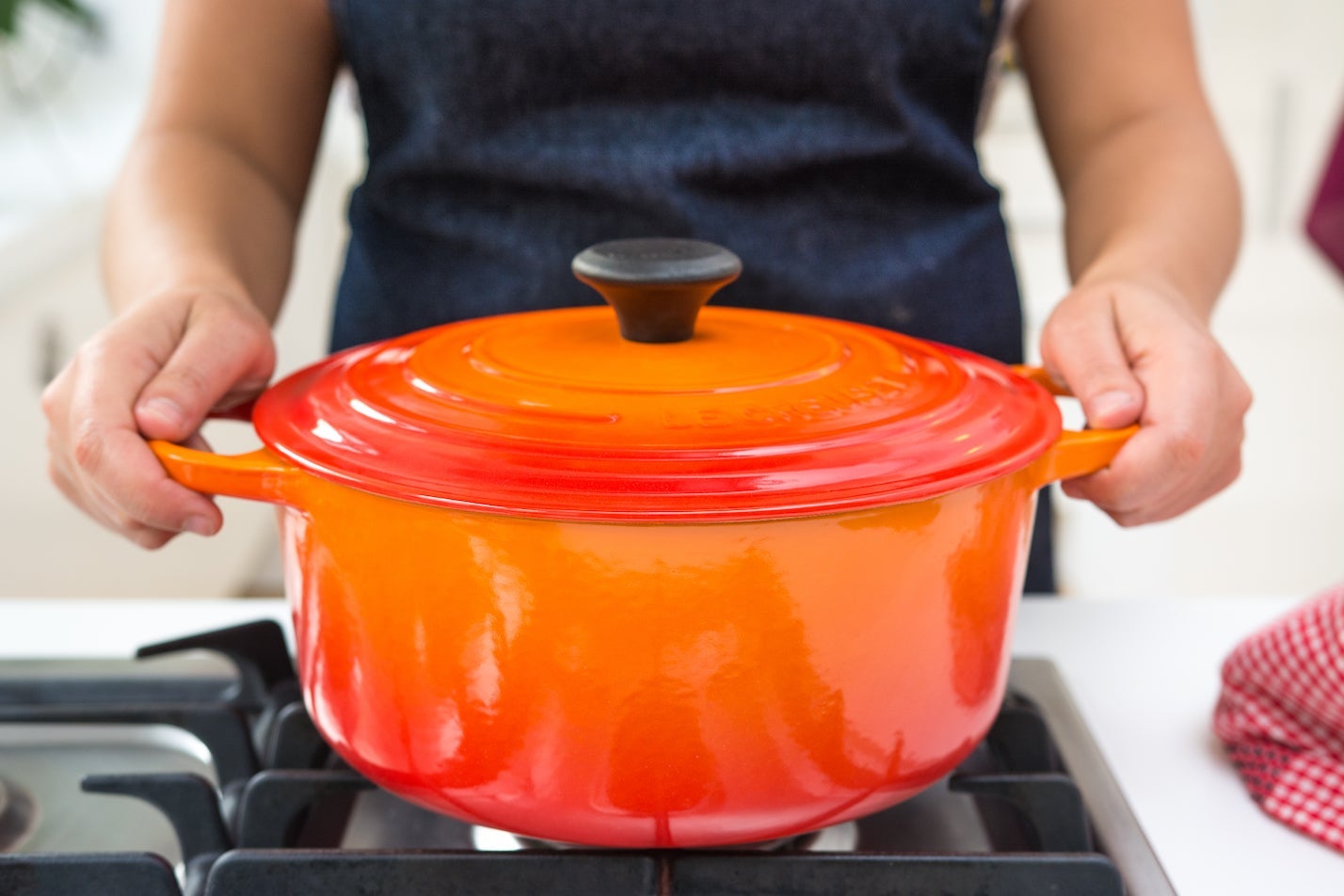 Le Creuset Signature Enameled Cast-Iron 5½-Quart Round French Oven ($330 at the time of publication)
A common rite of adulthood involves the passing down of a well-used Le Creuset casserole dish or saucepan from parents to children who are leaving the nest. (Equally common: said children sneaking a piece or two into a moving box and claiming, "I have no idea how that got in there.") We say it's time to turn the tide, starting with Le Creuset's Signature Enameled Cast-Iron Round French Oven, one of our favorite Dutch ovens. It's large enough for soups and stews, and it makes great no-knead bread, too. Any mom who loves to cook will find herself repeatedly reaching for this gift throughout the year.
A gauzy wrap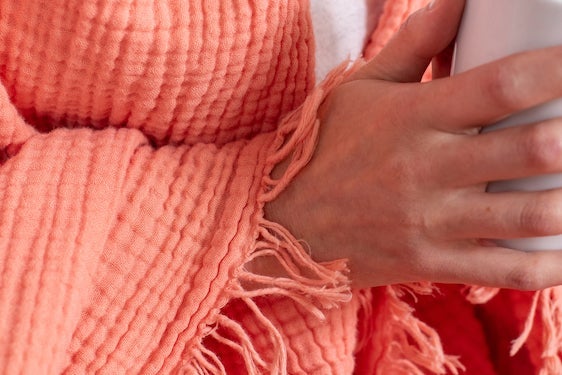 Hay Crinkle Throw ($125 at the time of publication)
Why should you get your mom a throw blanket at the beginning of summer? Two words: air conditioning. Whether she works in a typical overly chilled office or just needs something to wrap around her shoulders in the evenings, a lightweight, breathable throw will no doubt come in handy. Hay's Crinkle Throw is our favorite for warmer climates and seasons. It's also the biggest throw we tested (we love it when companies don't skimp on size). And the double-gauze fabric feels so soft that we couldn't stop running our hands over it—we're guessing your mom won't be able to either.
For the mom who'd rather be hiking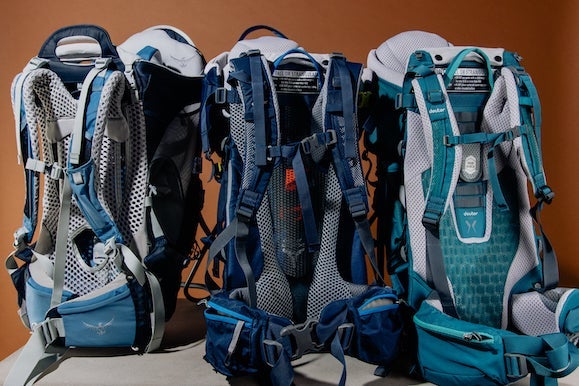 Deuter Kid Comfort Active SL Child Carrier ($240 at the time of publication)
If the mom in your life has a toddler and has been yearning for the trail, help her start hiking again—now with her child. Designed specifically for carrying kids over long distances, a hiking baby carrier has a free-standing frame structure, a cockpit for a child, and storage for traditional hiking gear, such as food, water, and other essentials. The lightest one we tested, the Deuter Kid Comfort Active SL, is made for people who have shorter torsos—even our 5-foot-8-inch writer said it fit her better than the other options. It also has a kickstand and an easy-undo harness, so kids can get out for a little mid-trail exploration.
Never-ending flowers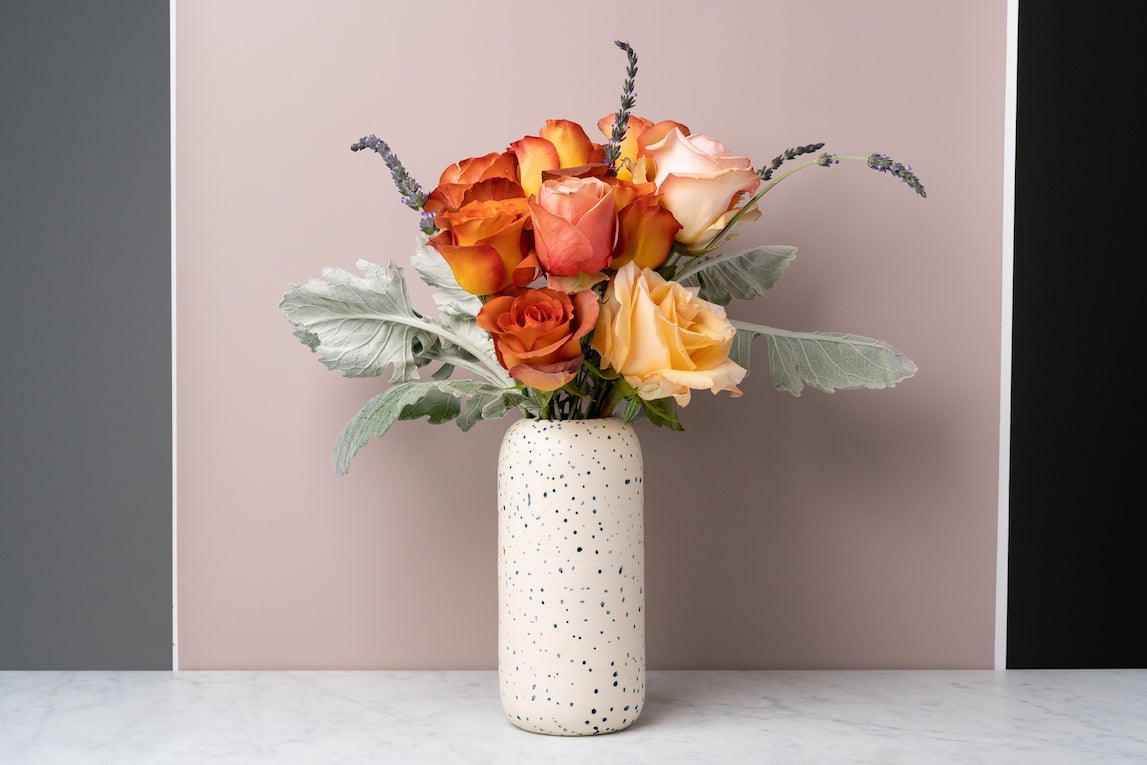 UrbanStems subscription (price varies)
Hawkins New York Aurora Vase ($35 to $100 at the time of publication)
Flowers may not be the most original gift, but the pleasure of receiving a bundle of blossoms is nearly unparalleled. I get a jolt of energy every time I walk through a room and see cut flowers in a vase. Rather than presenting Mom with merely one bouquet, though, why not give her a year's worth of joy? Our pick for online flower delivery, UrbanStems, offers subscriptions of classic or seasonal arrangements that will arrive weekly, twice monthly, or monthly. The first bouquet will come with a simple clear glass vase, but you could also make sure she has a hand-blown Aurora Vase from Hawkins New York on hand; it comes in four shapes and five colors.
A digital frame to keep her connected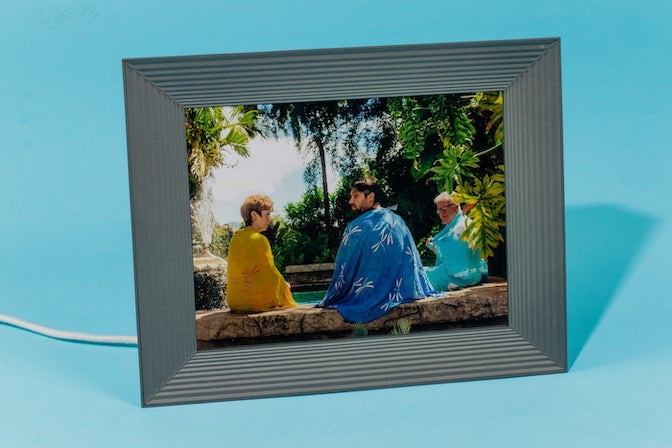 Aura Mason ($200 at the time of publication)
A digital photo frame can serve as a direct link between you and your mother, letting you send new photos directly to her mantel, no matter how far away she lives. Our favorite digital photo frame, the Aura Mason, is easy to set up, has a sharp, vivid display, and works seamlessly on Android and iOS through a proprietary app. Upload your photos through the app (this makes Aura especially good for documenting Little League triumphs and other fleeting-but-important moments you'd like to share), and they'll show up in the frame. One tip: After you order the frame, you can start loading photos into the app, so when your mom opens the package and powers up the Aura, they'll be ready and waiting.
For the mad fermenter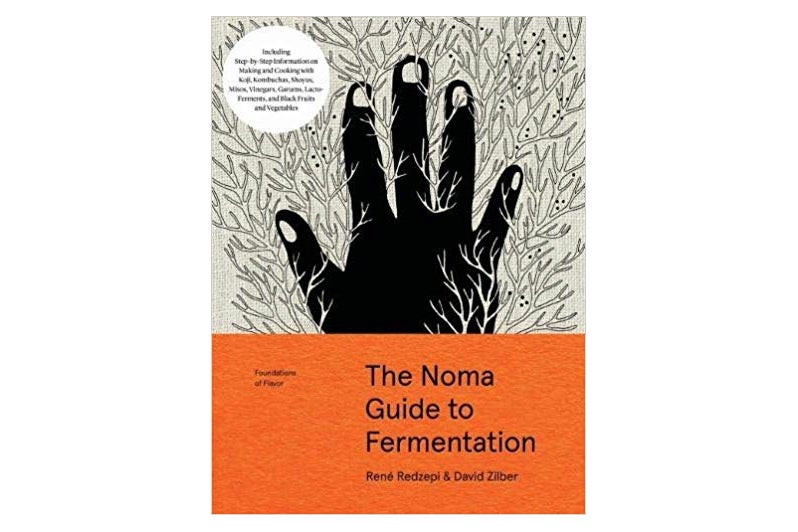 The Noma Guide to Fermentation ($23 at the time of publication)
It sometimes seems like everyone I know has gone through a pickle phase at some point in their lives. If this sounds like your mother, maybe it's time she met The Noma Guide to Fermentation. Co-written by René Redzepi, founder of the Danish restaurant Noma and famed for his innovative ways with pickling techniques, this book is an in-depth guide to fermenting nearly everything under the sun: from vinegars and shoyu to kimchi and kombucha.
Analog photo fun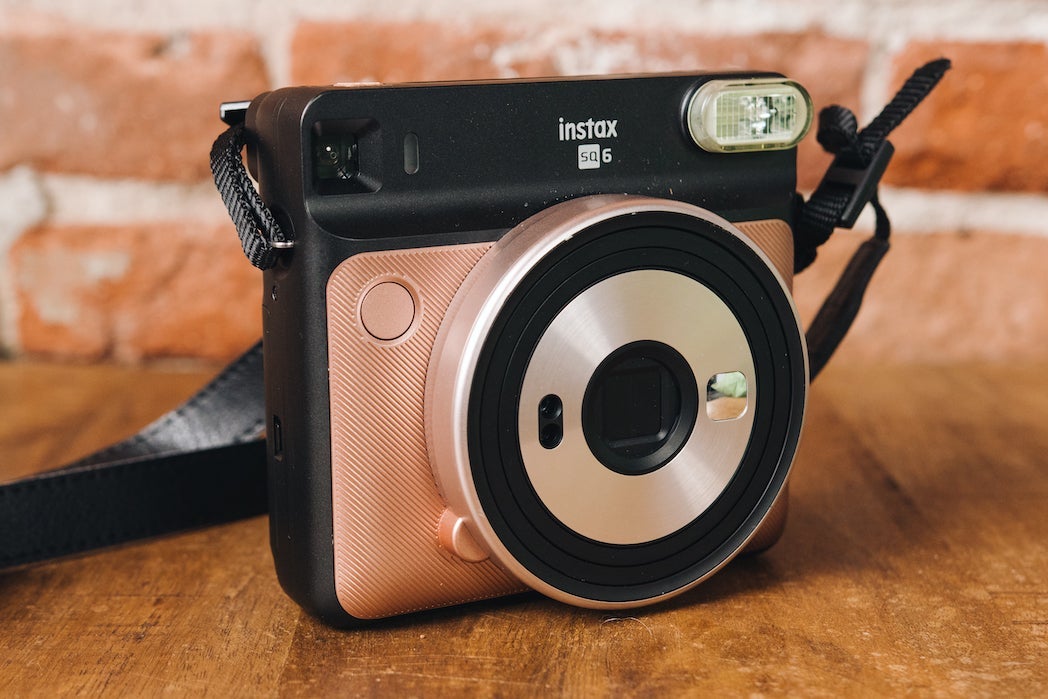 Fujifilm Instax Square SQ6 ($90 at the time of publication)
Fujifilm Instax Square Twin Pack Film ($17 at the time of publication)
The Fujifilm Instax Square SQ6 is an instant camera that's fun for everyone—especially moms and kids. They can break it out at parties or bring it on weekend trips to capture those sillier moments, and who can resist the anticipation of waiting for the photos to appear? Our top pick for instant cameras, the Instax cranks out photos just a little smaller than the Polaroids you may remember, producing sharp images with a wide range of tones and pleasing-looking colors. Don't forget to include plenty of film with the camera, though—once your mom starts playing with this fun gizmo, she won't want to stop.
A DIY spa kit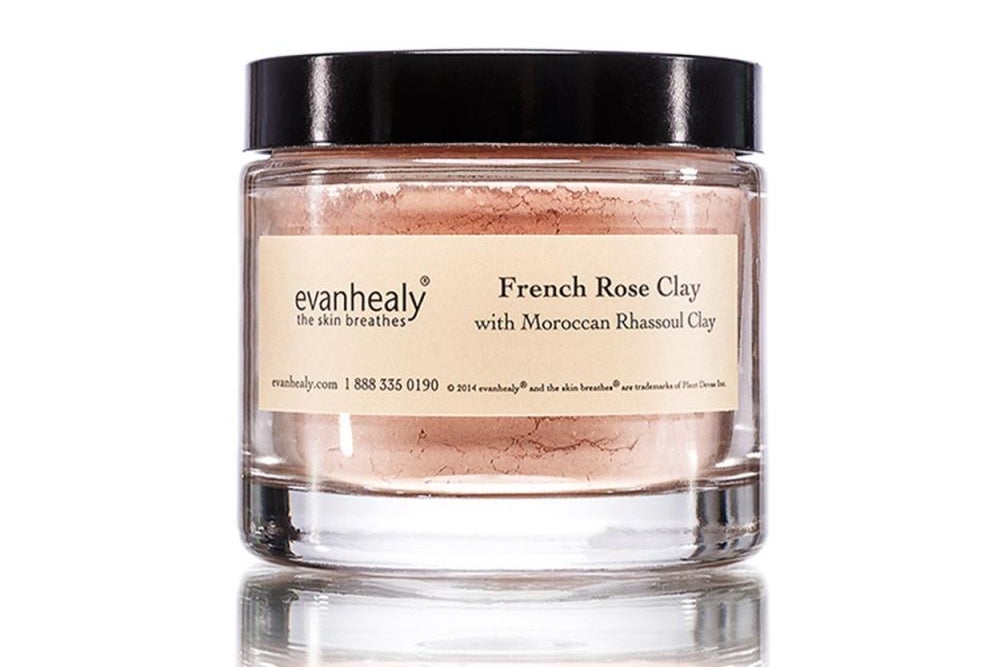 Evan Healy French Rose Clay Mask ($35 for 2.1 ounces at the time of publication)
Kimkoo Jade Roller 3-in-1 Kit (about $19 at the time of publication)
Dr Teal's Foaming Bath ($5 at the time of publication)
We wouldn't try to talk you out of getting your mother a gift certificate to a spa, but we would suggest that you bundle it together with this DIY spa kit. The Evan Healy French Rose Clay Mask is a delight—if your mom puts it on before slipping into a tub filled with Dr Teal's Foaming Bath, she'll have the makings of a blissful afternoon. Afterward, she can finish things off with a facial massage using the Kimkoo Jade Roller kit. The best part of giving your mom this spa kit is that the relaxation doesn't happen just once every May. Mom should be able to find an hour here and there to unwind throughout the year.
A carry-all Mary Poppins would envy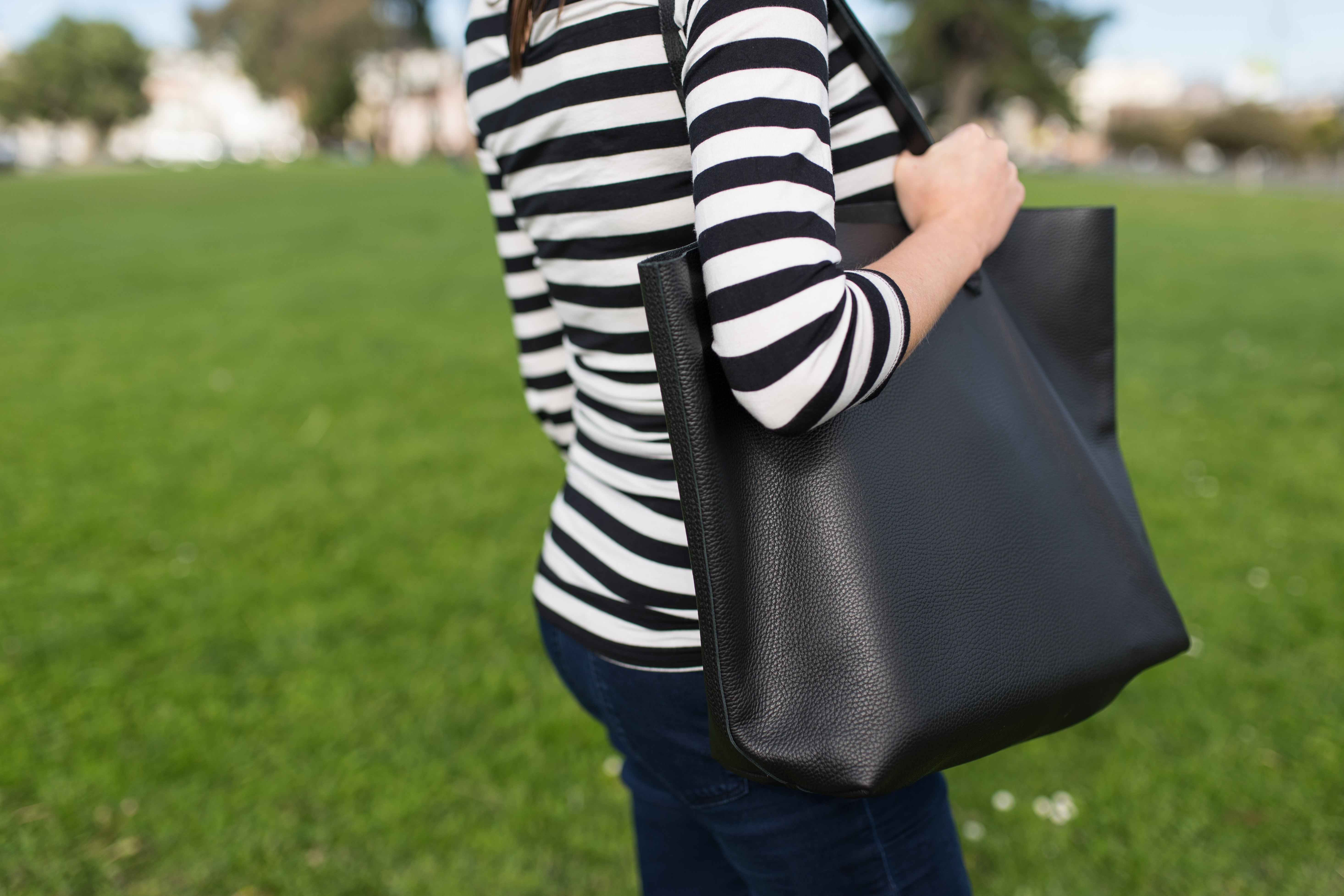 Cuyana Classic Leather Tote ($175 at the time of publication)
When I was growing up, my mother's handbag was a thing of wonder. Somehow, it always contained whatever we could possibly need: a Band-Aid, sunscreen, an extra hair elastic, a bottle of water, sometimes even an emergency PB&J. This year, upgrade your own mom's go-everywhere, do-everything bag to the Cuyana Classic Leather Tote, one of our favorite tote bags. It's large enough to hold water bottles or a bag of string cheese while still looking chic. Take it a step further and add a Cuyana Tote Organization Insert ($95).
A kick-back-and-relax camp chair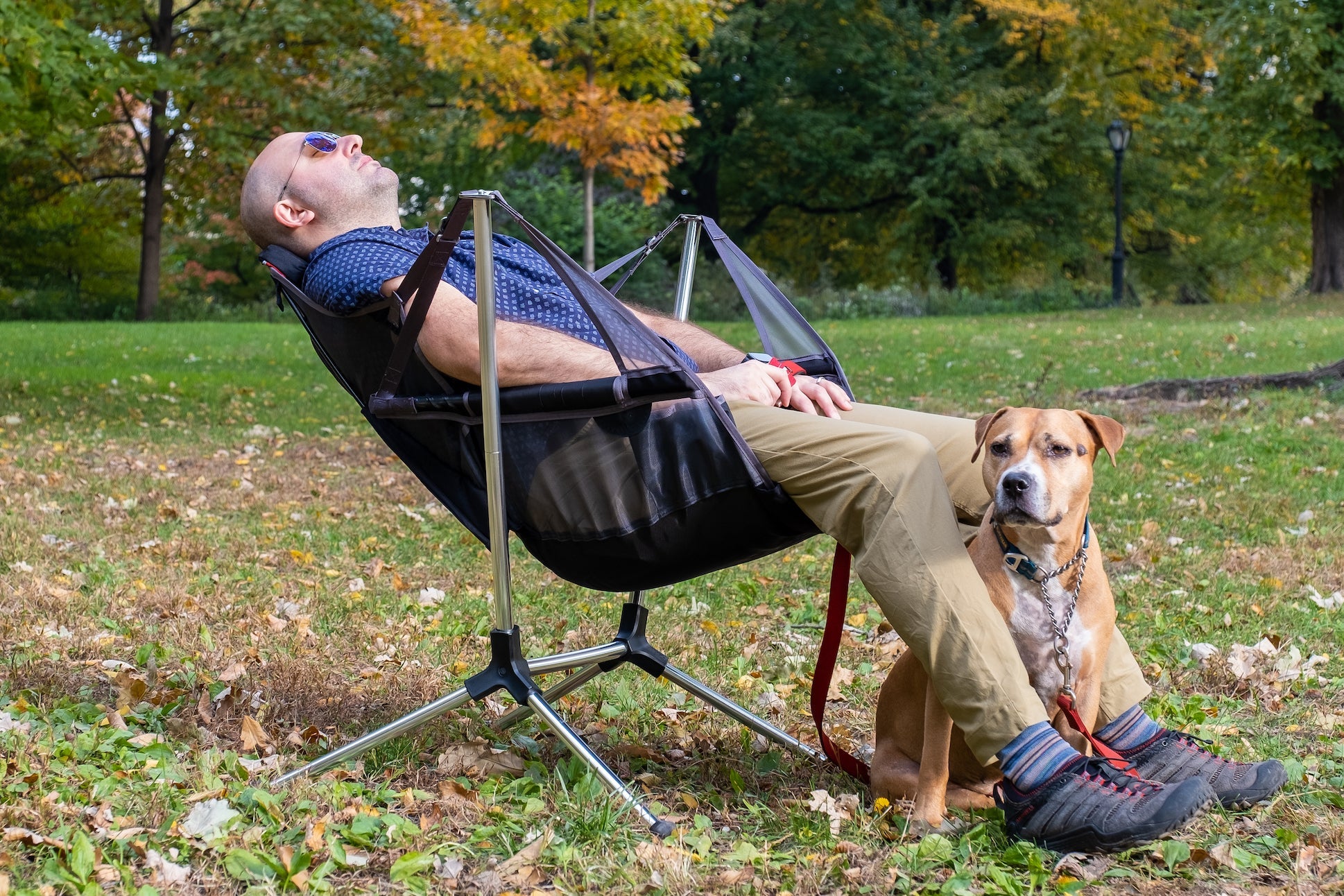 NEMO Stargaze Recliner Luxury Chair ($220 at the time of publication)
The NEMO Stargaze Recliner is a perfect gift for the outdoorsy mom. Despite its admittedly ridiculous appearance, the Stargaze Recliner—a swinging seat suspended on an aluminum frame that looks like a cross between a hammock and a recliner—is enormously comfortable. (The current redesigned version sits closer to the ground, so this should address complaints about the chair fitting only taller people.) After a long day of wrangling kids, your mom deserves the best seat by the campfire.
A hands-free kitchen helper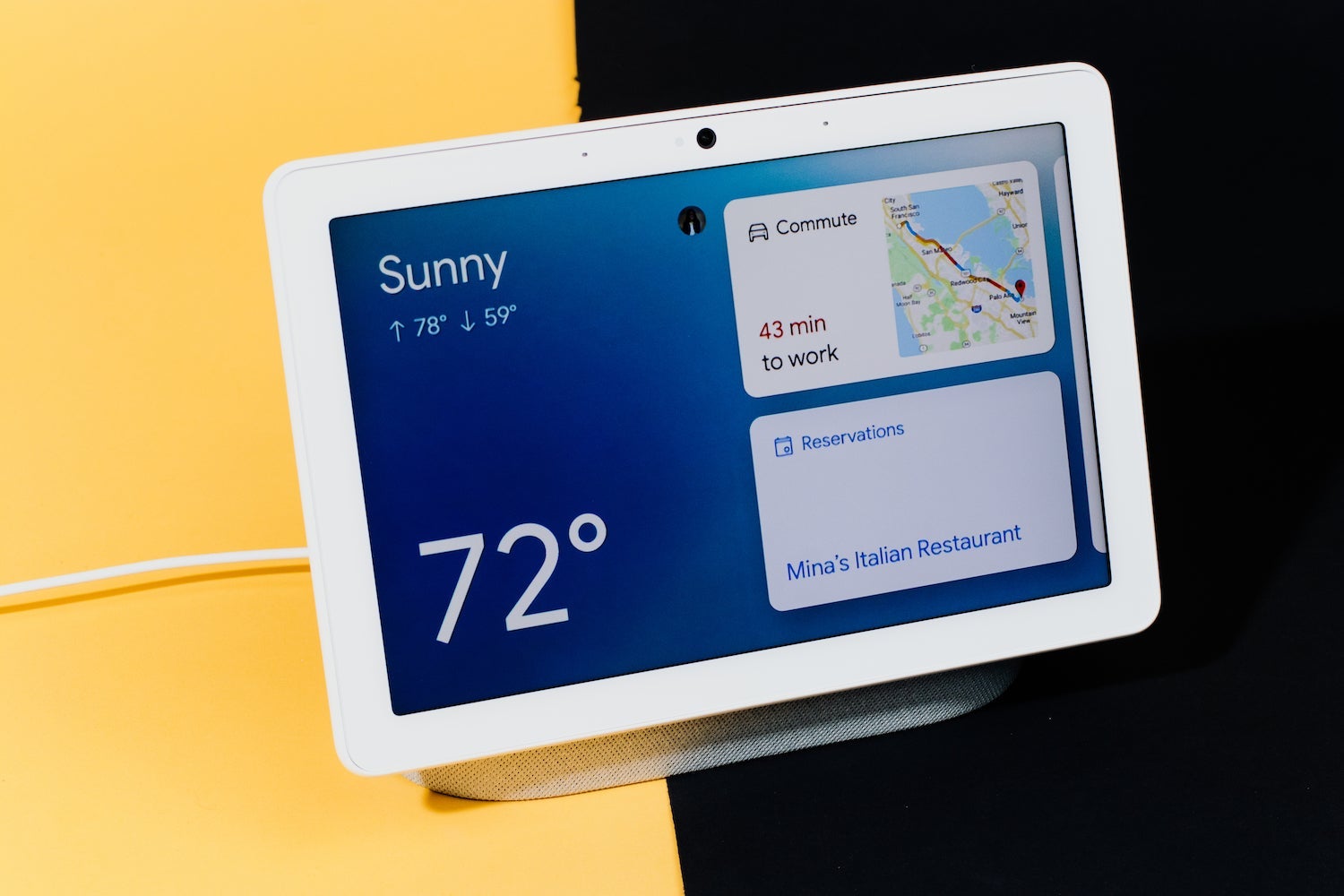 Google Nest Hub Max ($230 at the time of publication)
Wirecutter editor Marilyn Ong recommends the Google Nest Hub Max for moms who spend a lot of time in the kitchen—especially those who seem to have everything already. With the Max, your mom can upload family photos to use as screensavers, and she can watch TV shows or listen to music or podcasts while cooking. She can also access all of her favorite recipes—the device has a recipe-search function baked in. In our testing, we found the Max was better than the Echo Show at walking us through cooking instructions step by step. (And the Max has gesture control, so your mom won't have to touch the screen with floury hands.)
For the marathon mom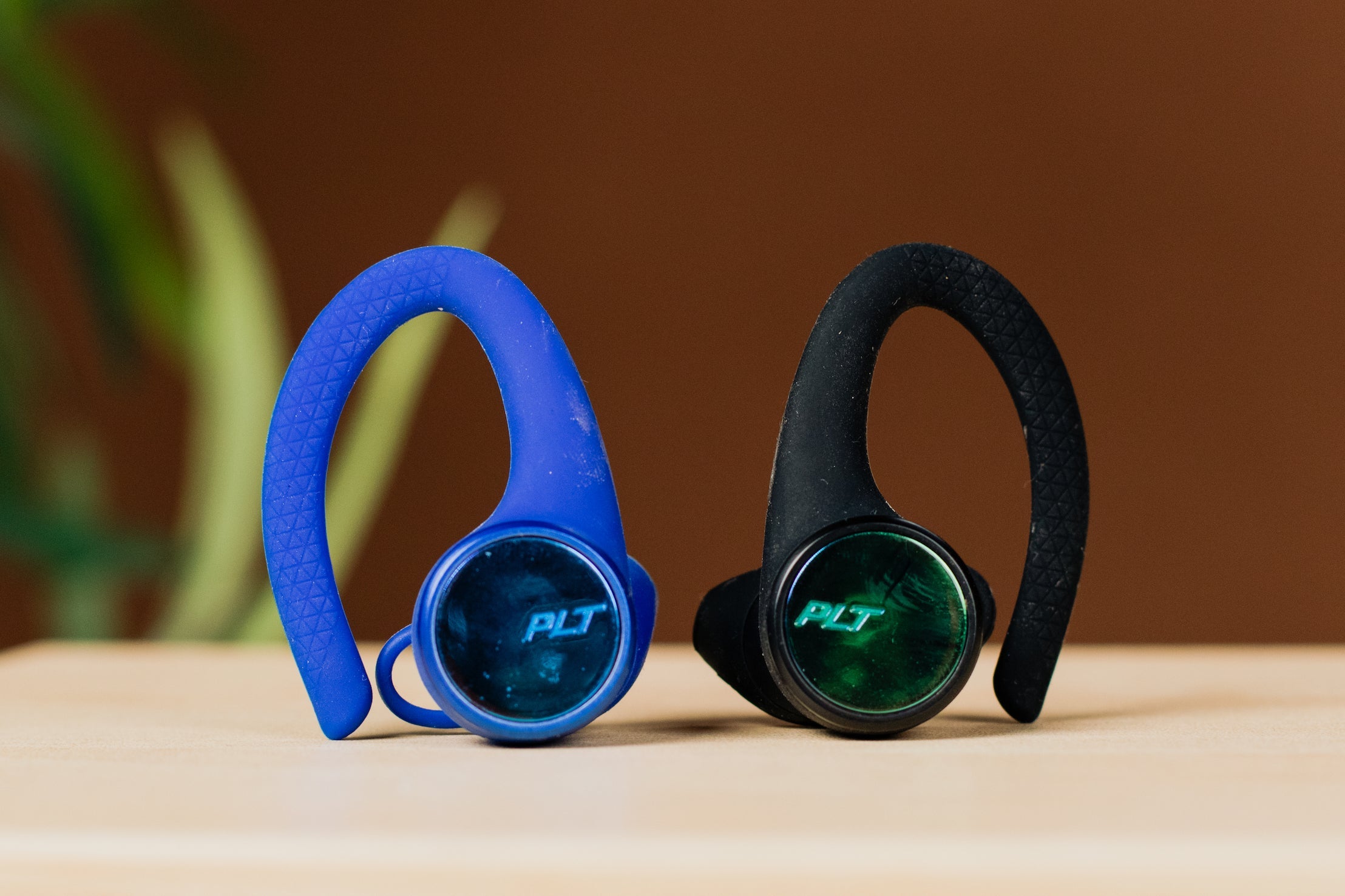 Plantronics BackBeat Fit 3150 ($120 at the time of publication)
A record number of amateur women qualified for this year's Olympic marathon trials, and many of those 450-some runners were mothers—including one of the top three finishers. Whether your mom dreams of Olympic glory or just likes to jog around the block, you can help her make the miles pass more quickly with a pair of Plantronics BackBeat Fit 3150, the best running headphones we've found. They sound great but don't seal out the surrounding world. The IP57 rating means they can withstand sweat and rain, and the flexible and textured hooks play nicely with both sunglasses and hats.