A power outage can be a minor inconvenience, a threat to health and safety, or anything in between. But unlike the natural disasters that often precede them, blackouts aren't relegated to specific regions the way earthquakes, hurricanes, and tornados are—just about everybody can experience one.
Even without counting major events, government statistics suggest that the average utility customer experiences about one outage per year, and that outages last two hours on average. Basic preparations for these average blackouts aren't expensive, so it's generally worth it for most households to take a few precautionary measures—a surge protector to safeguard your media center, for example, and headlamps to keep your hands free in the dark. For longer blackouts, whether they last a few days during wildfire-prevention efforts in California or stretch more than a week after a hurricane, extra backup power can prevent food from spoiling, keep medical devices running, provide power for fans or light, and help phones, laptops, and tablets stay charged and connected to the outside world.
We have additional guides to general emergency preparedness and bug-out bags, as well as lists specific to readiness for hurricanes, earthquakes, and wildfires. But this list covers all the best options for power and lighting—whether you're preparing for a planned outage, anticipating the aftermath of a natural disaster, or looking to be ready for the next blip that affects your utility.
Surge protector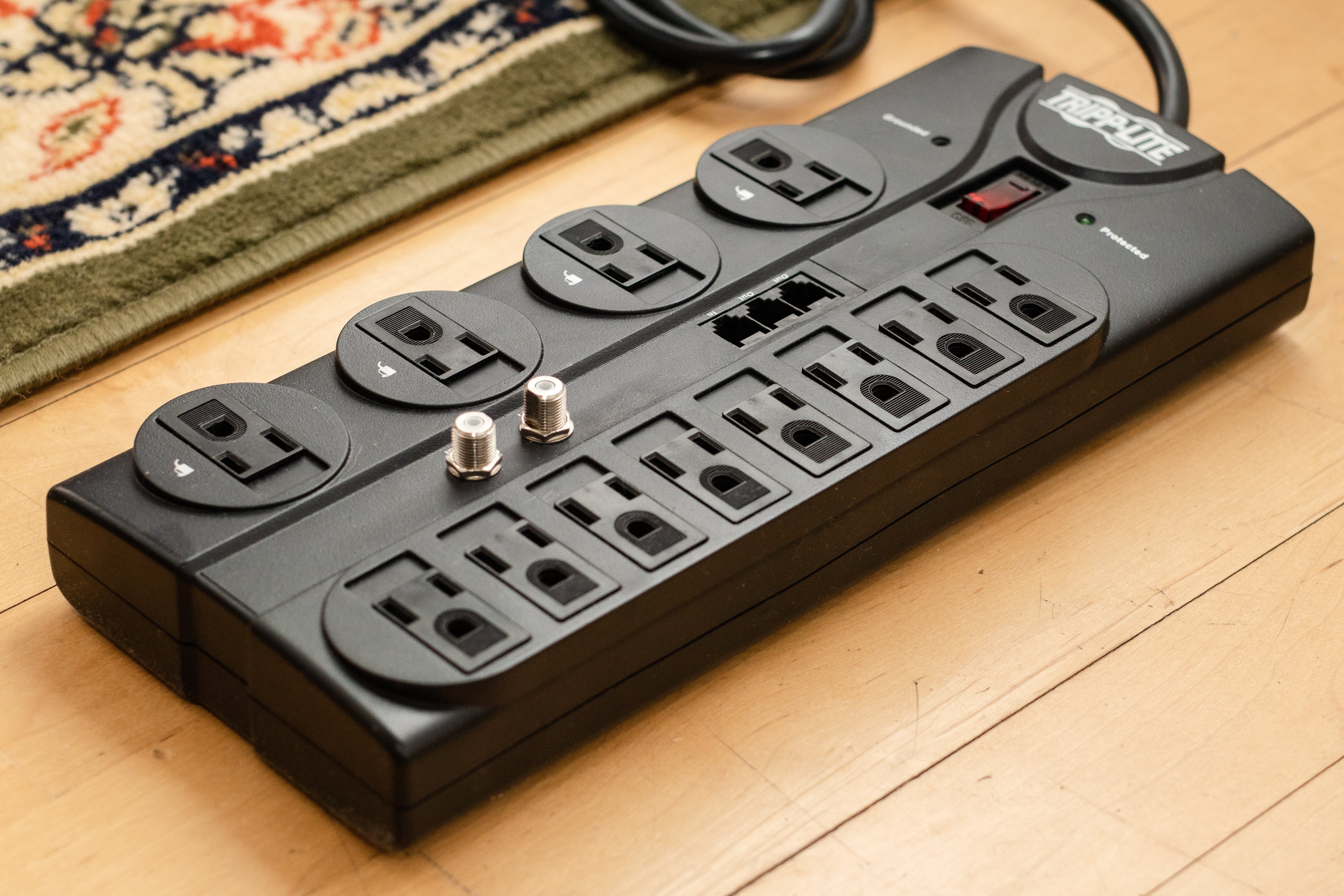 In testing, this surge protector was one of the best at preventing damaging voltage levels from reaching the outlets and any plugged-in gear—a common threat when the power flickers off and back on. Plus, it safely stops all power once the protection wears out.
A surge protector won't keep anything powered in a blackout, but it will protect your electronics when the grid blinks on and off, whether the effect lasts for a few seconds or a few days. When your power flickers, there's a decent chance that the voltage—normally around 110 volts—is dropping or surging, and that can degrade or seriously damage your electronics. We tested surge protectors by sending a 6,000 V spike through them and measuring how much of that extra voltage got through to the other side, where your TV, computer, or stereo system would be plugged in.
In our guide, we recommend the Tripp Lite 12-Outlet Surge Protector for home offices and media centers because it proved to have some of the best and most trustworthy surge protection available at a reasonable price. All but the highest-end surge protectors wear out eventually, but unlike many bargain options that will power your gear unprotected, this Tripp Lite model will shut down completely when the protection is gone so you never put your electronics at risk. Four of the 12 outlets are generously spaced to accommodate large power bricks, and the 8-foot cord is long enough to work with setups that don't have an outlet in the perfect spot.
Uninterruptible power supply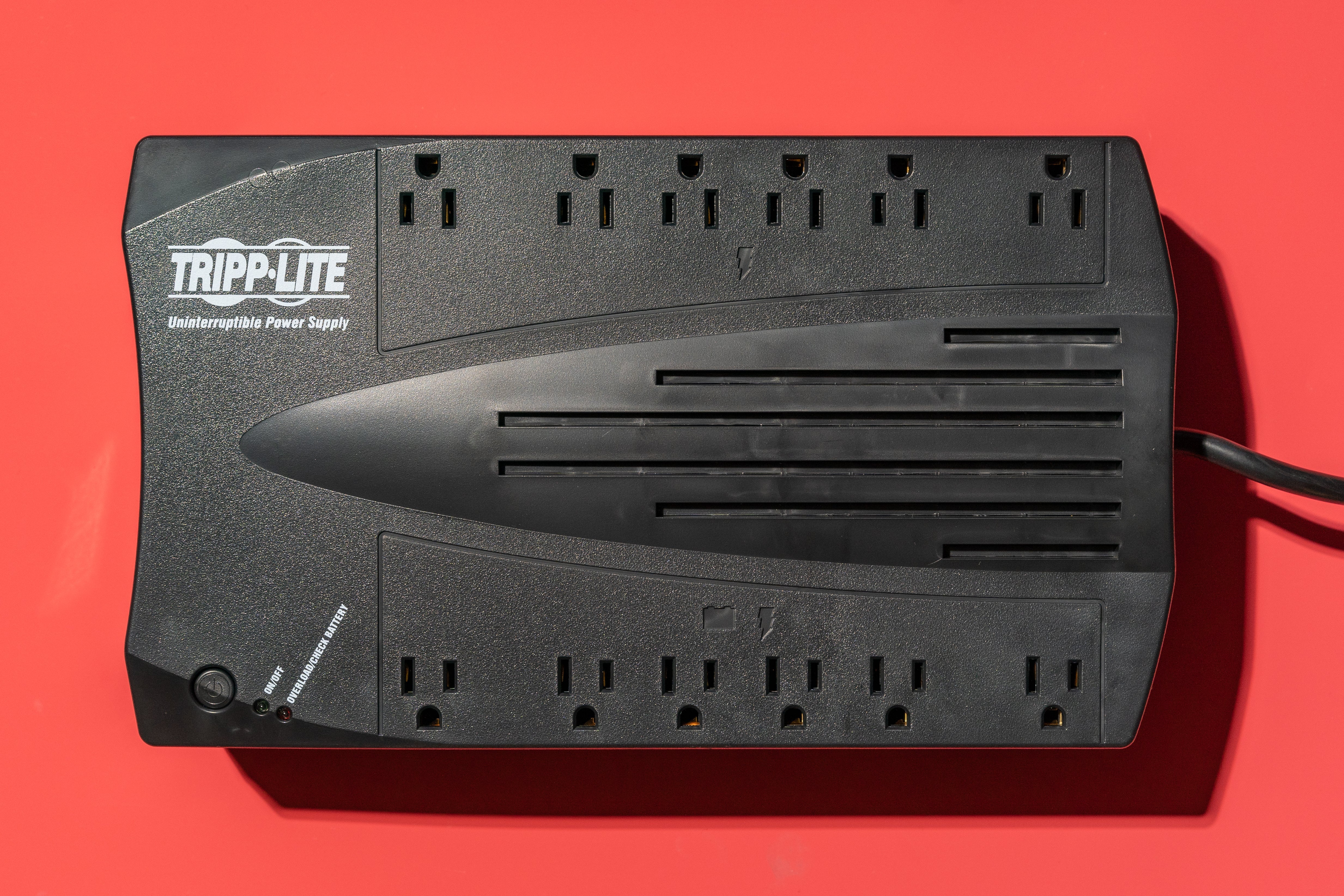 In the event of a blackout, six of the 12 outlets on this UPS are connected to a battery backup. It has enough power to keep a computer workstation up for a few minutes while you save and shut down your work, or to keep your home Wi-Fi network up for about an hour.
At home, you have two common ways to take advantage of an uninterruptible power supply (UPS) for short-term backup power. A UPS is basically a surge protector with a battery backup built in, and one can keep a computer workstation—including a desktop, a monitor, external hard drives and more—going for a few minutes when the power cuts off so that you can safely save your work and shut everything down. Or it can power a smaller load, such as a modem and a router, for an hour or more to keep your Internet or digital phone service online during a shorter blackout. Following our 2019 testing, the Tripp Lite AVR750U is our pick because it provides enough power output and battery capacity to handle either situation, and because it's reasonably affordable compared with the competition. Though you can find fancier options with more power and bigger battery backups, this basic model has everything most homes need to handle minor voltage fluctuations or short blackouts.
USB-C power bank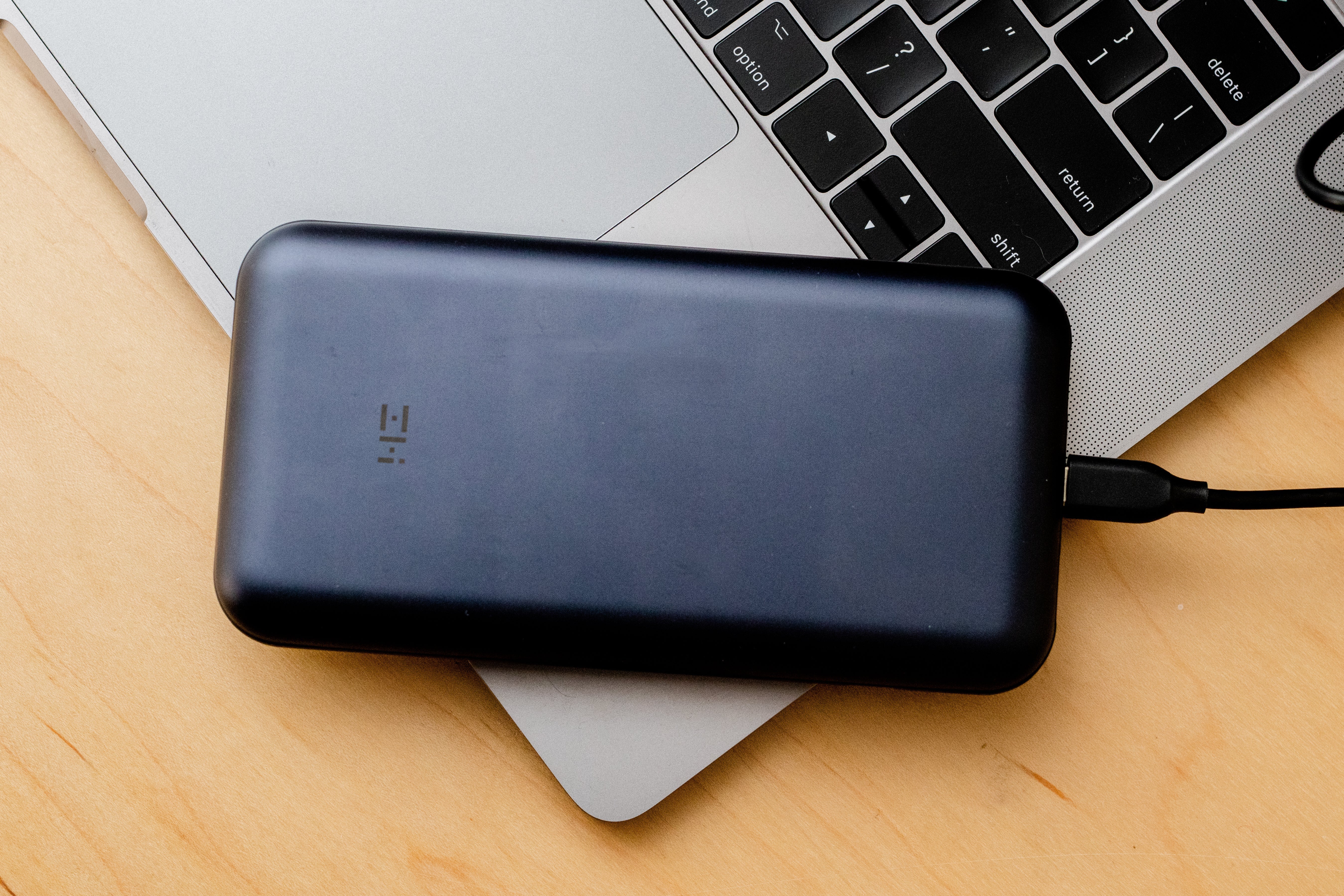 This power bank is about the size of a small paperback but can charge a wide variety of devices, whether you're traveling or riding out a blackout. The two USB-A ports can charge phones and tablets, but the USB-C port can also charge many of the latest laptops.
A small power bank is great for topping off your phone on a commute or long flight, but a larger power bank is a better option in a blackout. The ZMI PowerPack 20000 will last longer and charge more types of devices than your average battery pack. It stores enough power to charge a small device like the iPhone 11 more than five times from empty to full—enough to keep you connected to vital news or services in an emergency, or just to keep a family's worth of phones powered through an outage that's more boring than threatening. In addition to the standard USB-A ports, the USB-C port on the PowerPack can also charge a compatible laptop such as an Apple MacBook, a Dell XPS 13, or one of many USB-C powered Chromebooks. You can find many power banks capable of charging smartphones and laptops, but we recommend the ZMI PowerPack 20000 because it can also serve as a USB hub when connected to a laptop over USB, making it as great of a choice when you're traveling as it is when you need to charge USB devices during a blackout.
Portable power station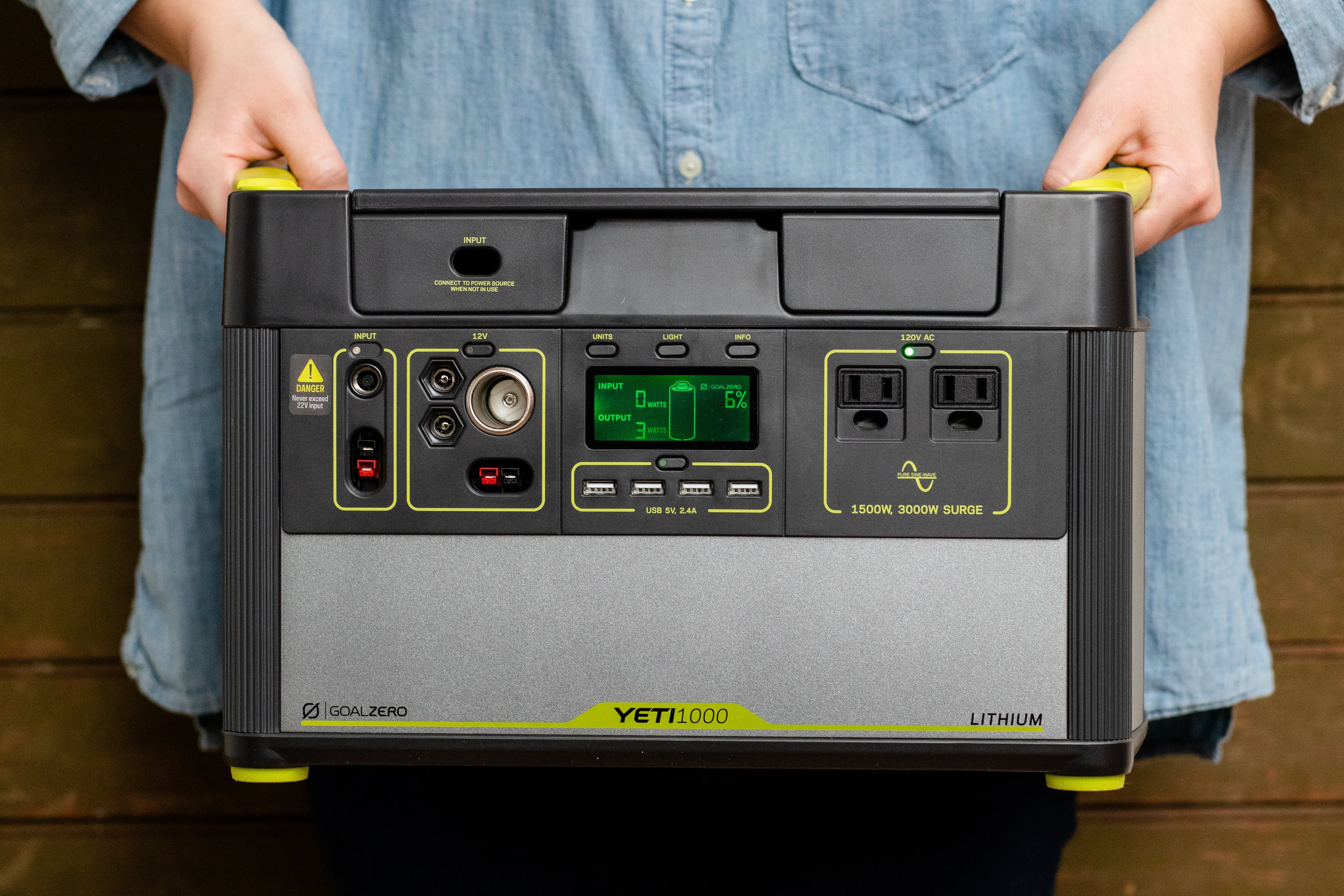 This giant battery gives you the option to plug in almost anything with a standard AC plug during a blackout, up to 1,500 W. You can safely use it indoors because it doesn't emit exhaust, but it's not as powerful or long-lasting as a gas generator.
A portable power station like the Goal Zero Yeti 1000 is an option if you need more power than a USB battery pack can provide but you want to use your power source indoors, where the fumes of a gas generator can be dangerous. The Yeti 1000 mates a giant battery offering a capacity of just over 1,000 watt-hours—enough to charge a smartphone from 50 to 80 times over—with a pure sine wave inverter that powers two standard AC outlets. That means you're not limited to charging small mobile devices: You can also power lights, TVs, a Wi-Fi router, a CPAP machine, or even a small refrigerator. The AC outlets can put out up to 1,500 watts continuously—plenty for most things short of power tools, heating and cooling equipment, or large appliances—although the higher the output, the faster the battery will drain. Unlike a gas generator, a power station can run indoors without causing any concerns about exhaust fumes. But the batteries have a finite lifespan, and though the Yeti 1000 recharges in less than a day from a wall outlet, recharging one with available solar accessories takes a long time. If you're concerned about having a lot of power for more than just a couple of days, you need to step up to a gas generator.
Power inverter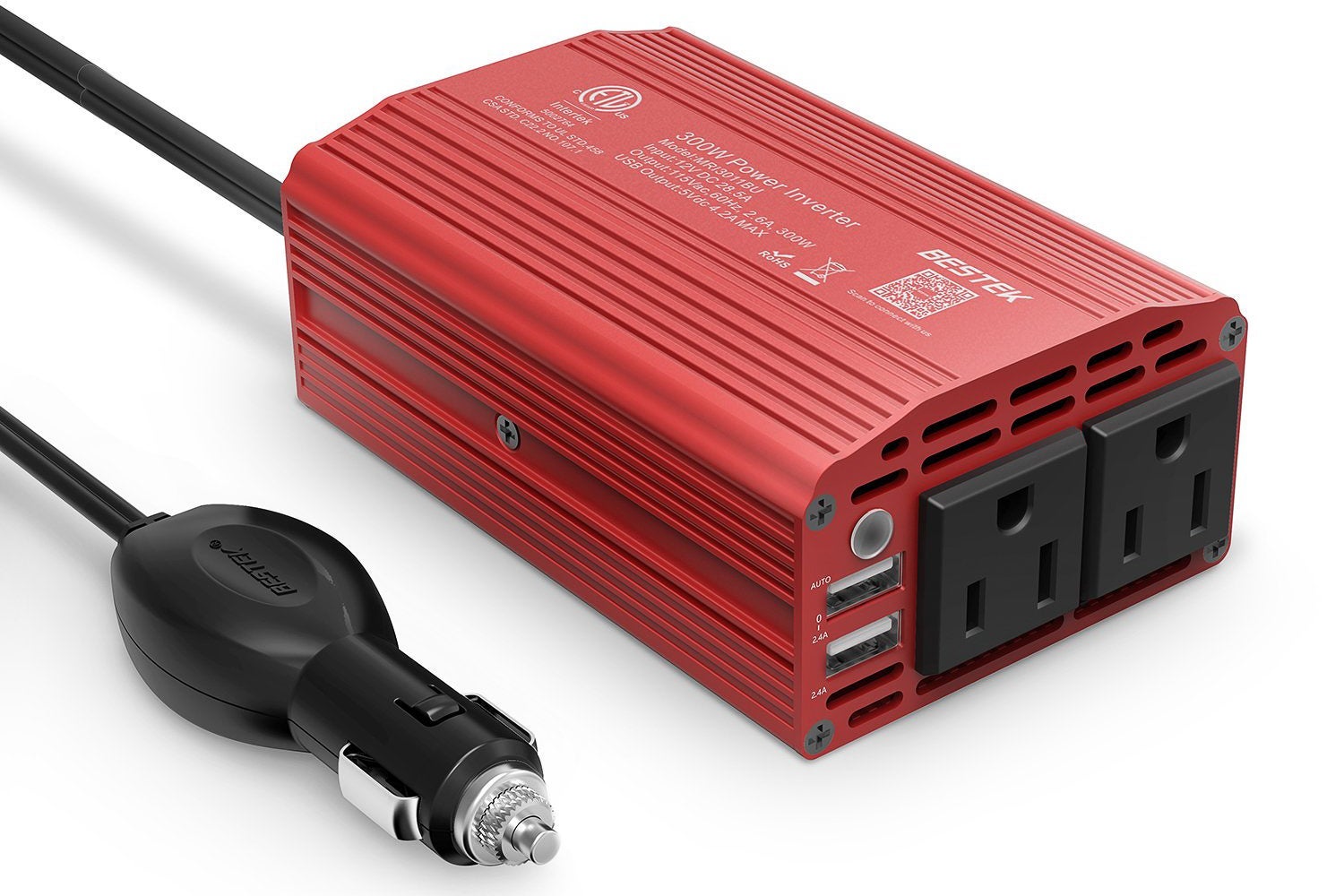 If you don't have a generator or enough batteries on hand in a blackout, you can plug this small inverter into the 12 V socket in your car and use its AC outlets to run or charge small devices up to 300 W. It's not an efficient way to make power, but it's small and affordable.
In a true emergency, energy efficiency won't be your number one concern, and that's when a small inverter that plugs into your car's 12 V outlet is a compact, clever option for backup power. The Bestek 300W MRI3011J2 Power Inverter turns the round, 12 V outlet in your car into two standard AC outlets capable of providing a total of 300 watts of power—so long as your car is running. Using your car's engine like this isn't fuel efficient in the slightest, but it could give you the chance to charge up anything you need—phones, laptops, a radio, or even a power station or battery packs to take inside—to make it through an extended power outage without a generator. Unlike our picks for power stations and generators, though, small and inexpensive inverters like this don't put out pure sine wave power. That just means you shouldn't run sensitive electronics (such as medical devices or AV equipment) or things with a motor (such as a fan) directly on the inverter.
Portable generator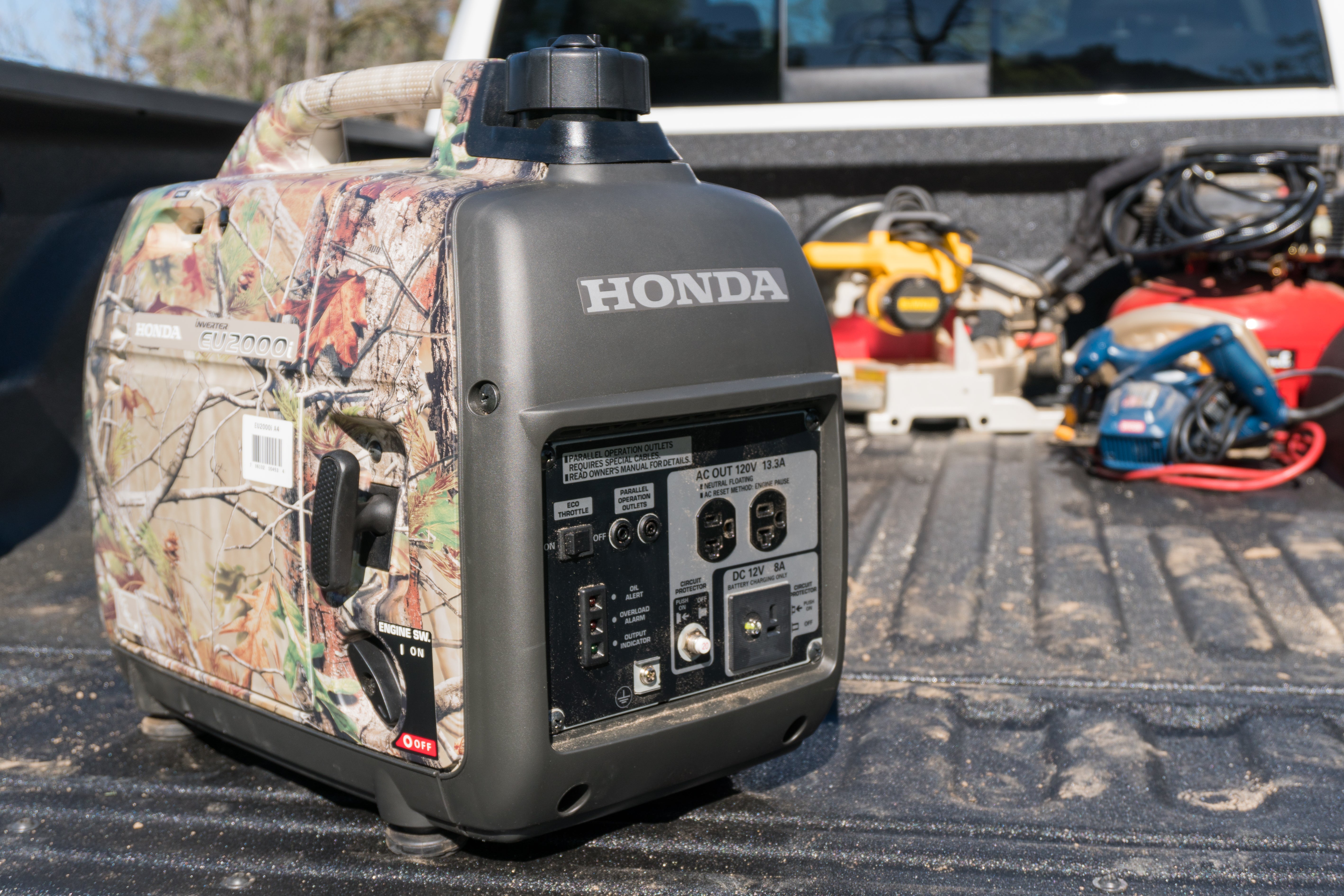 The EU2200i handled our highest-demand tests more capably than competitors, standing apart in spite of its average performance on metrics like noise, portability, and ease of use.
If you lose power for an extended period of time, a portable generator can keep your most important household appliances up and running—as long as you have an ample supply of gas on hand. It's a pricey option, but if you live in an area where the utility company is planning extended outages to prevent wildfires or in a locale that regularly experiences severe weather, it could be a worthwhile investment. Spending around $1,000 on a small generator gets you about 2,000 W of power, or 13 amps, almost as much as from a standard 15 A residential breaker. That means you can keep anything from a breast pump to a full-size fridge running while you wait for the power to come back on. We recommend the Honda EU2200i because its power output handled our rigorous testing better than anything else we tried, because it starts up on the first pull every time, and because of Honda's long-standing reputation for reliability—which is the most important thing in an emergency. Since it's not safe to run a generator inside, even in a garage, you should be sure to have an extension cord that will reach wherever you need power.
LED lantern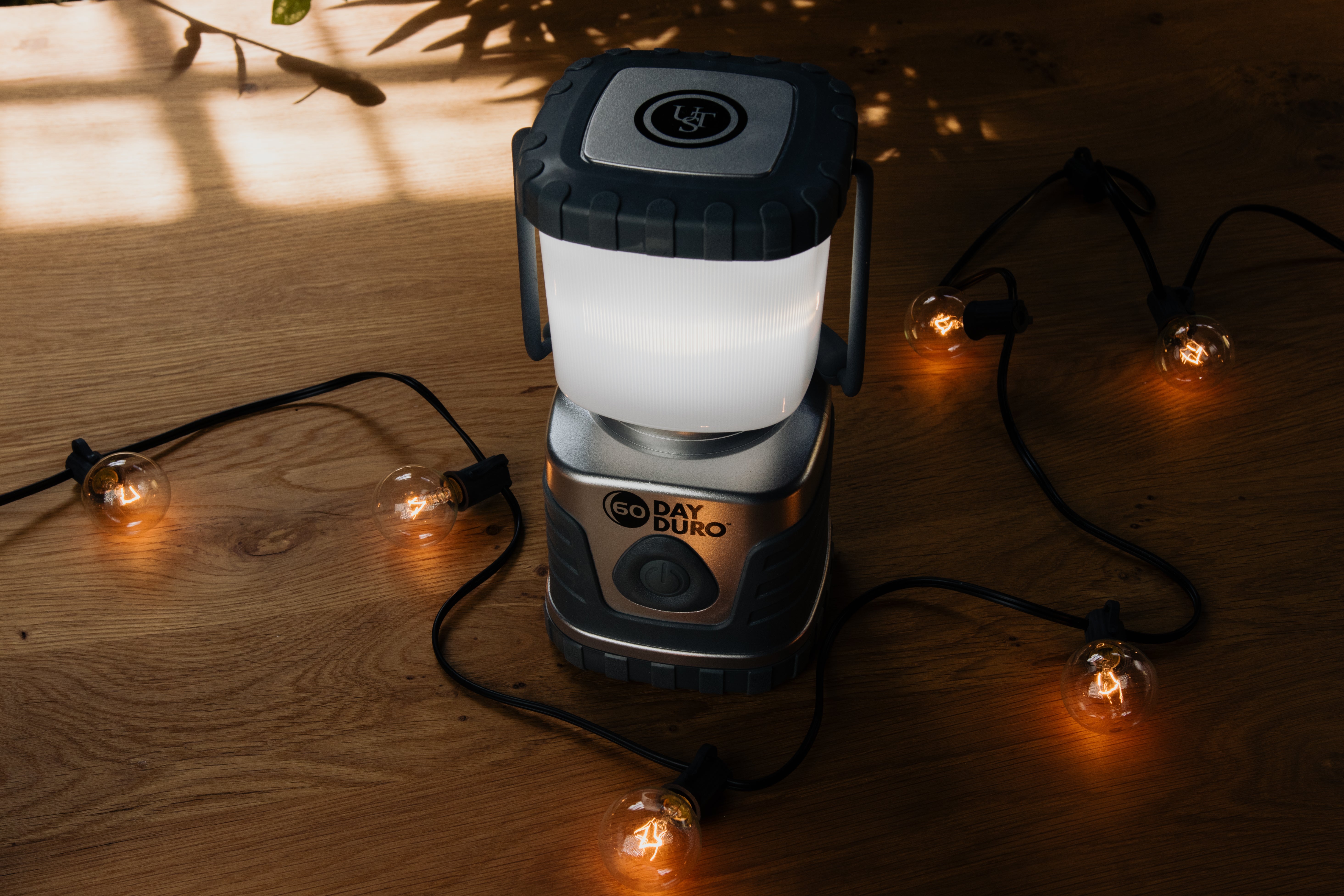 A versatile and long-lasting light source, this model is more ruggedly built, powerful, and bright than any other model we've tested.
The best way to brighten up a pitch-black room is to use a tabletop lantern. The light can fill a larger area better than the focused beam of a flashlight or a headlamp, making it easier to see as you cook and eat during an outage or just while away the time with a board game. A lantern is also a bit more versatile than other emergency light sources, as it can sit on a table but also has a handle that makes it a cinch to carry or hang. We like the UST 60-Day Duro Lantern because it's the brightest lantern we tested at 1,200 lumens and is designed to last in continuous operation for 60 days on six D batteries.
Headlamp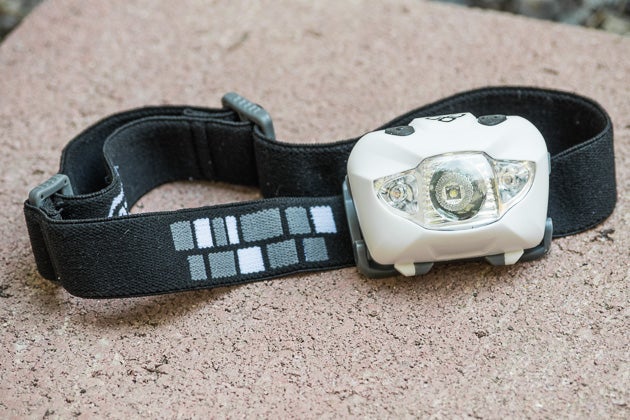 Bright, inexpensive, and easy to use, the V800 has three brightness settings, a red beam, and an emergency strobe.
When you need to move around in the dark, a flashlight or lantern will get the job done, but a headlamp will let you use two hands to navigate and carry things at the same time. We've done extensive testing of headlamps, and though you can find longer-lasting and brighter headlamps, we prefer the inexpensive Vitchelo V800 for emergencies. That's because its buttons are the easiest to use, so you're less likely to find yourself fiddling with it in the dark trying to turn it on. It's also lightweight and easy to put on, its beam has both a white light and a red light (which preserves your night vision), and it comes with a strobe-light feature. It takes AAA batteries, so be sure to keep some in your emergency kit.
Candles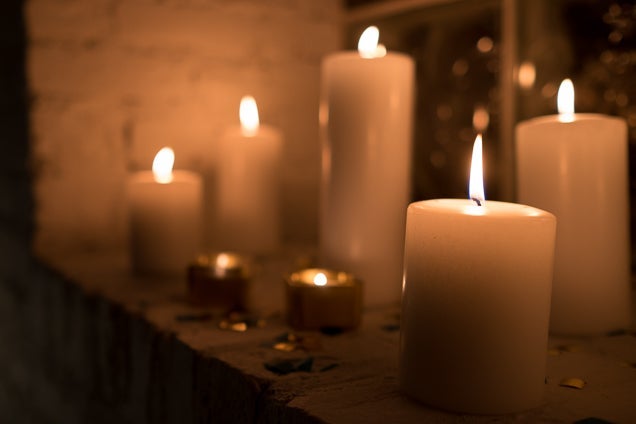 These votives burned for 12½ hours and gave off no scent or smoke in our tests.
It's a good idea to keep on hand a light source that's not dependent on batteries. Votive candles are inexpensive, don't take up much space, and can sit in an emergency kit or cupboard for years and (as long as you have a lighter or matches) will reliably work when needed. The 15 Hour White Unscented Votive Candles from Light In The Dark are available in a set of 36, so you can use them liberally in every room or group a few of them to create a brighter glow. In our tests, these votives remained lit for an impressive 12½ hours. We think they're good for extended indoor use because they put out almost no smoke or scent, and when the power comes back on, they'll dry fast—in our tests they dried the quickest of all the votives we tested. Although we do have recommendations for longer-lasting emergency candles, basic candles such as the ones we like for dinner parties can also add a sense of calm when utility access is out of your hands.
Board game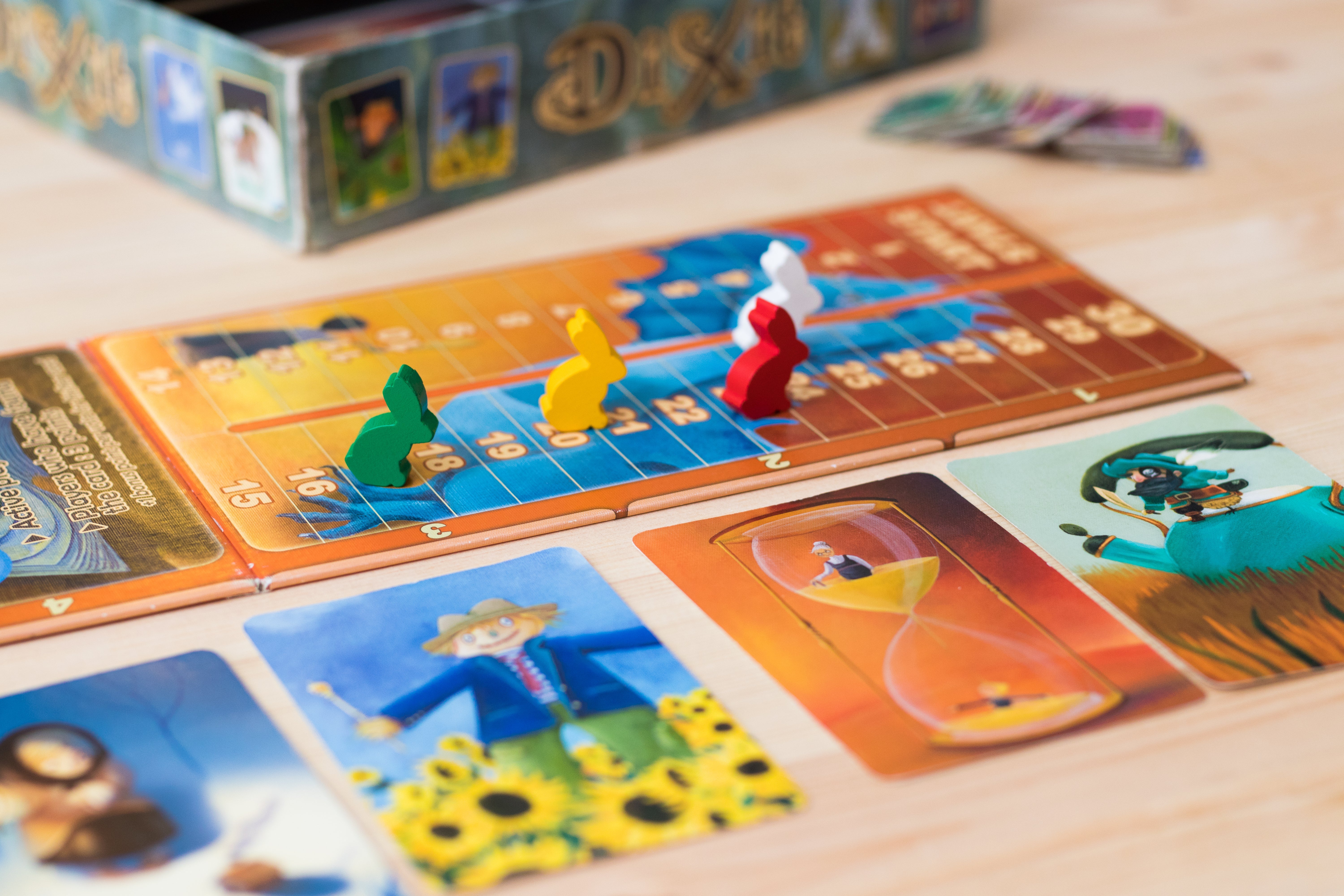 Dixit is a simple storytelling card game with stunning art that people of all ages can learn and enjoy.
You need something to do while you charge your phone during a blackout. Light some candles or switch on the battery-powered lantern and gather your group around Dixit, an interactive picture card game that's a snap to learn and play for both kids and adults.
As in Apples to Apples or other family-friendly games, the rules are simple and the stakes are low. One player is the storyteller and describes a card in their hand using a single word or phrase; the other players choose their best-matching card to submit secretly. All the submitted cards are then shuffled and revealed, and players vote on the best card that fits the prompt. Players get points for correctly guessing the storyteller's card or for having other players guess their card. The game works for three to six players, and rounds take about 30 minutes. So if you or anyone in your group is anxious about when the power will come back on, Dixit can be an enjoyable distraction.