Cooking is always easier when you're organized, especially in a small kitchen. To help you make better use of tight quarters, we spoke with organizing experts and chefs, and tested 40 shelves, racks, magnets, and other space-saving options. Below are the tips and tools you need to optimize every inch of a tiny kitchen.
Why you should trust me

I interviewed professional organizers with lots of experience developing space-saving solutions for small New York City apartment kitchens, including Faith Roberson, a former personal chef who is now the owner of Organize With Faith; Robert Mizrahi, owner of Chaos Commandos; and Ann Sullivan (no relation to the author), owner of the organizing company Ann Sullivan, Inc.

For a cook's perspective, I interviewed chef Janet Crandall, the executive chef instructor at the Los Angeles LGBT Center. I also spoke with Paula Johnson, the curator of the Division of Work and Industry at the Smithsonian's National Museum of American History, about how Julia Child organized her kitchen. Johnson was part of the team that documented and collected Child's iconic kitchen from her home in Cambridge, Massachusetts.

Additionally, I consulted with my colleagues on the Wirecutter kitchen team about living in spaces with tiny kitchens—collectively, we have over 50 years of experience cooking in small apartment kitchens. Finally, I looked at hundreds of items on Amazon and at Bed Bath & Beyond, The Container Store, Home Depot, and IKEA. I read owner reviews and went to stores to look at items in person when possible. I also referred to our small bathroom ideas guide and our gear for small apartments guide.
Guiding principles for small kitchens

In a 1977 interview for an issue of Design Quarterly (PDF), Julia Child said, "Living in an apartment with a small cramped kitchen is no excuse for not cooking good food." Nevertheless, kitchens that lack ample work and storage space are the most challenging to cook in. Since the size and layout of every kitchen is different—some lack sufficient wall space, while others are short on drawer or cupboard space—we did our best to find items that would work for various configurations, and we focused on a few guiding principles.

Organize your kitchen into zones: Dividing your kitchen into zones makes it easy to find everything you need, when you need it. "Zoning isn't cookie cutter, and that's what's so great about it. It's really about where things are naturally placed in the home that you can't move," said Faith Roberson. In other words, the arrangement of your stove, fridge, and sink determines where the zones should be. Here are the five main zones we recommend for organizing your kitchen:

• a food prep zone for cutting boards, mixing bowls, measuring cups and spoons, and knives

• a cooking zone for handheld cooking tools, pots, pans, baking pans, and spices

• a food storage zone for pantry items

• a non-food storage zone for dinnerware, servingware, cups, stemware, and flatware

• a cleaning zone for cleaning products, hand towels, and trash

If you have an exceptionally small kitchen, you'll have to be creative. Set up mini zones and know that you can be flexible depending on the activities taking place in the kitchen. For instance, the counter space you've established as your prep zone for chopping vegetables may also function as your cleaning zone for drying dishes.

Take stock of what you need: Be realistic about the items in your kitchen. Donate food and equipment you never use to make space. Paula Johnson, a curator at the Smithsonian's National Museum of American History, told us that Julia Child would keep only the tools that worked. "If something was pretty but completely nonfunctional—boom, it would be gone," Johnson said. Chef Janet Crandall's main advice is to "stick with the basic tools," such as a few good-quality knives and only the essential cooking equipment.

Take advantage of vertical space: As Ann Sullivan told us, "Most people always think of organizing in terms of square footage, and I say lay on the ground and look up and look at all the extra space you might have." Hang as many items as you can on the wall to free up cluttered cupboards and drawers. Take advantage of the areas above your fridge and cupboards if you have them, and maximize cupboard space by using shelf risers and over-the-door hooks or baskets.

Consolidate: Use items already in your kitchen to contain smaller items. For instance, measuring cups and measuring spoons nest nicely in mixing bowls. Also, choose dual-purpose items whenever possible—a large mixing bowl, for instance, can double as a serving bowl for salad or pasta.

Move things out of the kitchen: Move items that don't pertain to cooking, such as medicine, first aid kits, and tools. Also move kitchen gear you use less often into cupboards or out of the kitchen altogether. Stemware, liquor, and wine bottles hog a lot of space, so try stowing them on a bar cart elsewhere. Likewise, cookbooks are bulky and better off on a bookshelf. Or "maybe all of your cleaning supplies and everything related to that zone are going to have to move into the front hall closet," Roberson noted. And don't be like Sex and the City's Carrie Bradshaw—avoid storing anything other than pots and pans in your oven. "I've had clients who've had fires, it's not good," Sullivan said.

Avoid buying in bulk: Several of our experts said to avoid buying in bulk if you don't have the space for it. A good rule of thumb is to keep only what you need for one or two weeks. Crandall said, "Shop for perishable items in amounts that you will use," which simultaneously helps save space and cuts down on food waste.
Zone 1: Food prep
Knife storage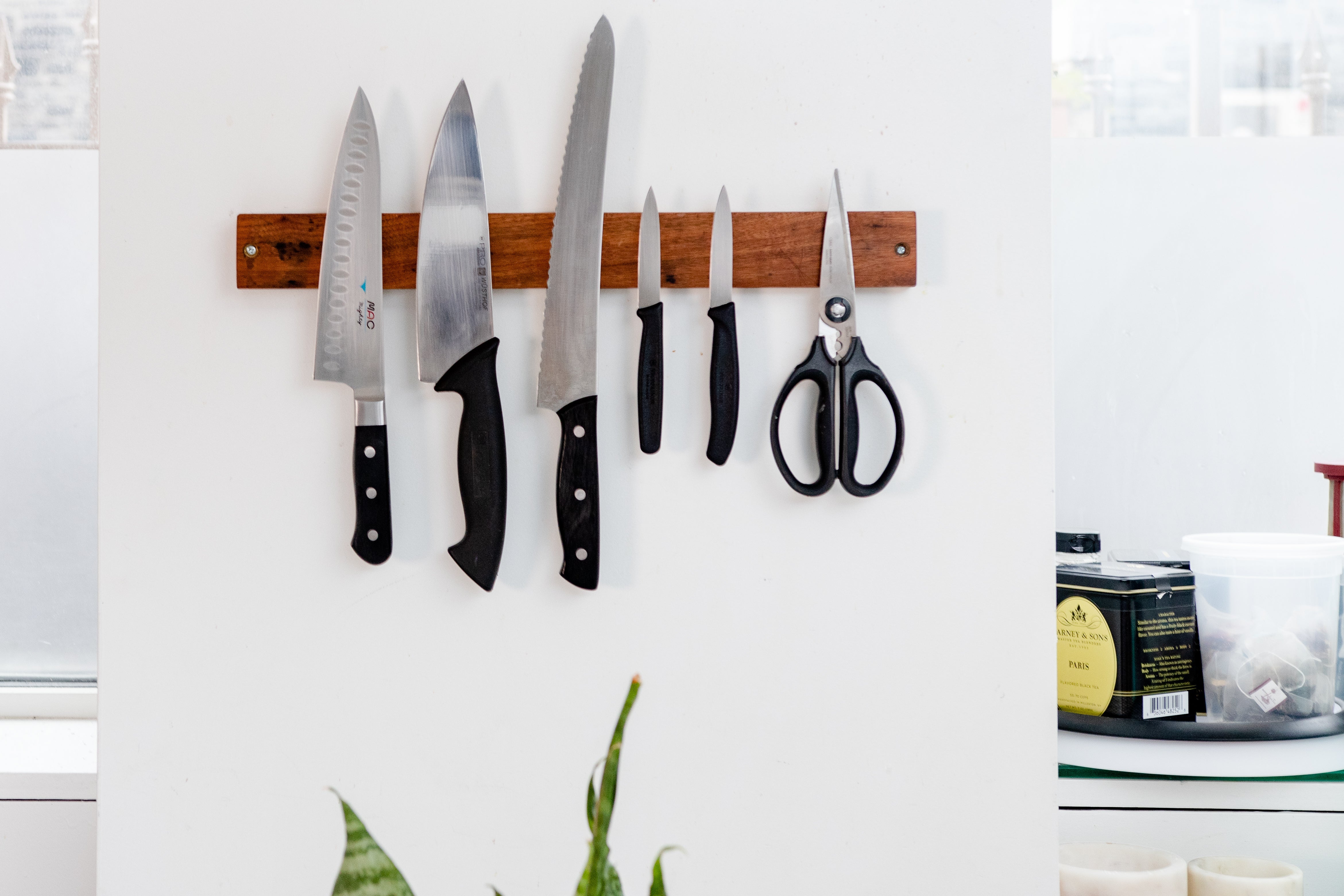 The professional organizers we spoke to recommended using magnetic strips for storing knives in lieu of bulky, counter-hogging knife blocks. We like Benchcrafted's Mag-Blok, which is made of impressively strong magnets and is available in 12- and 18-inch lengths. The wood exterior, which comes in maple, walnut, cherry, white oak, or sycamore, is gentle on knife blades and handsome enough to be on display in your kitchen. Other metal magnetic strips we tested, such as the Norpro 18-Inch Magnetic Knife Tool Bar, are more likely to dull or dent blades.
Although the less expensive Modern Innovations Stainless Steel Magnetic Knife Bar is not great for knives, we do recommend it for holding other tools—such as measuring spoons, scissors, or a corkscrew—to declutter your drawers. Our experts noted that you can even mount it inside cupboard doors (though you'll need shorter screws so you don't drill through the door).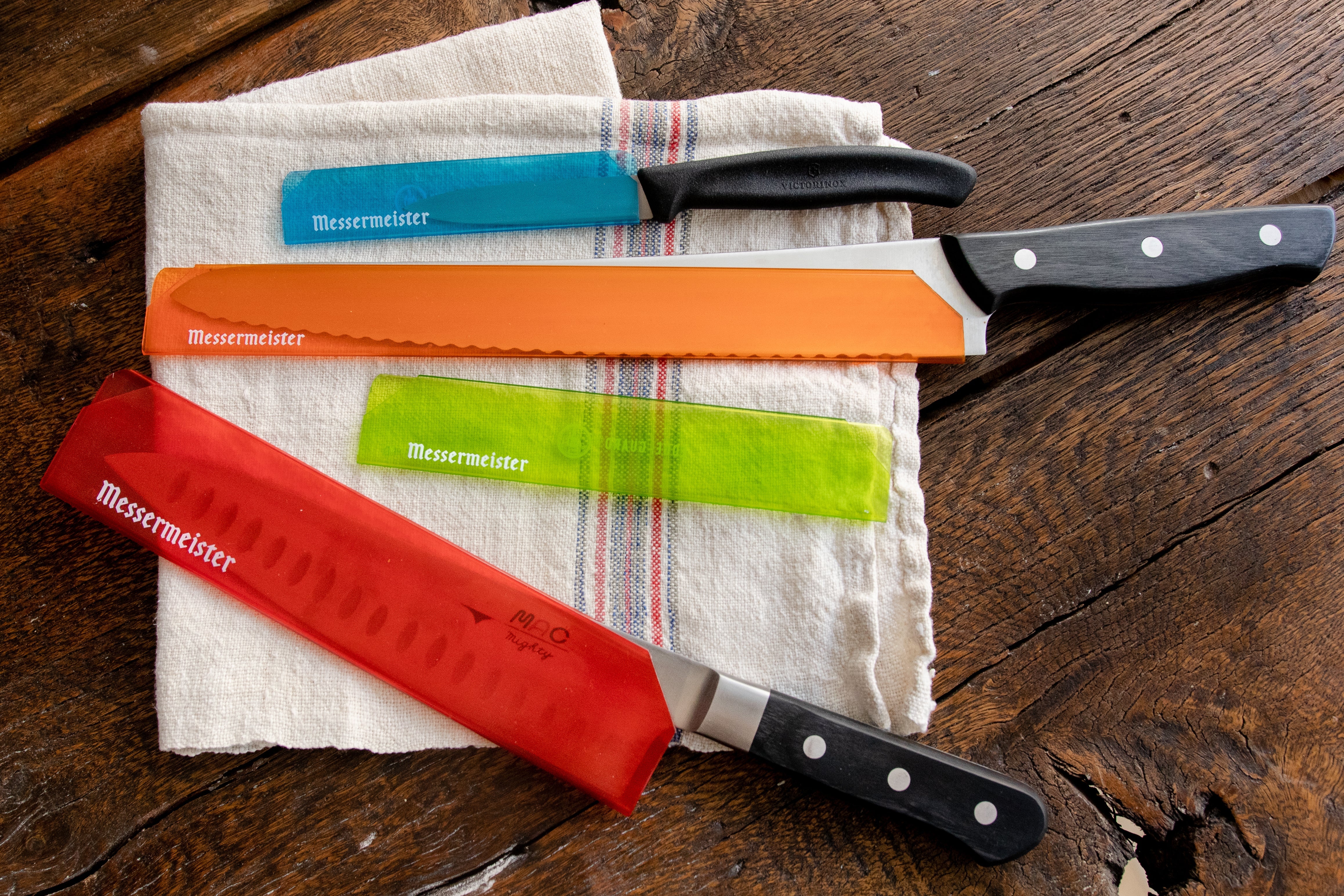 If you don't have enough wall space for a magnetic knife strip, blade guards are a great alternative for storing knives in a drawer. We like the translucent, color-coded Messermeister Edge-Guards, which slide on easily and let you quickly identify knives. The four-pack comes with guards measuring 4¾, 6¾, 8½, and 10½ inches, but they're also sold individually. One drawback: These guards don't completely cover knives with a handle that extends up the blade, such as the Wüsthof Pro chef's knife, our budget chef's knife pick. We tested Ergo Chef and Noble Home & Chef blade guards, too, but since they're not see-through, they make differentiating knives more difficult.
Cutting board storage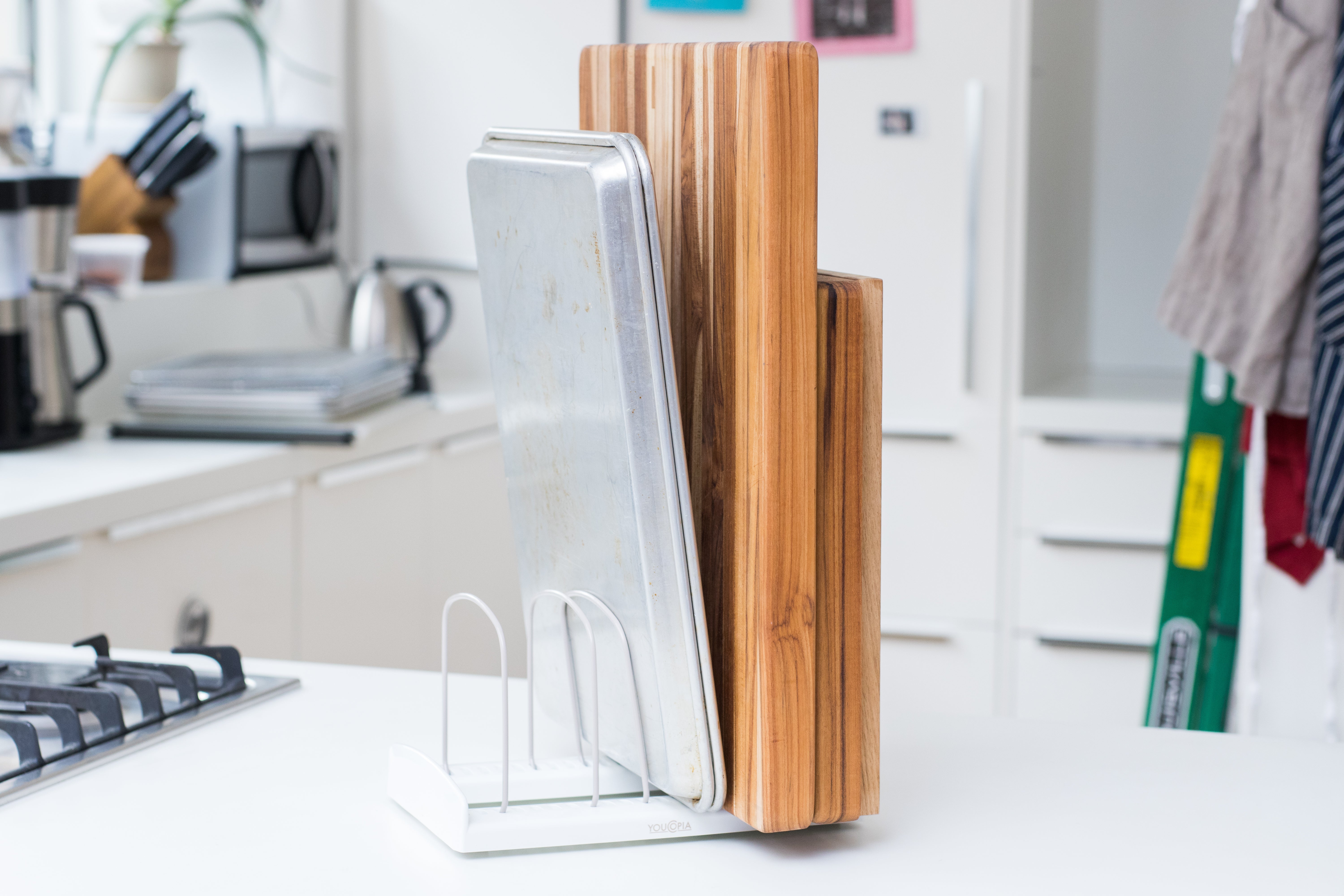 A bakeware rack keeps sheet pans and cutting boards from falling over or getting jammed together haphazardly. It's also a great way to store casserole dishes. We like the YouCopia StoreMore Adjustable Bakeware Rack because it has seven easily adjustable dividers. Vinyl feet prevent it from sliding around, and it's sturdy enough that it won't tip over while holding heavy items such as a wood cutting board or a pizza stone. Measuring 7¼ by 11½ inches, the YouCopia rack is small enough to fit inside most cupboards.
Kitchen cart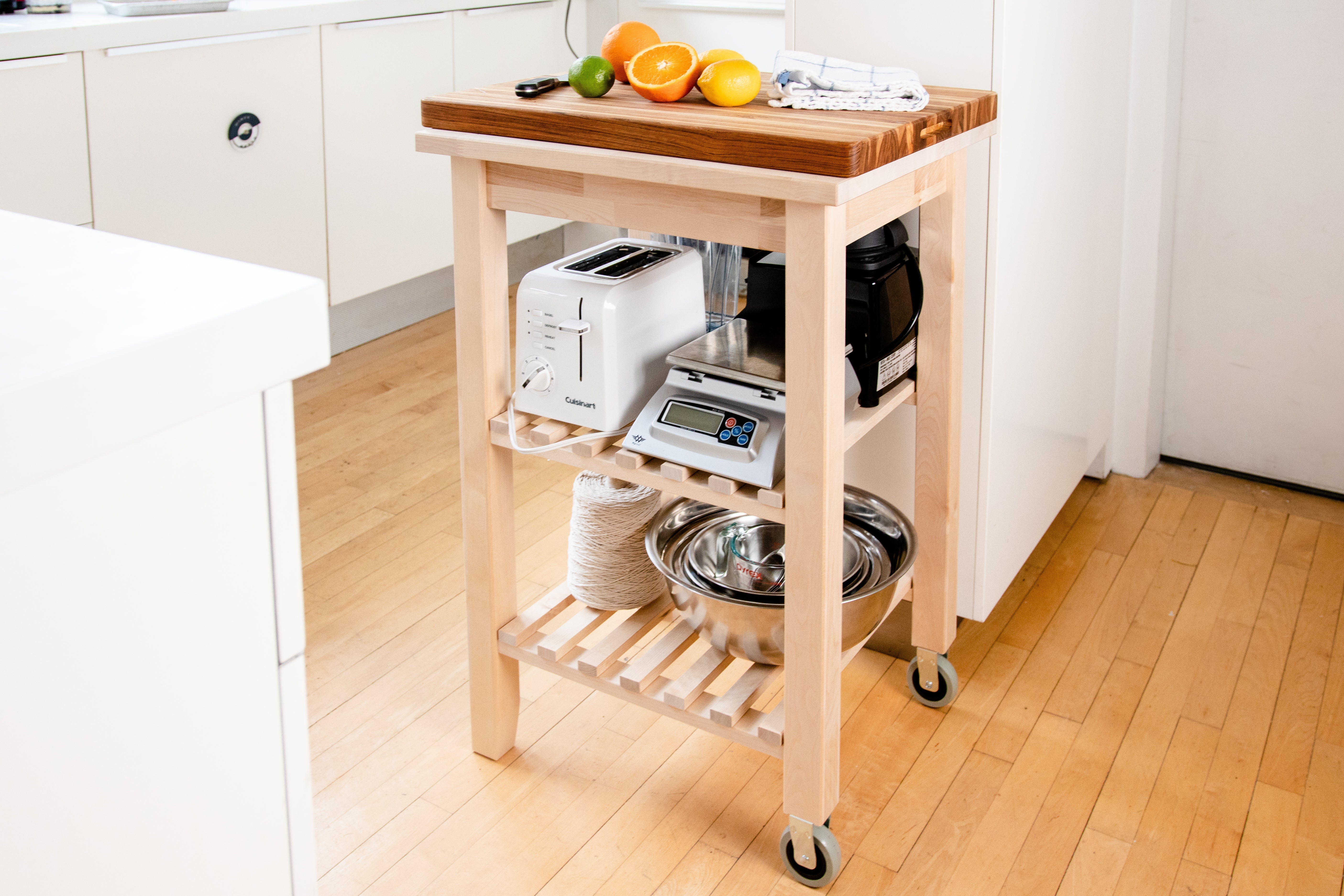 If the layout of your kitchen allows for it, a rolling cart is one of the easiest ways to increase counter and storage space. The IKEA Bekväm kitchen cart is the sturdiest cart we tested; it's also easy to assemble, and it has two shelves that provide plenty of extra storage space. The two wheels are handy for moving the cart around your kitchen, and although they don't lock, they do remain securely in place while you chop. The IKEA cart has a few drawbacks. First, since the wood is untreated, it stains easily (though you could seal the wood to prevent it from discoloring). We also found that the surface dents easily, so it's best to use a cutting board on top. And since the cart is 33½ inches high, it's a little lower than standard counter height (34 to 36 inches high).
If you don't need more prep space and you're just looking for equipment storage options, we recommend getting Uline's Mobile Shelving units with locking casters, which come in a plethora of shapes and sizes.
Zone 2: Cooking
Pot lid rack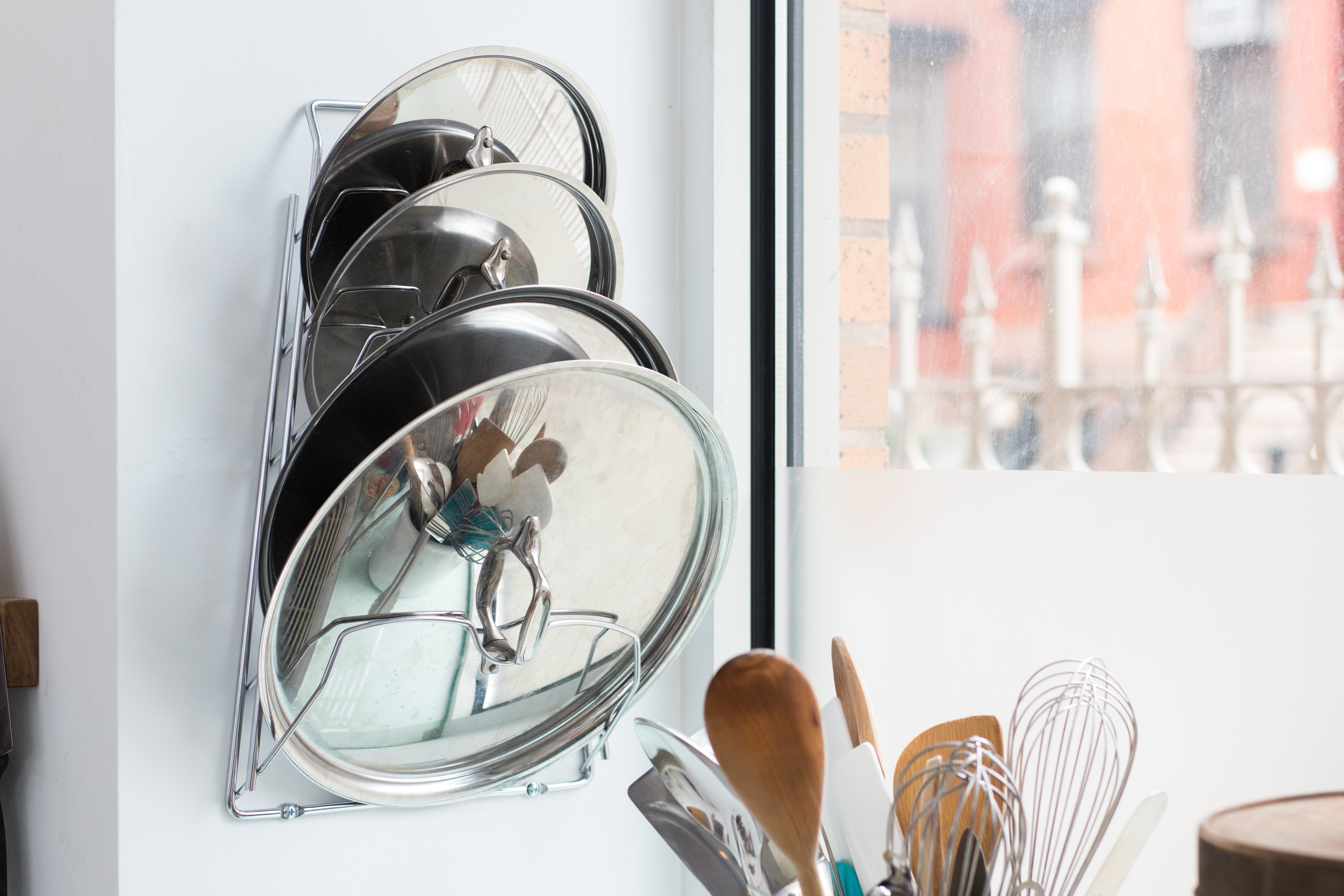 Pot lids are impossible to stack, so to keep them from becoming a jumbled mess, we recommend the Organize It All Cabinet Door Lid Rack. We've used it in our test kitchen for over a year, and we love how it keeps lids organized and accessible. It's lightweight yet sturdy, and it mounts easily to a wall or the back of a cabinet door. The slots hold every size of lid, from 6 to 14 inches, and you can bend them outward to adjust for wider handles.
Pot and pan storage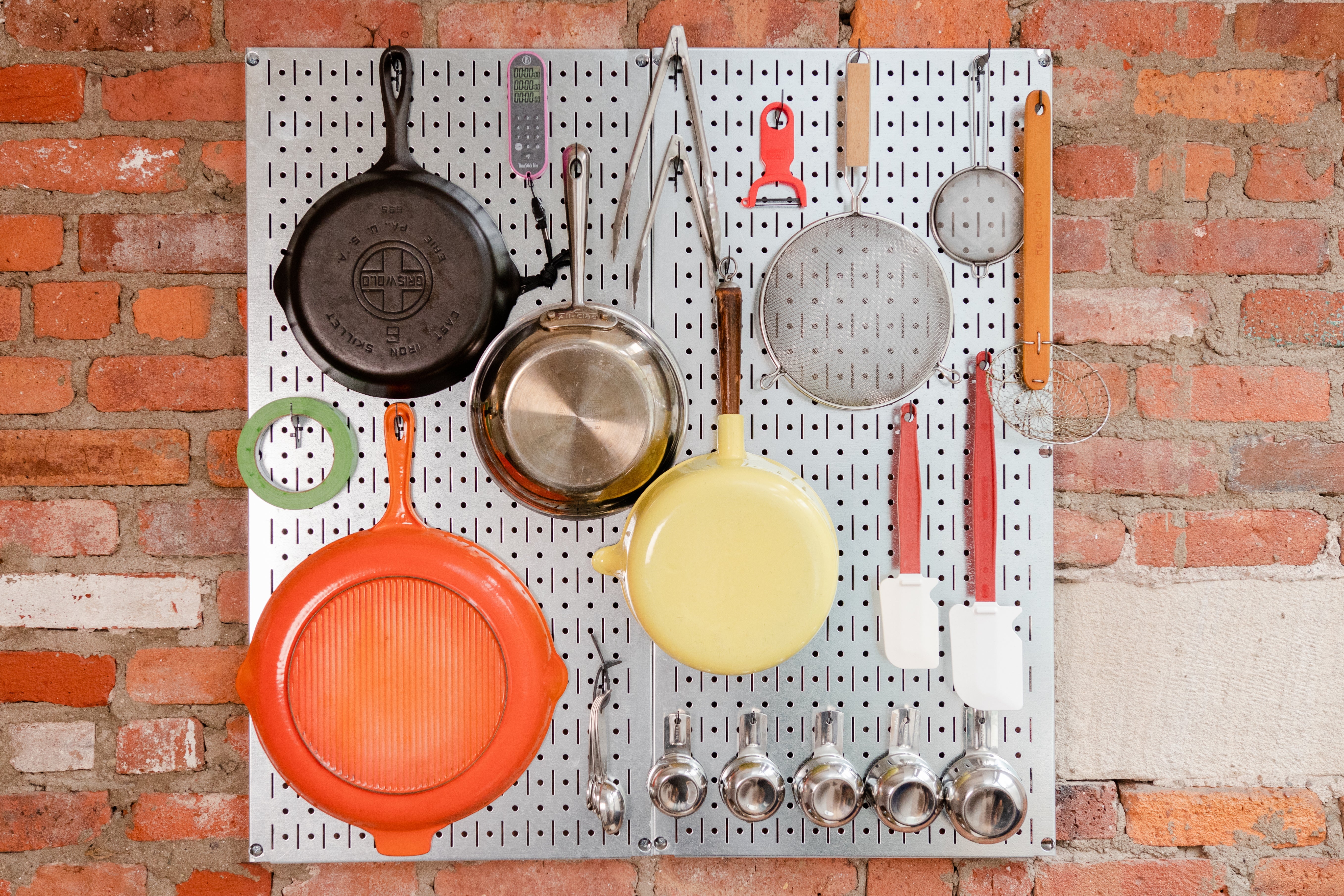 If you have sufficient wall space, hang as much equipment as possible. Julia Child used an old-school pegboard for hanging her batterie de cuisine, but today you can find more durable options. We like the 20-gauge steel Wall Control Metal Pegboard because it's easy to install and the holes never droop. The company sells a variety of hooks, too, though we found the 1⅞-inch hooks and 2⅞-inch hooks most useful for hanging pots, pans, and utensils. You can even purchase 4-inch-wide shelves that attach to the pegboard. According to Wall Control, a single 16-by-32-inch panel can hold up to 200 pounds when properly installed. Unlike with a traditional pegboard, you can't cut the Wall Control panels to size, but they're small enough to fit in most tiny kitchens. The panels come in a range of colors, and you can get them in a vertical or horizontal orientation.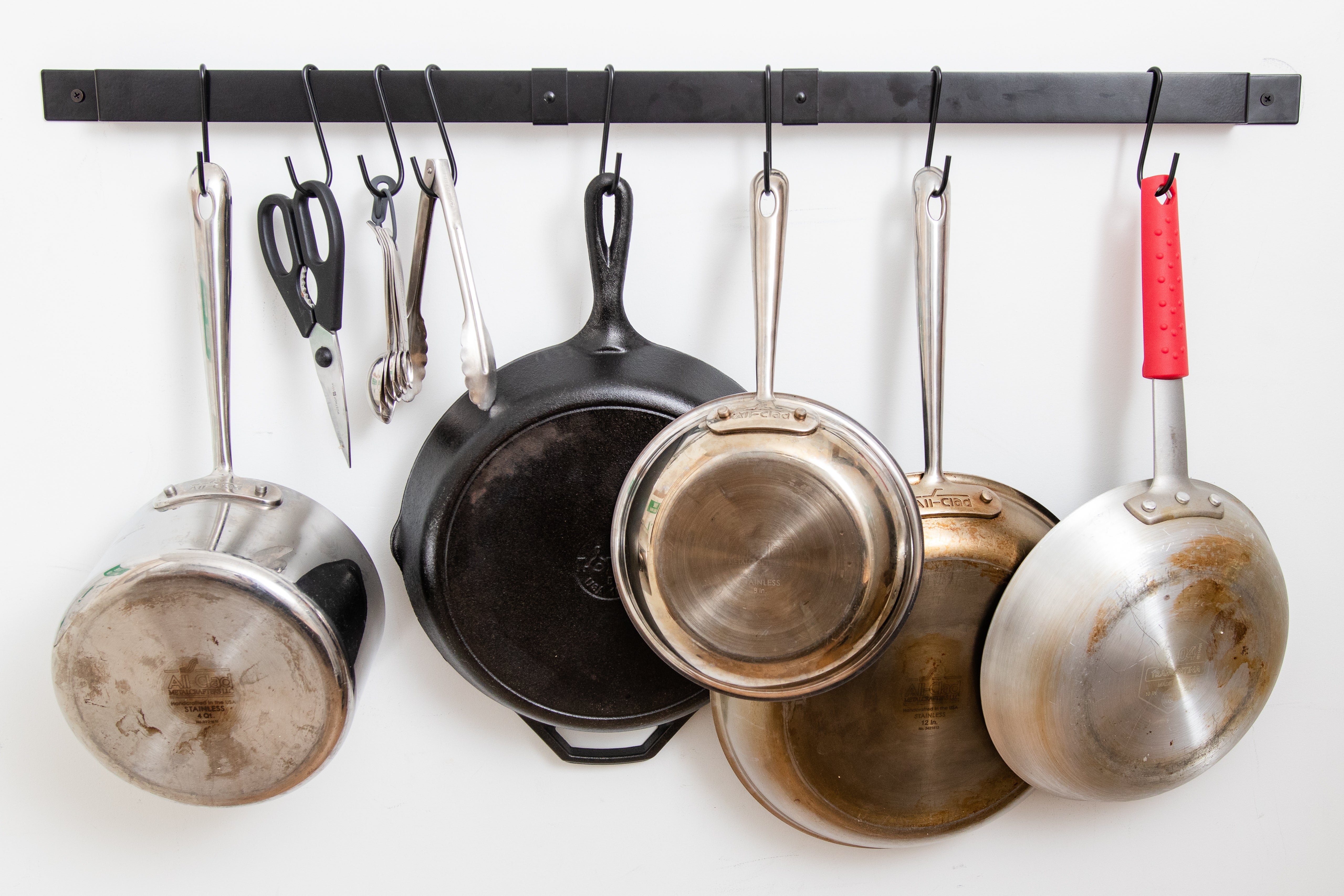 If you don't have room for a pegboard, we recommend hanging your pots and pans on Range Kleen's Expanding Bar Pot Rack. This rack extends from 24⅛ inches to 40 inches and can hold a surprising amount of equipment. In our tests it held about 20 pounds of cookware for a week without budging, even with a heavy 12-inch cast-iron skillet positioned at the most vulnerable spot in the middle of the rack. The included wall anchors worked well in our tests, but for added strength we recommend attaching the rack to a stud (see our advice on how to hang heavy stuff). We don't recommend extending it to the full 40 inches—in our tests it felt too flimsy past 36 inches.
Spice storage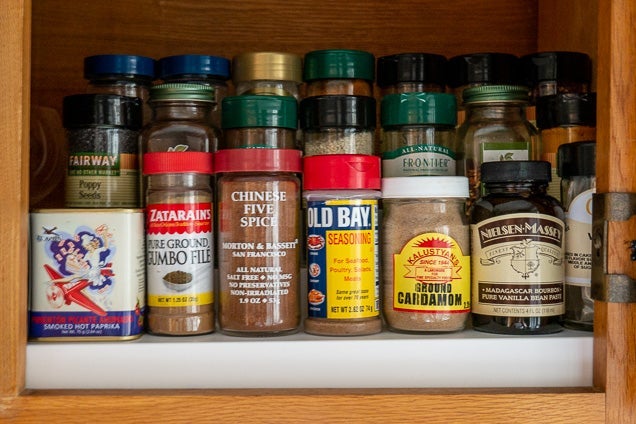 The Container Store's Expand-A-Shelf is the best option we've found for keeping spices consolidated and easy to find. The plastic shelf expands from 14 inches to 27 inches, so it will fit the width of most cupboards. One drawback is that you may not be able to read the labels on spice jars placed on the back two tiers, but Julia Child remedied this issue by labeling the top of each jar with the first letter of the spice's name and organizing them alphabetically. We liked the pull-down Rubbermaid Spice Rack, but it didn't fit the width of some cupboards, so it's not suitable for every kitchen. We also tested the Southern Homewares 4-Tier Wall Spice Rack, but it's too big for small kitchens.
Zone 3: Food storage
Multipurpose containers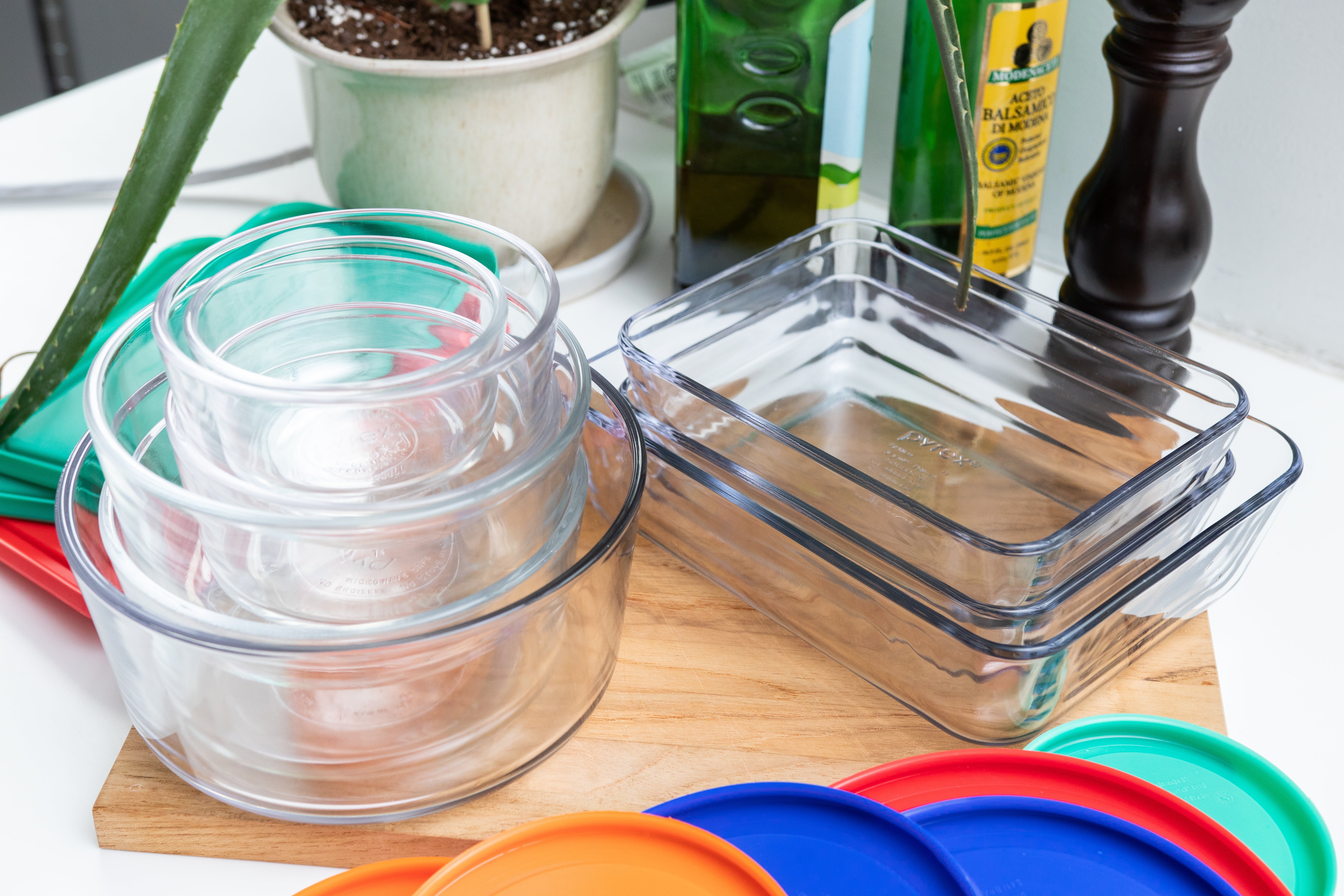 After testing a number of options for our guide to the best food storage containers, we found that the Pyrex 18-Piece Simply Store Food Storage Set was the best for small kitchens. These containers are more convenient to store in tight spaces because they nest well. Professional organizer Faith Roberson said she preferred glass Pyrex containers because they could do double duty: Since they're oven-safe, you can use them as baking dishes. They're also microwave, freezer, and dishwasher safe. We were impressed with how durable these containers were—in our tests, the tempered glass survived several counter-height drops onto a hardwood floor without breaking.
Hanging produce basket
Sur la Table's Three-Tier Hanging Basket offers an attractive way to display produce while keeping it off your kitchen counter. It hangs evenly, and small clips allow you to adjust the height of the tiers. The spacious baskets hold more produce than the shallower DecoBros 3-Tier Hanging Basket, and their rounded shape and slightly flexible aluminum wires put less pressure on delicate fruits. And whereas the chain on The Container Store's Chrome 3-Tier Hanging Basket snapped during testing, the durable Sur la Table basket successfully held a 15-pound weight for a week.
Lazy Susan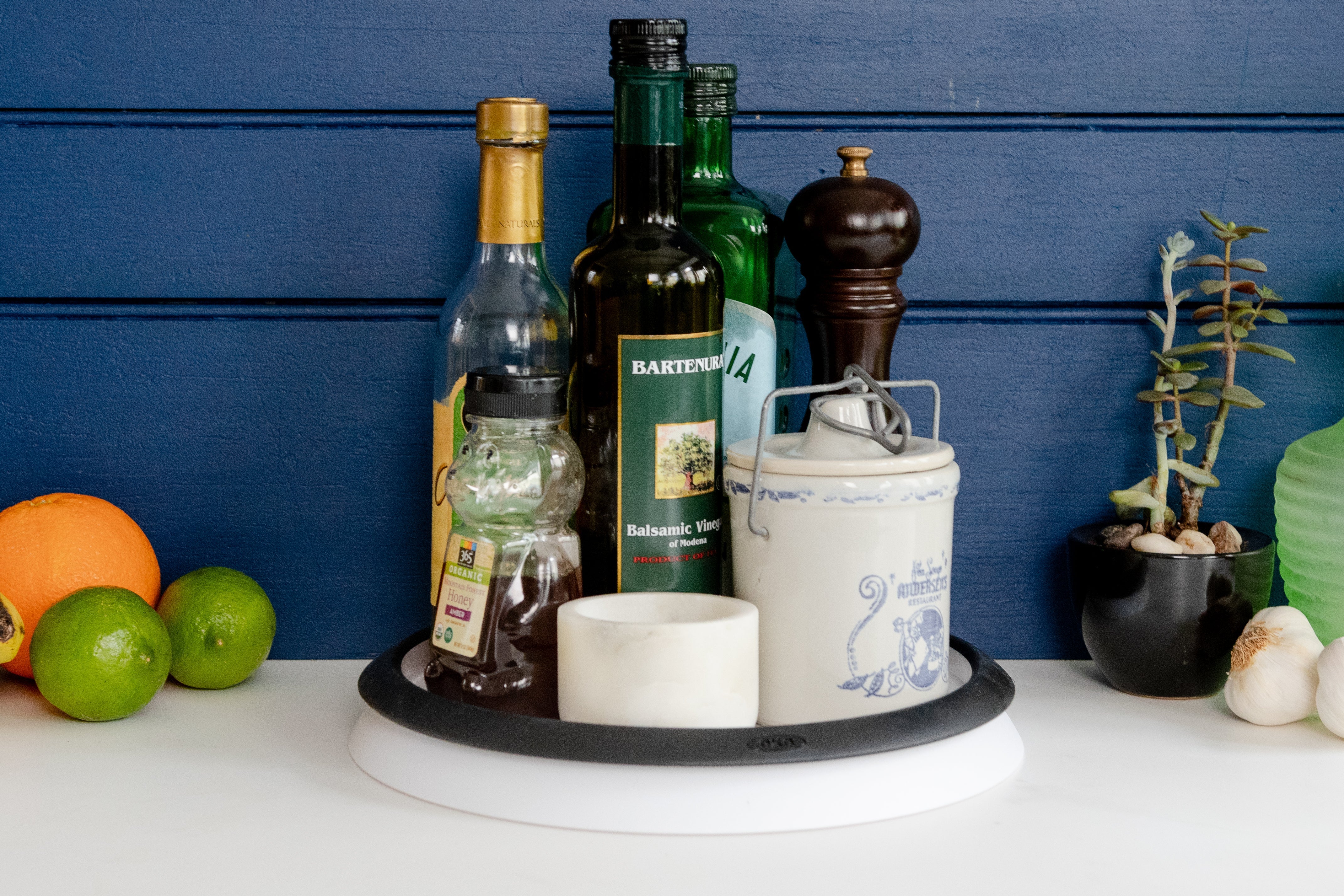 Nearly all the professional organizers we spoke to recommended using lazy Susans. Faith Roberson said, "To me, they're better than any riser or bin or basket because you can actually see everything as you're twirling." We like the OXO Good Grips Turntable, which comes in 10.5- and 16-inch-diameter sizes and has grips on the bottom to keep it from sliding around. The smaller size is better for pantry shelves or corner nooks on a counter, while the larger option is ideal for deep cupboards or the fridge. Pro tip: To ensure everything stays visible, place taller items, such as bottles of oil and vinegar, in the center of the lazy Susan and shorter items, like spice jars, around the perimeter.
Zone 4: Non-food storage
Shelf riser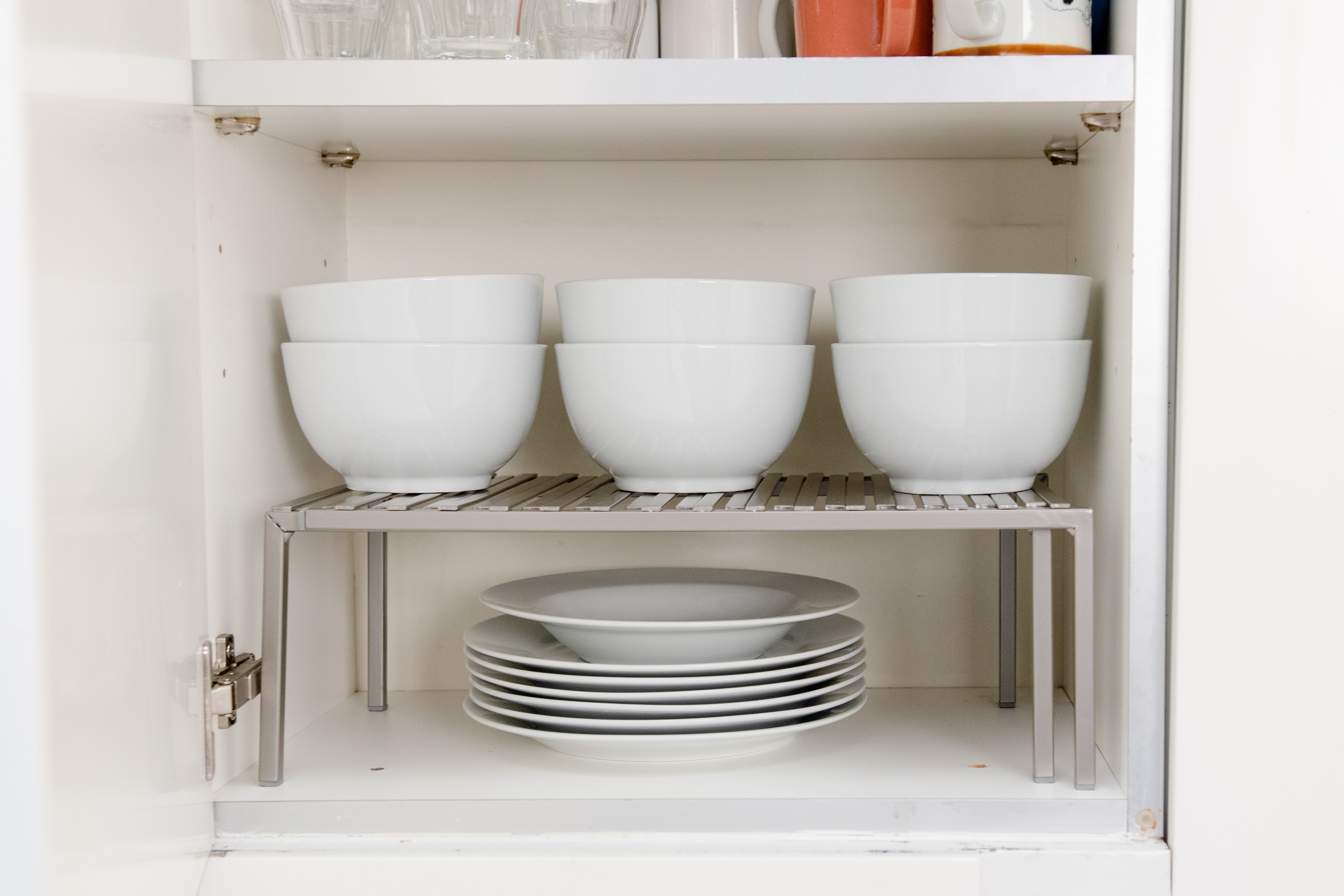 Shelf risers are a great way to get the most out of cupboards. The Seville Classics Expandable Kitchen Counter and Cabinet Shelf is the best we've found because it expands from 15¾ inches to 30 inches wide, so it can fit a range of cabinet sizes. This sturdy, heavyweight iron riser doesn't wobble like most of the thin wire-frame risers we tested, and the slats lock into place so the surface of the shelf stays level. At 5¼ inches tall, it allowed us to slide a stack of dinner plates under the shelf and keep three stacks of cereal bowls on top.
Cooking utensil storage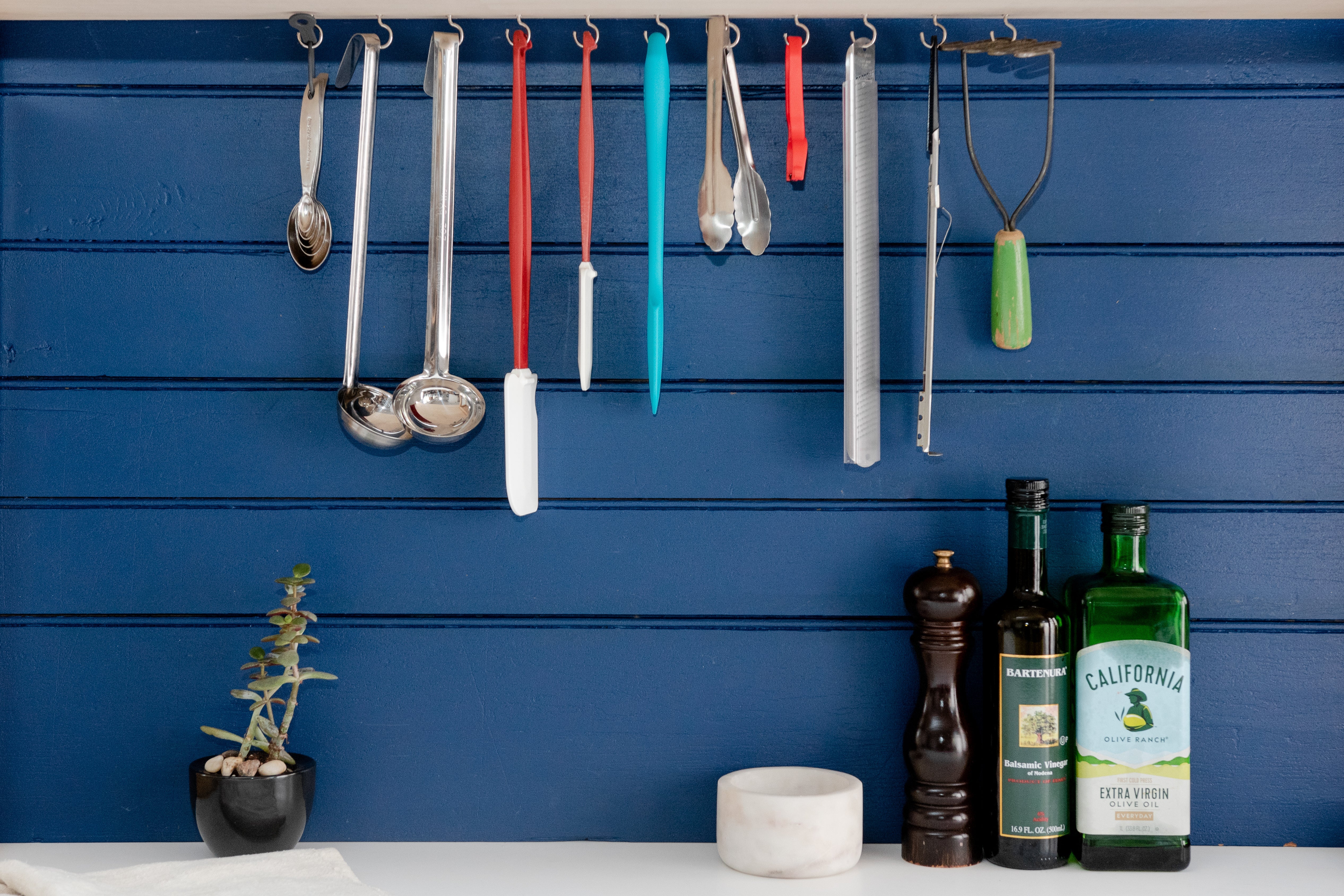 During a 1977 interview in Design Quarterly (PDF), Julia Child said, "The harder the utensils are to see, the less you will use them." That's why we think cup hooks are such an excellent storage option. Installed below an upper cabinet, they keep tools out of the way yet still easy to reach. You can customize their arrangement to suit your needs, and they require no special equipment to install (though you can use a small nail and hammer or a drill to get the hole started, or pliers for added leverage).
Stemware storage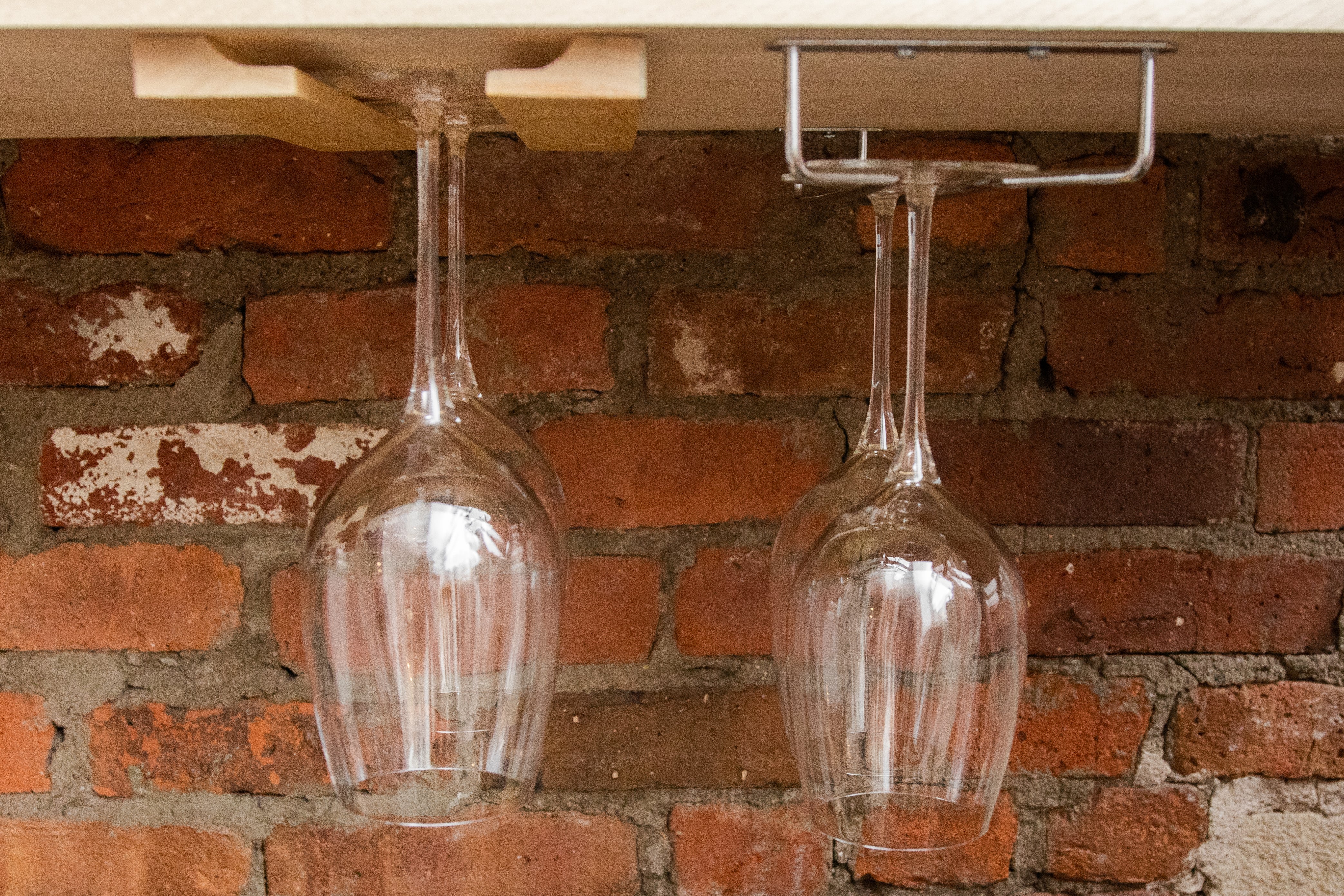 The 10-inch Winco GHC-10 Chrome Plated Wire Glass Hanger is the best option we've found for storing stemware under most cupboards. It's easy to install, and it fits most glasses, including the extra-wide foot of a Zalto Universal wine glass (our former upgrade pick in our guide to the best wine glasses). The 10-inch rack holds two wine glasses, but Winco also sells a 16-inch length that can hold up to four wine glasses. Just note that the included screws may be too long for the thickness of some cupboards, so be sure to check before drilling. We also tested the Rustic State Under Cabinet Wooden Hanging Wine Glass Holder, but it was more difficult to install, and wine glasses could potentially fall off the rack's open back.
Drawer organization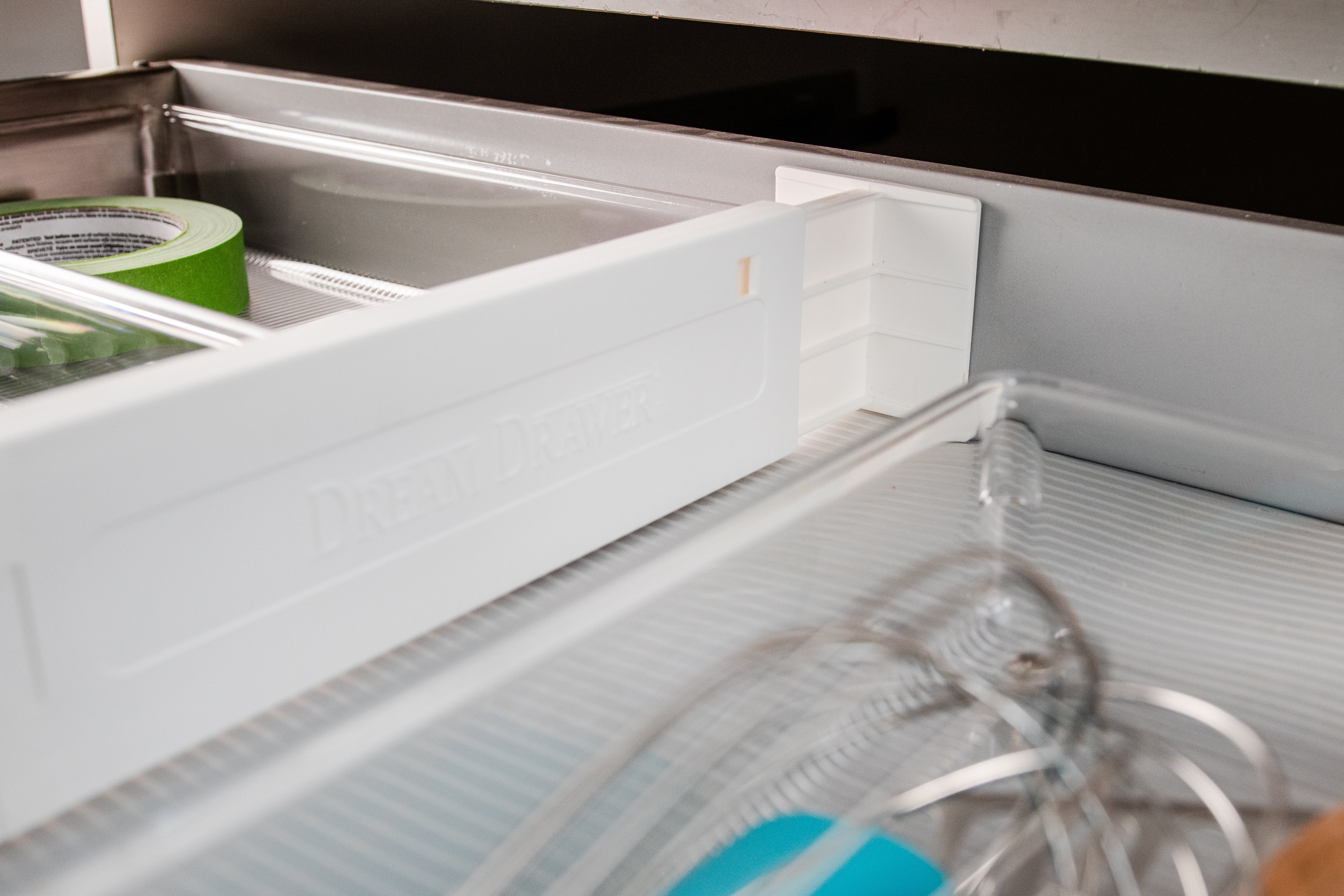 Dividing your drawer with organizers can bring order to an unruly pile of tools. Since utensil trays are often too big for narrow drawers, as Roberson said, "you need something that has more flexibility, and individual dividers help with that." We recommend the 3-inch-tall Dream Drawer Organizers. Their spring-loaded mechanism made them easier to adjust than the competition, and they fit drawers from 12 to 18 inches long. In our tests, the dividers remained firmly in place. For deeper drawers, we recommend the 4-inch version, which has extra pieces (sold separately) to subdivide drawers both vertically and horizontally.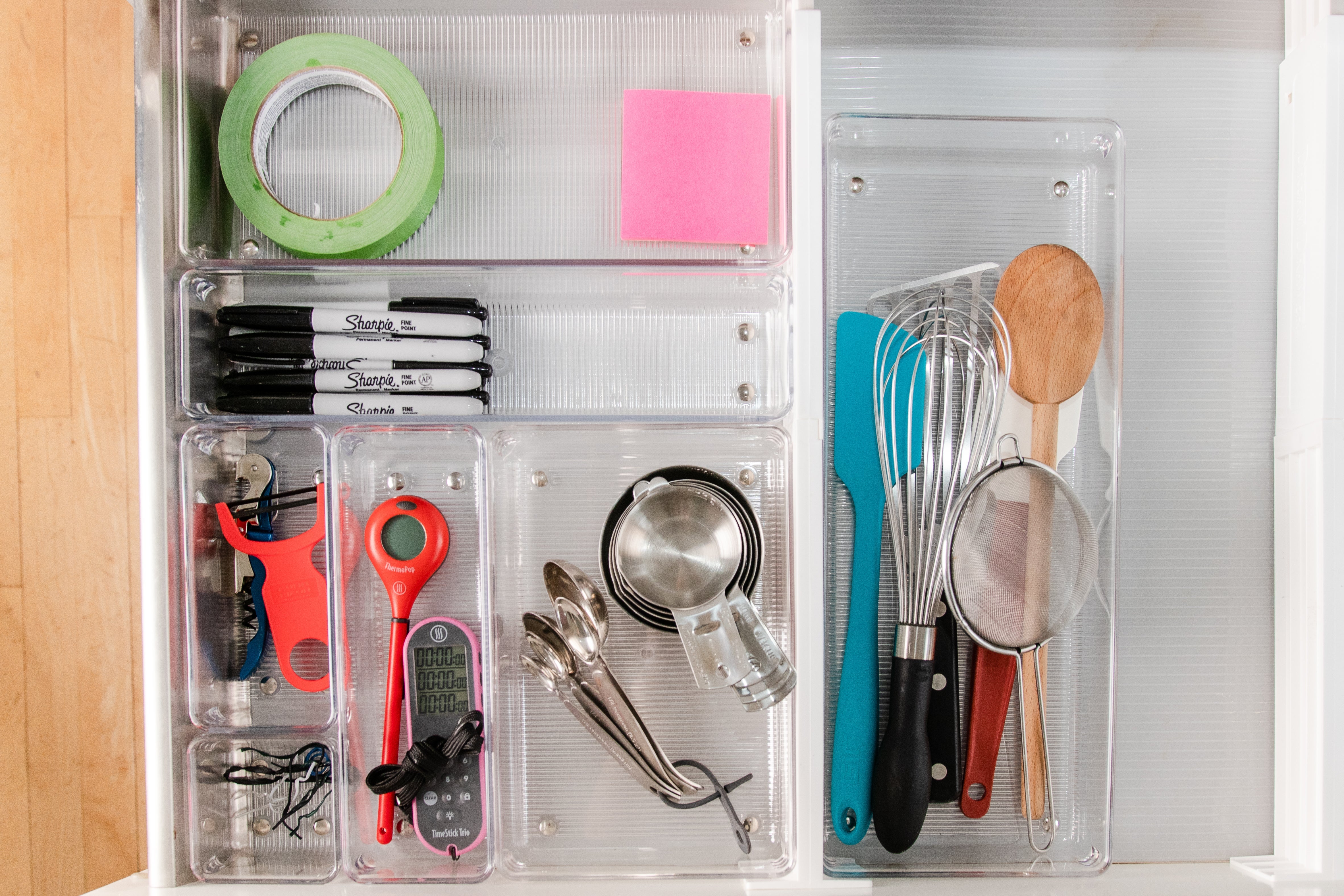 We recommend the InterDesign Linus Shallow Drawer Organizers for containing smaller items in drawers. The grippy feet on the bottom of each container make these bins stand out from the competition. These containers come in a variety of sizes, and their 2-inch depth is ideal for shallow kitchen drawers. The smaller bins are perfect for holding rubber bands, bottle stoppers, or piping tips, while the larger containers keep tools and utensils, such as scissors or can openers, in place. The 12-by-3-inch container is great for storing flatware, especially if you have narrow drawers that can't accommodate a wide utensil bin. These pieces have a couple of drawbacks, however: They're not dishwasher safe, and each container comes with three stickers that are annoying to remove.
Equipment storage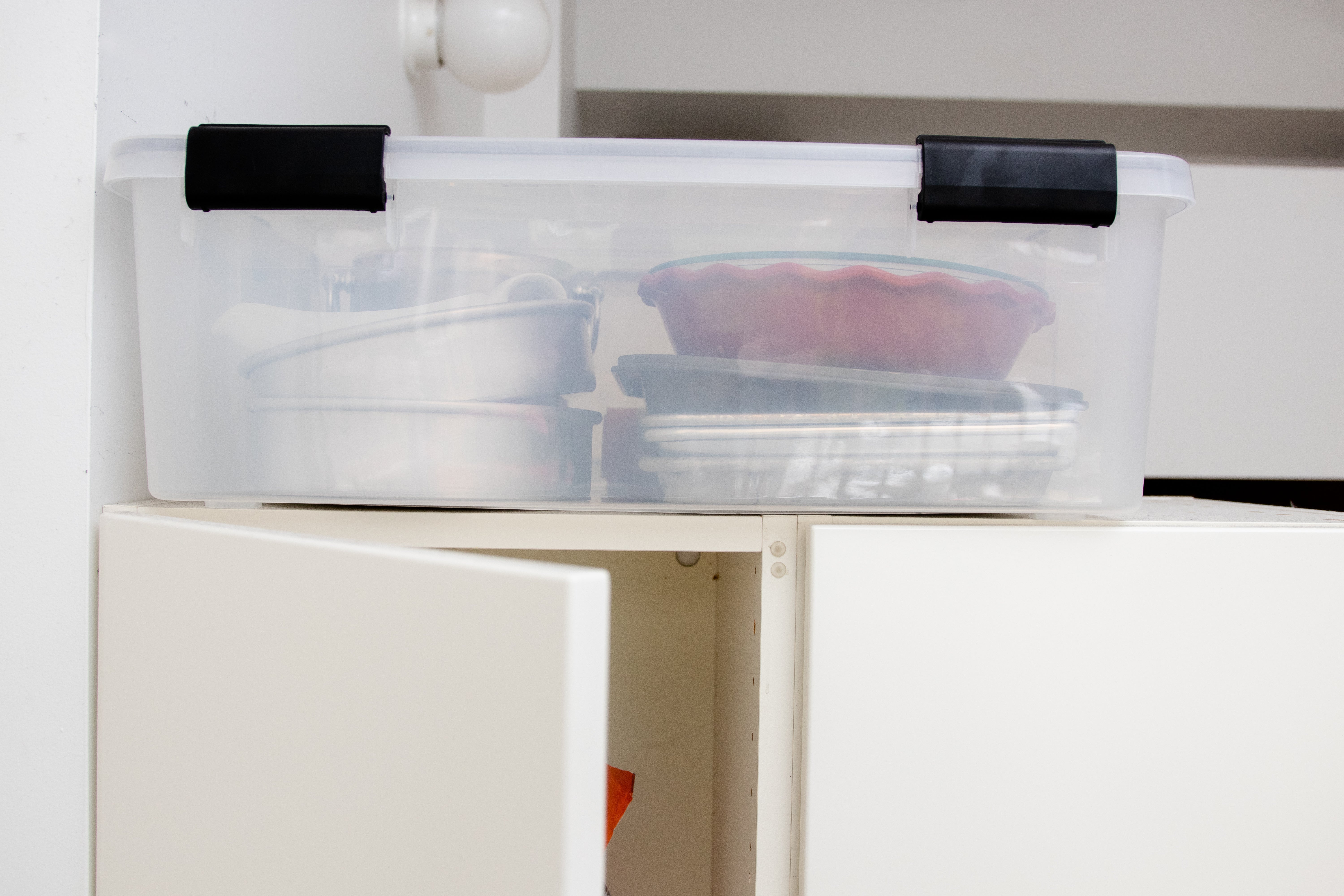 If your kitchen is too tight for a regular trash can, we recommend the compact 10-liter Simplehuman In-Cabinet Trash Can. Its foam-lined hook fits snugly on a cupboard door, keeping your trash out of the way and out of sight. It fits 2.6-gallon trash bags or regular plastic grocery bags. The obvious drawback is that it may be too small for larger households.
Sources

1. Paula Johnson, curator, Division of Work and Industry, at the Smithsonian's National Museum of American History, phone interview, February 27, 2019

2. Faith Roberson, professional organizer and owner of Organize With Faith, phone interview, February 26, 2019

3. Robert Mizrahi, professional organizer and owner of Chaos Commandos, phone interview, March 1, 2019

4. Ann Sullivan, professional organizer and owner of Ann Sullivan, Inc., phone interview, March 18, 2019

5. Bill Stumpf, Nicholas Polites, Julia's Kitchen: A Design Anatomy (PDF), Design Quarterly 104, 1977