Sitting ergonomically at your desk is challenging. You need to raise or lower your chair so that your arms at the keyboard are parallel to the floor, raise or lower your monitor so the top of it is at eye level, and make sure your feet are flat on the floor. If your legs are dangling, you need to use a footrest for support, or even to encourage more "active sitting" by engaging your feet to rock back and forth for better leg circulation. The comfy ErgoFoam Adjustable Foot Rest and the sturdy Humanscale FR300 Foot Rocker are both better than a plastic footrest at helping you maintain proper posture and feel more comfortable at your desk.
Our pick

This footrest has a washable velvet cover that feels great if you're not wearing shoes, and the high-density foam offers firm yet cushy support for your feet. It can be used as a foot rocker, and the detachable 2-inch base lets you adjust the footrest's height.

The ErgoFoam Adjustable Foot Rest offers both firm support and all-day comfort. Unlike plastic footrests, which tend to be clunky and feel cheap, the ErgoFoam has a foam construction that just feels good to use. Its plushy surface and soft give make you want to press your feet into the cushion and stretch your ankles, and for added movement, you can flip the footrest over for rocking. This footrest stays in place on hard and carpeted floors, and the cover is easily removable for tossing in the washing machine (on the gentle cycle).
Upgrade pick

With its hardwood platform and steel frame, this solid footrest looks good under a desk and can withstand constant use. It rocks smoothly and can be adjusted in height up to 3 inches.

The Humanscale FR300 Foot Rocker (listed on Amazon as the FM300) is like a rocking chair for your feet. The large wooden platform glides easily over the metal frame with ball-bearing rollers. Non-skid surface strips on top keep your feet in place, but they also make this footrest ideal for using with shoes, rather than with socks or bare feet. This model's solid construction feels leap years ahead of cheaper plastic footrests and justifies the higher price. And the gentle rocking that the FR300 encourages can help you engage your legs and ankles.
Why you should trust us

Wirecutter staff writer Melanie Pinola has been working out of her home office for more than two decades, writing about technology and productivity for sites such as Lifehacker, PCWorld, and Laptop Mag. In that time, she has researched and tested all sorts of office furniture and hardware, including desk chairs and ergonomic keyboards for Wirecutter.

We consulted two ergonomics experts for this guide. Laura Punnett, a professor of biomedical engineering at the University of Massachusetts Lowell, specializes in job design to optimize workforce musculoskeletal, mental, and cardiovascular health. Kevin Weaver, a clinical assistant professor of physical therapy at New York University, also helped us determine what you should look for when you're purchasing a footrest and why you might want one in the first place.
Who this is for

To sit comfortably at a desk for long stints, many of us are going to need some help. Most desks range from 28 to 30 inches tall, which is ideal if you're between 5 feet 9 inches and 6 feet tall. At that height, you could keep your feet firmly flat on the floor, your thighs parallel to the ground, and your wrists at or below elbow level while typing—as recommended by ergonomics experts.

But most of us aren't 6 feet tall (PDF).

If you can't keep your feet firmly flat on the ground at your desk while also comfortably typing with your arms parallel to the floor, you need a footrest. Biomedical engineering professor Laura Punnett told us that "when your feet are hanging, pressure builds up quickly on the underside of the thigh, compressing nerves and blood vessels." NYU physical therapy professor Kevin Weaver said that compression can lead to a host of issues, including sciatic nerve irritation and trigger points in the hamstring muscles. And if you're already experiencing back, leg, or foot pain, a footrest could help to alleviate pain by offering needed support.

Anything can be a footrest, of course: a stack of books, a cardboard box, a large dog who likes to sleep near your feet. A great dedicated footrest for use under your desk, however, will be more durable and more comfortable than a makeshift option. Also, the tilting and rocking feature on a footrest lets you change your leg position and add in some movement for more-active sitting, to offset some of the hazards of prolonged, static sitting.
How we picked and tested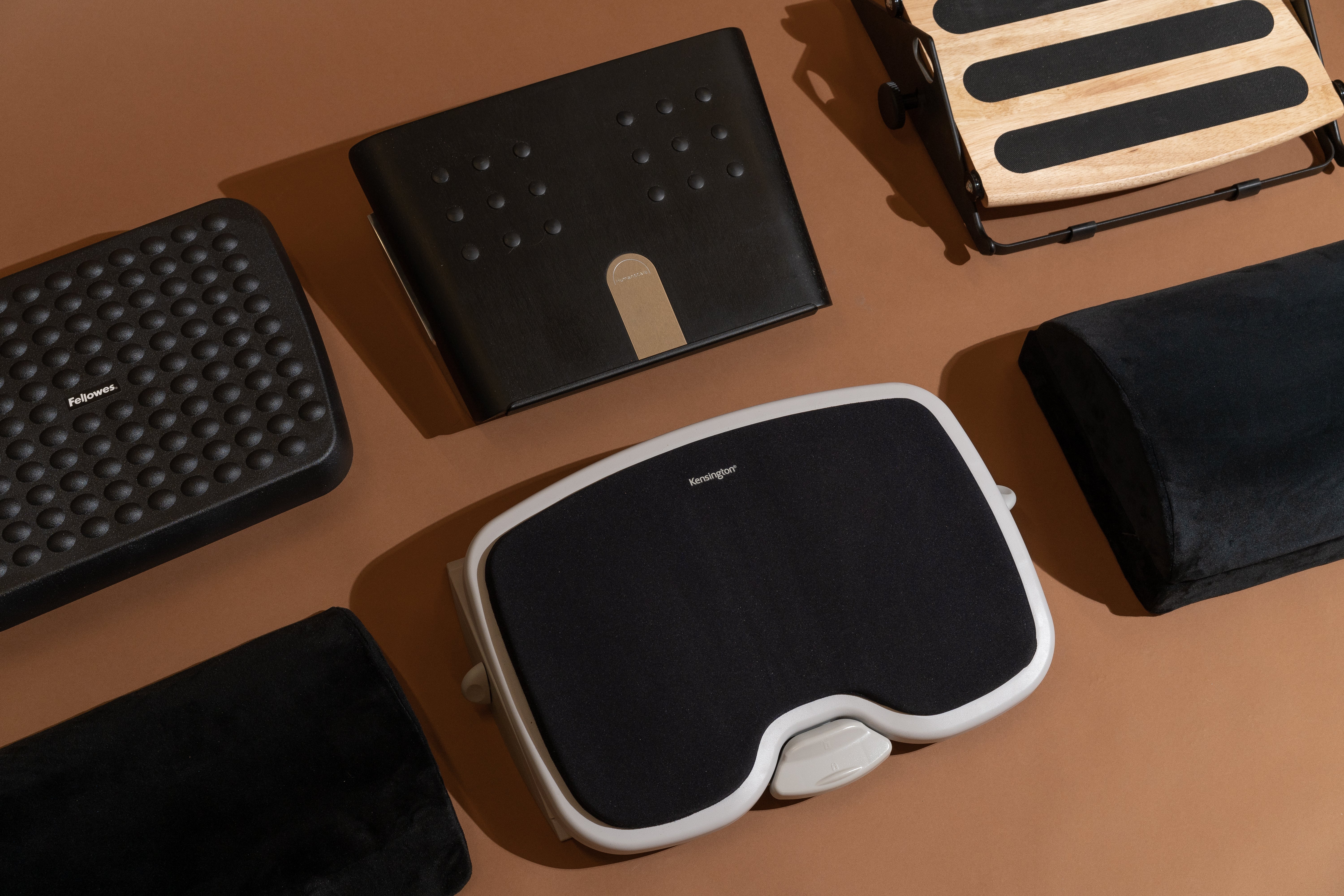 We researched more than 20 under-desk footrests in the three main categories that we found: foam footrests, plastic models, and wooden ones. Based on advice from our ergonomics experts, we placed a priority on footrests that have adjustable heights and tilt, and that are able to rock. We eliminated those that have owner reviews recounting poor durability, as well as footrests that are like hammocks for your legs or designed for propping up your feet on airplanes. We focused on footrests for improving ergonomics while you work at your desk.
After paring down our list to seven footrests, we evaluated each footrest for:
• Comfort: Your legs and feet should almost immediately feel better, and your entire body should feel more supported, compared with not using a footrest. You should be able to angle your feet and legs in a position that feels comfortable and reduces strain.
• Ease of rocking: The smoother the back-and-forth rocking, the easier it is to subtly add movement at your desk. If the footrest is clunky or noisy in its rocking, it will distract your work.
• Stability: A footrest is for planting your feet on, not for chasing around under your desk. Anti-slip grips are a must for keeping your footrest in place.
• Durability and ease of cleaning: A sturdy footrest will survive constant and heavy use. And a removable cover or a simple solid surface will help to keep your footrest from becoming a dirt trap.
At 5 feet 2 inches tall, I'm probably the ideal tester for footrests, since many office chairs—even at their lowest height—leave my feet dangling, and I sometimes sit at my desk for more than eight hours a day. I used each footrest for at least half a day of work, with my adjustable-height desk set at 29 inches high. We also recruited four panelists who were shorter and taller—ranging from 4 feet 8 inches to 6 feet tall—to join me in a footrest party. Sitting around a 28½-inch-high table, the panelists propped up their feet (in socks, shoes, or slippers, according to their preference) on each footrest, rocked each one back and forth, complained about or complimented the comfort of each model's surface, and scribbled notes about each footrest's looks. (Even though style wasn't a major factor in our picks, appearance and ease of cleaning were both things we took into account in our review.)
After the hard work of resting our feet, we had clear winners.
Our pick: ErgoFoam Adjustable Foot Rest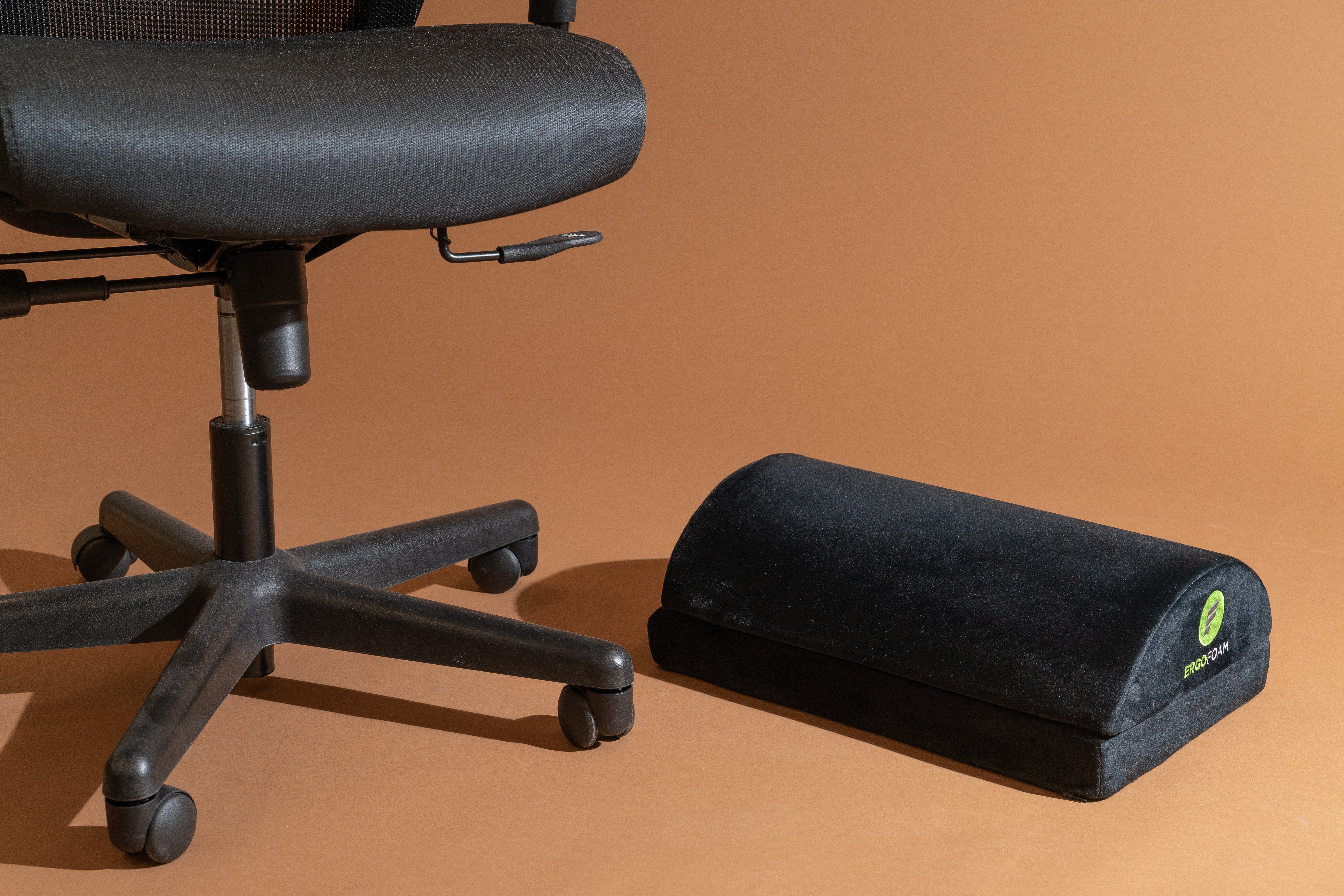 This footrest has a washable velvet cover that feels great if you're not wearing shoes, and the high-density foam offers firm yet cushy support for your feet. It can be used as a foot rocker, and the detachable 2-inch base lets you adjust the footrest's height.
The ErgoFoam Adjustable Foot Rest is the pillow your feet didn't know they needed, especially if you work at your desk without shoes on. The footrest's high-density foam hits the sweet spot between firm and soft—it has just enough give to let you joyfully squish the cushion with your feet throughout the day, without the cushion caving in or losing its shape. It's like a stress ball for your feet. We like the version that comes with a 2-inch detachable base, so you can raise the footrest from its standard, 3.9-inch height if you need to. The version without an extra base is only a few dollars less.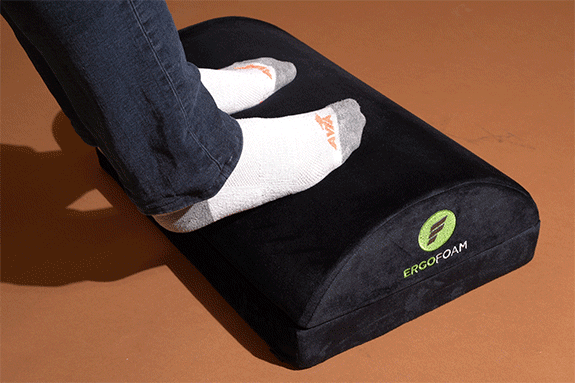 After testing all of the other footrests, one panelist immediately said, "This is the one." Our panelists found the ErgoFoam to be comfortable from any position, whether they were resting their feet flat, underneath their knees; angling them up on the rounded surface for quick breaks; or using the footrest inverted as a foot rocker. The velvet cover feels luxurious underfoot, especially if you use it without shoes. But even if you have shoes on, the ErgoFoam can be easily hand- or machine-washed (on the delicate cycle) and air-dried or vacuumed for cleaning.
Although there are many other foam footrests that have a similar simple design, the ErgoFoam stood out to us for its versatility: The adjustable footrest model comes with a detachable 2-inch base, so you can raise the footrest height from 3.9 inches to 5.9 inches. Our panelists who were 5-foot-6 and under preferred the footrest with the added base; our taller panelists preferred to remove the base to have more leg-to-desk clearance. If you're likely to use the footrest both without shoes and with shoes with heels, the height adjustability is nice to have. At 17.3 inches wide, the ErgoFoam footrest is also a bit wider—about an inch or so—than many competing footrests, so you have more room to spread out your feet.
The ErgoFoam's plushy comfiness encourages you to press your feet into it, but for added movement, you can flip the ErgoFoam over to rock your feet back and forth, as recommended by ergonomics experts. Like with other foam footrests, with this model the rocking is less noisy than with plastic or wood footrests, but it requires a bit more force due to the friction from the fabric. If your primary goal is to encourage smooth rocking while you sit at your desk, Humanscale's wooden footrests rock more smoothly than the ErgoFoam footrest and other foam footrests. But if you want the comfiest stationary footrest that you can also occasionally use as a foot rocker, this is the one we recommend.
Unlike some of the other footrests we tested, the ErgoFoam footrest actually stayed put on hard floors. The rubber grippy texture on the bottom keeps the footrest in place, even as you're pounding it with your feet. By comparison, some of the plastic footrests we tested slid on hard floors with every foot movement.
I've since bought three of these footrests: one for the living room, one for my office, and one as a gift.
Flaws but not dealbreakers

The ErgoFoam footrest is more comfortable than plastic or wood options, but it also requires dealing with a cloth cover that's more likely to collect lint, hair, and other debris. The cover unzips easily around two sides of the ErgoFoam's cushion, and you can wash it as you would a pillow cover. Still, the fabric is a bit more of a pain to clean than a hard surface, so ideally you'd use this footrest without shoes so it wouldn't get too dirty. Also, we haven't tested this footrest for more than a couple of weeks, so there's a chance the foam or fabric cover could wear out. But the ErgoFoam comes with a lifetime warranty; we'll report back after long-term testing.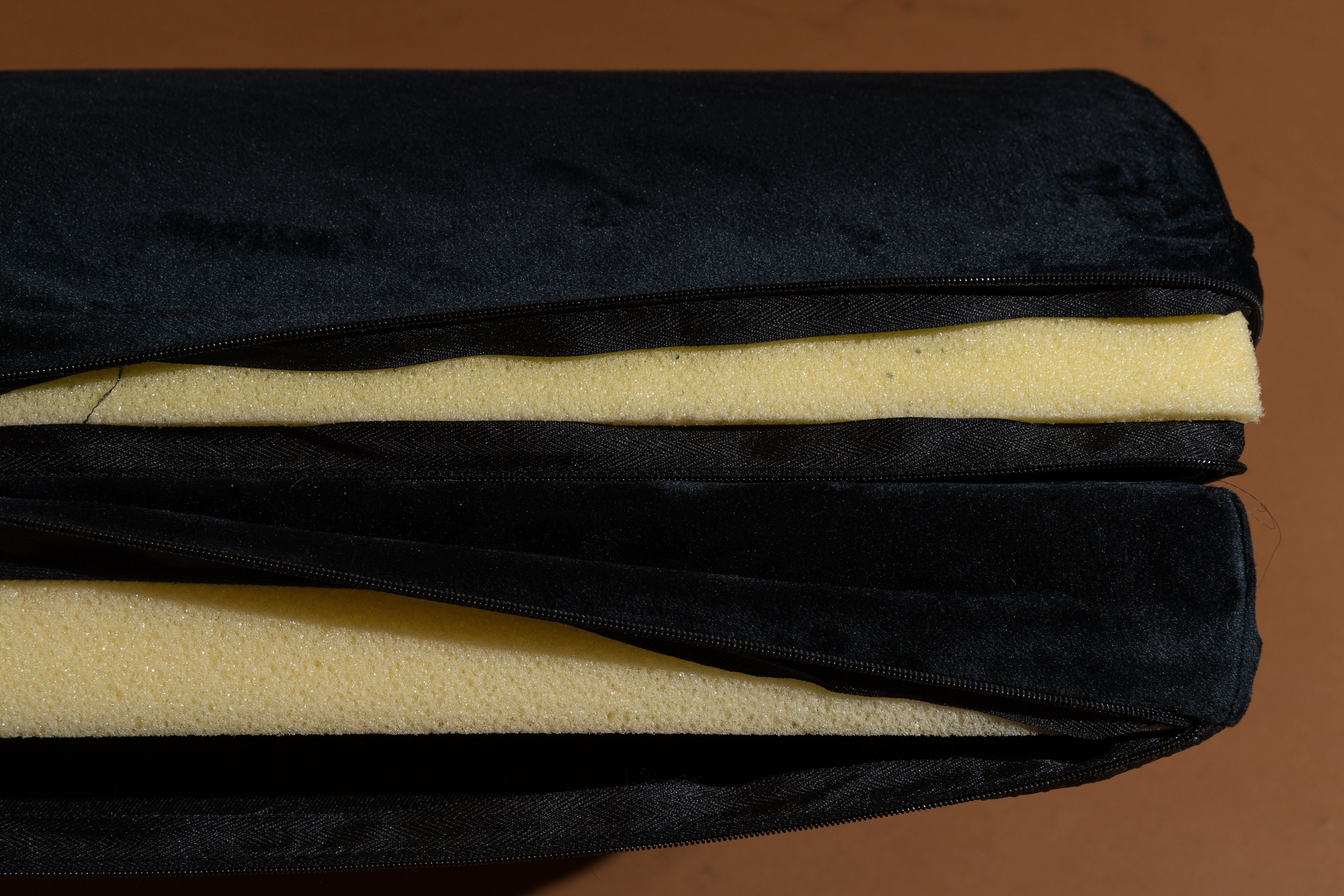 Upgrade pick: Humanscale FR300 Foot Rocker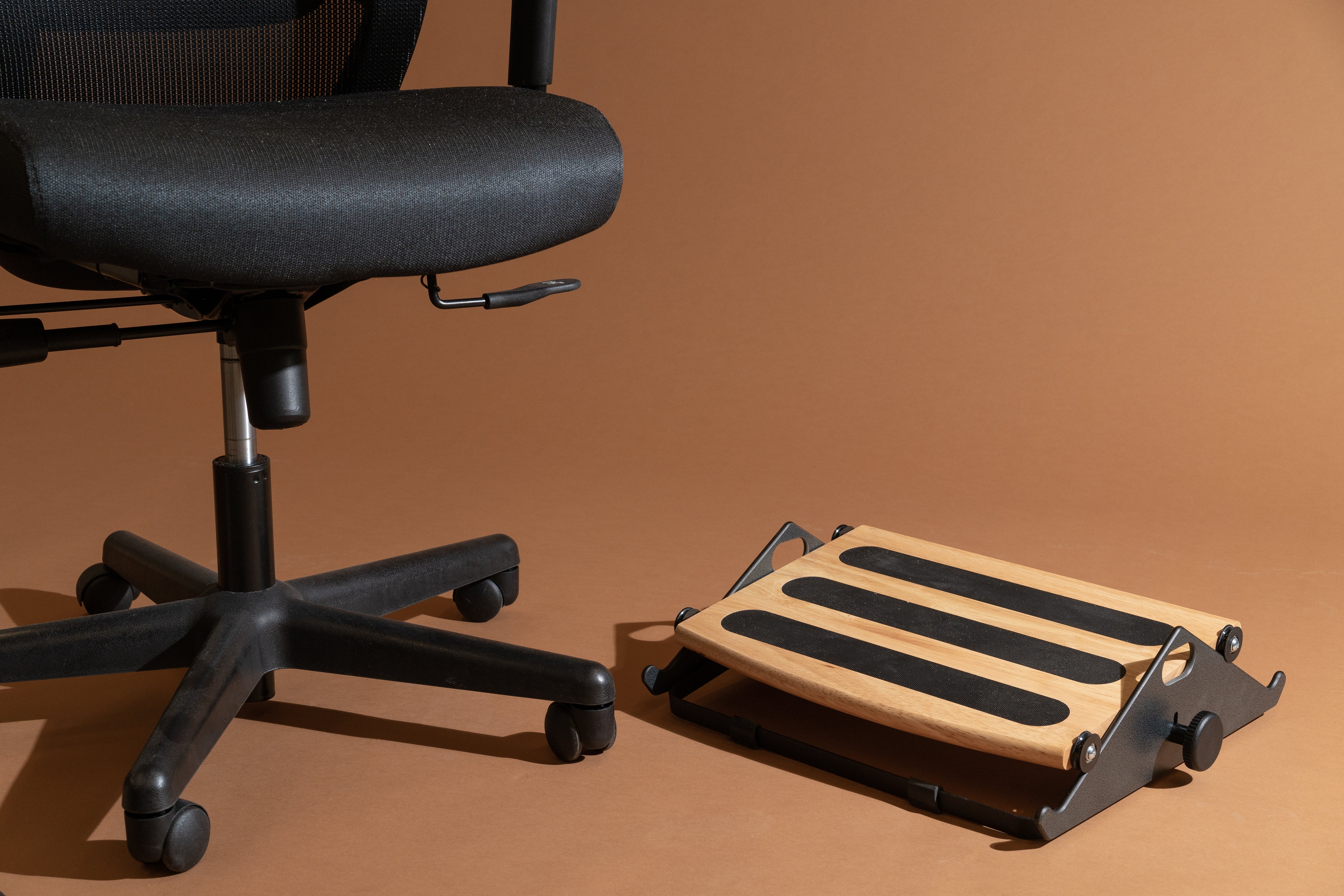 With its hardwood platform and steel frame, this solid footrest looks good under a desk and can withstand constant use. It rocks smoothly and can be adjusted in height up to 3 inches.
If you want a footrest that looks more sophisticated and that you can adjust perfectly for your height, the Humanscale FR300 Foot Rocker is your rock-solid option. The wooden platform sits atop a metal stand and glides smoothly back and forth. The FR300 is the sturdiest and most durable footrest we found (aside from its sibling, the Humanscale FR500, which isn't height-adjustable). Most foam and plastic footrests offer only a short, one-year warranty, but the FR300—like the ErgoFoam footrest—offers a lifetime warranty.
The Humanscale FR300 feels notably solid. It's made of metal and wood, compared with most other footrests' foam or plastic construction. Our panelists found the footrest to have a nice, soothing rocking action, which prevents your legs and feet from being stuck in one position all day. The footrest stays in place with rubber feet, so it won't damage hardwood floors.
Unlike many of the other footrests we looked at, the FR300 is height-adjustable, so using the knobs on the side, you can make it up to 3 inches higher—from 3¾ inches to 6¾ inches. (It took us a little while to figure that out, because the footrest doesn't come with instructions.) That versatility put this footrest ahead of competing ones that aren't height-adjustable—the FR300 is just more versatile to use, at different table heights or if you're sharing a desk with other people.
If you're working without shoes, the FR300 won't be as comfortable as a foam footrest, because of its hard surface with tough textured grips on top. Although you can't lock it into one angle, the footrest is plenty stable if you do want to keep your feet still. However, it's mostly ideal for encouraging constant rocking as you sit at your desk.
The competition

The HOKEKI Foot Rest is similar to the ErgoFoam footrest, with a comparable, soft cover. We found the cushion to be firmer than we preferred, and we recommend the ErgoFoam instead, with its adjustable base for added height.

The Kensington Comfort Memory Foam Adjustable Footrest combines a plastic base with a thin memory-foam top. It's one of the few footrests we found that's height-adjustable, from 3½ to 5 inches, and you can lock the angle in place or use it as a rocker. This footrest is more comfortable than the other plastic footrests we tried, but not as comfortable as the foam footrests, and it was difficult to adjust the height via the screws. It is also a little noisy and stiff when you rock it. A few of our panelists remarked that it felt cheap, and several owner reviews complain that the footrest broke after a few months. Still, if you're in the market for a height-adjustable footrest that you can lock into place, this might be your best option.

The Mind Reader Adjustable Height Ergonomic Foot Rest has large plastic bumps that are designed to massage your feet, but none of our panelists found it comfortable. This model also slides around too much on hard floors.

The Fellowes Standard Foot Rest has a plastic textured surface that is similar to that of the Mind Reader footrest. It's the worst footrest we tried, because it's noisy, feels plasticky and cheap, and slides all over the place. One panelist said his company provided him with this exact footrest model, and he returned the free gift immediately, after trying it for five minutes.

Like the Humanscale FR300, the Humanscale FR500 boasts an attractive solid-wood and metal design, as well as a lifetime warranty. It has smooth rocking action in a one-piece design, and the little grips on the surface keep your feet from sliding off. It's a sturdy foot rocker, but we recommend the FR300 because it is height-adjustable.