By Tyler Wells Lynch, Michael Sullivan, and Christine Cyr Clisset
Wirecutter Staff
After nearly 60 hours of research and testing that spans back to 2013 and interviews with pro bakers, cookbook authors, a culinary instructor, and a registered dietitian, we're confident that the Escali Primo Digital Scale is the best kitchen scale for most people. It's among the fastest and most accurate scales we tested, and it remains powered on for longer than most others before automatically shutting off.
Our pick

This scale is best for home cooks who want fast, consistent results when baking or cooking.

One of the most accurate scales we've tested, the Escali Primo reads quickly in increments of 1 gram or 0.05 ounces, has a capacity of up to 11 pounds (or 5 kilograms), and will remain on for about four minutes before automatically turning off. The interface is extremely simple with just two buttons—one to switch units of measurements, one to tare and power on or off. The Escali has been our favorite scale since 2017, and we're happy with how it has held up over time.
Budget pick

For nearly half the cost of our top pick, the Ozeri Pronto delivers the same level of accuracy but has a much shorter auto-off time.

The Ozeri Pronto Kitchen and Food Scale looks and feels like our top pick with a few minor differences. Like our top pick, it weighs in 1-gram or 0.05-ounce increments, and in our tests we found it was just as accurate—slightly more so at heavier weights. However it automatically shuts off after about two minutes, about half as long as the Escali. We also found it was ever so slightly slower, often requiring two seconds to read really small weights.
Upgrade pick

For a bit more money, this scale offers some advanced features, a backlit display, a removable platform, and the option to turn the auto-off function off.

The My Weigh KD8000 is much larger and costs a bit more than our top pick, but it offers a few extras that serious bakers will appreciate. It's about as fast and accurate as our top pick, but it has a huge capacity of up to 17 pounds, 6 ounces (8 kg) and can weigh in baker's percentages, a feature that allows you to easily scale recipes up or down if you want to bake by ratio. It's one of the few scales we've come across that allows you to disable the auto-off function.
Also great

If you need something that reads in 0.1-gram increments, the LB-3000 was the most accurate pocket scale we tested.

For people who need to precisely measure coffee or other ingredients, we recommend the American Weigh Scales LB-3000 Compact Digital Scale. It was the most accurate 0.1-gram scale we tested this year. However, it's got a relatively low capacity of 6.6 pounds (3 kg), so you won't be able to use it to weigh a large cut of meat. Its two minute auto-off feature is plenty long enough to account for pouring pauses found in most popular pour-over coffee recipes. Alternatively, it includes an AC adapter that disables auto-off when plugged in.
Why you should trust us

Christine Cyr Clisset, who wrote our original guide, spent dozens of hours researching and testing kitchen scales. Michael Sullivan has used a variety of kitchen scales over the years in a catering kitchen as well as for cookbook recipe testing. For our 2018 update, Tyler Wells Lynch rounded up all the scales we've missed over the years, testing nine new ones in addition to our four previous picks.

To find out what makes a great kitchen scale, we talked to several experts, including Michael Ruhlman, author of Ratio: The Simple Codes Behind the Craft of Everyday Cooking; Peter Reinhart, author of The Bread Baker's Apprentice and Bread Revolution: World-Class Baking with Sprouted and Whole Grains, Heirloom Flours, and Fresh Techniques; and pastry chef Jürgen David, associate director of pastry at the International Culinary Center (ICC) in New York City.

During our research, we consulted a bunch of other professional reviews to identify some of the most popular scales available, including those from Serious Eats, Reviewed.com, and Cook's Illustrated (subscription required). We also read some editorials, owner reviews, and an article in The New York Times (parent company of Wirecutter), and we watched a video by Alton Brown preaching the gospel of cooking by ratio.
Why measure by weight?

Kitchen scales are all about consistency. According to Alton Brown, 1 cup of flour can equal anywhere from 4 to 6 ounces, depending on how you measure it, how old the flour is, the size of the bag, and the relative humidity. That's the difference between a light-as-air cake and one that's tough or rubbery. As pastry chef Jürgen David told us, "Using a scale is much more precise… If you measure 100 grams of flour using a scale, it's going to be the same for everyone." He encourages home cooks to "Get a scale and ditch the cups."

It's not just flour and sugar that can vary depending on what you're measuring with. The same goes for cooking ingredients. Take cheese as an example: A recipe may call for a cup of shredded cheddar, but you'll get different volumes grating with a box grater, a microplane, or a food processor. The same holds true for nuts, vegetables, or any number of ingredients that you'll cut up. Your chop or dice may differ from that of the recipe tester.

Finally, for precision coffee brewing, as when making a pour-over, a scale can help you get an accurate combination of beans and water every time. Weighing ensures consistency.

Beyond accuracy, pros use food scales because they make things quicker and easier. Author Michael Ruhlman told us he likes cooking by ratio because it streamlines the mixing process. If you know the ratios in your recipe, you can whip up a batch of pasta dough (three parts flour, two parts egg) or biscuits (three parts flour, two parts liquid, one part fat) in a few minutes, or tailor the recipe to the number of guests you're serving. And since you can measure all your ingredients into one mixing bowl—subtracting cups and spoons from the equation—using a scale also cuts down on dirty dishes.
Who should get a kitchen scale

Anyone who wants more consistent results from their baking, cooking, or coffee brewing should consider getting a scale. Cheap digital scales can be very accurate, so if you're currently using a $15 or $20 model that easily switches from grams to ounces, you probably don't need to upgrade. Cookbook author Peter Reinhart told us that for years he has happily used a cheap food scale that offers only an on/off button and a tare feature. But if your scale is damaged or isn't reading properly, it's probably time for an upgrade. Scales ranging from $35 to $50 will give you more features, such as a backlit screen, a pull-out display, or the ability to weigh in baker's percentages.

For weighing very small amounts very precisely—such as espresso, spices, or leaveners—you'll want to invest in a more sensitive digital pocket scale. (According to Michael Ruhlman, culinary students often call these models "drug dealer scales," but they're also used by jewelry makers.) Whereas the average kitchen scale rounds to the whole gram, pocket scales typically weigh in increments of 0.1 grams, with a few super sensitive models capable of reading in milligrams. The milligram scales, however, only read in milligrams and have much, much lower capacities, so we don't recommend any in this guide.
How we picked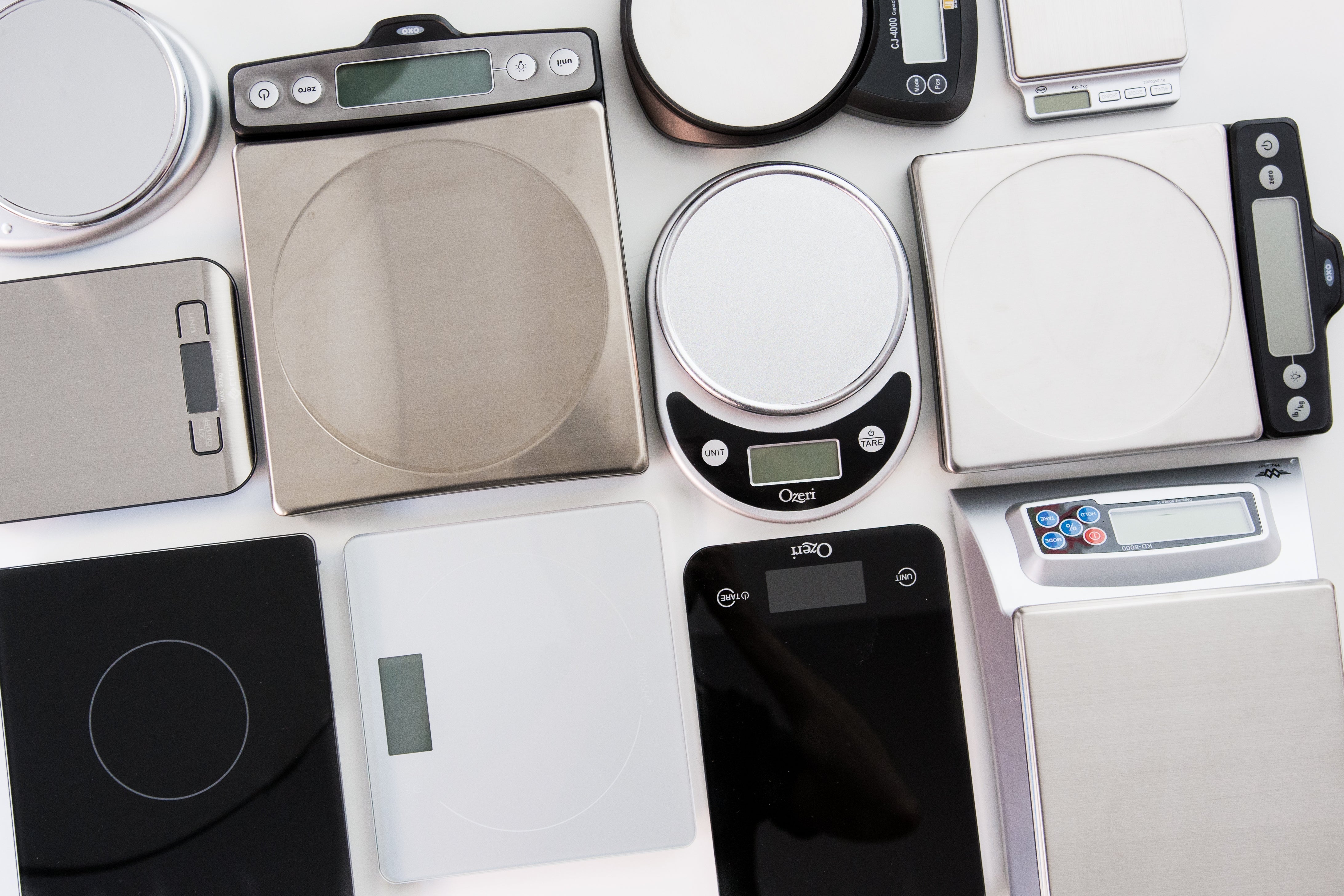 We've tested many scales since 2013, and in that time we've settled on a list of essential features to look for, extras that are nice to have, and qualities to avoid. Here's what we expect from a good scale:
Essential features

• Accurate measurements: The best scales weigh things accurately and consistently—whether 10 grams or 10 pounds.

• Reads in ounces and grams: The scale should be able to measure in both metric and imperial units. We prefer those that read ounces in decimals rather than fractions, as it's more precise and intuitive. (Some scales come with both functions, but pro chefs recommend just decimals.) We also like scales that offer a choice between straight ounces and, for heavier measurements, pounds plus ounces, to save you from doing the conversion math.

• Tare button: Taring allows you to subtract the weight of a mixing bowl and report only the net weight of the ingredients. You should be able to tare repeatedly so that you can zero out the weight of whatever's in the bowl and measure additional ingredients. Ideally, you can hit the tare button twice without accidentally turning the power off.

• Long auto-off duration: Most kitchen scales automatically shut off after a period of inactivity to preserve battery. Usually the wait is about two minutes, but some last as long as five minutes. The auto-off feature can be irritating, as baking requires a lot of multi-tasking and the last thing you need is to have a sugar measurement vanish on you while you're busy kneading dough. So the longer the duration before the scale shuts off, the better. It's nice if the scale has the option to turn off the auto-off function entirely, but that's pretty rare.

• Speedy measurements: Most scales display measurements within a second, but some take a bit longer. "It should read quickly," pastry chef Jürgen David said. "If the reading fluctuates a lot, then that's very annoying." The best scales quickly show the gradual increase in weight when you're measuring, which allows you to anticipate when to stop adding an ingredient to the bowl.

• Laminated buttons: The controls should have a plastic membrane covering them to prevent gunk, crumbs, or grains of sugar from collecting in the cracks. It makes everything much easier to clean.
Nice to have but not essential

• Measures in 0.1-gram increments: Most digital food scales weigh in whole grams (or eighths of an ounce), and that level of accuracy is fine for most recipes. However, a pocket scale that can read in 0.1-gram increments can be useful for measuring coffee (especially for pour-over or espresso) or leavener for baking. That extra precision comes at a cost to size and capacity, however, and most people don't need it, since measuring spoons are accurate enough for baking.

• Can read less than 1 gram: If a scale can read in 0.1-gram increments, you might assume it can also read super-small measurements of less than a gram. But through tests, we've found this level of resolution is rare among pocket scales. For reference, one gram is less than a quarter teaspoon of salt, so the times when you'd need to measure out that little of an ingredient are few and far between. If you do need something that precise, get a milligram scale.

• Rubber feet: A convenient but surprisingly uncommon feature, little rubber feet help prevent the scale from sliding around on counters.

• Maximum capacity of at least 11 pounds (6 pounds for pocket scales): Most whole gram kitchen scales can handle up to 11 pounds or 5 kilograms. Pocket scales typically manage around 6.6 pounds or 3 kilograms. "If you're baking at home," says Michael Ruhlman, "you're probably using something like a KitchenAid mixer, and you'll rarely mix more than a couple pounds of flour at a time." But it's nice to have the range in case you want to weigh a pork shoulder or a large batch of bread.

• Large, removable platform: It's nice if the scale has a large platform that easily holds a large mixing bowl or sheet pan. We've seen some models with removable platforms, which are convenient for cleaning, but they're pretty rare.

• AC adapter: A scale's batteries should last a long time with average use, but when you're making large batches of food or cooking all day, an AC adapter can be another nice feature. "Recipe testers I work with love to have plugs, because they use scales all day," said Michael Ruhlman. "Changing batteries is a pain." Jürgen David added, "An adapter is a nice thing to have, but it's not a dealbreaker if a scale doesn't have one."
Things to avoid

• Glass platform: "I don't like the scales that have a weird glass top," says pastry chef Jürgen David. "They're difficult to clean and they're more fragile." Many glass scales also lack a raised platform, making them harder to read when used with a large bowl.

• "Smart" functionality: Most "smart" scales can connect via Bluetooth to an app on your phone or tablet. Since these types of scales tend to be expensive and overwrought, with inferior apps and features that fall outside the realm of what most people need, we opted not to test them.
How we tested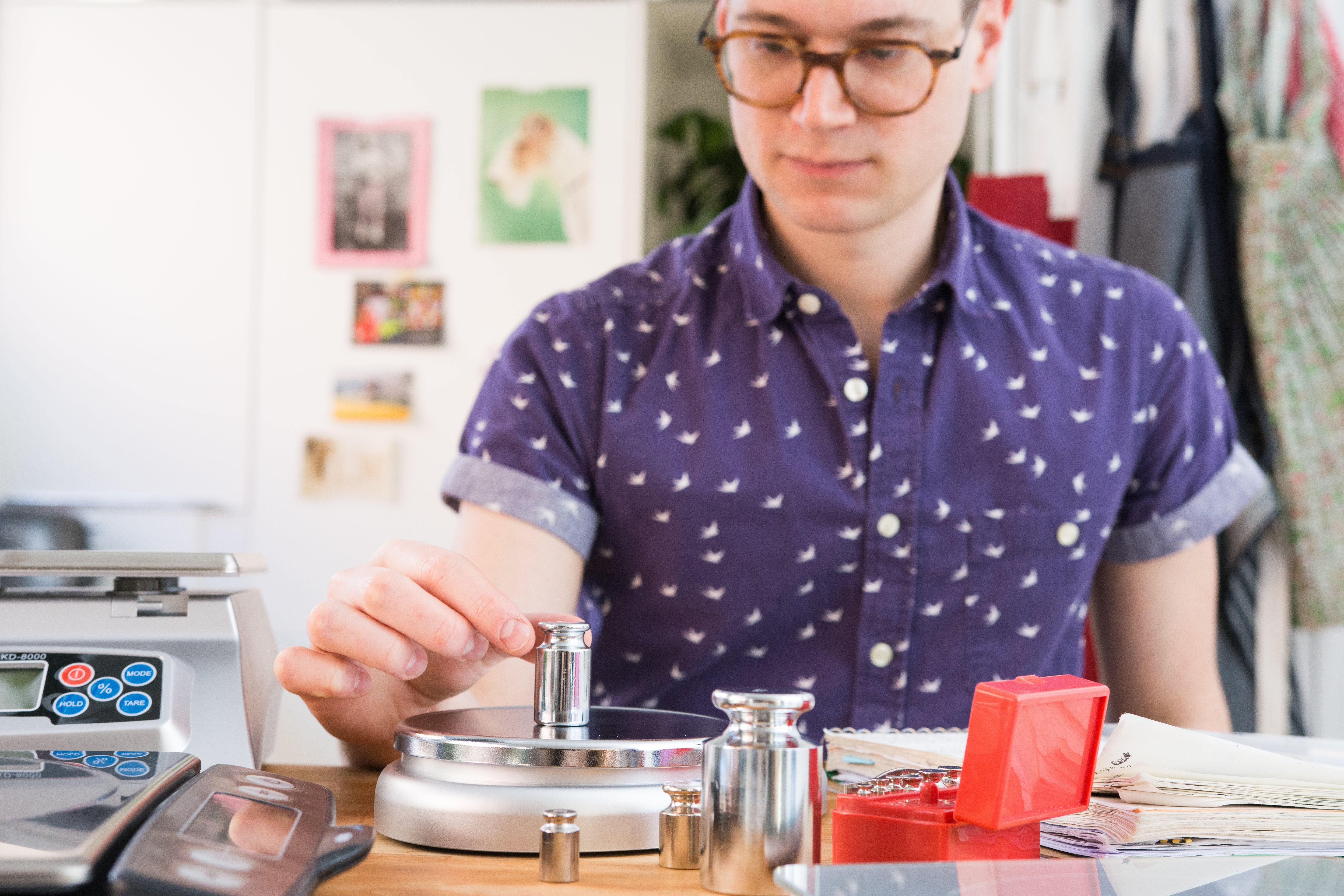 To test each scale for accuracy and speed, we bought a set of lab weights and weighed each to see how accurately every scale measured the following: 1,000 grams (1 kg), 100 grams, 50 grams, 20 grams, 10 grams, 5 grams, 2 grams, and 1 gram. For the pocket scales that read in 0.1-gram increments, we also tested accuracy for the following: 50.5 grams, 50.1 grams, 30.5 grams, 20.5 grams, 20.1 grams, and 10.5 grams. Then we did some milligram tests with the pocket scales for good measure (ha!): 500 mg, 200 mg, 100 mg, 50 mg, and 10 mg.
To test speed, we timed how quickly the scale responded to adding or removing weights. Then we timed how long each scale remained on with a weight on the platform before the auto-off function kicked in. We also baked a batch of pumpkin muffies with each scale, making note of any unusual quirks or handling details, like whether or not the scale turns off if you accidentally hit the tare/power button twice.
Our pick: Escali Primo Digital Scale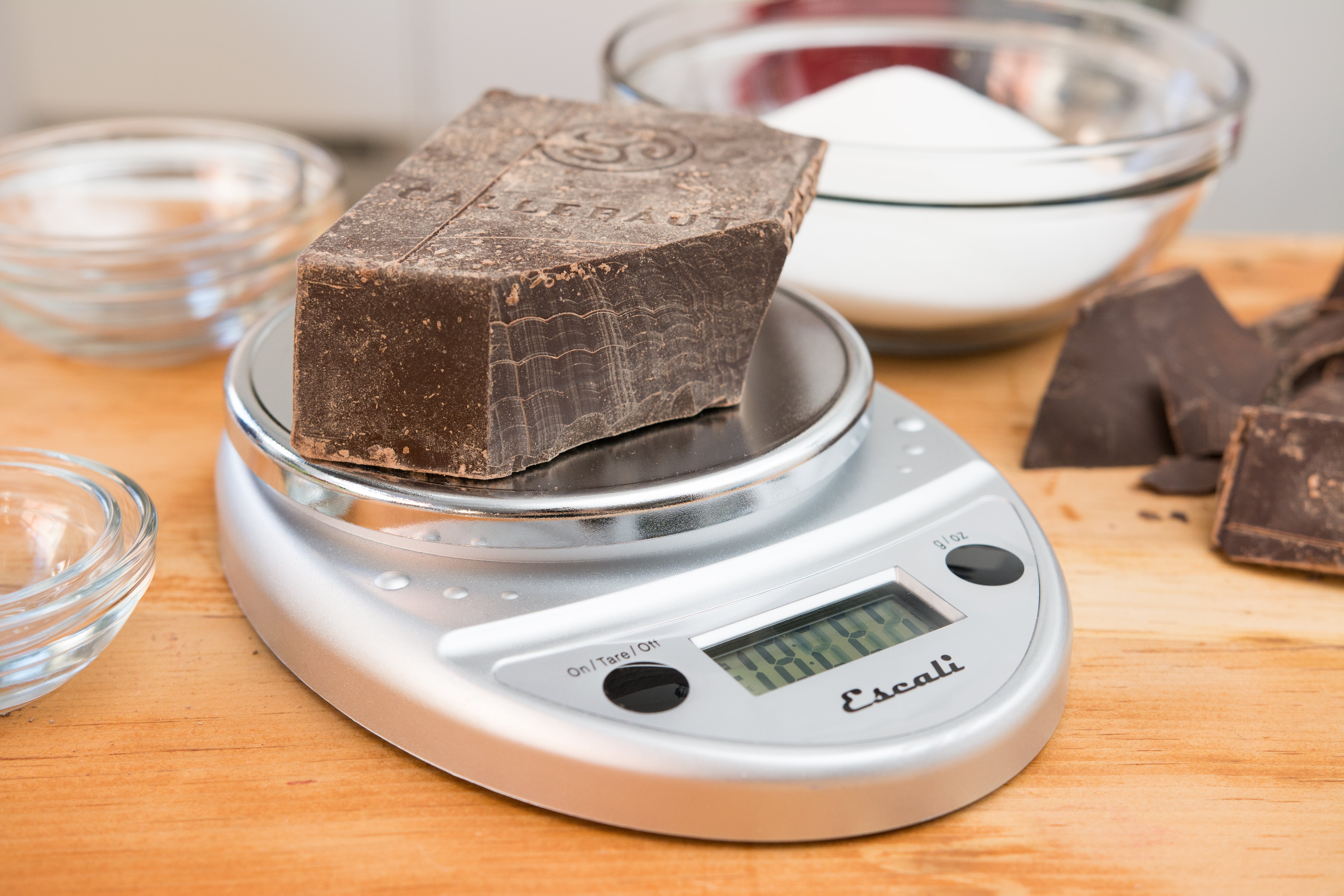 This scale is best for home cooks who want fast, consistent results when baking or cooking.
The affordable Escali Primo Digital Scale is the best scale for most home baking and cooking needs. In our tests it was one of the quickest and most accurate scales we tried, with one of the longest auto-off times we've seen. The Escali scale has a simple design with an easy-to-use, two-button membraned interface and four rubber feet to hold it in place. The weigh platform is conveniently elevated, so you can still read the digital screen when using large bowls. It's a compact, lightweight scale that won't take up much space in a drawer or cupboard.
When we used lab weights on the Escali scale in our 2018 test, it read accurately to the gram in all but one of our measurements—the 1,000 gram weight, which was 2 grams off. (For context, only five of the 13 scales we tested in 2018 accurately measured the kilogram weight.) Additionally, the Escali scale was one of the most responsive models we tested: Whether we were adding or removing items, it always read weights in less than a second, making it one of the standout scales in terms of speed. Some of the other scales took two or three seconds to settle on a measurement, and a few even changed their readings over time.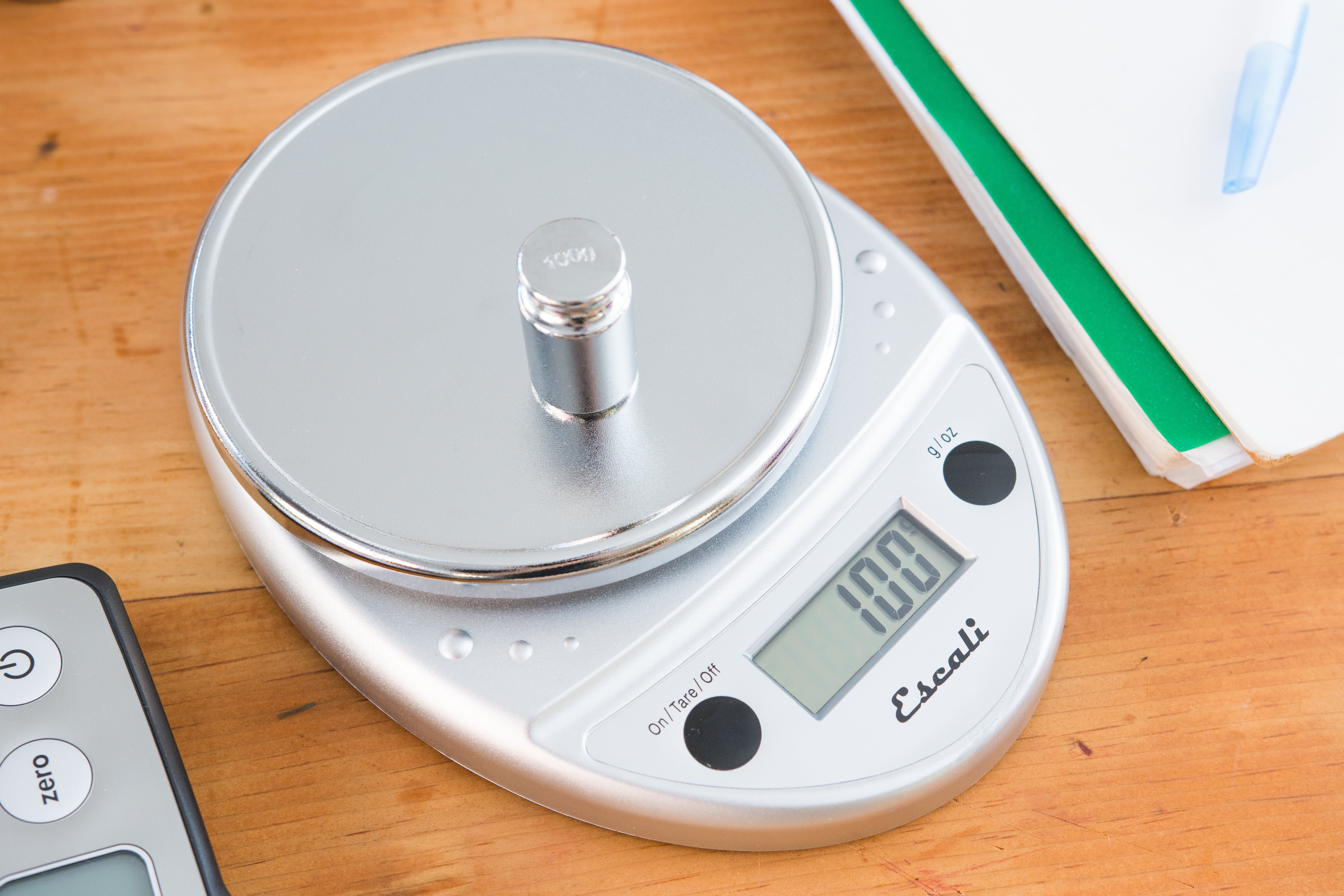 We timed the Escali's auto-off function kicking in at 4 minutes and 13 seconds—the third longest duration of any scale we tested this year. Most of the scales we tested shut off after about two minutes, so that extra bit of time will be helpful for recipes that require a lot of multitasking. Only the Hario V60 and American Weigh AMW-SC-2KG pocket scales had longer lasting auto-off times, but both were inaccurate or faulty in other ways.
The Escali has a simple design and an intuitive interface with two buttons: one to turn the unit on or off and to tare, and another to switch the unit of measure between grams, ounces, and pounds plus ounces. It has the ideal capacity for home and pro use: It's capable of accurately weighing ingredients between 1 gram and 5 kilograms (or about 11 pounds). This model doesn't beep when operating, unlike our top pick in previous years, the Jennings CJ4000, which beeps every time you press a button. The Escali is available in nine different colors, too. It requires two AA batteries, which are included.
With a fairly small footprint of 8.5 by 6 inches, it's easy to store on a counter or to slip into a cupboard or drawer. It's also lightweight, which is great for pro cooks and bakers who want to include a scale in their toolkits. The four rubber feet on the bottom helped keep the scale from sliding around. And with fewer grooves than some of the other models we tested, the Escali scale was one of the easiest to wipe clean.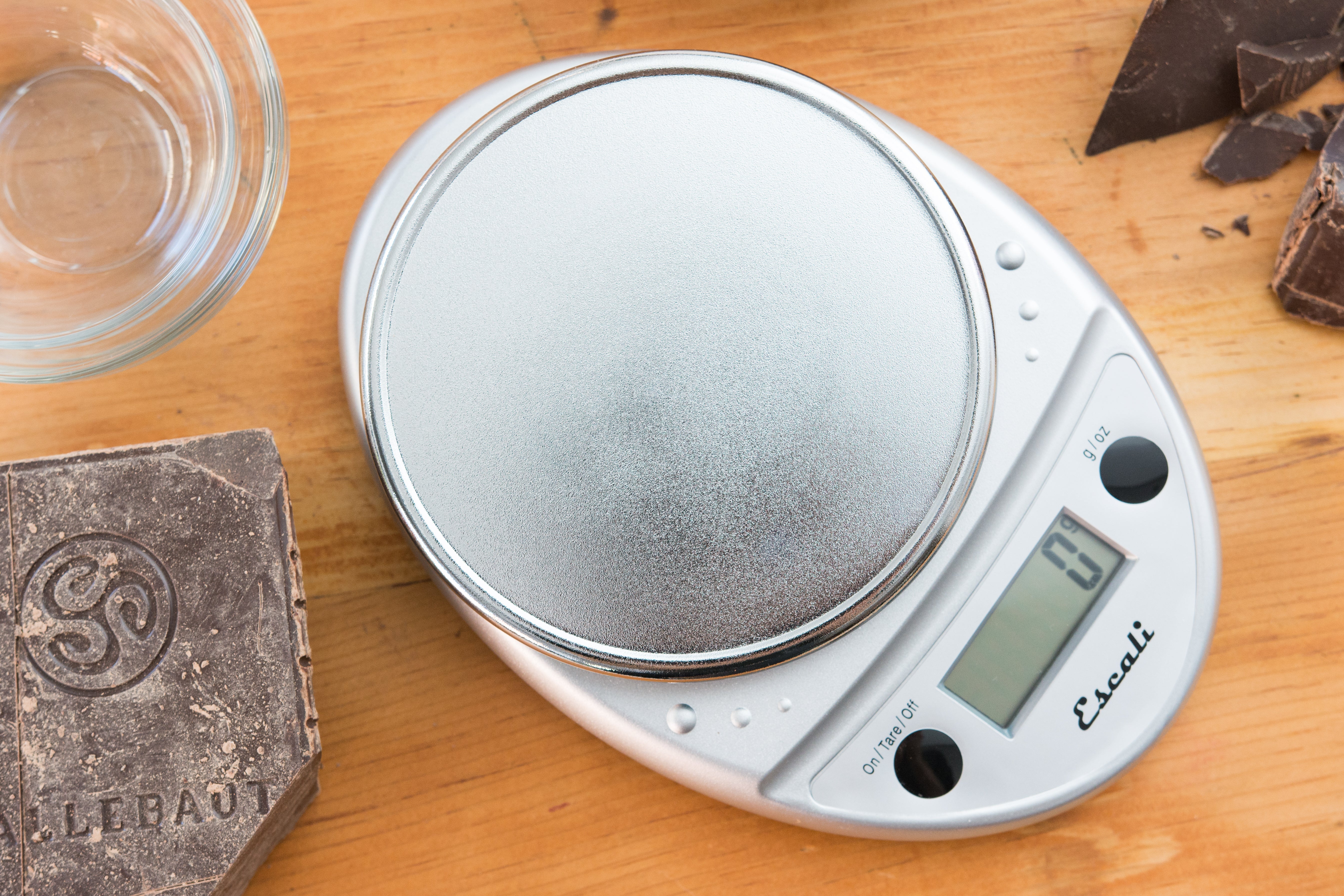 One member of our staff that has owned the Escali scale since 2014 told us it has a long battery life. (This wasn't the case with our former top pick, the Jennings CJ4000, which required frequent battery replacements.) According to pastry chef Jürgen David, the Escali scale has been the model issued in the toolkits for the pastry students at New York's International Culinary Center for the past three years or so. The Escali Primo comes with a limited lifetime warranty.
Flaws but not dealbreakers

Unlike our upgrade pick, the My Weigh KD8000, the Escali Primo Digital Scale doesn't have a backlit screen. Despite that limitation, our testers didn't have much difficulty reading the screen. Also, although you can't disable the auto-off function on the Escali, our testers found that the preset four-minute auto-off feature provided enough time to weigh ingredients.
Budget pick: Ozeri Pronto Digital Kitchen Scale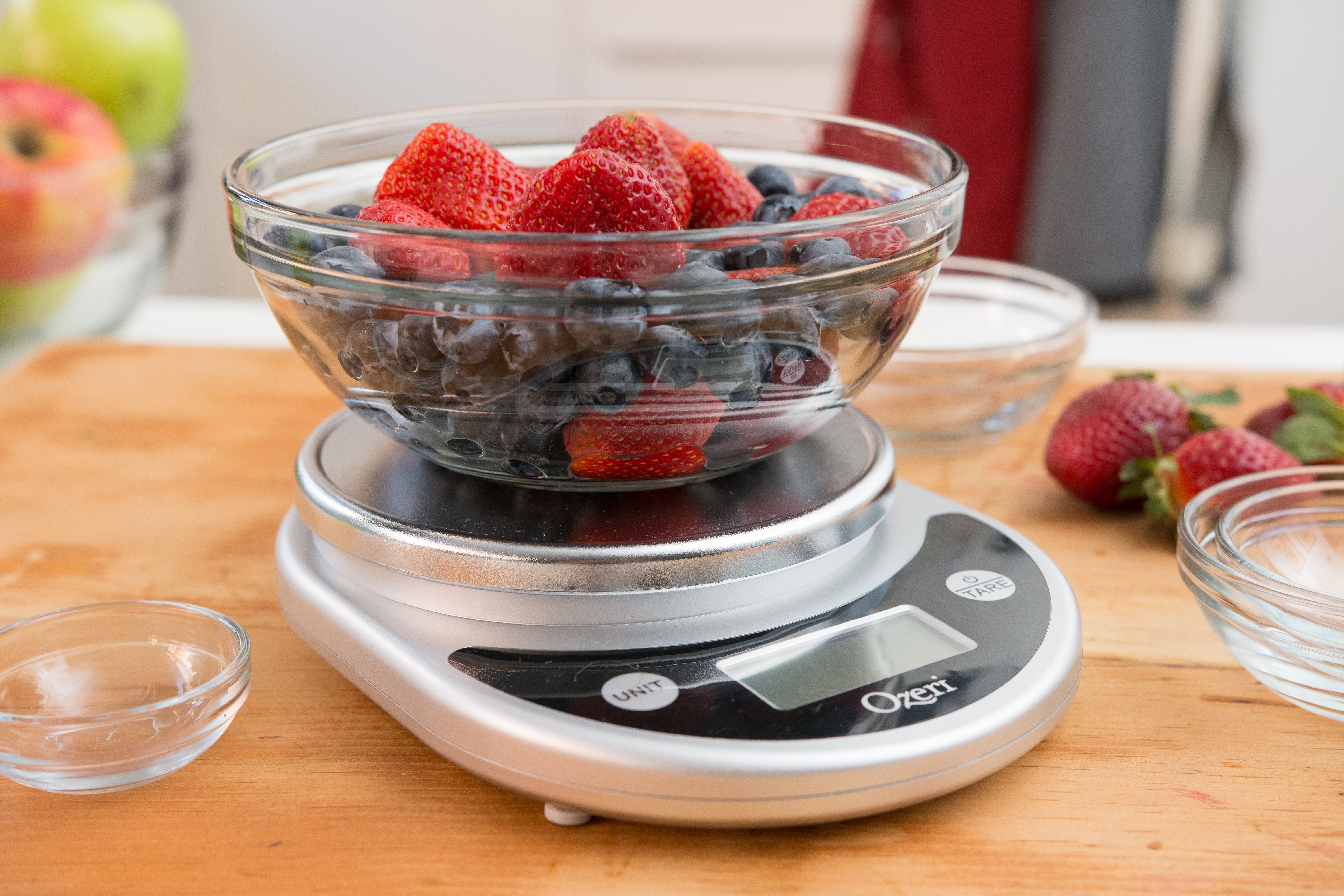 For nearly half the cost of our top pick, the Ozeri Pronto delivers the same level of accuracy but has a much shorter auto-off time.
We think the Ozeri Pronto Digital Multifunction Kitchen and Food Scale is a great choice if you want something that's cheap but accurate. It's a bit smaller than the Escali scale, so it takes up slightly less space. Although it's similar in appearance to our top pick, the Ozeri has a far shorter auto-off duration and is ever so slightly slower at reading weights. It also comes with a shorter warranty.
The Ozeri's accuracy surprised our testers, considering its cheap price tag. In our tests, it correctly measured lab weights to the gram on all of our tests of 100 grams or less. Like our top pick, the Ozeri was just slightly off with the kilogram weight, reading one gram under the target 1,000 grams. However this reading was inconsistent: sometimes it read 1,000 grams and sometimes it read 999.
We did notice a slight delay when measuring items as small as 1 or 2 grams, which wasn't the case with our top pick. We timed the auto-off function at 2 minutes and 17 seconds, which is pretty average to slightly longer (by a few seconds) than the other scales we tested.
In its interface and overall look, the Ozeri scale is very similar to our top pick. Like the Escali, it has two buttons: one to turn the unit off or on and to tare ingredients, and the other to switch the unit of measure. We did notice that hitting the tare/power button twice, which bakers might sometimes do when in a hurry, will shut the scale off, which can be frustrating. In comparison, you have to hold down the power/tare button of the Escali to turn it off, making it much harder to do by accident. The Ozeri also has the same maximum weighing capacity as our top pick, about 11 pounds.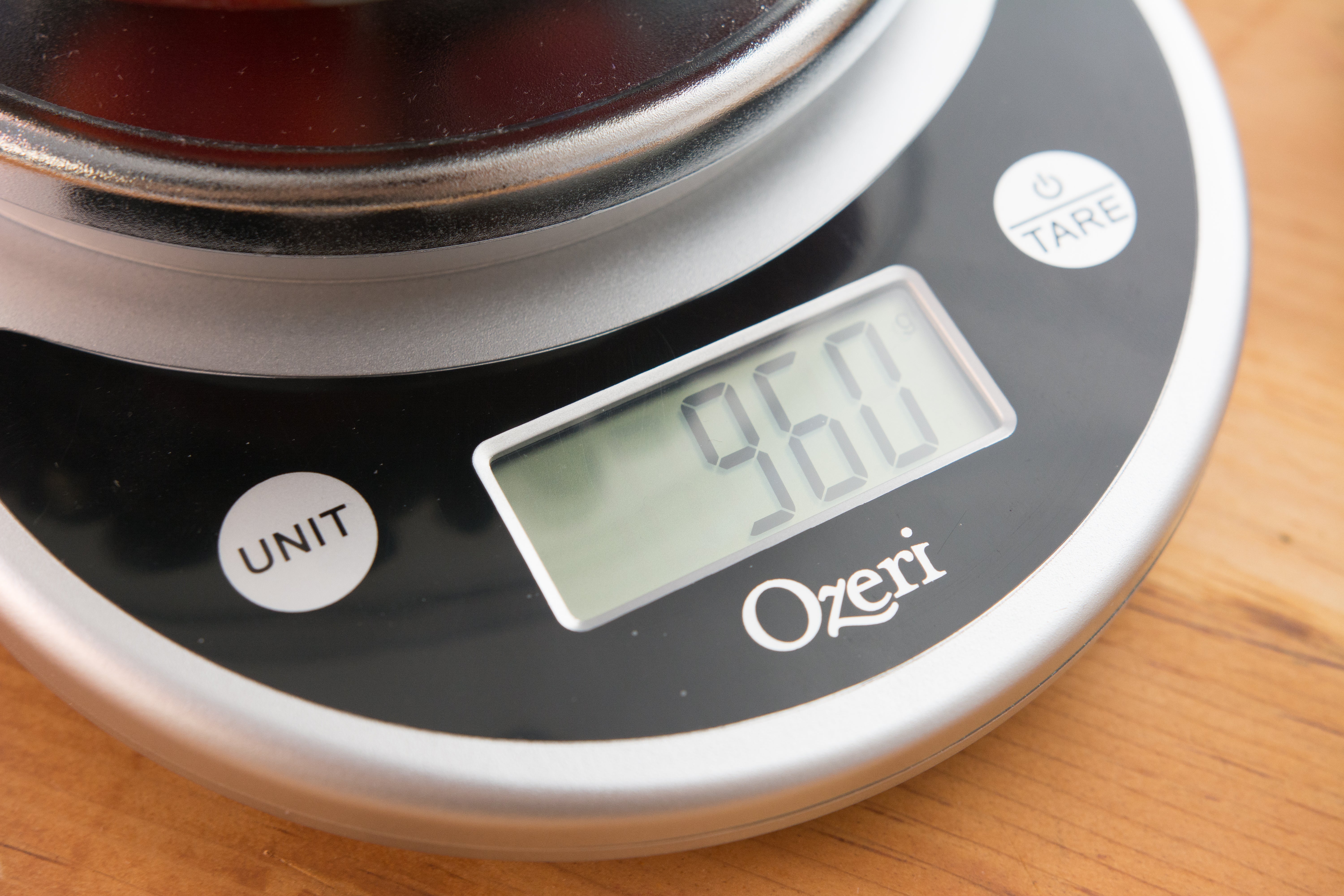 As on our top pick, the Ozeri's digital screen isn't backlit, but its elevated weighing platform still allows you to read the scale, even when you're using a large bowl. It takes two AAA batteries and includes four in the packaging.
Members of our staff have owned the Ozeri scale for years, including Wirecutter senior staff writer Lesley Stockton, who said, "I'm very tough on this scale. I shove it around my kitchen and sometimes do the dreaded no-no of storing things on the weigh platform. It's still going strong after five years, though. I've replaced the batteries once or twice in that time. My only pet peeve is the automatic shutoff seems short, but I guess that's why it doesn't eat up batteries."
The Ozeri scale is covered by a one-year warranty, in contrast to the Escali model's limited lifetime warranty, but since it's so cheap, we don't think that is a dealbreaker.
Upgrade pick: My Weigh KD8000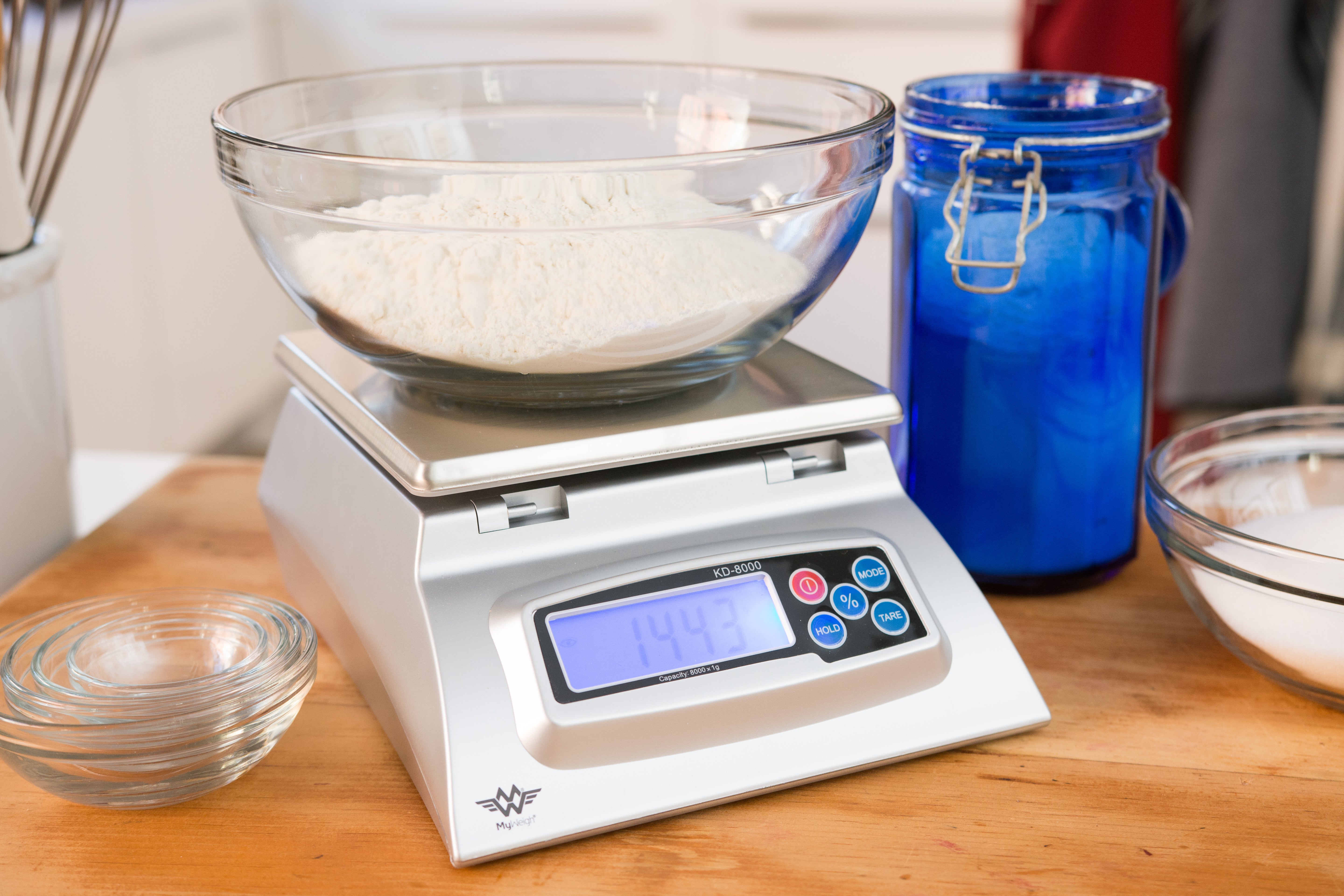 For a bit more money, this scale offers some advanced features, a backlit display, a removable platform, and the option to turn the auto-off function off.
We recommend the My Weigh KD8000 for people who make a lot of bread or want to prepare large batches of food at once. It's pretty big—about the size of a pop-up toaster—but of all the scales we've tested, it has the highest weighing capacity at 17 pounds, 6 ounces. Unlike the Escali or Ozeri, the KD8000 gives you the flexibility to disable the automatic-off function, and it has a backlit screen for easy reading. In our tests, the My Weigh KD8000 produced some of the most accurate readings we've found, and it responded quickly as we added or removed ingredients. We liked the angled display, which made it much easier to read.
We've been putting the My Weigh KD8000 through long-term testing since 2015, and we still think it's great. Aside from the letting you adjust the backlight and auto-off functions, the scale can also run on a DC 5 V 300 mA AC adapter (not included). Advanced bakers may appreciate its ability to measure in baker's percentages, which makes it easier to tweak a recipe or to scale the quantity up or down.
In our accuracy tests using lab weights, the My Weigh KD8000 was accurate to the gram, though it occasionally had trouble reading a 1-gram weight—as did several other scales we tested. But it's unlikely you'll be needing to measure out so little of an ingredient anyway. On all weights over 1 g, it always gave a correct reading in less than a second. And it's one of the very few scales in our test group that supports calibration (though you need to have a 5 kg lab weight or the equivalent).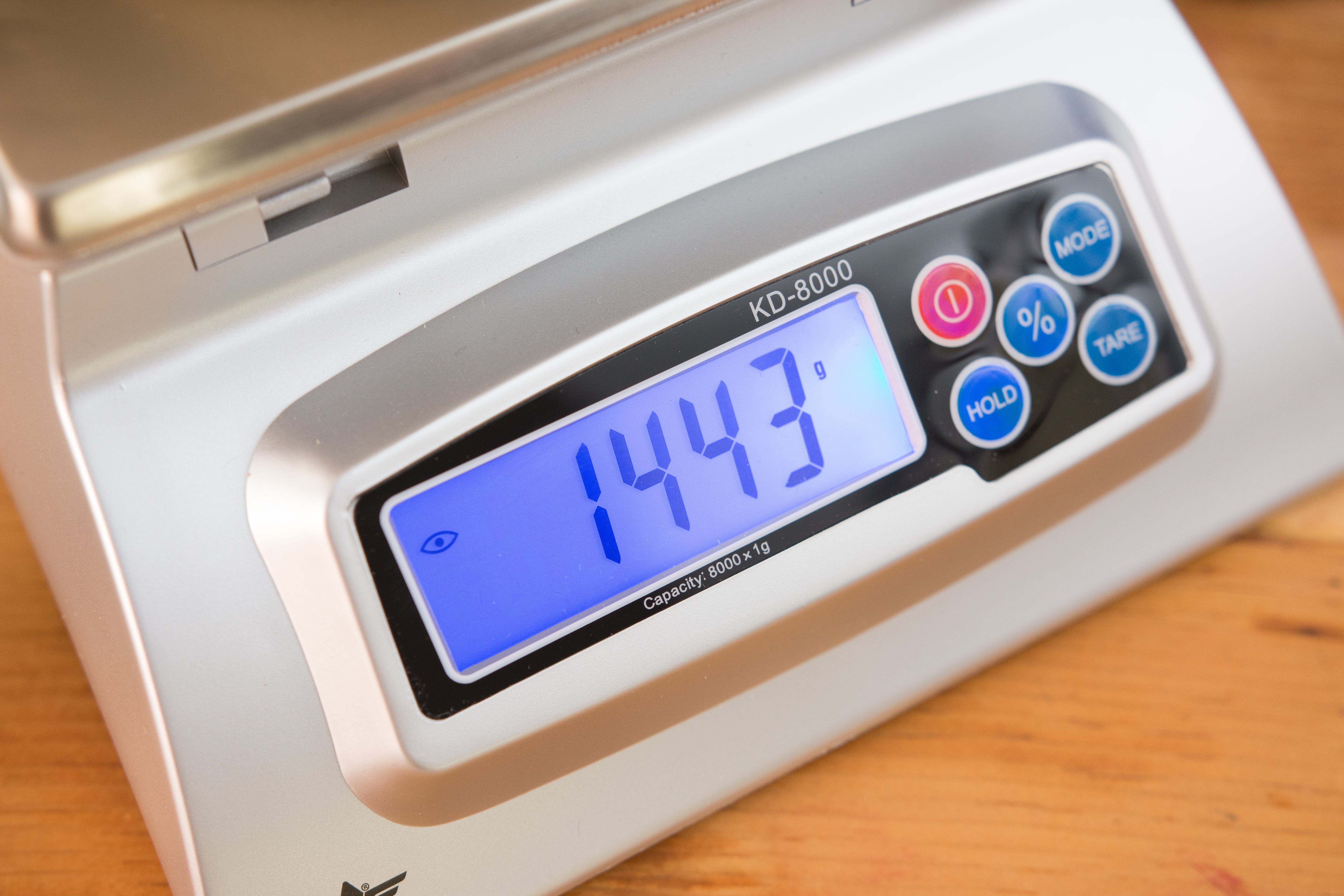 The KD8000 has the option to switch off the auto-off function—a rare feature that you won't find in the Escali Primo or Ozeri Pronto. It's actually a somewhat involved process (link to PDF) and the manual's instructions are a little bit unclear: They direct you to hold down the "HOLD" and power buttons simultaneously without specifying that this will only work when the scale is off. But once you get there, you can choose an auto-off duration of two minutes, five minutes, or indefinitely. The default setting is two minutes, and we timed it shutting off at 2 minutes and 5 seconds.
The My Weigh KD8000 was one of the easiest models to clean; you can easily lift off the stainless steel weigh platform for rinsing, and it comes with a removable plastic cover that protects the interface while it's stored away. Furthermore, the buttons are laminated to provide extra protection from crumbs, oil, and other baking debris.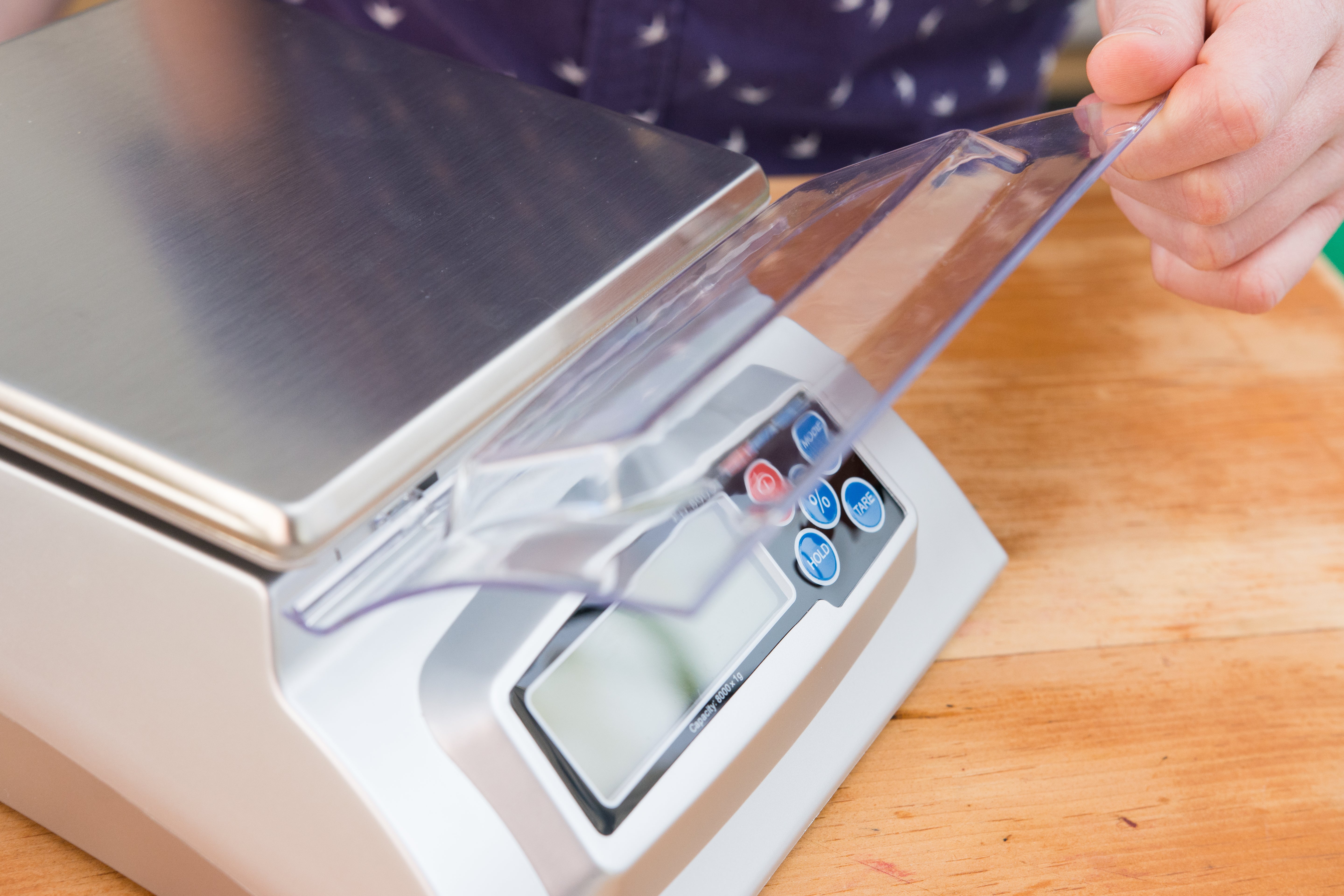 This model's large, backlit screen was by far the easiest to read. Since the weigh platform is elevated above the interface, you'll have no trouble seeing the screen. Some of the slimmer scales in our test group, such as the Greater Goods Nourish Digital Precision Kitchen Scale, were difficult to read when we used large, oversized bowls. We also appreciated the KD8000's four rubber feet, which help keep the machine in place. It requires three AA batteries to operate, and they come included.
The My Weigh KD8000 comes with a limited "lifetime" warranty that's good for 30 years.
Also great: American Weigh Scales LB-3000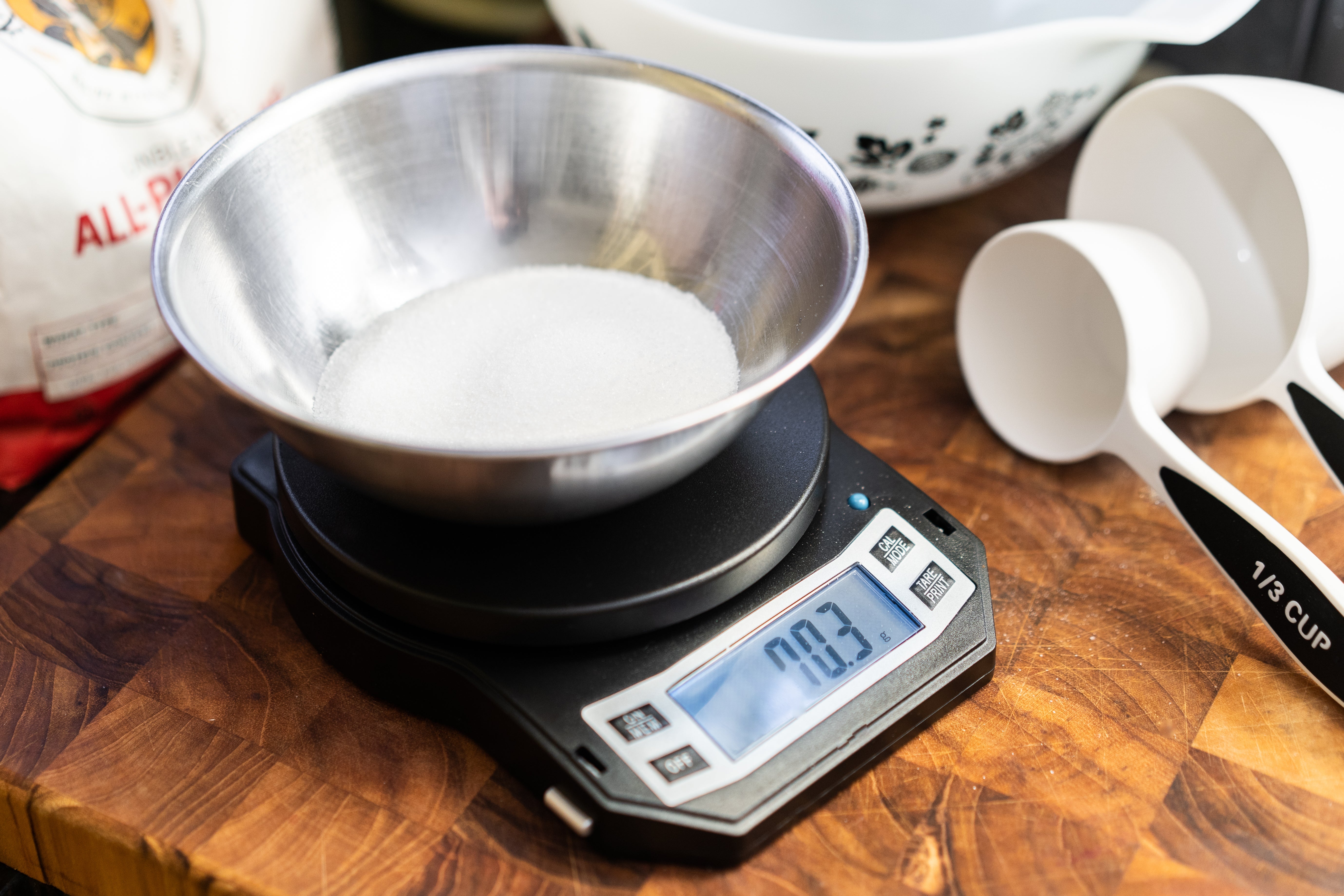 If you need something that reads in 0.1-gram increments, the LB-3000 was the most accurate pocket scale we tested.
If you prefer extreme precision for tasks like brewing coffee, we recommend the American Weigh Scales LB-3000. A pocket scale like this might also be useful for weighing tiny amounts of ingredients like leavener for baking (though in most cases, a set of good measuring spoons will do fine.) Although it wasn't the speediest scale we came across, the LB-3000 was far and away the most accurate of the five pocket scales we tested in 2018. Like most pocket scales, it maxes out at about 6.6 pounds, which is still enough for most tasks. It has a backlit screen for easy reading and four rubber feet to hold the scale in place, and it was the only scale we tested to include a hinged plastic cover to keep the platform clean and protected.
The LB-3000 was the only pocket scale to ace our milligram tests, in which we tested to see how accurately the scale could read the following weights: 50.5 grams, 50.1 grams, 30.5 grams, 20.5 grams, 20.1 grams, and 10.5 grams. This is what you want if you're brewing coffee, for example, where espresso or single-serving pour-over brews often require precise measurements to the decimal. The LB-3000 proved similarly accurate in our whole-gram tests, with a few exceptions: It underweighed the 100 gram and kilogram weights by 0.1 and 0.4 grams, respectively, and it over-weighed the 10 gram weight by 0.1 grams. However, it's worth pointing out that the pocket scales have a natural disadvantage in this test precisely because they can read to the first decimal point. Whole gram scales can't, so even if a whole-gram scale is off by 0.4 grams, you wouldn't know it.
While it was almost always accurate, the LB-3000 sometimes took a couple seconds to get there. Most of the pocket scales we tested took only about a second to reach a measurement. We don't think it's enough to give anyone a headache, but it was ever so slightly slower than our top picks. The auto-off function was typical for the category, shutting off after 2 minutes and 9 seconds, but it comes with an AC adapter that, if plugged in, will keep it on indefinitely.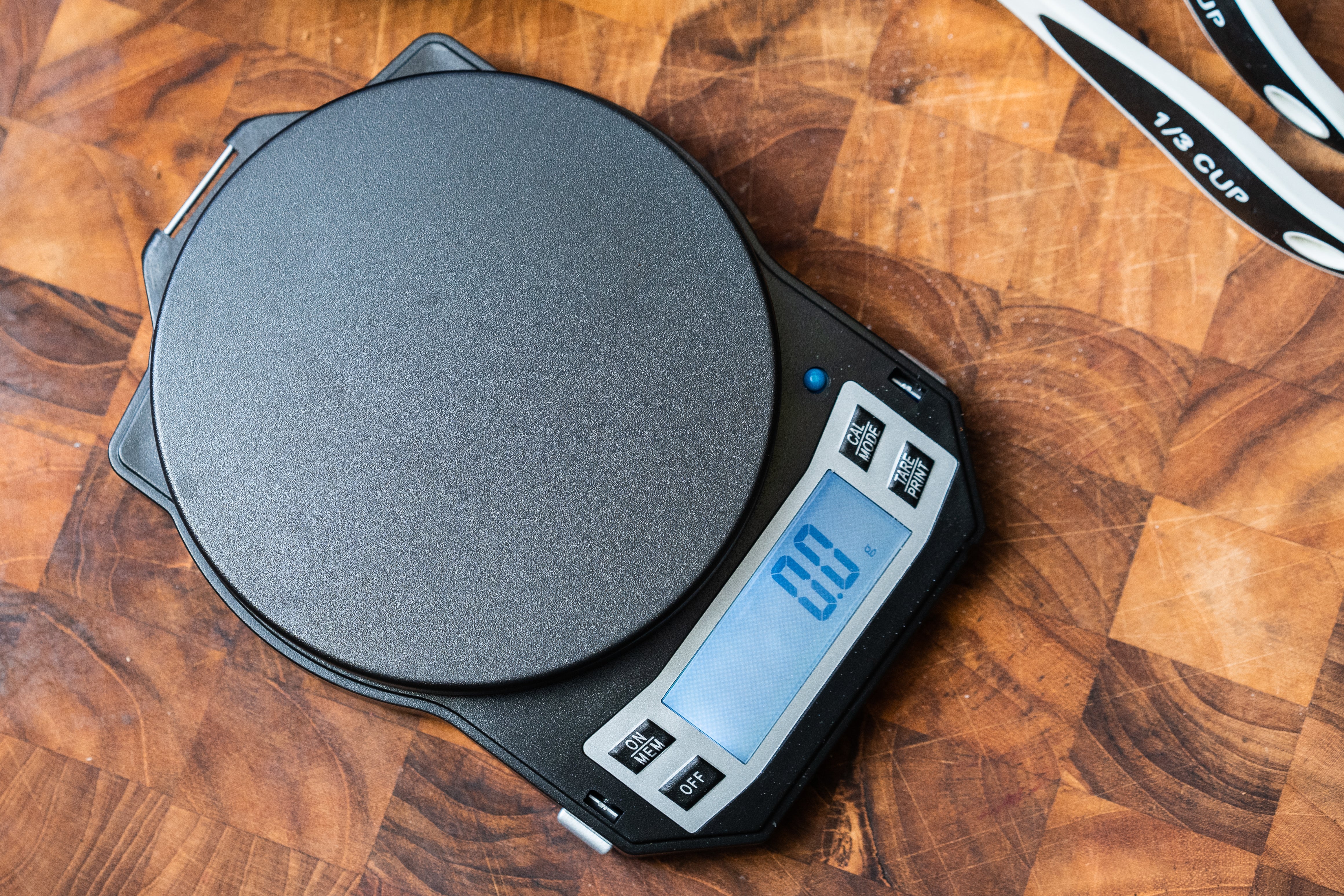 The LB-3000 is super simple to operate and clean. Like our other picks, it measures in grams and ounces. It also measures Troy ounces (ozt) and pennyweights (dwt), though you won't find a use for those in the kitchen. Also like our other picks, it has rubber feet to keep it from sliding. We really liked the hinged cover that keeps the controls and platform clean and protected from weights that might stack up on top of it in the closet or a drawer. Measuring 7.3 by 5.5 inches, it's a bit smaller than our other picks but bigger than most pocket scales, making the screen easier to read when you're using a larger bowl. All the buttons are membraned, adding a bit more protection from your baking scraps. And while this scale is easy to use, not all the controls are clear in their purpose. There are four buttons: On, Off, Cal/Mode (to calibrate the scale or change units of measurement), and Tare/Print. We're not really sure what "print" means (the instruction manual doesn't help), but it's easy to ignore.
The LB-3000 comes with a removable plastic bowl, but we don't think it's that useful. Since it's too shallow for most baking tasks, it may just add clutter to your kitchen. It needs four AA batteries to run but can also be powered by an AC adapter—all come included in the box. We've noticed some of the user reviews aren't quite as solid as our other picks, so we plan to keep testing it for long-term durability. If yours sours on you, American Weigh offers a limited 10-year warranty.
Care and maintenance

Digital scales can break when you load them past their capacity. In other words, don't try weighing a 7-pound bag of malted barley on the American Weigh LB-3000, which can tolerate about 6.6 pounds, or you may permanently damage it. Overloading a scale also voids the warranty. You should also avoid placing items on top of a scale when it's turned off for similar reasons; some models, including the American Weigh scale, come with a plastic cover to prevent damage when the scale is not in use.

You can calibrate some scales, such as the My Weigh KD8000, using lab weights, but since heavy calibration weights tend to be far more expensive than a kitchen scale, that isn't a practical option. Though some scales we tested did not support recalibration, we found that none were off by more than 2 grams, even with heavier weights.

If your scale seems to be displaying inaccurate readings, check to see if the batteries need replacing. Better scales have a low-battery symbol that appears at the appropriate time. Also, always confirm that your scale is sitting on a flat surface; it might weigh inaccurately if not.
The competition

We tested the OXO Precision Coffee Scale With Timer for our guide to the best gear for making pour-over coffee and found that it had trouble settling on a weight. The readout oscillated so much as we poured water over our coffee that we found it difficult to tell when we'd hit the correct amount. A number of reviewers on Amazon complain of a similar issue.

We still think our previous top pick, the Jennings CJ4000, is a good scale. Unlike the Escali, it measures in half grams and has a backlit digital screen. In our tests, however, this model wouldn't pick up our 0.5 g lab weight on its own, registering the half-gram increment only when we added a 1 g weight. Also, after multiple years of long-term testing, we discovered that this model quickly eats up batteries, and we found its excessive beeping annoying.

The 11-pound-capacity stainless steel OXO Good Grips Food Scale with Pull-Out Display is more expensive than it's worth. While we appreciated its unique pull-out display, our testers did not like its measuring of ounces in fractions. This model was also one of the slowest we tested at reading measurements. OXO confirmed to us that this model is being discontinued.

In 2018 we tested the OXO Good Grips 11 Pound Stainless Steel Food Scale with Pull-Out Display, which is replacing the OXO scale above. This version thankfully switched out the fractions for decimals, and it was definitely a bit speedier than the older version. The problem was it just wasn't very accurate in our tests. Readings were off by a whole gram or more, depending on where on the platform you placed the weight. It also failed to read anything 2 grams or lighter and wavered greatly in the 20-gram and 5-gram tests. We wouldn't tolerate that kind of inaccuracy in a budget pick—much less something that costs $50.

The OXO Good Grips Glass Food Scale with Pull-Out Display is a sleeker version of the above model. We weren't impressed with any of the glass-top models we tested, however, because they are more prone to breaking. This scale was also slow at registering weights.

The 22-pound-capacity, stainless steel OXO Good Grips Food Scale with Pull-Out Display has a large footprint and a capacity that is overkill for most home cooks. Like its 11-pound-capacity counterpart, it also measures ounces in fractions.

In our experience, the tare button on the Ozeri Touch Professional Digital Kitchen Scale suffered from a delayed response, which our testers found annoying. Also, since this scale doesn't have an elevated weigh platform, we had difficulty reading the screen when using an oversized bowl to measure ingredients.

We found the Etekcity Digital Multifunction Food Kitchen Scale fairly small for an all-purpose kitchen scale. In our tests, this model had difficulty weighing ingredients under 5 grams and consistently weighed 1 gram off.

The Greater Goods Nourish Digital Precision Kitchen Scale has a very short auto-off time of one minute. In our tests, this scale read accurately when weighing heavier lab weights, but it had difficulty with lighter weights such as 1 and 2 grams. The tare button also had a delayed response.

We tested the My Weigh iBalance i5000 Multi-Purpose Digital Scale for our original review and found it difficult to see the display when we placed a big bowl on the weigh platform.

Though the Ozeri Pro Digital Kitchen Scale is highly rated on Amazon currently, we dismissed it in previous tests because the buttons were not sealed, making them more prone to water damage.

Our previous pocket scale pick, the American Weigh Scales AMW-SC-2KG Digital Pocket Scale, didn't hold up over time. Aside from having a lower capacity than most pocket scales (2 kg or 4.4 lbs), it wasn't very accurate. In our most recent tests, it struggled to read anything lighter than 2 grams and would slowly increase readings over time. The 50-gram test started at 50.1 g and then, after five minutes, read 50.9 grams. It also doesn't have any rubber feet to hold the scale in place.

Michael Ruhlman told us he likes the My Weigh UltraShip U2, a shipping scale. However, since it offers a capacity of 60 pounds and reads in increments of 2 to 5 grams, it's not as precise as we wanted for this review.

The Hario V60 Drip Scale and Timer is a really popular pocket scale for brewing coffee. Our problem was that it wasn't super accurate—certainly not as much as our the American Weigh LB3000 pocket scale—and it costs almost twice as much. We also found the touch controls were not very responsive.

The Samsion Digital Kitchen Scale Multifunction Food Scale is extremely cheap and fairly accurate for a pocket scale. But it has open buttons that allow grains of flour or sugar into the interior, and it doesn't have any rubber feet. It also hasn't been around long and doesn't have many reviews, so we're not sure about it in the long-term.

The Tomiba 3000g Digital Touch Pocket Scale Small has touch controls that were really difficult to work with. They often failed to respond at all to our commands and we could see this thing get annoying real fast. However, it's cheap and almost as accurate as our favorite pocket scale.

The 1byone 700US-0001 Digital Kitchen Precise Cooking Baking Scale is pretty similar in design to our budget pick, the Ozeri Pronto. It's pretty cheap and accurate, but it's got a fairly short auto-off duration of just over two minutes—about 13 seconds shorter than our top pick. Since testing, it's also gone out of stock on Amazon.

The AmazonBasics Stainless Steel Digital Kitchen Scale lacks membraned buttons, which makes it harder to clean. It also failed to read items lighter than 2 grams. It's also a bit slower than our top picks.

The REM Concepts Digital Food Scale is another model that's more or less like our top picks, but this one really struggled with accuracy at heavier weights, underestimating our kilogram weight by 2 grams.

The INEVIFIT Digital Kitchen Scale had even more trouble with heavier weights, underestimating the kilogram weight by 4 grams. It also has a fairly short auto-off duration and takes more than two seconds to read lighter weights.
Sources

1. Alton's Kitchen Tools: Scales (video), Food Network

2. Michael Ruhlman, author of Ratio: The Simple Codes Behind the Craft of Everyday Cooking, phone interview

3. Peter Reinhart, author of The Bread Baker's Apprentice: Mastering the Art of Extraordinary Bread, phone interview

4. Farhad Manjoo, Tipping the Balance for Kitchen Scales, The New York Times, September 13, 2011

5. Steve Rhinehart, brand lead for Prima Coffee Equipment, email interview, June 12, 2014

6. Jurgen David, associate director of pastry at the, International Culinary Center, interview

7. Baker's Math, The Fresh Loaf Baker's Handbook

8. Kellie Evans, Tipping the Scales: How To Measure Flour, Saveur, May 29, 2012

9. Emma Christensen, Weight Conversions For Flour, Sugar, and Other Common Baking Ingredients, The Kitchn, May 17, 2012

10. Digital Kitchen Scales (subscription required), Cook's Illustrated