Wi-Fi is great—modern routers and mesh-networking kits save you the trouble of running hundreds of feet of cabling through your walls to let your devices talk to each other and share a single Internet connection, no matter how big or weirdly shaped your house is. But there's still a role for the humble wire to play. Wires are reliable and consistent, which is ideal for online gaming or streaming 4K video without buffering. And using wires in your network when it's possible, even if it's only on a couple of devices, can also improve performance for your entire wireless network, not just the things that you connect wires to. Because here's the thing: Wired Internet is almost always faster than wireless Internet.
Wi-Fi's limitations, explained

Why does wireless lag behind wired? Wi-Fi's biggest problems are interference and competition between devices. Let's talk about interference first.

Most modern Wi-Fi networks operate on two wireless-frequency bands. The 2.4 GHz band has a longer range and is better at traveling through floors and walls, but it has to compete with a ton of other signals that also use the 2.4 GHz band, including other Wi-Fi networks, Bluetooth, most cordless phones, microwaves, and baby monitors. Especially in a city or a large apartment building, your router's 2.4 GHz radio might be competing with so many other devices that it just doesn't work.

The 5 GHz band solves some of these problems because it doesn't need to compete with as many other devices for the same chunk of the wireless spectrum, and it offers higher maximum speeds, too. But it has limitations of its own, including a shorter maximum range and difficulty passing through a home's floors and walls.

Each device you add to a wireless network also needs to compete with every other device on your network for your router's resources. In most cases, each of your router's wireless radios—most modern routers have two, newer and pricier models sometimes have three, and old routers have one—can communicate with only one connected device at a time. Requests to load Web pages or to download files are dealt with in the order they are received, and just as with an overwhelmed call center, this can create delays. The result is increased latency—the amount of time between when your device makes a request and receives a response—and it's the likely culprit if a Web page is taking a long time to load.

With just a few connected devices, the wait times are short enough that you probably don't notice them. But as you add more and more phones, tablets, computers, streaming boxes, and smart devices to your network, the radios can become overwhelmed, and devices can even lose their connection to the network. A newish feature called MU-MIMO (Multiple User, Multiple Input, Multiple Output) tries to address this problem, but your router and a majority of your devices need to support it for it to be useful, and that still isn't the case for most people.
How can wires help?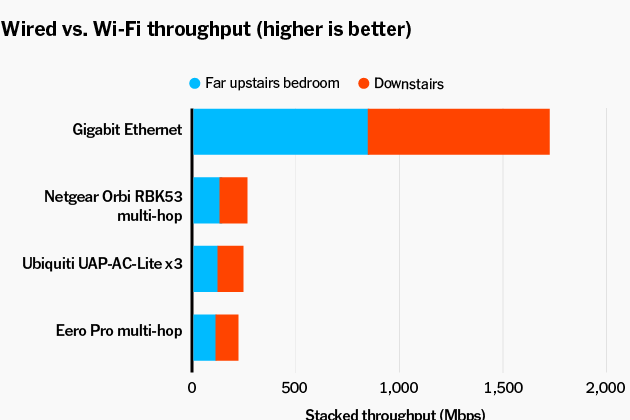 Wires can help with both of these problems. First, for the device you connect to your router with a wire, the speed of your connection will go up, while your connection's latency will go down. For example, with your computer or game console connected directly to the router, there's less that can interfere with the signal, and that device doesn't need to wait in line for your router's wireless radios like your phone or tablet does. Higher, more consistent throughput is especially useful if you're moving large files over your network, uploading and downloading large files, or streaming video. And lower latency is especially helpful for online multiplayer games, where a momentary hiccup in your connection can make the difference between winning or losing.
Second, having more devices connected with wires will improve the performance of your wireless devices, too. Having fewer wireless signals flying around in the air helps to reduce interference, and having fewer devices fighting to use your router's wireless radios means the line that they're all waiting in is shorter. Every single device you can use a wire for will help out your entire network just a little bit.
Where should you start?

Some things are easier to connect with a wire than others. Desktop computers, stationary game consoles such as the PlayStation 4 and Xbox One, and some media streaming devices like the Roku Ultra and the Apple TV 4K usually include a built-in Ethernet port and tend to be situated in places where most people keep their routers (near a TV and cable box, or at a desk). These devices also stand to gain the most from a faster, more stable connection.

Most laptops have shed their Ethernet ports over the past decade or so, but USB-to-Ethernet adapters are plentiful and inexpensive. We don't have a specific adapter pick for laptops with USB Type-A ports, but AmazonBasics, Cable Matters, and Anker are all brands we trust and have good customer reviews. For newer laptops with USB-C or Thunderbolt 3 ports, a USB-C hub or Thunderbolt 3 dock is a good alternative to a standalone dongle since it gives you extra USB ports, ports for connecting monitors, and an SD card reader along with the Ethernet port. To hook a Nintendo Switch to your router with a wire for low-latency Smash Bros. or Mario Kart, you'll need a specific kind of Ethernet adapter such as the Ugreen or TrendNet models we recommend in our Switch accessories guide.

If you have more devices you'd like to wire up but your router is out of Ethernet ports, a good inexpensive network switch can come in handy. Adding a switch is an easy way to turn one Ethernet port into four or eight, and good ones like this model from TP-Link typically cost less than $20.

And what if the device you'd like to hook up with a wire is too far away from your router? Running cabling through your wall is one solution, but that approach is time-, effort-, and cash-intensive, and it sort of defeats the purpose of having a good wireless network in the first place. One possible option is to buy a mesh-networking kit in which both the router and the satellite include a few Ethernet ports, such as the Synology model we currently recommend or the Netgear Orbi RBK50 kit that was our pick for a couple of years. It's best to connect your stuff straight to the router when you can, but wiring things to the satellite instead will still cut down on interference, and the wireless antennas in the mesh satellite will probably be stronger than the ones in typical computers and game consoles, thus giving you a better connection to the router.