Hurricanes have terrifying power, and because of their sheer scope and unpredictability, each one presents variables that are totally out of your control. How destructive will it be? Will you have to evacuate? Will it shift direction and come right at you? As unsettling as these questions are, there's a lot you can do to prepare for one of these megastorms—from making sure you have the right gear to completing a few relatively simple home improvements.
And this hurricane season could be a big one. The National Oceanic and Atmospheric Administration (NOAA) recently upgraded its prediction for an above-normal season in the Atlantic to 45 percent, from 30 percent. "The chances of a below-normal season have dropped to just 20 percent," a recent story in The New York Times (Wirecutter's parent company) reported.
The most important items to have on hand for a hurricane are ones that will help you communicate with the outside world, find your way in the dark, and protect your belongings. "Be prepared for some primitive living without power for a while," says Claudette Reichel, a building science specialist at Louisiana State University who trains housing professionals on disaster resilience as well as on hurricane and flood recovery.
National emergency services such as FEMA (PDF), the National Hurricane Center, and the Red Cross all provide preparation guidance. Hurricane survival stories, like these, and the perspective of amateur preppers also helped inform our practical take on hurricane preparedness.
We have larger guides on general emergency preparedness and bug-out bags, but the following list contains what we consider to be the bare essentials for adequate hurricane preparation.
Flashlight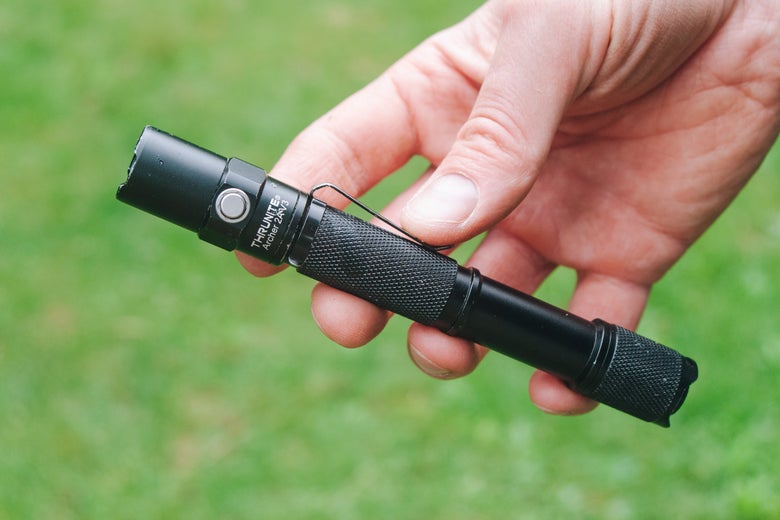 Since there's no way to know how long you could be without power, you'll want a long-lasting LED flashlight—one of the most essential pieces of gear you can have during and after a hurricane. We tested 23 of them in the New Hampshire woods for our guide to the best flashlights and found that the ThruNite Archer 2A V3 was the best one. When the flashlight was on the highest of its four brightness settings, we were able to see trees 500 feet away, and when it was on the lowest setting, we could read a map while preserving our night vision. It also has a strobe setting for emergency signaling, but it's not part of the standard brightness toggle (as it is with less expensive flashlights), so you don't have to constantly cycle through it.
Reichel stressed that in the aftermath of a hurricane, you'll want a flashlight that has a long battery life. The ThruNite truly delivers on this point. According to the manufacturer, when the flashlight is on its highest setting, it will run for 96 minutes, but on its lowest setting, it can run for roughly 28 days (on the medium setting it runs for 11 hours, and on the low setting for four days). It runs on two AA batteries. "It's good to have extra batteries," Reichel said. Emergencies are one of the few instances for which we recommend disposable batteries over rechargeable ones.
A flashlight is essential in an emergency, and this ThruNite model has a wide range of brightness settings, an easy-to-use interface, and a long battery life.
Headlamp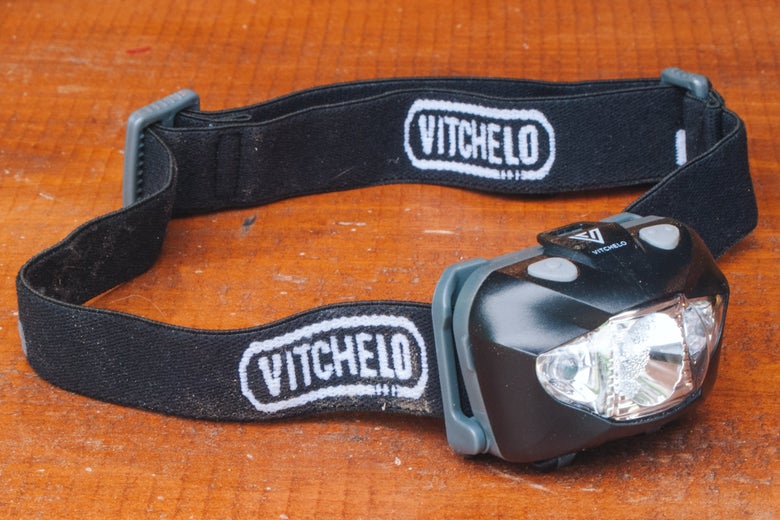 During an extended power outage, there's no such thing as having too many light sources. We've been testing headlamps since 2013, and for an emergency, we like the Vitchelo V800. Compared with the ThruNite flashlight, it doesn't have the extended run time, the useful ultra-dim mode, or the extreme brightness, but it does allow for hands-free lighting, which can be invaluable both during a hurricane and afterward. The V800 can project either a white or a red light, and it also has a strobe feature, which can be useful for signaling. The Vitchelo uses three AAA batteries, so make sure to have some extras on hand. For serious hikers and regular headlamp users, we recommend the pricier Black Diamond Spot, but for those who want a headlamp to keep in their emergency bag, we think the less expensive Vitchelo makes sense.
Bright, inexpensive, and easy to use, the Vitchelo V800 has three brightness settings, a red beam, and an emergency strobe.
First aid kit
The First Aid Only 298 Piece All-Purpose First Aid Kit offers a wide selection of gear for minor cuts, burns, and scrapes (bandages, gauze, wipes, ointments, and painkillers), as well as some items for more-serious injuries (a trauma pad, gauze, and some dressing pads). The case opens like a book, and items are stowed in 10 plastic compartments, so it would be relatively easy to find what you need in moments of high stress. One of the kit's highlights is its 187 adhesive bandages in all shapes and sizes. At about 9 inches by 6 inches, this kit is also small enough to take with you during a hurricane evacuation. Other kits we looked at were less organized or didn't have enough of the essentials.
The First Aid Only kit has all the necessary gear for minor scrapes, cuts, and burns (including an abundance of adhesive bandages). All of the supplies are organized, and this kit also includes a decent first aid booklet.
Weather radio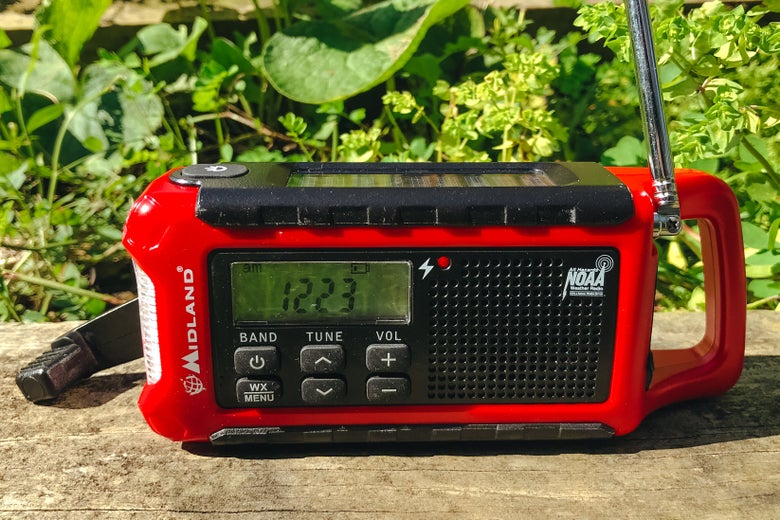 Whether you're evacuating from a hurricane or sheltering in place, it's crucial to keep tabs on the status of the storm. You'll want "some kind of way to listen to a radio station because TV stations may be out," Reichel told us. We think your best option is a dedicated emergency weather radio, specifically the Midland ER210. This radio can pick up AM/FM and National Oceanic and Atmospheric Administration channels (collectively known as a "weather band"). It has a built-in flashlight—you can't have too many of those—and is powered by either a hand crank or an integrated solar panel. It also has a USB port, so you can charge a cell phone in a pinch. The Midland can also be set to give you an audible warning, accompanied by a flashing light, when an NOAA weather alert comes in.
Compared with the eight other emergency weather radios we tested, the Midland ER210 had the clearest reception, the brightest flashlight (three times brighter than those of most of the tested models), and the most charging options. The backlit LED display was clearly visible, and the large buttons were easy to use, even with gloves on. In our testing, we found that one minute of cranking offered 45 minutes of radio time or roughly an hour of flashlight use.
The Midland ER210 lets you track a storm through AM/FM or NOAA weather radio. It powers up with a hand crank or the onboard solar panel, and it includes a USB port for charging a phone.
Storage bins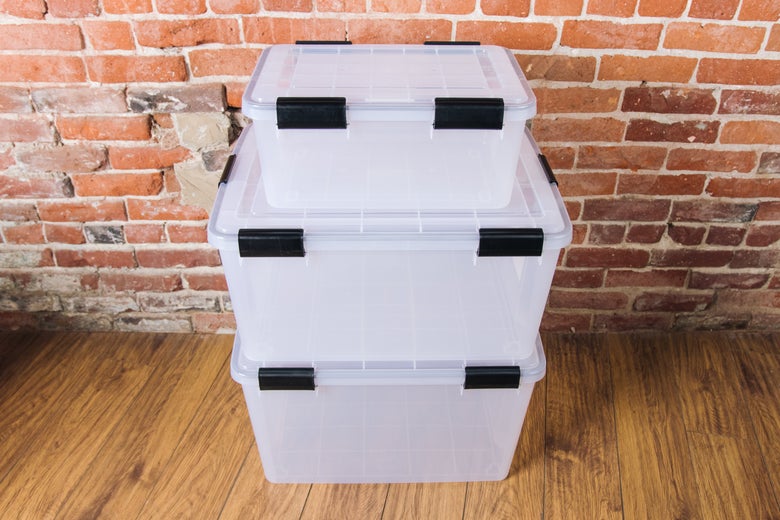 During the high winds and flooding of a hurricane, water-resistant bins can keep emergency supplies, valuables, and other personal effects clean and dry. After testing 32 different bins—by tossing them down a set of stairs and leaving them out in the rain—we found that the Iris Weathertight Totes have the best combination of weather resistance and durability (although for better durability in a wider temperature range, we like the Rubbermaid Brute Totes).
The lid's foam gasket keeps water out, and the four clasps keep the top on tight (most lids have only two clasps). The Weathertight Totes's straight sides maximize storage space; they're very stackable. And because these bins are clear, you can easily identify contents at a glance. They are available in a wide variety of sizes, ranging from 6½ quarts to 103 quarts. Reichel's advice when you're storing valuables: Put them someplace high up.
The lid of a Weathertight Totes bin is gasketed and attaches with four clasps (most lids have only two), making this the best choice for keeping valuables and supplies dry during a storm.
Lighter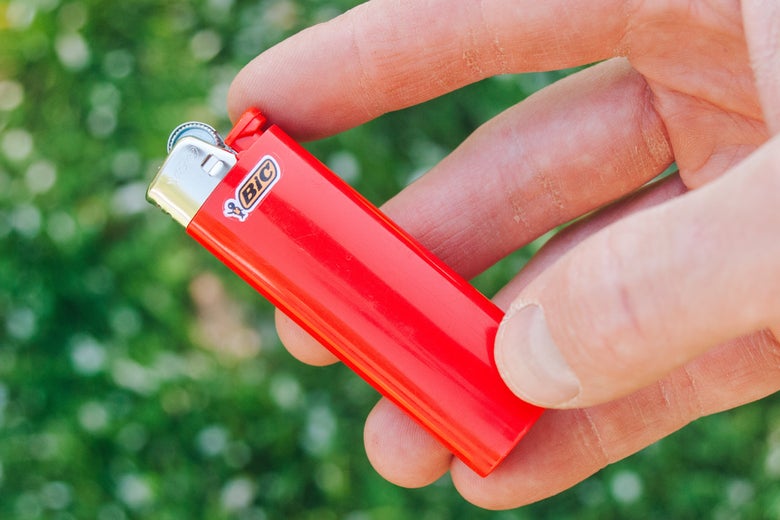 Most experts, including those at the Red Cross, don't recommend using candles for emergency lighting, but a source of fire can be helpful for cooking in the aftermath of a hurricane. Reichel pointed out that without power, most gas stoves are rendered useless because of their electronic igniters. To get the stove going, you'll need to provide your own starter flame. A lighter can also get an outdoor cooking fire going, such as in a fire pit or chiminea. Bic lighters are easy to use and inexpensive, and they can hold a flame in light wind or a little rain.
A Bic lighter is a simple way to get a fire going or spark up the range during a power outage. These lighters are long-lasting and can hold a flame in a light breeze or a little rain.
Solar panels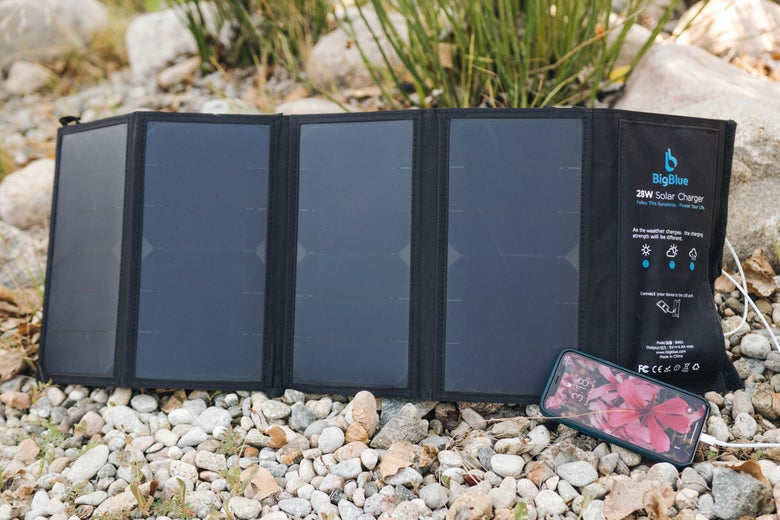 With no power coming into your home, you'll need a way to charge your electronics. If you have access to a car, you can use your car phone charger, but it may not be a viable long-term solution. Reichel recommends a solar battery charger. "People want those phones after a storm," she says, noting that communication was a huge issue after Hurricane Katrina, in part because phone batteries died and people had no way to recharge them. We tested 12 portable solar chargers and determined the best to be the BigBlue 3 USB Ports 28W Solar Charger. It produced the most power of any model we tested, and it has waterproof port covers and a slim, compact design. It can also charge three devices at once. If you're evacuating, don't forget charging cables.
This lightweight solar charger can charge three devices at once and has waterproof port covers.
Bug repellent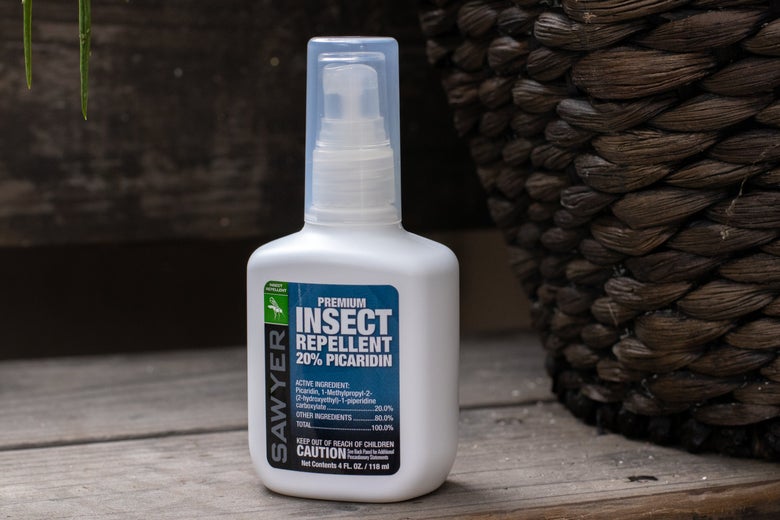 Mosquito populations can explode after a severe storm, and with them come harmful diseases like Zika, dengue, and West Nile, as this information sheet (PDF) from Texas A&M's AgriLife Extension Service explains. Adding to the risk is the fact that after a storm, people are naturally going to be outside a lot more, whether it's cooking at the grill or cleaning up. We tested 15 spray repellents for our guide to bug repellents and found the best to be the Sawyer Products Premium Insect Repellent.
Sawyer's repellent is EPA approved, meaning it has undergone extensive safety and efficacy testing to prove that it's safe and that it works. Instead of DEET, Sawyer uses a 20 percent concentration of picaridin, which provides up to 12 hours of protection against mosquitoes. Studies show that picaridin and DEET offer similar levels of bug protection, but picaridin won't melt or mar plastic like DEET can, and it has hardly any odor. Other companies make 20 percent picaridin repellents, but Sawyer's repellent distinguished itself with its nice, even spray and double cap (which makes it very unlikely that the nozzle will activate when the bottle is stuffed in a backpack or other container).
Sawyer's picaridin formula is safe and effective, and it has hardly any odor. It's EPA approved and just as effective as DEET, but with none of the downsides.
Work gloves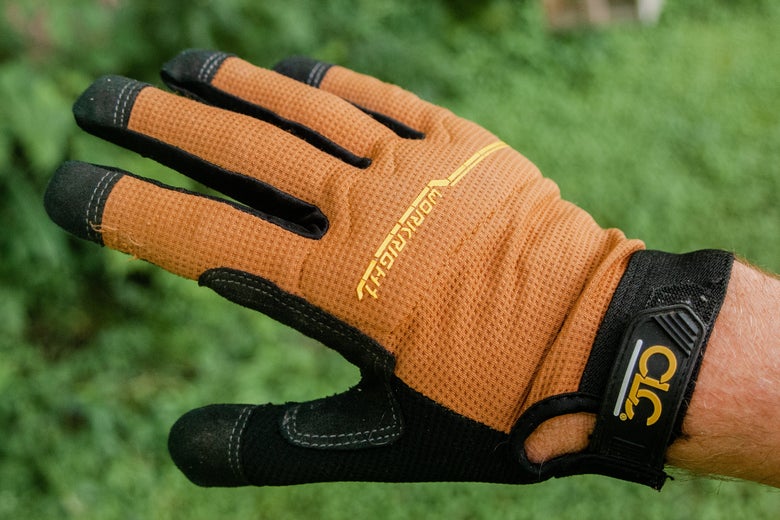 In a hurricane situation, your hands can be exposed to a lot of hazards, whether you're cleaning up broken glass or clearing branches from your driveway. For protection, we recommend getting a pair of Custom Leathercraft 124L Flex Grip WorkRight Gloves. They're comfortable and inexpensive, and compared with the regular, floppy leather work gloves we tested, they offer great dexterity. There's no need to take them off for more delicate tasks, such as reaching into a pocket, tying a shoelace, or starting a car. They're not super-high-quality, so if you use them on a daily basis, they'll likely wear out in a month or two. But as a pair of gloves to keep in your hurricane evacuation kit, they are a great value.
Protect your hands with these lightweight gloves. They're inexpensive and, unlike most leather work gloves, they offer great dexterity.
Heavy-duty garbage bags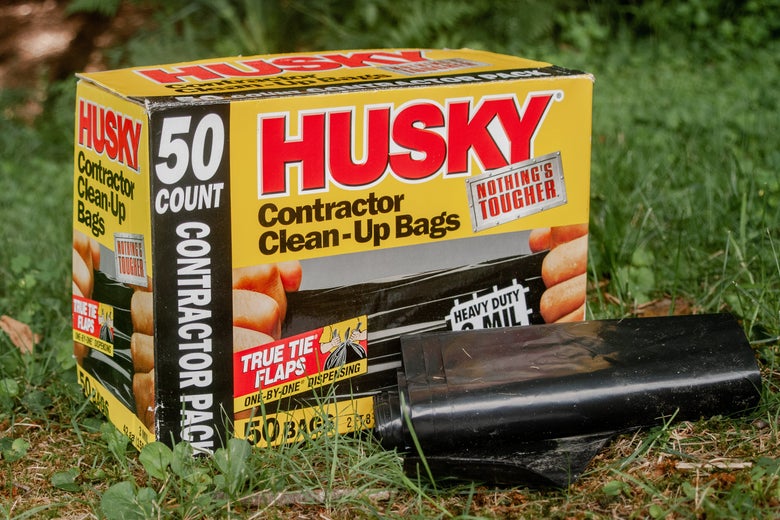 It's obvious that heavy-duty garbage bags are good for hurricane clean-up, but in an emergency, they can have other uses as well. For one thing, they can keep your supplies dry, especially items like clothing and blankets. They can also be used as makeshift ponchos. The thick plastic resists puncturing from broken glass and nail-embedded wood. After spending a decade in the building trades and shoving sharp objects into all kinds of trash bags, I can personally attest to the durability of Husky 42-gallon bags over that of the competition.
When you're cleaning up storm-related messes, use these Husky bags. They're large, durable, and good for keeping supplies—like blankets and clothes—clean and dry.
Five more steps to get prepared for hurricane season

Stock up on food and water: We did not include food or water storage (and purification) on this list, but whether you're evacuating during a hurricane or sheltering in place, you'll definitely want to keep drinking water and low-prep food on hand. We have more specifics and recommendations on these topics in our guide to emergency preparedness. Also, if you're evacuating, you'll need basics like extra clothing, blankets, and important personal documents.

Fill your fridge: The fuller they are, the better your refrigerator and freezer can hold a temperature. So once you know a storm is coming, fill any free shelf space with water bottles or filled pitchers and jugs. This will not only extend the effectiveness of your fridge in a power outage but also add to your water supply.

Load up on medication: You should have a supply of any medicine you take on a regular basis, whether it's ibuprofen or a prescription medication. Also think about things like medical devices and whether there are additional supplies required to keep them powered.

Plan for your pets: Most shelters won't take pets, so make sure you have a plan in place before the storm hits. If you're sheltering in place, have on hand ample supplies of food, water, and any needed medications. The ASPCA has comprehensive information on how to handle a hurricane when you have pets.

Consider the kids: Storms can be stressful for kids, so it's a good idea to have some ways to keep them occupied. If you're evacuating, grab a deck of cards, a travel game, and a few activity or coloring books. The same extra powering supplies that will keep your phone charged can also be used to power an iPad or other tablet for kids' games or movies. Throwing some treats in with the emergency food supply can really help keep kids positive. Save the Children has more advice, including the importance of keeping a routine during the emergency.
Sources

1. Claudette Reichel, professor and extension housing specialist, Louisiana State University AgCenter, phone interview, July 10, 2019

2. FEMA

4. Red Cross

Slate has relationships with various online retailers. If you buy something through our links, Slate may earn an affiliate commission. We update links when possible, but note that deals can expire and all prices are subject to change. All prices were up to date at the time of publication.