When you're going to work, certain hassles are beyond your control. Traffic, weather, or unreliable transit are variables that everyone deals with. The only elements that are truly manageable are the things you carry to pass the time, get a jump on work, or prepare for the unexpected.
To help you develop a more enjoyable commuting routine, I've rounded up 15 Wirecutter picks, as well as some personal recommendations, that can make your time on the road or the rails more pleasant. Whether you commute via public transit or car, this list likely has something that can help keep your good mood intact by the time you arrive at work. And if you commute by bike, check out our guide to bike-commuting gear and our guide to foul-weather bike commuting.
Wireless noise-cancelling earbuds with a wired option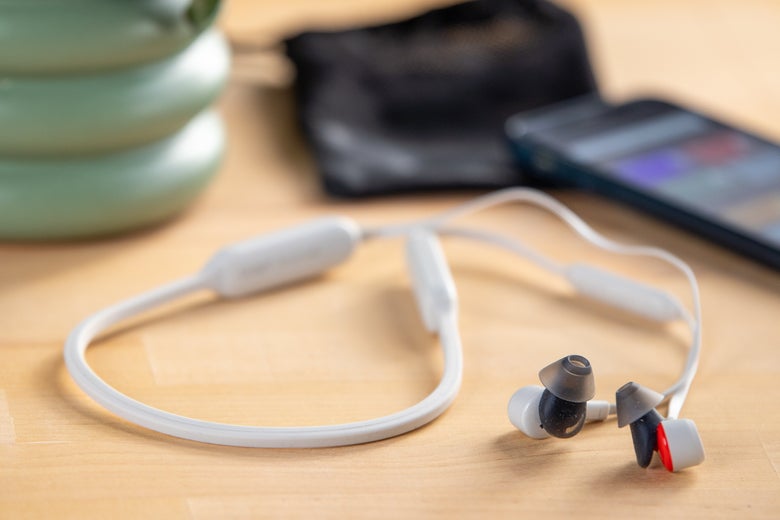 The Plantronics BackBeat Go 410 is the top pick in our guide to the best noise-cancelling earbuds, and it has multiple features that make it a commuter's dream. Noise cancelling lets you hear your audio above the roar of trains and the rumble of buses without having to turn up the volume. This pair is wireless thanks to a Bluetooth connection, but the charging cable has a tethered ⅛-inch audio plug adapter that allows you to wire up and keep listening even if you drain the battery (make sure to carry a headphone-to-Lightning or headphone–to–USB-C cable adapter if your phone doesn't have a headphone jack). The whole thing has a flexible rubber build, so it's easy to compress into its drawstring sack, ensuring that everything stays together and takes up minimal space in your bag.
Adjustable noise isolation and great call quality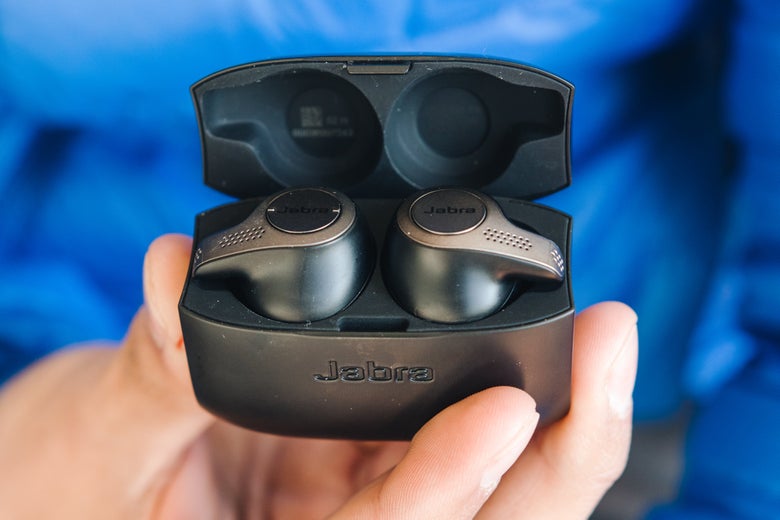 The Jabra Elite 65t, the top pick in our guide to the best wireless earbuds, has a five-hour battery life; that amount is less than the eight hours the Plantronics BackBeat Go 410 offers, but it should be more than enough to get you through both ends of your commute (I truly hope). If you do need more listening time, 15 minutes of charging gives you another 90 minutes. Like Apple's AirPods, they come with a charging case, but unlike AirPods, they offer noise isolation and won't fall out of larger ears. Noise isolation means you can hear your audio over the screech of a train without cranking the volume to unhealthy levels. If you want to have a conversation or hear your surroundings, the 65t pair has an awareness mode that you can toggle on and off with a double tap. Also, Jabra's free app lets you adjust the default level of the noise isolation, allowing you to maintain awareness during your commute while still enjoying music or a podcast. This Jabra set has the best call quality of any wireless earbuds we've tested, so taking calls on the go won't be a nuisance. If you plan to wear your wireless earbuds to the gym, upgrade to the sweatproof Jabra Elite Active 65t, the top pick in our guide to the best workout headphones. The Active version also has a step tracker but is otherwise functionally the same as the standard model.
If you want to wear over-ear headphones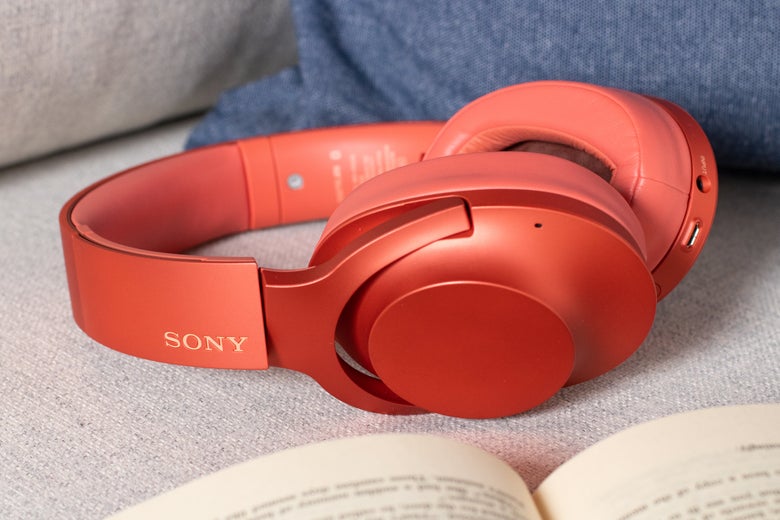 If you dislike in-ear headphones and are willing to give up more space in your bag for a classic over-ear set and its carrying case, consider the Sony H.ear On 2 WH-H900N. These wireless cans recently took the top spot in our guide to the best noise-cancelling headphones. Brent Butterworth and Lauren Dragan praise the WH-H900N as "one of the few headphones that get nothing wrong." Their review continues: "Almost every aspect of this set's performance is above average: the sound, the noise cancelling, the battery life, the comfort, and the ergonomics. The travel case isn't as slim as those of some competitors but is still reasonably compact." As on the Jabra earbuds, for a quick conversation you can toggle from the noise-cancelling mode to awareness mode with a tap. And like the Plantronics pair, this set is wireless, but you can wire it up when the battery is depleted.
Keep beverages hot and sealed up tight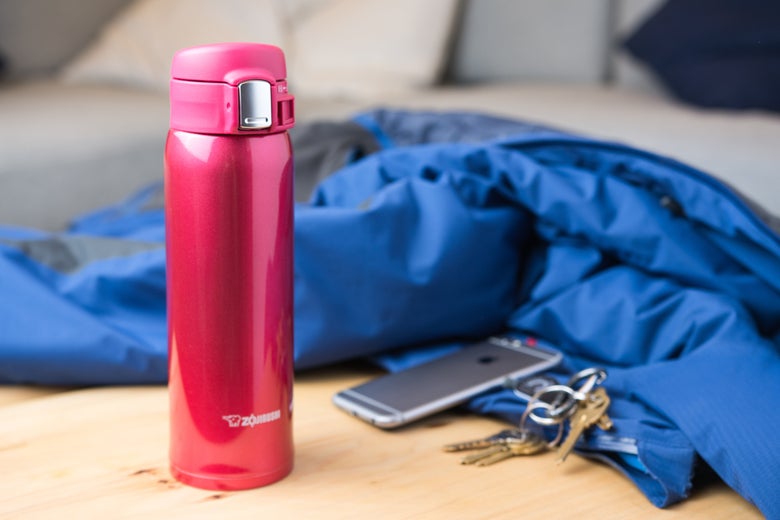 The Zojirushi SM-SA travel mug has occupied the top spot in our guide to the best travel mug for four years running, and it "might be the single product that the most Wirecutter staffers own and use on a daily basis," according to Anna Perling and Séamus Bellamy. Perfect for commuters who want to enjoy a hot beverage on the go or hours later at work, the Zojirushi's amazing heat retention allows the mug to offer "drinkable, hot, 140-degree-plus coffee eight hours after brewing, even when stored in a freezing-cold environment." That heat retention, along with the mug's reliable lid and ease of one-handed use, makes it ultra-trustworthy even in your bag. In fact, the only complaint you're likely to hear about the SM-SA is that it can keep beverages too hot, so plan on letting your drink cool for a moment before sealing it up. Also, although its skinny build makes it perfect for one-handed use, it's too thin to fit snugly in most car cupholders.
Perfect for a cupholder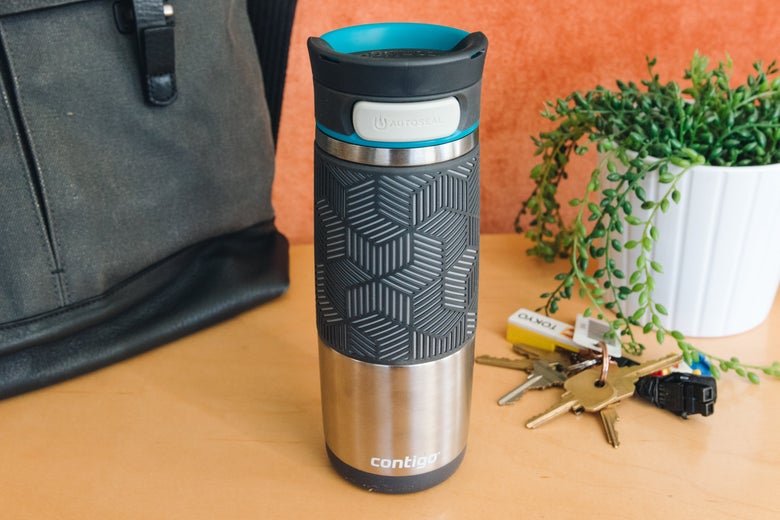 The Contigo Autoseal Transit Mug is the best travel mug for car commuters. It fits securely in a cupholder, and it remains sealed by default to prevent accidental leaks—requiring a button press before you can take a sip—so if you drop this mug, it won't start leaking all over your car's interior. The Contigo Autoseal is a secondary pick in our travel mug guide since it doesn't hold heat as well as the Zojirushi SM-SA, but if you're too rushed in the morning to give your coffee time to cool, this might even be an advantage. Also, since the Autoseal lacks a lock to secure the lid cover as the Zojirushi has, this mug is better suited to a car's cupholder or a water-bottle holder on the side of a backpack than the interior of a bag.
A wide-mouth bottle that's easy to fill and nearly spill-proof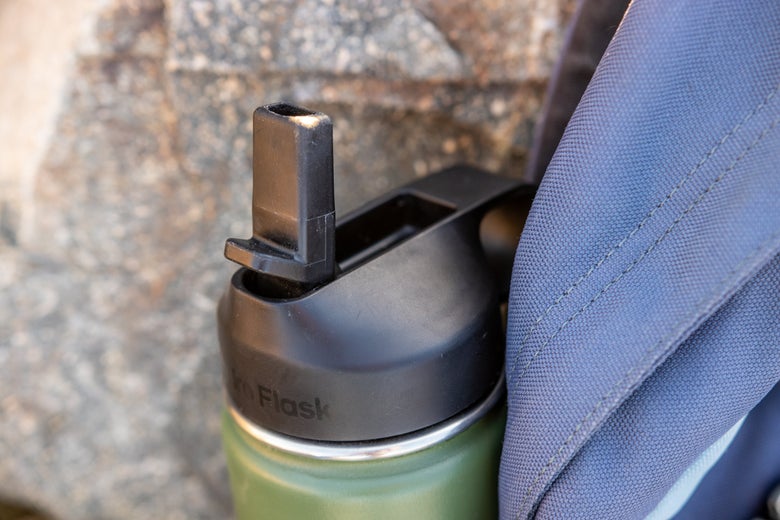 Human beings can't run on coffee alone—you do occasionally need to drink water, or maybe even a smoothie. For a bottle that's a manageable size and easy to fill with whatever you like, opt for the Hydro Flask 18oz Wide Mouth, the also-great pick in our guide to the best water bottles. Like all the Hydro Flask bottles we tested, it has excellent temperature control, and it kept beverages cool for hours in our testing. It comes in a number of colors and won't look out of place in any professional environment. The 18-ounce size makes it easy to hold on the go, and the wide mouth makes it simple to fill or to load with ice. And if you opt for the straw lid, "you never have to twist anything off to sip again, which makes this bottle nearly spill-proof," according to our review.
A fast-charging battery with plenty of power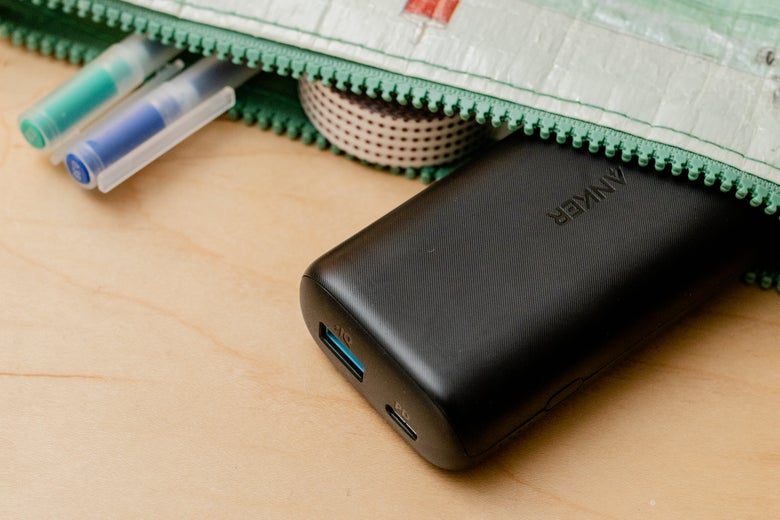 Keep the Anker PowerCore 10000 in your bag to avoid going to or from work with a dead phone. An upcoming pick in our guide to the best USB battery packs, it offers enough power to charge most phones two or three times. And if you have a phone that charges over USB-C (including an iPhone 8 or later, via the sold-separately Lighting–to–USB-C cable), you get a significant charging-speed boost.
Keep a laptop secure without changing bags

For your daily commute, we recommend any of several backpacks and messenger bags designed to hold a laptop, but if you're not ready to buy a new bag or you just love your current one, a laptop sleeve is an inexpensive way to protect your computer against drops and scratches. Our guide to laptop sleeves and MacBook cases has several options, but you can start by looking at our top pick, the Incase Classic Sleeve. With a thin build that won't take up much bag space, it protects against minor bumps and scratches. For more protection at half the price of the Incase, check out the Tomtoc 360° Protective Sleeve; it's bulkier than the Incase, which means additional padding and a tighter fit for your laptop. For ultimate protection, beyond what most commuters typically want, there's the Thule Gauntlet 3.0, which consists of a hard-shell case that's nearly waterproof. Our guide recommends it for bike commutes, but if you don't already own a pannier bag that clips to your bike rack, check out the Arkel Commuter Urban in our guide to bike-commuting gear; that model has a metal backplate to keep a laptop protected from bumps.

Incase Classic Sleeve ($40 at the time of publication)
Tomtoc 360° Protective Sleeve ($18 at the time of publication)
Thule Gauntlet 3.0 ($60 at the time of publication)
An umbrella for those who think ahead or deal with high winds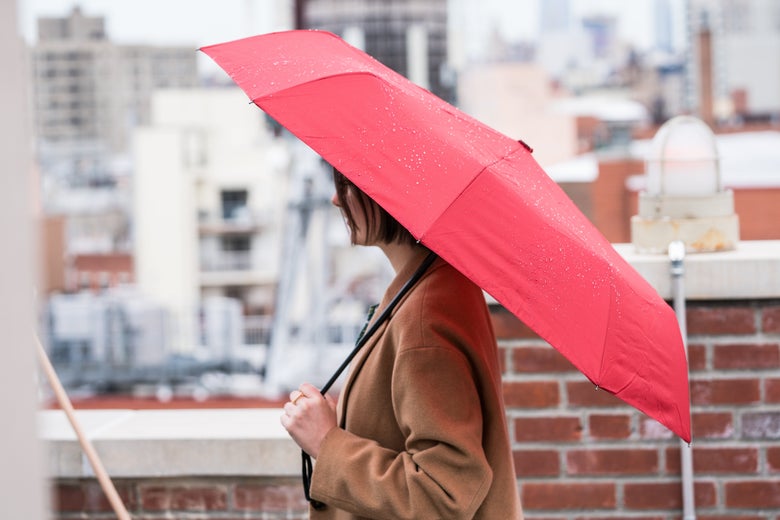 If you tend to check the weather report and can trust yourself to grab an umbrella when needed, keep the Repel Easy Touch Umbrella in your closet or entryway. It earned the top spot in our guide to the best umbrella "because in quality and durability it equals models we saw for more than twice the price." However, although it's not heavy, it's not the lightest umbrella we recommend: "You can find lighter options out there—the Repel weighs just over 14 ounces—but along with its heft comes the ability to withstand big gusts. Billed as a 'travel umbrella,' it folds up to just 11½ inches long, which makes it easy to store and carry." If an umbrella isn't enough for the foul weather you routinely encounter, check out our guide to the best everyday rain jacket.
A light, inexpensive umbrella to keep in your bag or car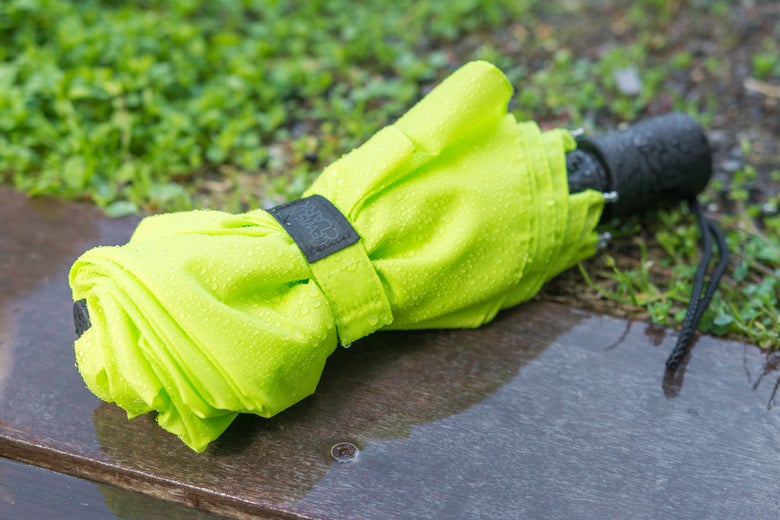 If you're tired of getting caught in the rain unprepared, consider keeping the Lewis N. Clark Umbrella in your bag or in the trunk of your car. Costing less than $20 and weighing 10 ounces, it's both the budget pick from our umbrella guide and the lightest umbrella we recommend. Keep it in your bag at all times, and you'll hardly notice the weight—but just because it's light and cheap that doesn't mean it isn't tough. In our umbrella review we note, "Despite its low price, the Lewis N. Clark survived our stress tests of the past two years with very minor damage, and we've had no issues with the units we've been using for long-term testing over the past year."
Turn commute time into me time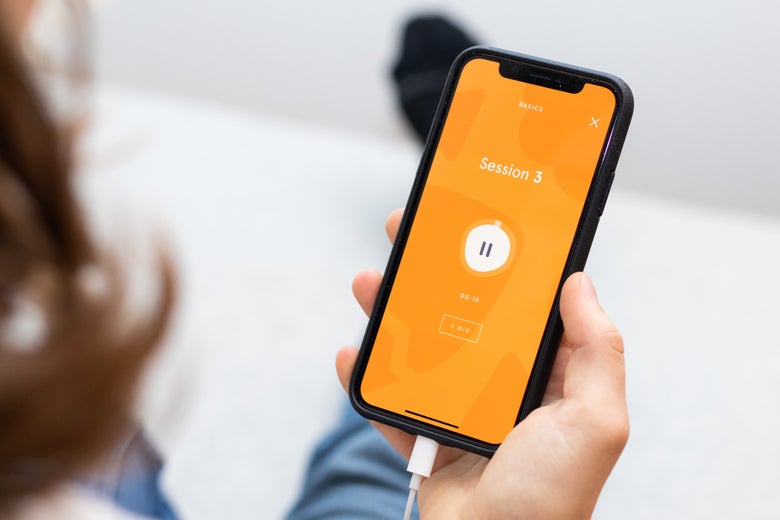 Although Headspace, our top pick for the best meditation app, is primarily meant for use in a quiet environment, it offers multiple courses designed for use on the go, walking in the city, or just closing your eyes and centering yourself for a minute or two. You can download meditation "packs" for offline use, so it doesn't put unnecessary drain on your phone's data plan. Just make sure you have a pair of headphones with you.
Headspace ($13 a month or about $95 a year at the time of publication)
Enjoy Spotify on the go and Hulu at home

When it comes to commuting, Spotify's vast library, curated playlists, and sharp recommendations pair perfectly with a good pair of headphones. Like other music streaming services, Spotify lets you download music ahead of time in case you won't have cell service or don't want to use up your data service. And for your $10 monthly fee, you also get access to Hulu's Ad Supported plan, which lets you watch everything on Hulu with commercial breaks. Note that although Hulu currently doesn't let you download videos for offline viewing, the company said in April 2018 that this feature was coming.

Spotify and Hulu (with ads) ($10 a month at the time of publication)
Download music and YouTube videos

For the same price as the Spotify-Hulu combo, a subscription to Google Play Music includes access to YouTube Premium. Google's music-streaming service has a similarly vast music library in comparison with Spotify. Although I've found that Spotify has superior curated playlists and song recommendations (on Google Play, making a station based on a particular song often results in hearing that song more often than I'd like), getting access to YouTube Premium is a major bonus. YouTube Premium means no ads before videos, and it lets you download content for offline viewing, a big perk if you tend to lose cell service during your commute or want to conserve your data plan.

Google Play Music and YouTube Premium ($10 a month at the time of publication)
Read with minimal distractions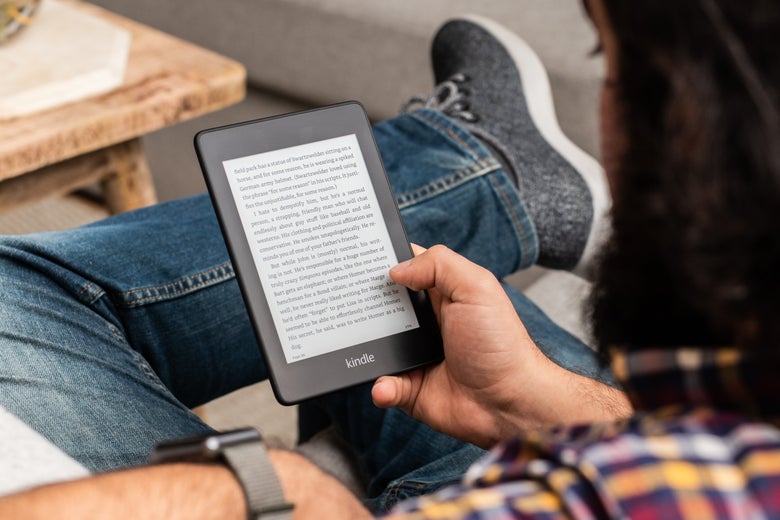 There's enough going on during the typical commute that you don't need notifications and the entirety of the Internet at your fingertips to distract you. If you want to actually finish reading a book (or at least start a bunch of them), get a Kindle. Of the two ebook readers we recommend in our ebook reader review, only the Amazon Kindle Paperwhite (10th generation) is waterproof and features a Bluetooth connection for listening to audiobooks with wireless headphones. At 6.4 ounces, it's built for one-handed use and lighter than the average paperback book. Plus, the battery is good for several weeks, so even if you toss it in your bag and forget about it, the Kindle will be charged and ready for reading when you finally remember it.
Console gaming on the go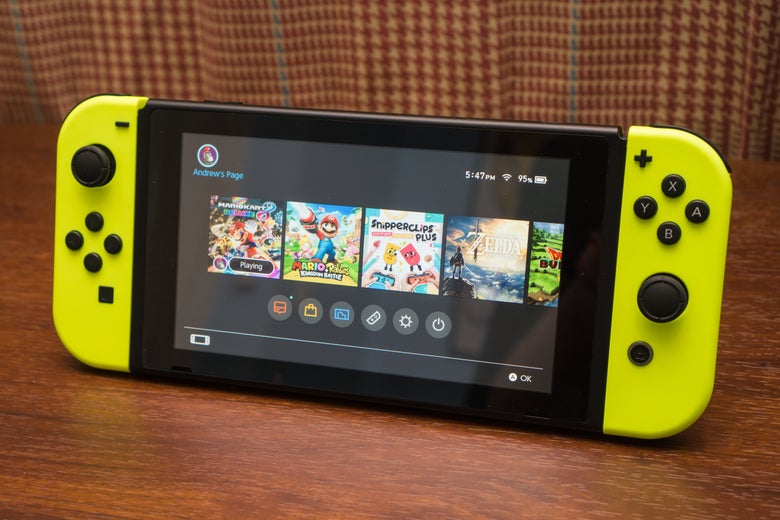 The Nintendo Switch—the first system that you could play as a handheld or plugged into a TV—was a revelation for the gaming world. For that reason, it's the perfect item for making travel time more fun. Most of the classic Nintendo series are represented on the Switch, as the library includes titles such as The Legend of Zelda: Breath of the Wild, Super Mario Odyssey, and Super Smash Bros. Ultimate, all of which break up nicely into commute-friendly chunks. Online, the Switch has a world of downloadable indie titles that typically go for half the price of the new releases you can find in stores, making it easy to load your system up with a variety of unique gaming experiences. In fact, every game for the Switch is available for purchase as a download, so you never have to worry about forgetting a game at home. Just make sure you have a large microSD card to store them all: In our guide to the best Nintendo Switch accessories, we recommend the 128 GB Samsung Evo Select, which is usually around $20; the 256 GB version typically costs $40. Also, the Switch doesn't support Bluetooth audio, so plan to wire up if you want sound.
Protect your Switch and store its accessories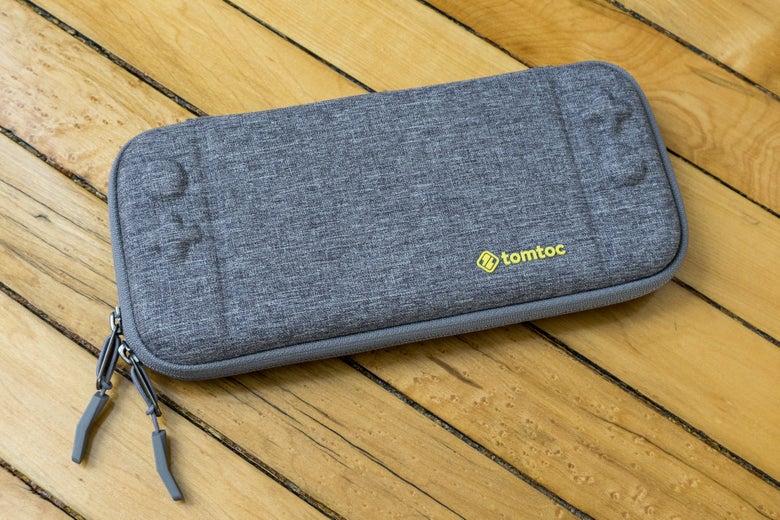 If you're going to take your Switch on the road, be sure to keep it protected along with the requisite accessories. In the case section of our guide to the best Nintendo Switch accessories, we recommend two cases that are perfect for a commute. As the name suggests, the Tomtoc Nintendo Switch Slim Case is the slimmest case we like. Ryan Whitman writes, "The unique molded shape also ensures you'll always know which side of the case is 'up' when you open it." As a result, there's no risk of having the Switch spill out when you unzip the case. However, the Tomtoc case doesn't have room for the charger, so that'll need to go in your bag. If having room for a charger, more than a dozen games, and extra accessories is important to you, get the ButterFox Nintendo Switch Hard Carrying Case.
Tomtoc Nintendo Switch Slim Case (about $20 at the time of publication)
ButterFox Nintendo Switch Hard Carrying Case ($15 at the time of publication)
Slate has relationships with various online retailers. If you buy something through our links, Slate may earn an affiliate commission. We update links when possible, but note that deals can expire and all prices are subject to change. All prices were up to date at the time of publication.