By Eve O'Neill
Wirecutter Staff
Brunch made at home beats the long lines and rubbery omelets you find at restaurants. The right tools and a little pre-planning can help you spend as much mimosa-holding, scone-sampling time with your guests as possible. To find these brunch essentials, we hand-picked items from our full guides and conducted an additional 25 hours of research, testing our top picks over three brunches. This list benefits from the expertise of the two dozen entertaining and design professionals our writers have consulted.
Beverages

Our pick: Coffee pot

Good, hot, and flavorful coffee is a brunch essential, but the task is best left to a machine when you're serving a crowd. After 41 hours of research and interviews with leading coffee experts, plus time spent brewing hundreds of cups of coffee in 12 machines, we think the OXO Brew 9 Cup Coffee Maker is the best. The OXO makes better-tasting coffee than the vast majority of drip coffee makers, and it's much easier to use than the other high-end machines we tested. You can read more about it and why we like it in our full review.

However, if you want the best-tasting pot of machine-brewed coffee, usability be damned, the Bonavita BV1900TS, which is usually cheaper than the OXO, is the coffee maker for you. In two separate rounds of tests with different panels, tasters praised coffee made with this machine for its overall flavor and balance; the Bonavita also came the closest to achieving an ideal "total dissolved solids" reading in our controlled testing. It was super-fast too, taking just 5 minutes, 20 seconds to brew a liter of coffee, including a pre-infusion period. However, it's held back by a drippy and clunky carafe that had the worst thermal retention across all the machines we tested.

Good, hot, and flavorful coffee is a brunch essential, but the task is best left to a machine when you're serving a crowd. After 41 hours of research and interviews with leading coffee experts, plus time spent brewing hundreds of cups of coffee in 12 machines, we think the OXO Brew 9 Cup Coffee Maker is the best. The OXO makes better-tasting coffee than the vast majority of drip coffee makers, and it's much easier to use than the other high-end machines we tested. You can read more about it and why we like it in our full review.

However, if you want the best-tasting pot of machine-brewed coffee, usability be damned, the Bonavita BV1900TS, which is usually cheaper than the OXO, is the coffee maker for you. In two separate rounds of tests with different panels, tasters praised coffee made with this machine for its overall flavor and balance; the Bonavita also came the closest to achieving an ideal "total dissolved solids" reading in our controlled testing. It was super-fast too, taking just 5 minutes, 20 seconds to brew a liter of coffee, including a pre-infusion period. However, it's held back by a drippy and clunky carafe that had the worst thermal retention across all the machines we tested.

Our pick: Citrus juicer

Nothing beats fresh-squeezed juice, whether sipped straight or added to mimosas, and the very affordable Proctor Silex Alex's Lemonade Stand Citrus Juicer gets the job done quickly and effectively. After testing 11 models for our guide, we found that the Proctor Silex was one of the easiest juicers to use (it won't tire your wrists), and it produced sweeter juice than machines 10 times the price. It performed equally well on oranges, lemons, and grapefruit, and the two reamers never dug so deep that they extracted the white pith; in a taste test, we didn't get any of the bitter flavor. It also has an adjustable pulp catcher in case you like smoother or chunkier OJ.

The juicer comes with a 34-ounce pitcher and two heads that stack like nesting dolls, both in use and storage. Everything but the motorized base—which probably won't get too dirty anyway—is dishwasher-safe, but you can also easily rinse the pieces and wipe them down.

Our pick: Juice carafe

Chances are, your brunch guests won't drink juice in large serving sizes. A smaller, slimmer vessel like the glass, 1.1-liter Bormioli Rocco Ypsilon Brio gets it on the table without taking up precious space. Of the three carafes we tested, the Ypsilon showcased juice best and had the tightest-fitting lid. That fit is important, because the lid lets you shake up the jar's contents and store leftovers without soaking up smells from the fridge. The Ypsilon's plastic one fits like a cork on the inside of the glass. It doesn't have the most reliable seal—when I turned a full carafe of water upside down the liquid slowly leaked out—but I could easily shake the contents with zero mess (hold down the lid with one finger for security).

The Ypsilon also beats out acrylic carafes, because the glass won't transfer plasticky flavors to your juice, looks nicer, wears longer, and can be cleaned in the dishwasher without fear of clouding or cracking.

If you're going with a full-blown mimosa bar, two or three of the Ypsilon can display a variety of juices. Or if the gathering is more intimate, mix up a batch of mimosas or Bloody Marys for two. You can mix directly in the carafe with any regular wooden spoon or spatula (no special bar spoon needed). When filled to the neck, it holds 32 ounces comfortably, which translates to about six 5-ounce servings of juice or four pint-glass-sized Bloody Marys (if your pint glass is packed with ice).

Overall, the Ypsilon has clean lines, no seams in the glass, and a modern aesthetic. It originally came to my attention after two separate San Francisco restaurants served me with it on the same day.

We also tried the Anchor Hocking Glass Carafe, one of the few other choices with a reliable lid, but found its visible seam on the outside and thicker glass to be less attractive. The Simax Bohemia Cristal carafe matches the Ypsilon for looks, but the lid isn't airtight and can't be used for storage. We considered popular Weck juice jars, but the tiny parts securing the lids are very misplace-able and a bit fussy.

Our pick: Water jug

If you're having alcohol at the table, you must put out water for your guests. For an all-purpose water vessel, our pick is the simple Bormioli Rocco Frigoverre Jug with Hermetic Lid. You can easily add ice, the mouth is wide enough to fit a hand in (so you can scrub the bottom), and the container fits into the side of the refrigerator. The Frigoverre also works well for bigger batches of Bloody Marys because the lid allows you to give the jar a good shake when the mix inevitably settles. (The lid does need to be removed for serving, though.)

As with juice carafes, we think glass is best because it doesn't give off any flavors to the water and it's clear; people will see that it's water and reach for it when they need it.

It has high ratings on Amazon currently; the most common complaint is about the narrow handle, but many Amazon customers say that isn't a problem.

If you have multiple tables set up or are just looking for an inexpensive option for water service, Donna Albertson, director of marketing and special events for the Ivy Room (an event space in Chicago), prefers the IKEA Korken bottles with swing tops. They're really cheap, and as she told us, you can buy a lot of them and fill them ahead of time so you don't have to worry about it while you're whipping up eggs. They're light, they're easy to aim into a glass and pour with one hand while sitting down, and they bring to mind the kind that restaurants use to serve water at the table. They also have a recommendation from The Kitchn. (Though the name seems to have changed from Slom to Korken, it looks like the same bottle.) However, the Korken bottles aren't currently available online, so if you don't have an IKEA near you, the Bormioli Rocco Giara Bottle is more expensive but equally attractive.

Our pick: Champagne glasses

A wine glass stem is designed to keep your dirty fingers off the bowl as well as to preserve the temperature of the drink it holds. But if you're making mimosas for brunch, no one will be worried if the temp of their OJ is off by a few degrees. The CB2 Cylinder Flutes are the best budget-friendly option we've found. The petite, delicate design is special and fun to drink out of. And they're so affordable, you can serve a crowd without going broke.

While at first I feared these looked too much like tiny Collins glasses, this shape offered advantages over other options. First, it makes them comfortable to sip from. Narrower flute openings make drinking awkward, always hitting you in the face. Compared to the Cylinder flute, the top on the Libbey Stemless Flute felt restrictive. Our pick also has a broad, flat bottom that planted it firmly on the table. Both alternative options I looked at tapered to a smaller base, resembling a more traditional Champagne flute. But this made the bases very tiny, and one glass in my Libbey set wobbled when I set it down.

I asked one brunch-goer her opinion on the shape of the Cylinder flutes, and she said, "I like holding it. It's simple, but it's not ordinary. If I had these at my house, my friends would want to know where I got them."

Our pick: Bloody Mary mix

A good Bloody Mary isn't too difficult to put together. But if you want flavor that goes beyond the classic lemon and Worcestershire concoction, prep can become all-consuming. A premade mix saves a lot of work, and in a blind taste test of eight premade preparations, Demitri's Chilies & Peppers Bloody Mary Seasoning was the favorite. It's bright, flavorful, and not so heavy it overshadows the meal to come.

Unlike other premade mixes, Demitri's is a concentrate. You have to add both vodka and tomato juice. We mixed ours with something incredibly basic—Safeway's 100% Tomato Juice—and it still came out the winner. The resulting drink was fresh tasting and not too thick, and it had a mild heat that would suit a wide range of tastes.  "It's so pleasant, I would love to have one of these with an omelet," mentioned one taste-tester. Though it has chilies and peppers in the name, no one categorized it as spicy.

Adding seasoning to tomato juice instead of buying a giant, premixed gallon means you can mix batches for smaller parties, so no mix goes to waste. And the concentrate will stay good in the fridge for up to a year.

All mixes we tried specified either 4:1 or 3:1 ratios of juice to spirit. The Demitri's didn't recommend a specific ratio of mix to vodka, so I mixed it 4:1. Made in this way, the 16 ounce jar will make 10 quarts of Bloody Mary (that includes the vodka), or roughly 40 8-ounce servings.

If you don't want spice of any kind, try the bright, uncomplicated Trader Joe's Bloody Mary Mix with Clam Juice. Don't let the "clam juice" scare you off—it tastes nothing like it. I know many professional bartenders who claim fish sauce is the ultimate secret ingredient in a Bloody Mary, yet they remain bound to silence because most people recoil at the idea of such a thing in their drink.

For spice lovers, we'd go with Demitri's Chipotle & Habanero. "It's rich, interesting, has hot tomato flavor, smoke… it doesn't cover the flavor at all and still has a big, long, lingering hot kick," said one drinker. She also giddily proclaimed, "It's like fresh Mexican food!"

We tried the much-loved Demitri's Classic Recipe, but it fell flat. Demitri's Extra Horseradish didn't make the cut, because as one taster put it, "I don't like horseradish or wasabi. I avoid horseradish like the plague." We thought that might be a common sentiment and set it aside. Everyone enjoyed Zing Zang, but is was so incredibly thick that finishing a glass was a project. Freshie's Hot Maryhad lots of heat, but only heat, at the expense of other flavors.

We opted not to test mixes by V8, Ocean Spray, and Mr. & Mrs. T's because they all include some sort of thickener like flour (yuck) or sugar additive (there are a million variations, but sugar isn't an ingredient in any reputable recipe I've ever found). Tabasco brand was universally panned as too salty, and we set aside boutique concoctions engineered to a specific flavor profile, like the reportedly pickle-heavy mix from McClure's.
Kitchen

Our pick: Waffle maker

After 70 hours of research, talking with four experts, and testing 30 models since 2014 for our full guide, we recommend the Chef'sChoice WafflePro Classic Belgian 840B for most people. It consistently produces beautifully golden, crisp-on-the-outside, evenly browned waffles. And it has a bevy of features that make it easier to use than most other machines. A numbered dial gives you careful control over waffle doneness, while a toggle switch lets you control texture. Lights and a loud beep clearly signal when your iron is heated or waffles are done. The nonstick plates release waffles cleanly, and an overflow channel catches excess batter, so cleanup is a breeze. Plus the compact Chef'sChoice 840B stores either flat or upright, so it fits conveniently in most kitchens.

Our pick: Griddle

If you want an electric griddle for making a lot of pancakes, eggs, bacon, and even grilled sandwiches at once, we suggest the Presto Tilt 'n Drain Big Griddle Cool-Touch Electric Griddle. It's big enough to make an entire 16-ounce package of bacon or 10 palm-sized pancakes at once, and in our tests we found that it heated evenly and browned foods perfectly. The nonstick surface really works and also makes for easier cleanup. If you buy this model, invest in a good silicone spatula—such as the GIR Mini 11-inch Flip Spatula—as metal utensils can scratch the nonstick coating.

We tested the Presto against the Broil King Professional Portable Nonstick Griddle—the top pick of America's Test Kitchen (membership required)—and found that they cooked about on a par, but the Presto is typically half the price. The two griddles have a similar grease-drainage system, but we like how the Presto has a small trough at the front of the cooking surface that siphons grease into the tray under the griddle. We did prefer the Broil King's sturdier metal handles over the Presto's flimsy plastic ones, but that was our only real complaint.

We also considered the Cuisinart 5-in-1 Griddler, recommended by America's Test Kitchen, as well as the Presto 22-inch Electric Griddle with Removable Handles, an Amazon best seller, but neither was as highly rated as the two we ultimately decided to test.

Our pick: Casserole dish

If you're looking for a casserole dish to make stratas, frittatas, and other baked breakfast dishes, we like the HIC Porcelain 13-Inch Lasagna Pan. In our testing, we found that this dish performed about as well as those more than three times the price. This broiler-safe dish bakes evenly and has nice handles for carrying it directly from the oven to the table. The pan is big enough to easily serve food for six if you have some other sides. We've been long-term testing the HIC for more than three years, and it has held up well. (This pan is sometimes called Mrs. Anderson's Baking Oblong Rectangular Baking Dish Roasting Lasagna Panon Amazon, but we've confirmed with HIC that it is the same pan.) The durable porcelain cleans up nicely, and we like how classic the pan looks. Although we prefer the white version, the HIC is also available in red, blue, green, and cream.

Our pick: Bacon rack

Most wire racks are meant only for cooling baked goods, but using a rack to cook your bacon is one of the simplest ways to serve up the ultimate brunch-time crowd-pleaser without spending 30 minutes in front of a hot skillet. A rack crisps bacon up evenly, raises the meat above its rendered fat, and allows the strips to cook up flat—no curling or soggy spots. The CIA Masters Collection 12 Inch x 17 Inch Wire Cooling Rack does the job perfectly. It's one of the few racks we've found that are oven-safe and shaped to fit well in a half sheet baking pan. It's sturdier than other racks we've looked at, and its tight grid pattern (as opposed to parallel wires) won't let food bend or fall through.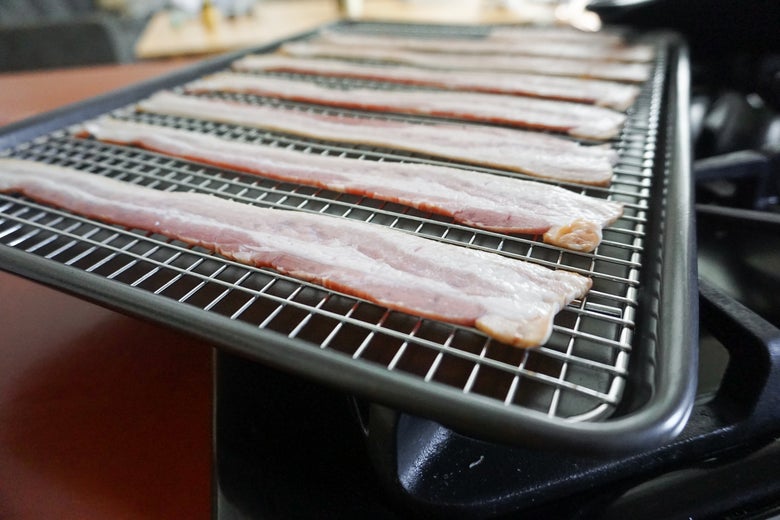 We tested the CIA rack in a head-to-head bacon-off with a similar model, the Palmer Professional Cross Wire Cooling Rack. Following this method from Cooking Light, we noted that the racks cooked identically, but the CIA revealed two design advantages. It has a third set of feet that run down the middle, bracing the center of the rack. Should you ever want to use the rack for something heavier, like a roast, the third foot will prevent the rack from buckling in the middle. The Palmer does not have a center brace. The CIA was also easier to clean. Because the feet are not attached directly to the grid and are only at the edges of the rack, the free-floating design allowed me to quickly remove any trapped bits in one quick swipe. By comparison, I couldn't easily get my sponge in and around the tightly welded metal of the Palmer rack.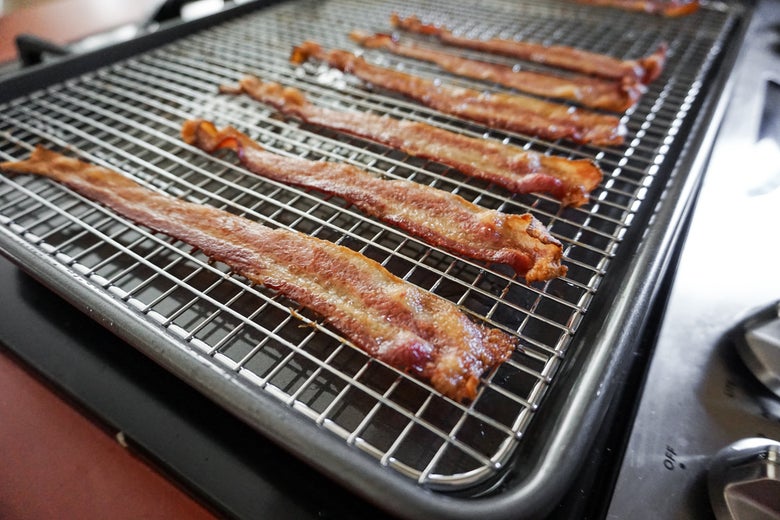 I also compared the rack method with cooking bacon directly on parchment paper, but the advantages of using a rack were immediately clear. No cutting and fitting of paper. No draining the bacon on paper towels. No need to dirty an extra set of tongs fishing bacon out of a pile of rendered fat. On a rack, you can easily pull the bacon off with a fork or even your fingers, and the grease is quarantined in the pan below. And cleanup was about equal with both methods.
The CIA rack holds about 12 uncooked strips of bacon side by side if you really cram them on there.
Our pick: Sheet pan
If you plan on whipping up some biscuits or scones or need to round out your bacon-roasting toolkit, the Nordic Ware Baker's Half Sheet is our top choice for an all-purpose pan. In our tests, it did everything we needed without warping at high heat and for less than half the price of the most expensive model we tried. It baked cookies and pizza very evenly and we like that the uncoated aluminum can take a beating (unlike nonstick cookie sheets). To create a nonstick surface (and for easier cleanup), several experts we spoke with recommended laying down a layer of parchment on the sheet.
The Nordic Ware gets a very positive rating on Amazon, and Serious Eats says in a review that "these sheets have the weight and thickness to produce lovely, crisp, and most importantly, evenly browned cookies." It also comes with a five-year limited warranty.
Our pick: Muffin tin
You can use a tin to make muffins, of course, but a great muffin tin also opens the door to breakfast cups, spicy jalapeño cornbread, flaky cinnamon morning buns, and more. After considering eight models and making muffins in three, we recommend the Amazon best-selling, 12-cup Wilton Recipe Right Nonstick Regular Muffin Pan. This was the least expensive tin we tried, and it turned out golden-brown muffins on a par with those from the pricier Wilton Avanti Everglide and Wilton Signature Perfect Results 12-cup pans. (The top-rated models just happened to be all Wilton.) The only drawback of the Wilton Recipe Right pan is its shallow handles; we wish they were bigger to make it easier to hold with clumsy oven mitts.
We found that the Wilton Recipe Right's nonstick surface worked well, although for perfect, no-muffin-left-behind baking we recommend using nonstick cooking spray. A nylon sponge didn't scratch the pan, and neither did the butter knife we used to scrape bits of muffin from the bottom. It also didn't warp in the oven or the dishwasher.
We eliminated silicone pans because they're sloppy to handle and, as Cook's Illustrated notes in an equipment review, they "really offer no advantage over the traditional pan." We passed on the Rachael Ray Oven Lovin' Non-Stick 12-Cup Muffin and Cupcake Pan due to a Cook's Illustrated (membership required) report of uneven baking performance and degradation of the silicone handles. We also dismissed the Chicago Metallic Commercial II pan that Real Simple highlighted, as well as the Nordic Ware Natural Aluminum Commercial Muffin Pan, because of an absence of handles. The Anolon Advanced Nonstick Bakeware 12-Cup Muffin and Cupcake Pan seemed too pricey (as did the Wilton Signature Perfect Results we tested, but since we already owned that one, we figured we'd see how it stacked up). The USA Pan Aluminized Steel 12 Cup Cupcake/Muffin Pan also has very positive owner reviews, but we don't think you need to pay that much to get a great tin with all the features you need.
Our pick: Ramekins
For special brunch dishes, such as shirred or coddled eggs or individual desserts, we recommend this set of 6-ounce HIC ceramic ramekins. They are oven-safe up to 500°F, microwave- and dishwasher-safe, and even freezable. Because they're made of porcelain, they can also be put under a broiler, an advantage over lower grades of stoneware. That opens possibilities that would otherwise be off limits, like toasting creme brulees and browning cheese toppings.
We chose a ramekin with a fluted design instead of decorative or flat sides because those ridges serve a purpose. According to Aaron Toensing, who has more than 20 years of experience as a head pastry chef in several San Francisco restaurants such as Postrio, Bix, and Fog City Diner, "Those ridges around the outside disperse the heat. If it was flat, the heat would be more direct and the edges would burn, but since it's fluted it slows" down the cooking process. This gives your dish an evenly baked interior and exterior, instead of burnt edges and an undercooked middle.
The HIC's shape and size also make it more versatile. Ramekins in squares or other shapes aren't the best option for baking, because the corners change how the dish cooks. "Any time you have an indentation like that it's going to create a different product," warned Toensing. For baking rich sides or desserts, 6 ounces is a good size. "The souffle ramekin, it's 4 to 6 ounces," said Toensing. "I don't think you can go smaller than that. [Smaller ones] are just for condiments, like ketchup and aioli." And the larger, 8- to 12-ounce sizes? Use them for less sweet, more savory dishes like macaroni and cheese or a small eggplant parmesan. The HIC ramekins come in eight sizes, ranging from 1 to 14 ounces.
Looking for a way to use your ramekins for brunch? Try this impressively easy approach to egg prep by Mark Bittman, who claims that baking them en masse is "the easiest method for cooking eggs in quantity."
We looked at 18 other options, the most notable being the also-popular Norpro Porcelain Ramekin Set, which doesn't come in the same range of sizes as the HIC. Pillivuyt makes porcelain ramekins, but they're $8 to $10 each (ouch).
Our pick: Spatula
Our favorite all-purpose spatula, the Victorinox Chef's Slotted Fish Turner, is one breakfast tool we wouldn't want to go without. Forget that it's got "fish" in its name—it's a versatile, slotted spatula with the right amount of flexibility and strength. The gentle slope of the Victorinox's blade slid effortlessly under over-easy eggs and flipped them delicately without breaking the yolks. Despite its flexibility, the blade is sturdy enough to hold a stack of eight pancakes without bending. It isn't dishwasher safe, but we think the sturdy comfort of its wooden handle makes up for the bit of hand washing and care that it requires.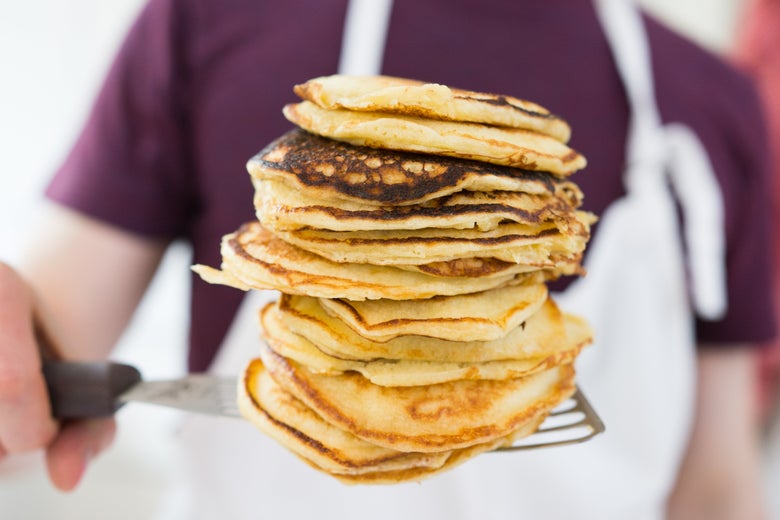 Metal spatulas easily scratch nonstick surfaces, and you'll find a lot of nonstick in the pancake-frying, egg-flipping world of brunch. When working with nonstick, we like the GIR Mini 11-inch Flip Spatula. Don't be deceived by this spatula's smaller-than-average size; its sharply angled blade, paper-thin edge, and offset handle allowed our testers to flip fried eggs and pancakes with confidence. Since it's made from a solid piece of silicone (available in many colors), it has no grooves that trap food, making it easier to clean. While it can't beat a metal tool for sharpness or dexterity, its tapered blade is still one of the thinnest of any plastic spatula we tested. It allowed us to scoot underneath warm cookies without breaking them.
For scraping down the sides of bowls and pans, we prefer the Kickstarter-born GIR Spatula. It's made of a single piece of silicone with a nearly invisible edge seam, so it's easy to wash, even in the dishwasher. It's slim enough to fit into a peanut butter jar, and its parallel edges make it comfortable and quick for scraping down the sides of a large bowl or sauté pan. The tip is thick enough to give the spatula heft for pressing down doughs, yet still flexible enough to glide smoothly and cleanly around the edges of a batter bowl.
The GIR's grippy, rounded handle feels better than competitors' flat, thin sticks. And because both flat sides of the blade are symmetrical, both left- and right-handed cooks can use it. The GIR Spatula comes with a lifetime guarantee. It's a pleasure to use, and the bright, popping colors would look great hanging on the wall.
Our pick: Kitchen tongs
Who needs serving forks when spring-loaded tongs are so much more practical? Winco's 7-inch Tongs, while utilitarian and simple, are the most efficient option we've found for a true multipurpose serving tool. The scalloped tips grip most foods on any buffet or table, and these versatile tongs can be used year-round for kitchen tasks. They come in different lengths, but we find the 7-inch size works great for serving without being too big and bulky.
We tried other, better-looking tongs, but they couldn't match the Winco's utility. These Rosle locking tongs are attractive and hefty, but the locking mechanism worked only 75 percent of the time and left us struggling to get them unlocked. The Crate and Barrel Scissor Handled Serving Tongs are made for salad and not really useful for much else. We also tested the Norpro Deluxe Serving Tongs but found that the small scissor handles are cumbersome for large hands, and the smooth paddles don't grip very much.
Service

Our pick: Form server

How to cram all those berries and whipped creams, cornichons, olives, and garnishes onto your table in one deft move? The ceramic Crate and Barrel 4-Piece Form Server is the most elegant and practical option we've found for getting the job done. Fill it once, set it out, and let your guests pass the removable inserts around the table, no awkward lifting or platter shuffling required.

Recommended to us by Vikki Marsee, event planner and co-owner of All You Need Is Love Events, this form server has three oval-shaped bowls that come in staggered heights of 3 inches, 3.5 inches, and 3.75 inches. They're each 6.5 inches across, so they're big enough that you won't need to refill constantly. The bowls nest inside an 11-inch-diameter dish with a tall rim that can do double duty as a serving tray or platter. Move everything to the table in just one trip, with the added peace of mind that none of it will slide onto the floor in the process.

Once it's on the table, it operates as its own centerpiece. Guests can pass the individual bowls without having to get up and hover around a large platter or pass a big awkward dish. The lipless design of the inserts makes setting them down in between crowded glassware and breadbaskets an easy task, which is tough with bowls that have wider brims.

We did notice that the bowls have a little wiggle room inside the serving tray, perhaps a quarter inch, and can slide around a little. While the addition of a nonslip base for the bowls would be nice, we didn't think this was a dealbreaker. The tray buffers against any tragic mishaps.

Of course, there are always timeless looks. This Food Network 4-Piece Serving Tray seemed promising, as well as this Sagaform Stoneware Set, but we were afraid these styles might soon look out of date. This Gibson Serving Bowl Setdidn't have the wow factor of the smooth lines and staggered heights of our top choice.

Our pick: Butter bell

If you like your butter at room temperature, a butter bell offers a cleaner and more attractive alternative to a standard covered dish. The Emile Henry Butter Pot is our favorite because of its secure lid, large capacity, and overall attractive design.

The Emile Henry works much like other butter bells. First, you pack the lid, which has an interior compartment built into it, with butter. Then, you place a small amount of water in the accompanying dish and invert the lid inside the jar. The water creates an airtight seal, preventing the butter from going rancid while stored at room temperature. The design is smart and compact; butter doesn't get smeared everywhere after one use. And the airtight seal keeps butter fresher than a regular dish.

Of the three I tested, the lid on the Emile Henry Butter Pot was less wobbly and fit more snugly than both of my other stoneware options, The Original Butter Bell Crock and the Le Creuset Butter Bell. The shape of the Emile Henry's interior pocket is also unique. It's an inverted cone shape, instead of an open bell, which allows it to hold two sticks—almost twice as much as The Original Butter Bell Crock—and the shape also helps keep the butter from sliding out. The lid doesn't have a handle, but that became an advantage, because I could flip it and slide it onto the table with just one hand. If you force it, you can do this with the other models, but it's trickier and requires some finger acrobatics.

Two sticks (16 ounces) might seem like a lot of butter. But in my two-person, not extremely butter-centric household (or so I thought!), the smaller (8 ounce) bell was empty in four days. A bigger capacity means you pack it less often. And if you're serving a crowd at brunch, it means not having to refill mid-meal.

One major issue people seem to have with butter bells is that some users can't get their butter to stop from sliding out of the bell. I didn't have this problem with any of the bells. I packed the butter in all the way, pushing out all the air bubbles. I did not get a chance to test them in hotter summer temperatures, though. The warmest my kitchen got during testing was 72°F. Some people in warmer climes also say mold can grow in the moist air pockets. Salted butter should discourage bacteria growth better than unsalted. Butter bell enthusiasts suggest changing the water every other day, and using your butter within a few days when it's warm out. I filled mine with salted butter and in several weeks have had no issues with mold of any kind.

In addition to white, the Emile Henry Butter Pot is available in a variety of colorful glazes that really pop.

Our pick: Lazy Susan

Our original pick was the Core Bamboo 14″ Lazy Susan, but because of consistent stock problems on Amazon, we've switched to the affordable IKEA Snudda. This solid-birch Lazy Susan is almost $25 less than the Core Bamboo currently, it's highly rated, and it can hold a little over 26 pounds.

If you can find the Core Bamboo in stock, it's still a solid choice. When we loaded the Core Bamboo with a full water carafe and three heavy stoneware jars totaling 7 pounds, the platform didn't wobble, shift, or lean in any direction. When we splashed the Core Bamboo with sugar, water, and tomato juice, all wiped off cleanly without staining or damaging the surface.

The 19″ Lazy Susan at World Market was another favorite; though it's sturdy and well-made, it comes unfinished and requires wood oil to prevent it from staining over time. The 18″ Sur La Table Acacia Lazy Susan fell out of the running because it had a slight rattle when rotating.

Less expensive models we considered all came up short. We saw a high star rating for the Lipper 10″ Bamboo Turntable on Amazon, but the lower-starred reviews cited problems with the item arriving scratched or damaged. Similar complaints cropped up when I looked into the company's 18″ Acacia model. Getting an unmarred item seemed to be a roll of the dice, so we didn't test them. Plastic versions like this OXO lazy Susan looked better as storage inside kitchen cabinets than on a tabletop. Marble options felt stuffy.

Our pick: Folding chairs

One of the worst problems to have at a brunch gathering is insufficient seating for your guests. That's where folding chairs come in handy. After hours of research and several months of long-term testing, we suggest going for the Mity Lite Flex One folding chair, a durable, ventilated seat made of steel and flexible polypropylene that molds to the sitter's shape and can purportedly hold more than 1,000 pounds. It is an inch and a half wider than your standard folding chair, can be stored in a closet, and is comfortable enough that your seated guests won't feel like second-class party attendees.

We tested the Mity Lite Flex One against the IKEA Terje for comfort, and the winner was crystal clear. We were able to sit in the Mity Lite Flex One for hours. The Mity Lite's wide seat and back move slightly with your body, while the tall 9-inch backrest provides plenty of support. The Terje's rigid slatted-wood seat is 2 inches narrower than the Mity Lite's, with no give.

Much of the editorial around this category focused on the looks of the chairs. We eliminated metal folding chairs without covered seats because nobody needs that cold-metal-against-warm-thighs feeling at a party. On Amazon, National Public Seating's padded metal folding chairs get equally high marks from customers, but those chairs aren't as wide or flexible.

Our pick: Serving utensils

The simple, polished WMF Manaos Serving Spoon is our favorite serving spoon. We like its elegant handle, and the bowl of the spoon is big enough to serve up home fries and fruit salad, as well as soft casserole dishes like spoon bread and baked eggs. It gets rave reviews on Amazon. Reviewer HLK says, "Very nice spoon for the price. Feels solid, washes well. Looks more expensive than it is."

Runner-up: Serving utensils

If a high-polish finish isn't very important to you but having a multitasking utensil is, we recommend the Gray Kunz spoon. This spoon is an essential tool for chefs and line cooks in fine dining kitchens all over the world, where it's often used by the pros for saucing, plating, cooking, and tasting. Developed by chef Gray Kunz while he led the kitchen at the now closed Lespinasse in New York City, they were standard issue for every cook in that kitchen. The Gray Kunz spoon doesn't have the shine of our top pick, but its brushed finish and ergonomic handle make it a comfortable and attractive spoon.

Our pick: Serving utensils

When it comes to serving sliced meat or vegetables like asparagus or green beans, we think serving tongs are best. If you want something fancier-looking than our Winco recommendation, the Crate and Barrel Caesna Mirror Serving Tongs balance style and practicality. Versatile, easy to grip, and made of high-polish stainless steel, these tongs work well for serving both casual and dressed-up dinners.

Read the original post "The Elements of Brunch."

Slate has relationships with various online retailers. If you buy something through our links, Slate may earn an affiliate commission. We update links when possible, but note that deals can expire and all prices are subject to change. All prices were up to date at the time of publication.