Whether you want a reusable straw for slurping morning smoothies at home or drinking iced coffee on-the-go, we recommend the Klean Kanteen Steel Straws because we found them to be the most comfortable to sip from and the easiest to clean. They'll work in 16- or 20-ounce cups, and the mouthpieces come in an array of fun colors.
We like that the Klean Kanteen Steel Straws come in two pieces: Their stainless steel base punches through a plastic to-go lid easily, while the pliable, curved silicone tip feels natural in your mouth (and prevents you from chomping onto a hard straw). It's also easier to push a cleaning brush through the separate segments (which come apart) than through one long, curved straw. Although Klean Kanteen is phasing out its straw brushes, you can buy a cheap set or upgrade to our favorite water bottle brush set.
Among the silicone straws we tested, the GoSili Reusable Silicone Straws stood out for their thick and translucent material. If you have kids, or are wary of jabbing yourself with a hard straw, you may prefer a softer, all-silicone straw over one that contains metal. We think these will hold up to some chewing better than thinner ones we tried, and we like that you can see through the straw to tell if it's clean. The GoSili straws come in a few lengths, ranging from a short 5½ inches to an extra-long 10 inches, plus an extra-wide option that works for boba. We recommend getting a multipack that comes with six straws in two colors and three different lengths so you can use them in kids cups too.
Who this is for

We're not going to tell you that forgoing plastic straws for a reusable one will save the environment. It likely won't. But if you want to buy less stuff, always be prepared, or, sure, cut down on your plastic usage, a reusable straw might be for you.

Straws have been getting a lot of attention since the summer of 2018. Maybe the hype began when the city of Seattle announced a plastic utensil ban, and several companies, including Alaska Airlines and Starbucks, promised to phase out plastic straws. Or maybe it was sparked by the viral video of a sea turtle with a straw stuck in its nose, or the rapid proliferation of the inaccurate statistic that Americans use 500 million straws each day (although the exact number is hard to know, The New York Times [parent company of Wirecutter] reports that a more accurate estimate is between 170 million and 390 million per day). Whatever the reason, many media outlets and environmental campaigns have touted reusable straws as an easy way to reduce waste.

While using a metal or silicone straw may help you minimize how much plastic or general stuff you buy, we think it's important to consider the whole picture before committing. You'll need to be diligent about cleaning straws, and we recommend using a brush to get all of the gunk out. Most budget-friendly straws also don't come with carrying cases, so you'll need to get creative about transporting them when you're on the go, too. And sometimes it's just convenient (or even possibly delightful!) to use a plastic straw to slurp a chocolate milkshake, inhale an iced coffee, or sip a paloma; you can reduce your plastic habit in many other ways, too.
How we picked and tested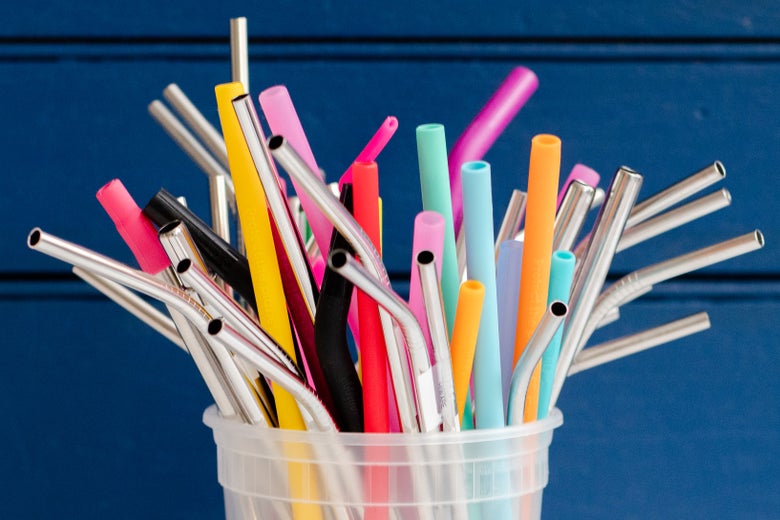 To help us figure out which straws to test of the thousands of options available from Amazon and other major retailers, we read reviews and roundups from sites like Epicurious, Martha Stewart, Bustle, The Strategist, and Refinery29. Most of these pieces, however, didn't involve any research or testing, so we also polled Wirecutter staff members about their favorite straws and read over customer reviews. For the full picture on the pros and cons of plastic straws, we also read articles about the background on the reusable-straw hype, why banning plastic straws burdens people with disabilities, how to break your plastic habit, and how different materials break down in the environment. We also spoke to Dr. Paulo Coelho, professor of biomaterials at NYU Dentistry, about how straws made from different materials can impact dental health.
Based on our research, we determined that a good reusable straw should check the following boxes:
Metal or silicone: We only considered stainless steel and silicone straws, skipping over bamboo, paper, or glass options. Glass can break, paper will disintegrate, and bamboo shouldn't go in a dishwasher. Although we prioritized metal straws because they're durable and easy to clean, we also considered silicone straws for kids and people who are worried about biting down on metal. Metal straws can also get uncomfortably cold or hot depending on what you're drinking, whereas a silicone straw doesn't conduct temperature as well.
Easy to drink from: The shape, length, diameter, and material of a straw can also affect how it feels to drink from it. Too narrow, and it's hard to suck up liquids; too wide, and you're getting too much at once. While shorter straws may not reach the bottom of a cup or tumbler, longer ones can awkwardly protrude from a smaller vessel and feel imbalanced. Straws made from harder materials, like glass or metal, may feel unpleasant to drink from, especially if you don't like biting down on something inflexible. We looked for straws that reached a happy medium in all of these areas and were effortless and comfortable to use.
Easy to clean: All of the straws we considered are dishwasher safe, but we found that all of them require a good scrub with a brush to actually remove every last berry seed or shred of kale from a morning smoothie. Many of the straws we tested came with brushes, but we didn't disqualify those that didn't, since brushes are easy and cheap to buy separately. Brushes should fit all the way through a straw without getting stuck on a corner or pulling against silicone walls.
To test the straws we slurped fizzy Coca-Cola, a thick smoothie, and iced coffee. We ran them all through our test-kitchen's dishwasher a few times to see if metal straws rusted (none did) and to find out how much gunk would come out on its own without scrubbing. (In doing so we learned that our dishwasher's flat silverware rack does not flush out straws very well. They may get cleaner in an upright caddy, but using a brush is the safest option). We also cleaned each straw with the brush it came with or used a Dawn Straw Cleaning Brush (we like these brushes for their sturdy handles, flexible bristles that fit into every straw we tested, and grippy handles). And finally, we tried punching the straws through plastic to-go-cup lids.
Our pick: Klean Kanteen Steel Straws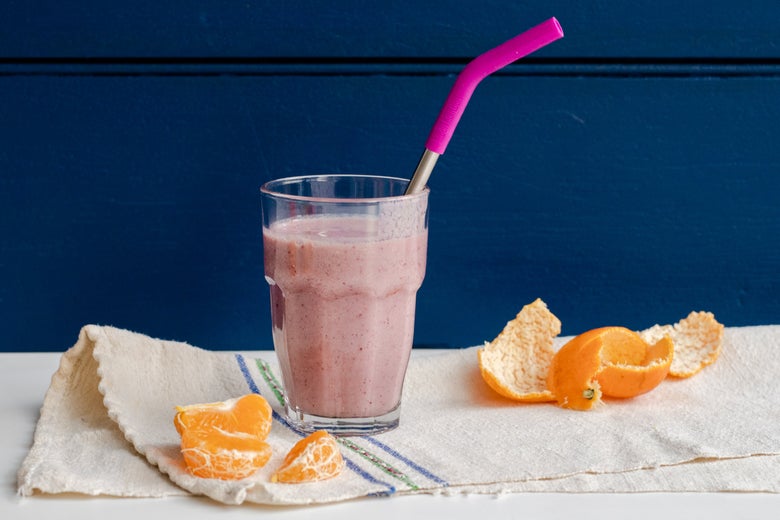 Out of all the straws we tested, the Klean Kanteen Steel Straws are the easiest to drink from and clean. With a removable, curved silicone tip, you can bite down on this straw without fear of hurting your mouth. The straw comes in two pieces, and it's easy to push even a short brush through both parts.The metal is durable, while the silicone mouthpiece is soft to bite down on and comes in a rainbow of colors; the whole straw is dishwasher safe.
Drinking from the Klean Kanteen's silicone mouthpiece is significantly more comfortable than drinking straight from a metal straw. The silicone won't conduct temperature as well as metal does, so it won't be uncomfortable to drink hot or iced beverages from these straws. You can bite down on the silicone if you usually chew straws or like to create a narrower opening to drink from, too. The straw doesn't feel too wide, and the curved section makes it easy to bring your drink to your mouth. Drinking from the silicone part of the straw is also easier than drinking from an all-metal straw—you don't run as much risk of jabbing your mouth, teeth, or other parts of your body while you're walking or driving. Almost all of the metal straws we tested were indistinguishable from each other but were equally unpleasant to drink from. The metal tubes rolled and clanked around our teeth, felt clammy, and added a slightly metallic taste to beverages.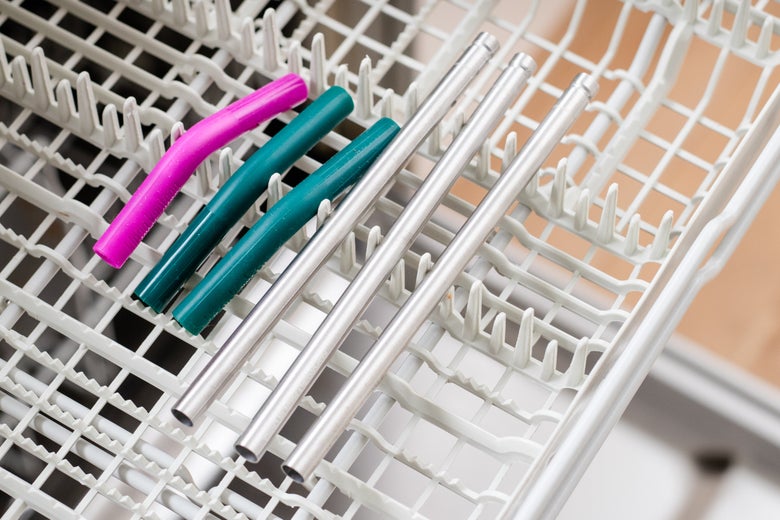 The Klean Kanteen straw separates into two pieces for easy cleaning. You can easily push a straw brush all the way through both the silicone and metal sections to make sure all gunk is cleaned out. This was difficult to do with taller curved straws, especially ones that came with shorter brushes. We ended up just pushing and pulling a brush through the same spots—like mopping a floor with already dirty water. You can also look straight through the straw and the silicone part to see if they're clean, which you can't do with longer, curved, opaque straws. Although Klean Kanteen says you can just put the straws in the dishwasher, we recommend separating them and giving each section a good scrub to get everything out.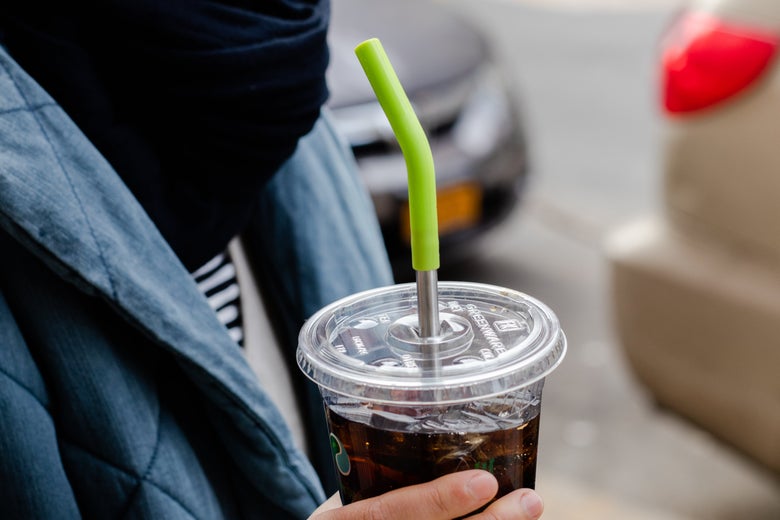 The Klean Kanteen Straws are 8.9 inches long and a comfortable medium width, similar to other metal straws we tested. They work with 16- or 20-ounce cups, and the metal end pokes neatly through the "X" on a to-go lid. The straws come in sets of four or eight, with either all black mouthpieces or a mix of colors.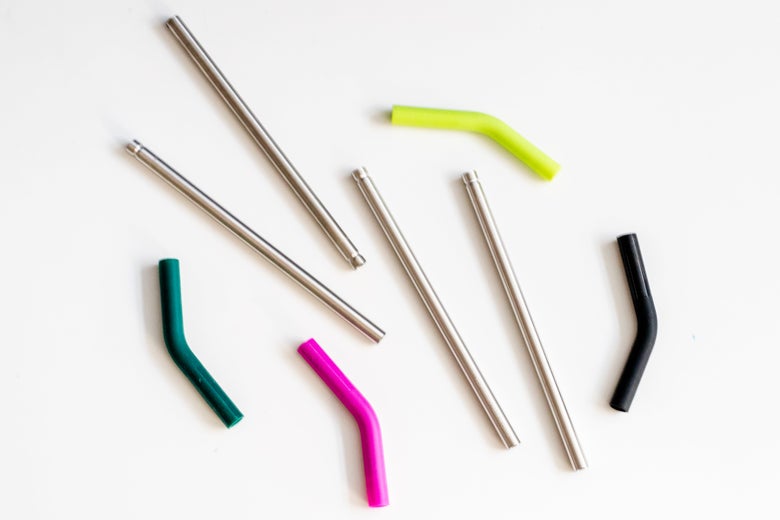 Flaws but not dealbreakers

Klean Kanteen is discontinuing the proprietary brush that used to accompany these straw sets, so you'll need to buy a cleaning brush separately. If you have other bottles or travel mugs to clean, we like the straw brush included in the OXO Water Bottle Cleaning Set. If you just want to clean straws, we like the Dawn Straw Cleaning Brush. The flexible bristles fit through all of the straws we tested, and the brush has an O-ring handle for easy gripping.

Oils and scents cling to silicone, which can make cleaning the Klean Kanteen's mouthpiece difficult. If you start to notice an off flavor, we recommend using hot water and unscented soap to remove oils, then baking the silicone part to deodorize it.

These straws don't come with a carrying case. If you want to bring one with you, we recommend a Ziploc or reusable silicone or cloth bag.
Also great: GoSili Reusable Silicone Straws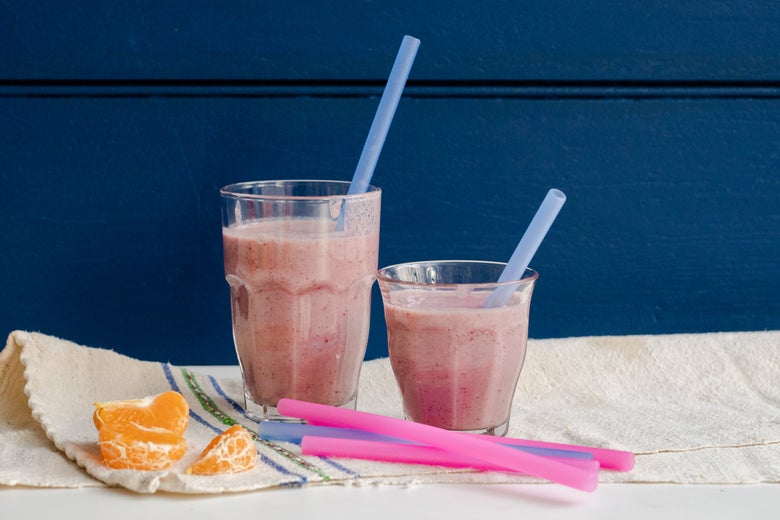 We prefer the GoSili Reusable Silicone Straws for kids or people who want a completely soft straw. The GoSili straws are pliant but they're thicker and stiffer than other silicone straws we tested. They're also translucent, so you can see whether or not there are bits of smoothie stuck inside. The multipack comes with straws in multiple lengths, including some short enough for kids, but GoSili also offers sets of 8-inch, extra-long, or extra-wide straws. Silicone can be harder to clean because oils and scents cling to it, so caring for these straws may take a little more work.
Though still flexible, the GoSili straws had thicker walls than other straws we tested, making it easier to slurp thick beverages. Other silicone straws collapsed slightly when we drank smoothies with them. And the GoSilis punched through plastic to-go lids with less resistance than the GIR or Softy Straws, which are floppier. We also think the GoSili straws' thicker material may hold up better to wear and tear over time, though we'll continue testing them to find out. The GoSili straws have a wider opening than others we tested but they're still comfortable to drink from. The soft silicone is also a safer option than metal (or glass) for anyone concerned about accidentally biting down on hard materials or lacerating their mouths. Silicone also doesn't conduct temperature as well as metal, so your straw is less likely to get uncomfortably hot or cold.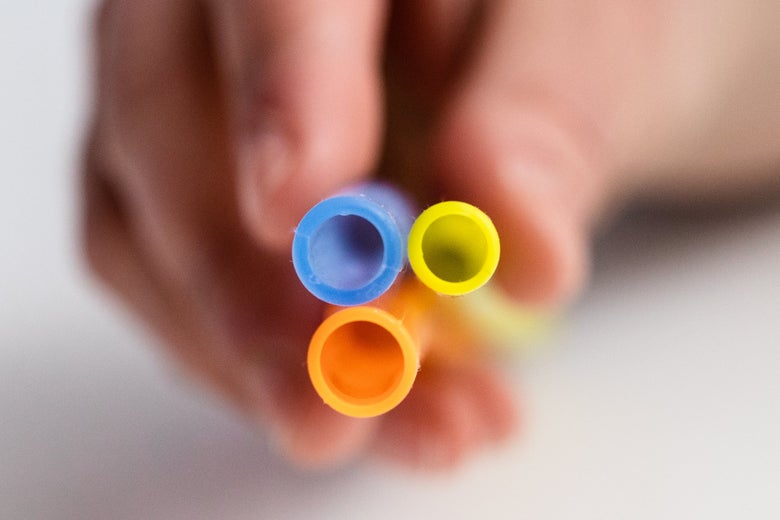 They're the only fully translucent straws we tested, which made us realize how handy it was to be able to see whether or not a straw was fully clean (the only other straw that let us sort of see what was inside was the Koffie straw; dark blobs of smoothie contrasted with the pink silicone). These straws are dishwasher safe, and we found that most debris washed out of them. They don't come with cleaning brushes, but we still recommend getting some to scrub off stuck-on bits. Unlike stainless steel, silicone absorbs scents easily and is a magnet for oils, which can make it tricky to clean. We recommend hot water and unscented soap, and if your straw acquires any lingering scents, try baking it to dissipate the smell.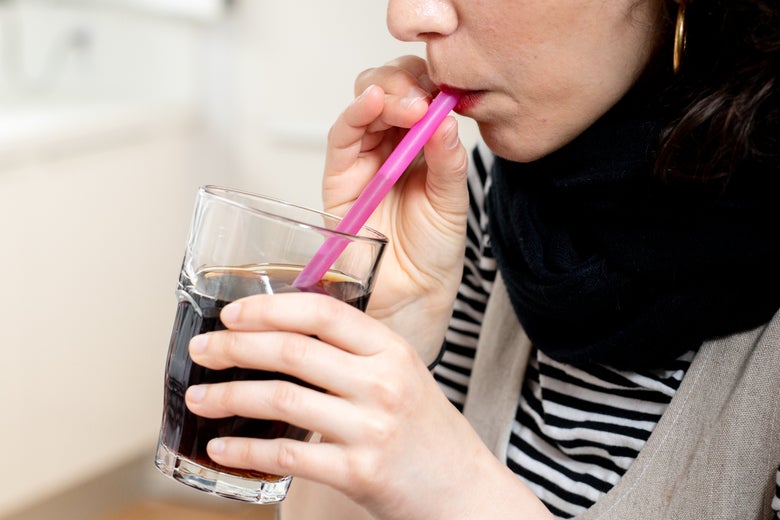 With their short sizes and bright colors, the GoSili straws seem geared toward kids. GoSili makes sets that include shorter and taller lengths—so they'll work with a 16-ounce iced Americano or in a cup of juice at home. The set we like comes with straws in 5½-, 6½-, and 8-inch lengths. You can also get sets of 8-inch straws, extra-wide straws, or extra-long 10-inch straws. In contrast, the GIR straws come in only one length, while the Softy straws come in 8¼-, 9-, and 10-inch options.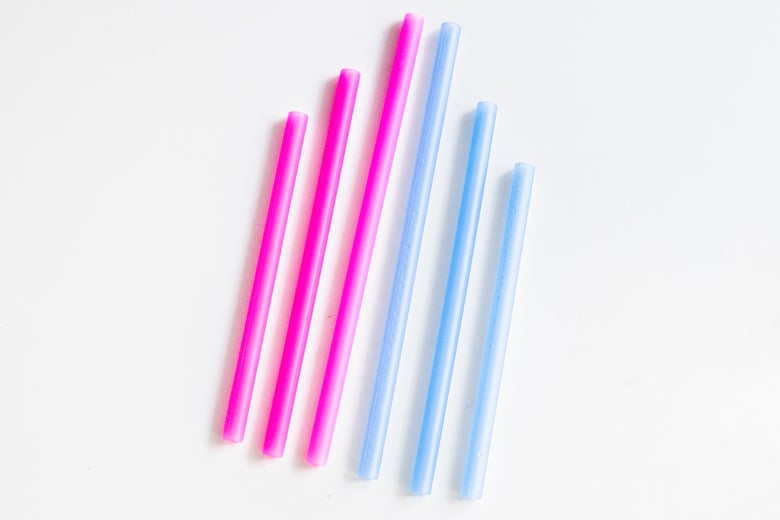 The company also makes silicone lids for cups that fit their straws and sells individual straws with tin carrying cases.
Care and maintenance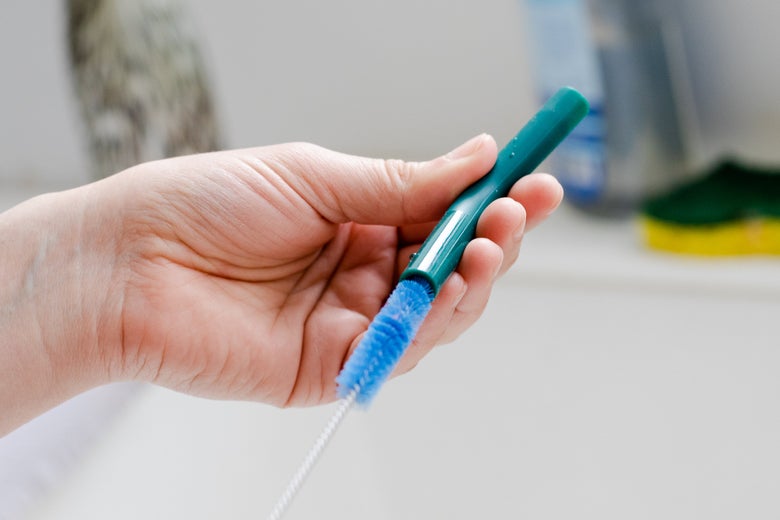 You should get a brush if you opt for a straw that doesn't come with one. A small brush will help loosen all of the stuck-on particles inside a straw that a dishwasher can't reach and prevent you from drinking old, crusty smoothie bits along with your fresh one. We like this water-bottle cleaning brush set from OXO if you have other bottles or travel mugs you want to clean, but you can also get a basic brush set like the Dawn Straw Cleaning Brushes. These brushes fit into every straw we tested and have durable, easy-to-grab handles.
It's easy to lose track of these slim drinking tubes in the clutter of a drawer. We like how Wirecutter writer Lauren Dragan stores her straws: in a tall glass spaghetti jar. If you're taking a straw with you in a bag or purse, we recommend keeping it in some sort of vessel for sanitary reasons, whether you store it in a plastic or reusable bag or wrap it in a clean cloth.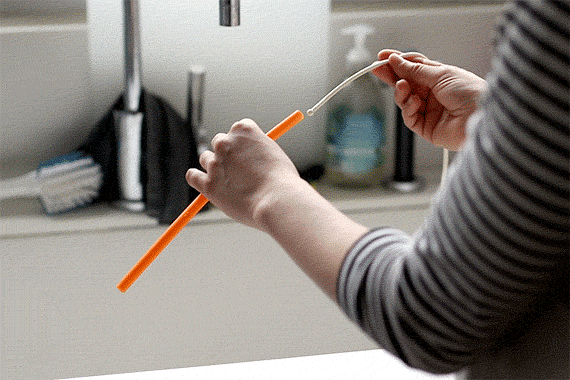 The competition

We liked the soft silicone mouthpiece on the FinalStraw and we appreciate that it packs down to a portable size complete with a carrying case, drying rack, and cleaning squeegee. But we fear that this collapsible straw, which has a continuous silicone lining that bends and extends as you expand an outer steel casing, would quickly gather mold. You're supposed to dry this straw in an included "drying case"—a plastic box with punched-out holes for ventilation—while the straw is folded up into a cuboid inside. However, we fear that smoothie or coffee would get stuck in the crevices of this straw and cake on or start to smell. The FinalStraw is also pretty pricey at $25 (at the time of writing). If you're willing to make the investment and stay diligent about cleaning every nook and cranny, you might like this straw.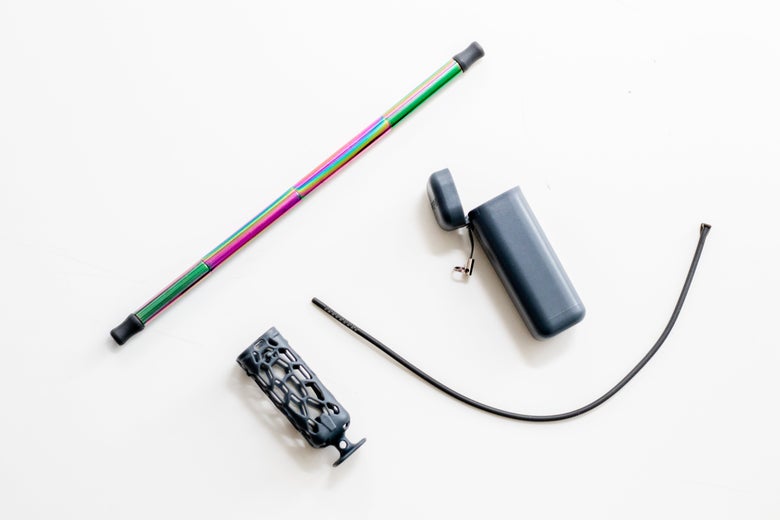 Sets of the GIR Silicone Straws come in different quantities (a pack of two, five, or 10) and many colors, and all include silicone carrying cases and a cleaning squeegee. Though we like that GIR offers a complete package deal for cleaning and transportation, these straws felt the thinnest of any we tested and are also fairly expensive. And although the case is nice, it's a magnet for lint.
Despite their name, the Softy Straws were firmer than the GIR Silicone Straws and stood up better in cups and to thick smoothies. But they were not as rigid as the GoSili straws, and the fins on the included cleaning squeegee are smaller than those on the GIR squeegee, so they're less effective. However, we do like that these straws come in multiple colors and size options and we think they're a fine choice if you want generic silicone straws.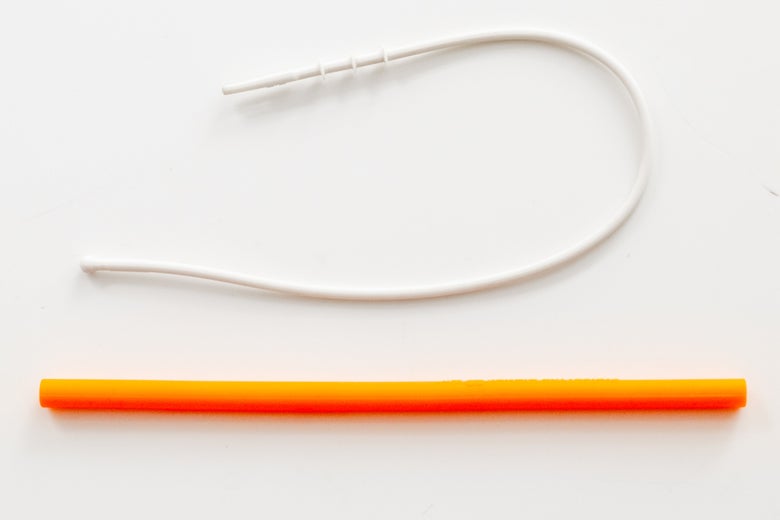 All of the highly rated metal straws we found on Amazon and other retailers were unpleasant and unwieldy to drink from compared with flexible silicone straws. These hard straws roll and clank between your teeth, taste slightly metallic, and can get too cold or hot depending on what you're drinking. Biting down on metal just feels weird. Plus, metal straws aren't as safe for kids—but anyone can cut themselves or damage their mouth or teeth with these. All of the metal straws we tested were nearly indistinguishable, too. Their differences lie in their length, shape (straight or curved), and how many straws come per package. The SipWell Stainless Steel Drinking Straws and HIC 18/8 Stainless Steel Drinking Straws are the same length (8½ inches) and have the same slight curve. The straws in the Yihong Stainless Drinking Straws set (four bent and four straight 8½-inch straws) are comparable with those in the set of Hiware Stainless Steel Metal Straws (three bent and three straight 8½-inch straws and three bent and three straight 10½-inch straws). The EHME Stainless Steel Straws set includes five bent straws that are 10½ inches, the same length as the larger Hiware bent straws. For the price, the Hiware set offers the most value, giving you 12 straws and two brushes for the same price as the eight Yihong straws.
The stainless steel Aladdin Stainless Steel Tumbler Straws are wider than the other metal straws we tested. They're awkward to drink from and, like all of the other metal straws we tested, leave us with odontophobia.
The telescoping, collapsible Zoku Pocket Straw is made of metal and has a silicone mouthpiece. It has a nifty carrying case, and we like that the straw packs down small. This straw is hard to drink from though—it didn't pull up soda or thick smoothies easily—and we don't think the small brush that comes with it would adequately clean it (the brush also got stuck in the straw, and we drank several drinks before realizing it).
The flattened Koffie Straw feels like a plastic straw you've anxiously chewed to near oblivion. The mouth area on this straw is very short, and its flat shape makes it hard to slurp beverages. Also, the claim that this straw will keep your teeth from staining is debatable.
Sources

1. Dr. Paulo Coelho, professor of biomaterials at NYU Dentistry, phone interview, February 26, 2018

2. Elaheh Nozari, Tested and Approved: The Best Reusable Straws, Epicurious, March 18, 2019

3. Brad Plumer, Plastic Bags, or Paper? Here's What to Consider When You Hit the Grocery Store, The New York Times, March 29, 2018

4. Sarah Gibbens, A brief history of how plastic straws took over the world, National Geographic, January 2, 2019

5. Alice Wong, The Last Straw, Eater, July 19, 2018

6. 14 Ways to Break Your Plastic Habit, Bon Appétit, March 25, 2019

Slate has relationships with various online retailers. If you buy something through our links, Slate may earn an affiliate commission. We update links when possible, but note that deals can expire and all prices are subject to change. All prices were up to date at the time of publication.