By Daniel Varghese and Sarah J. Robbins
Wirecutter
After doing 62 hours of research and putting a total of 42 different umbrellas through four rounds of testing—the most recent in the midst of a New York snowstorm—we're confident the Repel Easy Touch Umbrella remains the best umbrella for most people. This model's durable, nine-rib construction held up admirably against gale-force winds, and it's as sturdy as umbrellas that sell for more than twice as much.
Our pick: Repel Easy Touch Umbrella

The Repel Easy Touch folds up to an 11½-inch-long, 14-ounce package that fits easily into most bags and glove boxes. And it forcefully expands at a touch of a button to reveal an ample 37-inch-diameter canopy that protects your torso and head from precipitation in all but the windiest of conditions. Its lengthy, textured handle is easy to grip for hands of all sizes. We also appreciate that the Repel Easy Touch comes in a wide variety of colors, so you can more easily pick yours out of a crowded umbrella bucket. Finally, despite its affordable price, Repel backs it with a lifetime refund or replacement guarantee.

This is a solidly built, easy-to-find umbrella that holds up in high winds. It also comes in a variety of colors.
Runner-up: AmazonBasics Automatic Travel Umbrella with Wind Vent

The AmazonBasics Automatic Travel Umbrella with Wind Vent is available for less than the Repel, and its vented design and solid build shrugged off even the toughest gusts during our testing. However, in addition to coming only in black, it can be hard to get. Representatives have assured us that it remains in the AmazonBasics product line, but since this model came to our attention in February 2017, it has gone in and out of stock several times. Each time, we've seen no online indication that it would be back. It's a solid pick—when you can find it.

Despite its low cost, this offering under the e-commerce giant's house brand blew away most competition in wind-resistance tests.
Budget pick: Lewis N. Clark Umbrella

The Lewis N. Clark Umbrella was a previous top pick and is still a great value—this lightweight travel model frequently goes on sale for about half as much as our other picks, which makes it a good bet for kids or other people who frequently lose umbrellas. It isn't as solidly built as our other picks, but at 10 ounces, it is about a quarter pound lighter than the Repel and AmazonBasics models. And its 38-inch canopy offers better coverage and more wind resistance compared with most other umbrellas in the sub-$20 range. We also like that it comes in five colors.

It isn't the toughest, but it is quite light and very affordable, and it comes in many colors.
Also great: Totes Blue Line Auto Wooden Stick Umbrella

If you want more coverage than a compact automatic umbrella can provide, a stick umbrella (often misidentified as a golf umbrella), while heavy, can protect more than just your upper torso. Among the seven options we tested, the Totes Blue Line Auto Wooden Stick Umbrella was by far the most affordable, yet it held up against the strongest winds and didn't feel at all top-heavy—a common issue with the other stick models we tested. It also looks better than you might expect for the price. But if you want something with a nicer finish and made from more premium materials, we did test some pricier stick umbrellas with nicer finishes that performed just as well, but they cost more than five times as much as the Totes.

In this model, you get classic style and impressive durability at a very reasonable weight—and price.
Why you should trust us

Over the past five years, we've taken umbrellas on errands, run them under the shower, attacked them with a leaf blower, and tortured them to the point of failure in gusty winds and even blizzard-like conditions. In between the tests we've lived with these models and lent samples to family and friends, inspiring impromptu midstorm side-by-side comparisons and revealing how these umbrellas wear after long-term use. Hundreds of umbrellas are available; with all this testing, we're confident we've found you some of the best.

We also visited Rain or Shine in New York City, one of the few umbrella specialty retailers left in the US. Its owner, Peggy Levee, is a protégé of one of our other sources, storied umbrella sales and repair expert Gilbert Center. Levee operates out of a storage facility on Manhattan's West Side that is stocked with high-end models from around the world. Together with Levee, we examined a range of brands, discussing performance, value, and owner satisfaction.
How we picked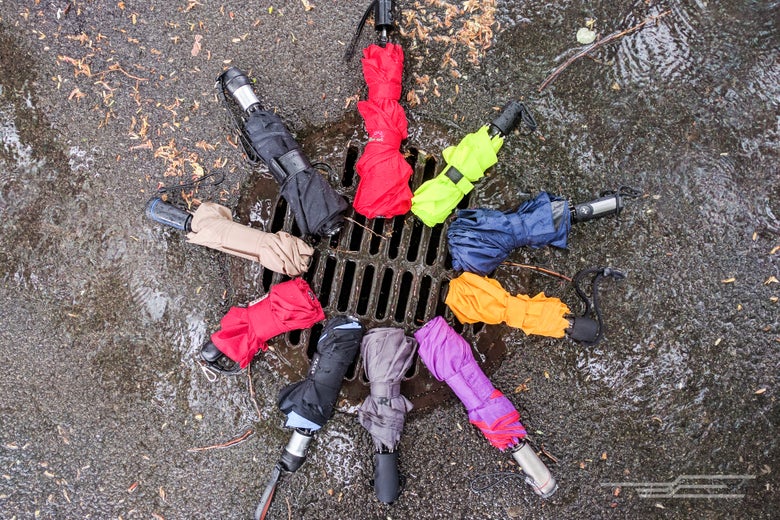 As always, we started with our own past research and testing, as well as a look at other online reviews. Before our last visit to Rain or Shine, we consulted the work of the good folks at OutdoorGearLab, who have done their own extensive umbrella trials. Good Housekeeping has performed useful tests, too. The gents and ladies of The Art of Manliness provide history and generally informed opinion.
Our 2015 interview with umbrella guru Gilbert Center revealed a sad truth: Most—though not all—umbrella making is outsourced to generalist manufacturers, often to the detriment of quality. Supporting that fact was our dive into online reviews and retail offerings, which revealed an alarming number of cheap, physically identical umbrellas available under multiple, rarely well-known brands. It also revealed an alarming similarity and positivity in supposed owner reviews (we're on record as skeptics of this phenomenon). Armed with this background information, we were able to develop some key criteria to help us narrow down the field of qualified contestants.
• It turns out that a 37- to 39-inch-diameter canopy is just about perfect for keeping a single person's head and torso dry without adding too much bulk to the total package. That's why it's the range for most manufacturers' standard or "full-size" portable umbrellas. Regardless of its size, no umbrella will keep you dry from head to toe, especially not if there's a breeze. Blowing rain and splatters your heels kick up inevitably result in wet calves or pants cuffs at the least, and in most cases dampened thighs and even waists. It's best to think of an umbrella as handy protection for your hairdo and upper torso as you scurry between car and office, or subway and home. In 2017 and 2018 we looked into larger options for people who might value that bit of extra coverage stretching to the abdomen; in contrast, minis are generally no better than a wide-brimmed hat, so we skipped those models.
• We focused on umbrellas shorter than 12 inches fully folded, since most people would want something that fits into a car's glove box or a backpack's water-bottle pocket. But we don't recommend ultracompact models, because this aspect isn't just about portability. While it is possible to make an umbrella no bigger than a banana, doing so means a more or less useless mini model with too small a canopy to be effective, or an ultracompact full-size umbrella with ribs that have four joints rather than the usual two—that is, twice the number of potential points of failure.
• Similarly, we wanted a main pick that weighed less than a pound, with preference given to lighter models—after all, you'll probably be carrying it on your person most of the time. However, we allowed some wiggle room for the larger stick umbrellas since you typically tote them more like a cane or walking stick rather than carrying them inside a bag or pocket.
• Materials and design don't vary much between brands. All use a synthetic fabric—polyester usually, or nylon—for the canopy. Some boast an additional quick-dry coating of Teflon (although we've found this doesn't make much difference in practice). The ribs and shaft are usually constructed from steel, aluminum, and fiberglass, either alone or in combination. Aluminum construction is sometimes seen as a weakness, probably because of the metal's association with soda cans and cooking foil. ("Stay away from it," said Rain or Shine's Peggy Levee. "What's better is steel and fiberglass.") But that could be an unfair generalization. After all, if you've ever taken a commercial flight, you've entrusted your life to critical components (such as wing ribs and roots) made of aluminum by a process not functionally different from that used to make soda cans, but on an incomprehensibly larger (and epoch–making) scale. What matters is the quality of the design and production, and the specific alloy employed.
• While canopy and rib materials aren't of primary importance, leather, pleather, and rubberized plastic handles offer a much better grip than hard plastic ones, especially when molded into a shape that follows the hand's natural contours. Stick umbrellas often, though not always, come with a cane handle made of wood or laminate, leather, or rubberized plastic.
• Whether you choose an automatic or manual opening mechanism is a matter of preference. Our own internal polls, plus our research into owner experience, bias us toward automatics—umbrellas that fully open and partially close with the push of a button on the handle. (No automatic umbrella yet made provides the finishing touch of cinching the canopy with the strap, and it's hard to imagine one ever will.) If you're carrying groceries, a purse, a briefcase, or a child in one hand, it's convenient to be able to snap your umbrella open or closed with the other. That's why our top pick remains an automatic. On the other hand, virtually all stick umbrellas have a manual close, and many lightweight umbrellas are fully manual in order to save weight.
• Then there is the question of economy. This year we discovered that for less than $25, you can get a model that's solid enough to bend in the wind and reliably snap back into shape, yet won't leave you heartbroken should you forget it at a restaurant. You could go even cheaper, but we wouldn't recommend it, nor would Levee: "Yes, you can get a $5 umbrella in the street and a $10 umbrella at the drugstore. But how many are you buying?" With one of these, it's less a matter of if than when it will finally break (often on the same day you bought it). If you'd like to spend much more than $30 on an umbrella, you can get something special, but whether it's worth that investment depends more on your style proclivities and whether you're the type to leave it behind. "The average price for a nice stick umbrella is around $80 to $120," Levee said. To be sure, a custom-carved, maple-handled Italian stick umbrella with a twill canopy, such as the Davek Savile we tested, is long on style, but you won't get much better performance out of it. Maybe the investment will motivate you to check the stand before you walk out the door.
• Warranties also matter. Many budget brands offer lifetime coverage or other attractive claims but make the return shipping and documentation so costly and bureaucratic that it's not worth the hassle. We favor well-known brands with simple, reliable return-and-replace programs, even if that means a slight premium in up-front cost.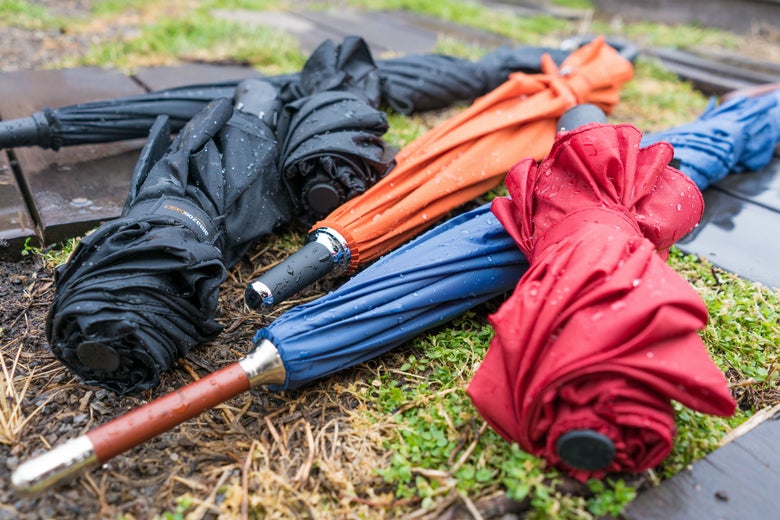 For our 2018 update, we conducted research on dozens of new automatic, manual, ultralight, reversible, and stick umbrellas. In the end, we decided to test seven new models, from Ace Teah, Bodyguard, Crackajack, Elementex, LifeTek, and Tadge Goods, against our picks from Repel, AmazonBasics, and Lewis N. Clark.
How we tested

To state the obvious, an umbrella is supposed to keep you dry. So in 2015, we tested several umbrellas' ability to keep a T-shirt-clad mannequin dry beneath the spray of a dual shower head. To nobody's surprise, we learned that wider umbrellas did a better job of reliably protecting the mannequin's head, shoulders, and upper torso. But once canopies get wider than the 37- to 39-inch range—the typical size of the automatic umbrellas we tested—you start running into weight issues without gaining significantly better coverage. With that established, in subsequent years we focused our testing on other aspects of umbrella performance and build quality.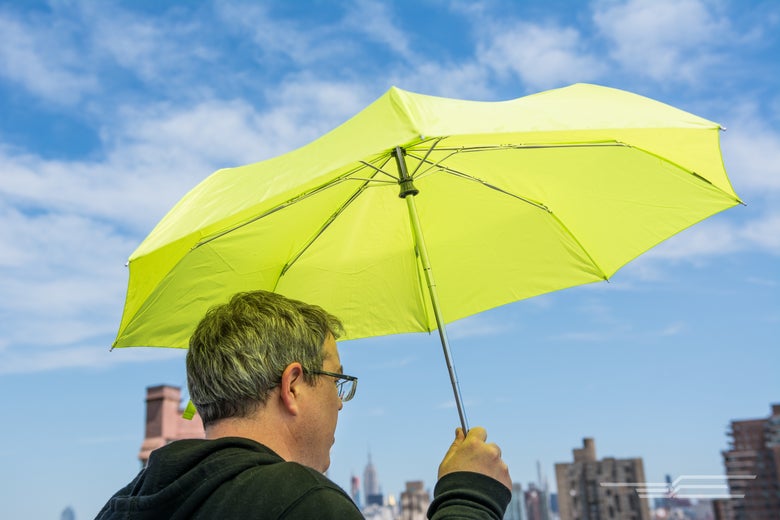 We concentrated instead on testing the umbrellas in real-world scenarios and, perhaps most important, seeing how they held up to stiff winds. Umbrellas have to be lightweight yet resilient, and even with modern ripstop fabrics and alloys and composites, that necessitates a compromise: flexibility. A good umbrella will withstand a stiff breeze, but also invert—flip inside out—when a sudden gust overwhelms its strength limits. In effect, it will bend rather than break. What matters is its ability to flip back to proper form easily and repeatedly. In 2017, writer and tester Sarah J. Robbins took each of the 16 new models with her as she ran errands on a rainy February day, wearing her infant son in a BabyBjörn carrier. A few days later, during a sunny but blustery day, she did a second lap, this time pushing the baby in a stroller.
She brought her observations to Wirecutter editor Tim Heffernan, who had performed the 2016 tests; together we made a subjective judgment based on factors such as weight, balance, and handle comfort. For the cane umbrellas, which were considerably taller and heavier, we considered the ease of use for Sarah, who is 5 feet 2 inches, and for Tim and writer Daniel Varghese, who are both about 6 feet tall.
Then the most promising candidates weathered a series of stress tests. As we have in the past, we began our tests on the balcony of Tim's apartment in Queens, New York. The goal was to force the umbrellas to do something they'd rarely, if ever, do in real-world use: face the handle parallel to the ground and the canopy directly downwind, catching the wind like a sail. Once we had made the canopy invert, we attempted to reverse the job.
After weeding out models that were too hard to flip back or were damaged in the process, we tested the survivors during a particularly strong winter storm. Daniel walked the half-mile route between his apartment and the grocery store with each of the models, lingering on corners waiting for particularly strong gusts of wind, and noting which models inverted and how difficult it was to get them to snap back to normal. Some didn't invert under these typical usage conditions, so he repeated the "balcony test," with the handle parallel to the ground, forcing them to flip and revert.
Our pick: Repel Easy Touch Umbrella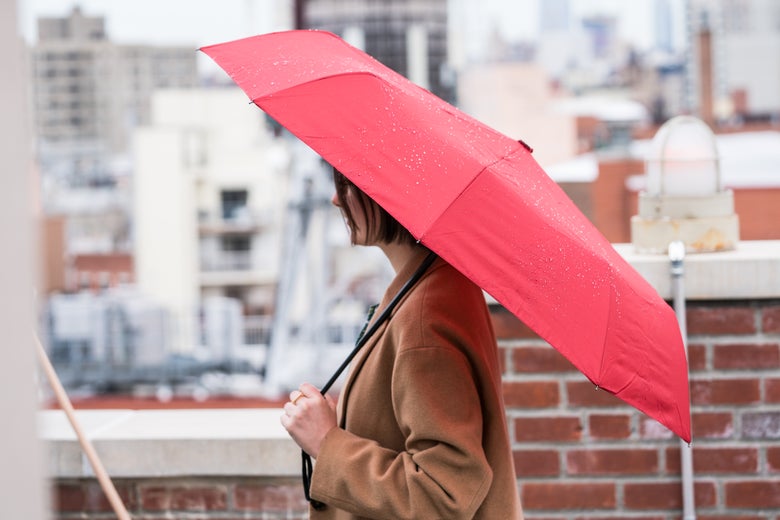 The Repel Easy Touch Umbrella is our overall pick because in quality and durability it equals models we saw for more than twice the price. In fact, the Repel felt just as solid in every phase of our testing as $100-plus models we've tested. You can find lighter options out there—the Repel weighs just over 14 ounces—but along with its heft comes the ability to withstand big gusts. Billed as a "travel umbrella," it folds up to just 11½ inches long, which makes it easy to store and carry. Still, when fully extended, its 37-inch canopy offers plenty of coverage.
This is a solidly built, easy-to-find umbrella that holds up in high winds. It also comes in a variety of colors.
One of the selling points of the Repel is its nine-rib construction, whereas most standard umbrellas typically have eight or fewer ribs. The extra rib provides a greater amount of reinforcement across the canopy, and therefore greater durability. We believe this design contributed to our test sample's valiant fight against some 40 mph gusts, even when many competitors flipped. When the Repel did invert, its fiberglass ribs arched easily in the direction they were pushed. And when we pressed the automatic close button, they snapped back into place.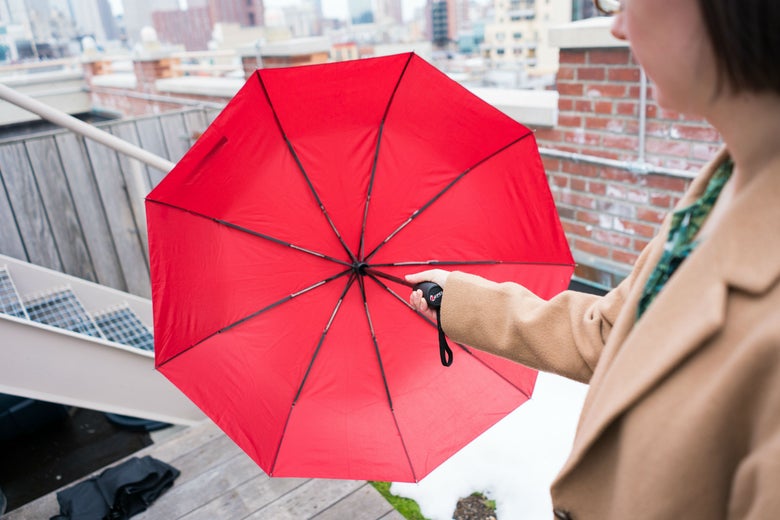 One of the selling points of the Repel is its nine-rib construction, whereas most standard umbrellas typically have eight or fewer ribs. The extra rib provides a greater amount of reinforcement across the canopy, and therefore greater durability. We believe this design contributed to our test sample's valiant fight against some 40 mph gusts, even when many competitors flipped. When the Repel did invert, its fiberglass ribs arched easily in the direction they were pushed. And when we pressed the automatic close button, they snapped back into place.
The Repel Easy Touch's sturdy build goes beyond its extra rib. Its automatic open and close mechanism is quite satisfying. Pressing the button snaps it forcefully to attention with almost no perceptible play in the fully deployed shaft. The comfortable, rubberized handle is relatively long (about 2½ inches), which during our tests meant that Sarah could fit almost her whole hand around it, yet it didn't feel too small in Tim's or Daniel's larger hands. Its polyester, Teflon-coated canopy showed no sign of dents or fraying stitching—even after the stress tests. Should anything go wrong for you, however, the umbrella is also covered by Repel's lifetime replacement guarantee—with no return required.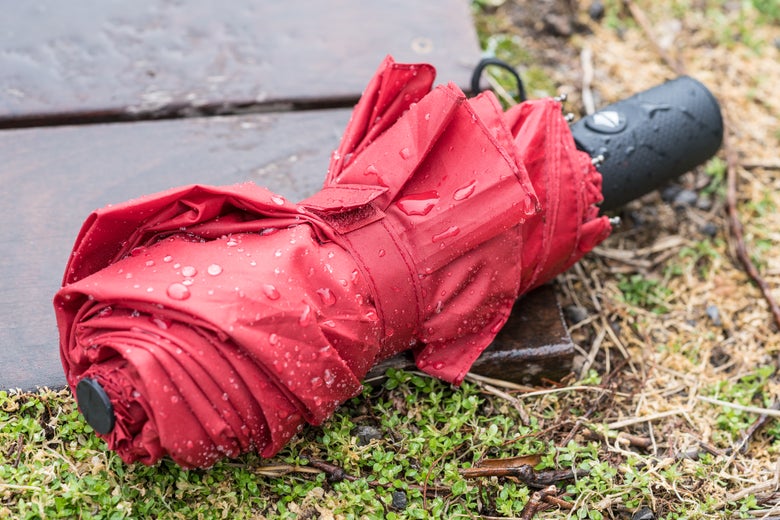 It comes in seven colors (including basic black), so you won't have trouble picking yours out from the forest of identical umbrellas in the coffee-shop umbrella stand. One caveat: We recommend sidestepping the double-canopy color options such as the blue-sky design, which adds an extra layer of fabric that makes the umbrella heavier and harder to tie together.
After more than six months of regular use, the Repel has continued to impress us with its resilience. Even in the face of significant winds, it never flips inside out.
After following up on a reader comment, we've confirmed with a representative from Upper Echelon Products (Repel's parent company) that the Easy Touch umbrella "experienced a pervasive counterfeit issue" in April and May of 2018. The representative assured us that the problem has been resolved, but we plan to monitor the Amazon listing of the umbrella more closely, just to be sure. In the meantime, be mindful of third-party sellers of the Easy Touch on Amazon. The best way to avoid a counterfeit yourself is by making sure the seller is Upper Echelon Products and/or that your order is being fulfilled by Amazon. If you received a counterfeit umbrella through the Amazon link during this time period, reach out to Amazon and explain the situation. Amazon should provide you a full reimbursement.
Flaws but not dealbreakers

Although we appreciate the Repel umbrella's sturdy build, we should note that the snappy opening and tight tolerances require a strong spring to drive them. As a result, retracting its shaft back down to its fully folded form requires a bit more force than you might expect. But once you're aware that closing the Repel requires extra effort, it becomes more of an afterthought.
Runner-up: AmazonBasics Automatic Travel Umbrella with Wind Vent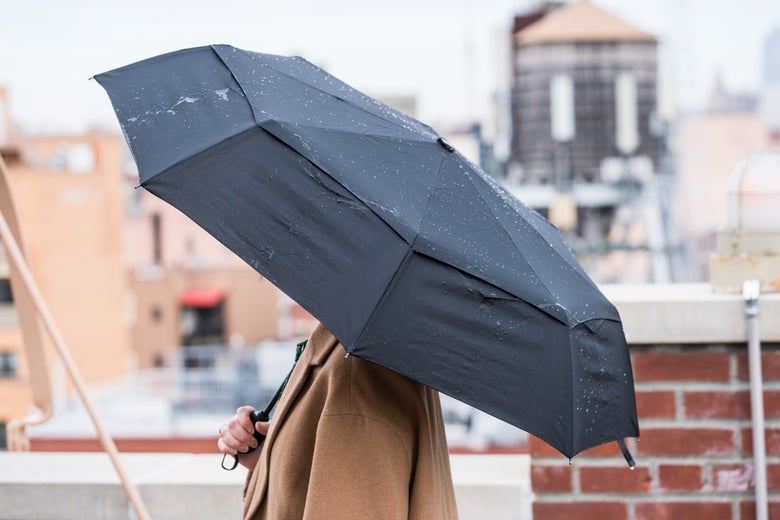 We love practically everything about the AmazonBasics Automatic Travel Umbrella with Wind Vent. For less than $20, you get an umbrella made with high-quality fabric and sturdy stitching that strikes a fierce stance against the wind. And its slightly curved handle makes it comfortable and easy to grip. The only thing that keeps the AmazonBasics out of our top spot is its relative elusiveness: This umbrella has gone out of stock seven times since March 2017, sometimes for almost a month and a half. When this has happened in the past, we've seen no indication that the umbrella would ever be in stock again. So if you can manage to get your hands on one (or two), it's worth doing so—as long as black is your favorite umbrella color.
Despite its low cost, this offering under the e-commerce giant's house brand blew away most competition in wind-resistance tests.
What impressed us most about the AmazonBasics model during testing was its windy-weather performance. That's thanks to the wind vent—gaps between two overlapping layers of fabric that lie flat and watertight in the rain but open when wind catches the umbrella from underneath, releasing air pressure and discouraging inversion. Whether in the midst of a blizzard or while facing gusts near the top floors of a high-rise apartment building, this umbrella refuses to quit against the toughest gales. AmazonBasics also offers a ventless option for an even lower price, but we found that it didn't hold up as well during and after our stress tests; if you want something at the same price as the ventless model, we recommend the Lewis N. Clark Umbrella instead.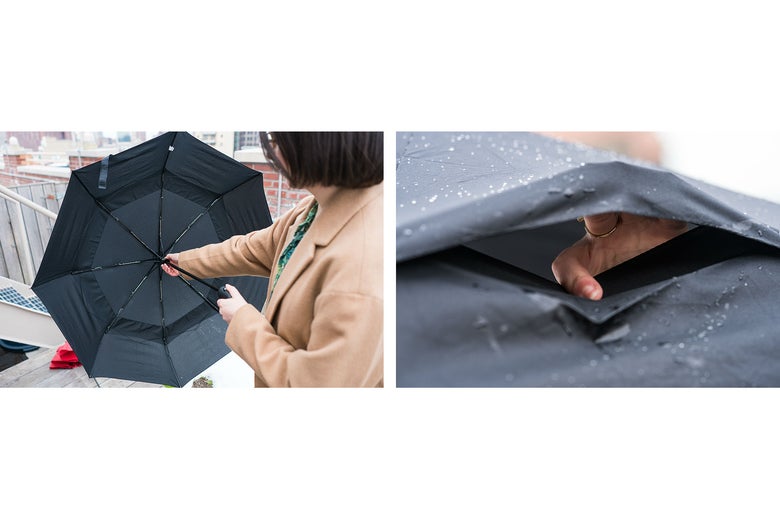 Fully closed, the AmazonBasics is just 11 inches long; the fabric of its canopy, however, is thicker than that of the Repel, so when it's bundled, it's a bit stockier as well. The round handle is comfortable, as is the wrist strap, and the automatic open and close function is as responsive as any we tested.
After half a year of using the AmazonBasics umbrella, travel and outdoors editor Ria Misra reports that it still works smoothly.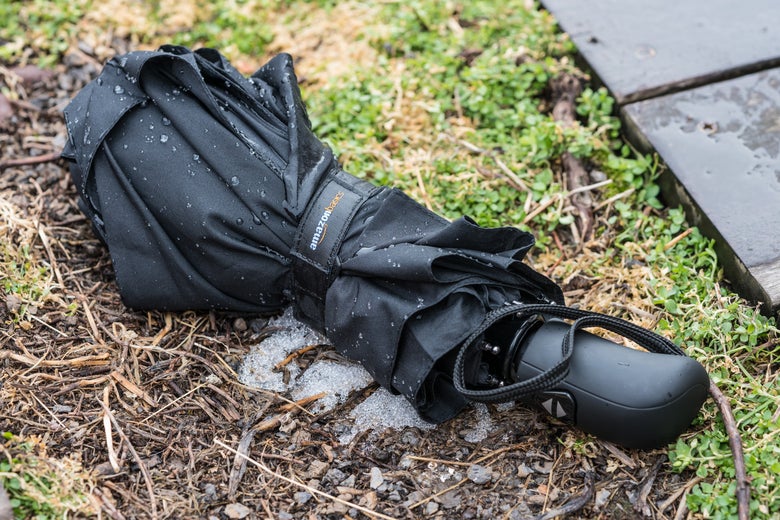 Budget pick: Lewis N. Clark Umbrella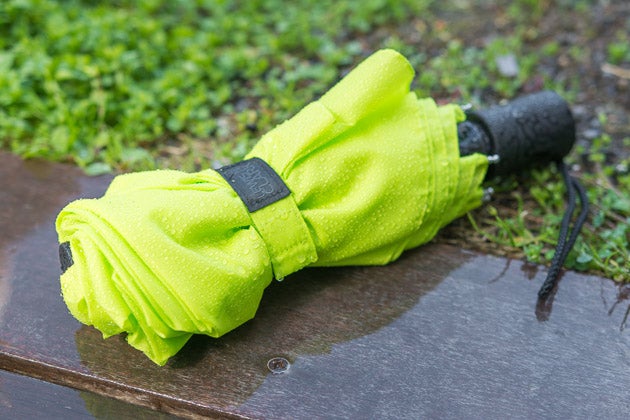 If both the Repel and the AmazonBasics are out of stock, another good low-cost option is our top pick from last year, the Lewis N. Clark Umbrella, which comes in four colors in addition to black (although black tends to be the cheapest). One of the smallest of the bunch, this travel umbrella is equal in height to the AmazonBasics, though lighter at just 10 ounces. Despite its low price, the Lewis N. Clark survived our stress tests of the past two years with very minor damage, and we've had no issues with the units we've been using for long-term testing over the past year.
It isn't the toughest, but it is quite light and very affordable, and it comes in many colors.
Still, compared with our other picks from this year, the Lewis N. Clark has a lightweight polyester canopy that's more wrinkly and less taut in certain places—telltale signs of looser quality-control standards. And although its metal ribs are listed as being made of steel, we are nearly certain they're actually aluminum, judging from their light weight, lack of magnetism, and appearance. For these reasons, we think most people are better off spending just a few more dollars to get one of our other picks, but if you want something for kids or are a serial umbrella forgetter, the Lewis N. Clark is a good option to consider.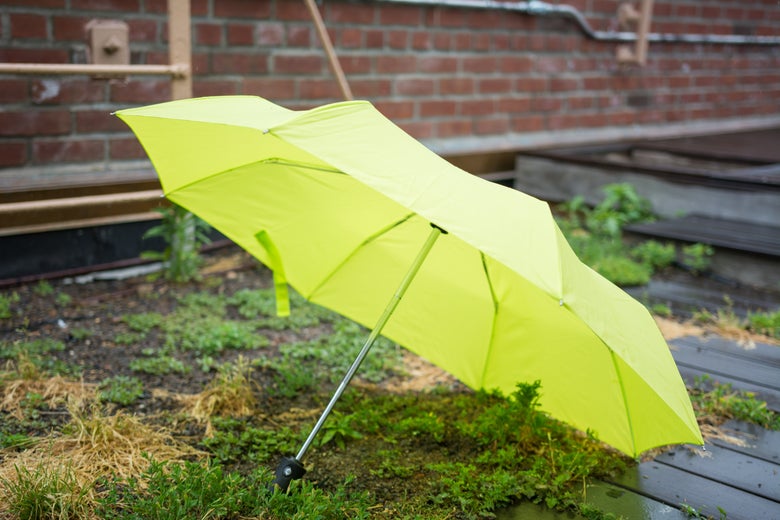 Wirecutter social strategy manager Sasha VanHoven has had the Lewis N. Clark for around 18 months, and reports that it's "beat up but still kicking!"
Best stick umbrella: Totes Blue Line Auto Wooden Stick Umbrella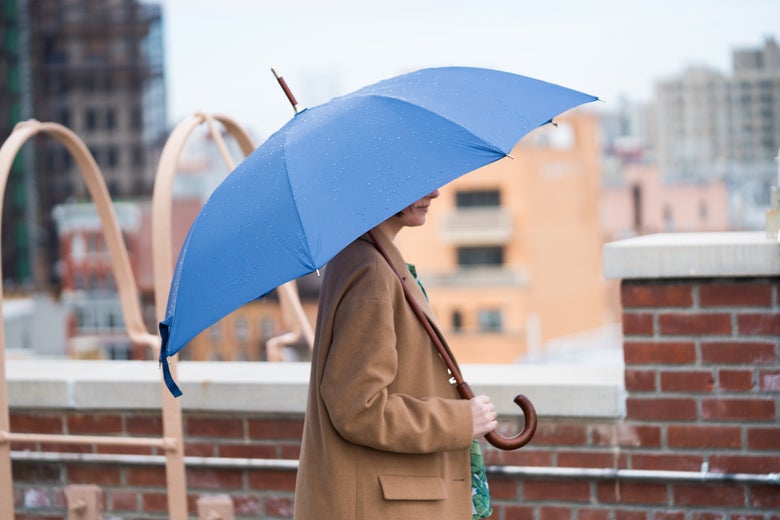 Stick umbrellas can double as canes (or props) and often have significantly larger canopies than their more portable, automatic cousins. While fun to use, they can be a pain to hold one-handed, especially if you're on the smaller side. But at just over 20 ounces, the 42-inch-wide Totes Blue Line Auto Wooden Stick Umbrella has good weight distribution, and that helped us keep dry while running around town, even in rough weather. Its ease of use put it ahead of other similarly sturdy but more expensive stick models such as the GustBuster Classic, which felt considerably more top-heavy.
In this model, you get classic style and impressive durability at a very reasonable weight—and price.
Though it offers the same height and canopy size as the other stick umbrellas we tested, the Totes is significantly cheaper. (And OutdoorGearLab names it as a Top Pick.) Its 42-inch canopy is made from a lighter (and likely lower-cost) material compared with the other umbrellas we considered, and we wondered whether it would hold up to strong winds. During our blizzard tests, however, as hard as Sarah tried, she couldn't get this umbrella to flip inside out. This could, of course, be seen as a flaw: Seeing your umbrella bend alleviates the fear that one sudden, harsh gust will break it. Still, given the price of admission, that risk seems to be one worth taking.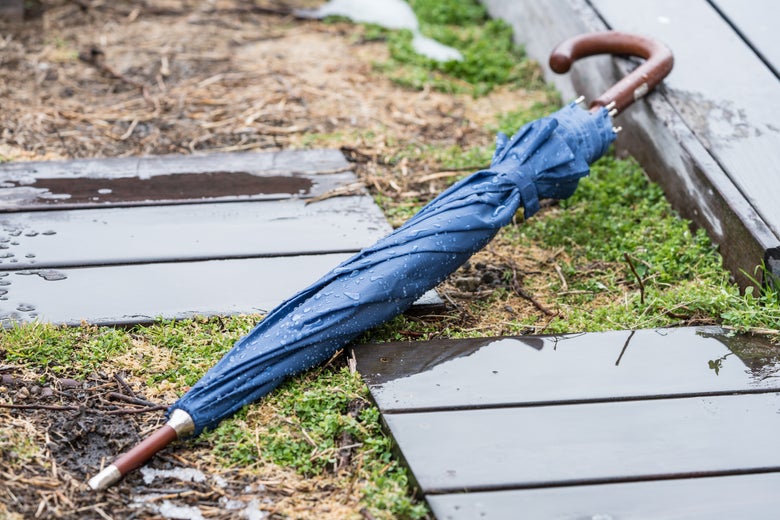 Sticks with style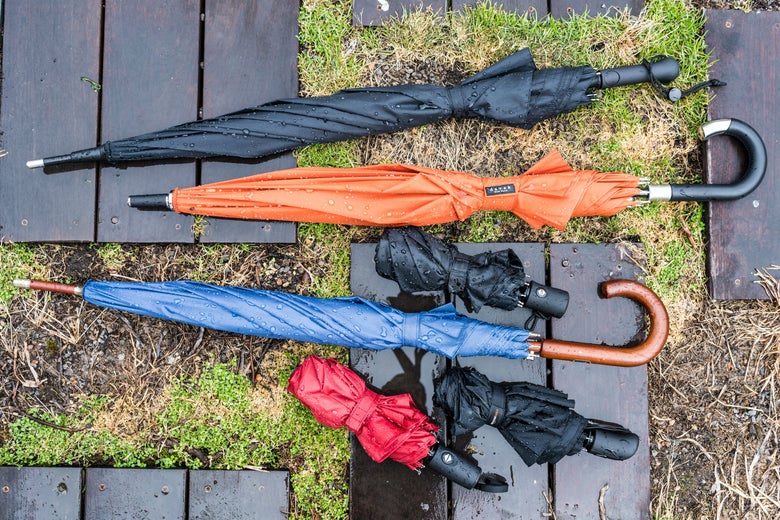 If you want something made of nicer materials or with a more sophisticated finish, and you are willing to splurge a bit, you can find some good options out there. These models don't really offer better performance under most circumstances, but the same could be said of a Gucci sweater compared with one from L.L.Bean.
If you're willing to spend a lot more money for something with real style, this umbrella is a great option.
If you're looking for a classically styled stick to go with a suit, look to the Davek Elite. It feels sumptuous, with a stitched leather handle, a fiberglass frame, and a 44-inch microfiber canopy that the company says is "190 thread count." It also has a hefty $150 price tag, which makes it the most expensive of our picks. However, that cost is partially justified by Davek's easy-to-use lifetime guarantee (which includes 50 percent off a new umbrella if you lose your original). It performs exceptionally in the wind: Thanks to its flexible ribs, in our tests it didn't become a kite in the gusts; instead, it turned inside out and then easily recovered. Note that the cane handle measures 5 inches across, which is quite a lot for a smaller hand to manage. The Elite comes in three colors: black, blue, or the handsome copper, pictured at the top of this section.
Care and maintenance

If you want your umbrella to keep you dry for a long time, you need to remember to let it dry. Just leave your umbrella open after use—the bathtub is a handy spot. If you don't, its metal parts—especially any automatic open and close functions—can corrode. Mildew can also develop in the canopy of a wet umbrella left closed, which not only smells bad but can destroy the fabric over time.

And make sure to let your automatic umbrella do its job, said Rain or Shine's Peggy Levee: If you're using one with an automatic open and close function, do not pull it closed as you would a manual model. "I always point that out to customers," she said. Over time, that unnecessary tugging could cause the mechanism to break.
The competition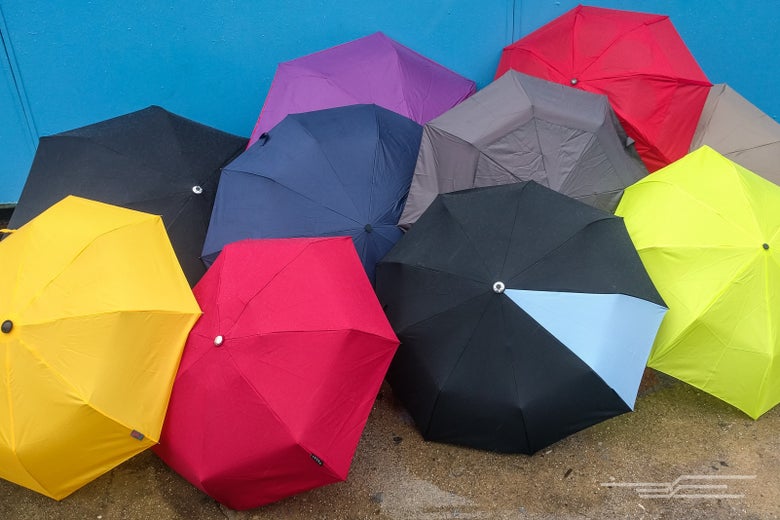 LifeTek Traveler 45 FX2: This model impressed us in our 2018 tests. Likely due to its vented canopy structure (a design it shares with our runner-up, the AmazonBasics Automatic Travel Umbrella with Wind Vent), it withstood being battered by violent gusts without ever inverting, ranking as one of the strongest umbrellas we have ever tested. And when we did force it to invert, the canopy snapped back into place without much effort. But at a price of over $30 at the time of our testing, it didn't offer a large enough advantage over the cheaper Repel or AmazonBasics models for us to justify choosing it as one of our top picks, or enough unique features for us to make it a separate upgrade pick. That said, because it's an excellent umbrella with a solid warranty (LifeTek's two-year "Peace of Mind" replacement guarantee against defects and malfunctions), we plan to continue testing it and monitoring for price shifts to determine whether we should change our conclusions.
Ace Teah Travel Umbrella: Some readers asked us to consider models with reflective strips. We've never thought that was a particularly important distinguishing feature, but we did call in this sturdy 10-rib model to try. Unfortunately, the umbrella ended up being the heaviest we tested, and not particularly easy to use or hold due to its long, slick handle. If you want an umbrella that's highly visible but lightweight, a bright color may be a better choice; our top pick and budget pick come in many color options.
Blunt Metro: This is a good umbrella if you're concerned only about the wind. Its shallow, scalloped shape—a direct result of some innovative engineering—shrugged off gusts better than any other umbrella in our test. Unfortunately, we learned that it also does a poor job of keeping you dry when the rain blows sideways.
Bodyguard Travel Umbrella: This model is one of the most popular umbrellas available on Amazon, featuring an impressive 10-rib construction and austere marketing. Though it performed decently in our real-world wind tests, inverting several times without breaking, it was difficult to flip back. It's a bit too sturdy for its own good.
Crown Coast Travel Umbrella: Though this moderately priced umbrella handled relatively well, its stitch quality wasn't the finest: Upon arrival, a few units had threads already pulling in some places. The rainbow of color options—including camouflage—is a plus, but the extra layer of fabric on the model with the blue-sky under-canopy made it bulky and tough to close.
Crackajack: We called in this model in response to reader requests for new ultralight options that could pack in a purse. At 6.5 ounces, this manual model certainly fits the bill, as the lightest umbrella we tested in 2018. Unfortunately, its handle was tiny and slippery, and its shaft felt particularly flimsy.
Davek Duet: With a 48-inch canopy, this large model is built for two. As a result, it's wider than most people want or need, but if you're big or tall, or just want maximum coverage, it's worth considering. The eye-watering price is backed by Davek's unconditional lifetime guarantee.
Davek Mini: If having a really compact umbrella matters to you above all else, this model, which folds down to the size of a banana, is a great choice. But its tiny 26-inch canopy will barely keep your head and shoulders dry, and even then, only during short dashes in light rain.
Davek Traveler: Another compact option from Davek, the Traveler measures 33 inches across when open and 9 inches long when closed. We think you'd miss the rain coverage of a full-size (38 inches or so) canopy more than you'd appreciate having a couple fewer inches of umbrella in your bag.
Davek Solo: We previously recommended this sturdy model as an upgrade pick. In 2017, however, our sample withstood two big gusts, but a third gust somehow snapped apart the ring binding the automatic open-and-close mechanism to the ribs, rendering the whole thing useless. After speaking with Davek and retesting the Solo, we've determined that this occurrence was a fluke and would be covered under the company's lifetime guarantee. If you're looking for an umbrella with a flexible canopy, a comfortable handle, a lifetime warranty, and a striking design, the Davek Solo is a great option. But we found comparable build quality and performance in the Repel and AmazonBasics models at about a quarter of the Solo's price.
Davek Savile: Hand assembled in England, the granddaddy of Davek's offerings is billed as an heirloom piece and has the $350 price tag to match. The handle and shaft are hand-carved from chestnut wood, which adds to this umbrella's weight—a hefty 30 ounces. Impressive, for sure, but we prefer to save $200 and instead take the still luxe, and more portable, Davek Elite for an umbrella of this style.
Elementex Compact Travel Umbrella: We called in this Elementex model in 2018 because it appeared to have a design similar to that of the Repel Easy Touch, with slight compromises. Upon receiving the umbrella, we discovered these compromises to be more severe than they had initially appeared to be. The Elementex's eight-rib design felt less sturdy than the nine-rib structure of the Repel. Plus, its shaft is extremely short, which makes carrying the umbrella awkward and uncomfortable—you have to hold your grip-hand nearly at shoulder height.
EuroSchirm Light Trek: This German umbrella is quite good overall, especially given its scant 9.25-ounce weight. But subpar wind resistance holds it back. The lightweight fiberglass ribs are considerably more flexible than other umbrellas' ribs, and as a result the canopy collapses easily when blasted head-on and flexes like a leaf in high winds when held upright. This means you'd suffer more inside-out episodes than you would with our other picks. Although it didn't break during this year's testing in a snowstorm, it did look somewhat the worse for wear compared with our other picks, which is why we're no longer recommending it as an ultralight pick. But it's still a decent lightweight choice for less-windy climates.
EuroSchirm Light Trek Automatic: The automatic version has the same issues as the manual version but weighs a lot more.
EuroSchirm Light Trek Automatic Flashlite: This EuroSchirm model is like the others, except for some reason it has a small LED flashlight in the handle. That gimmick brings its weight to 13.5 ounces—not a light trekker at all.
GustBuster Metro: This umbrella has a fully deserved reputation for durability in the wind. Tim never got it to come close to inverting, and it's OutdoorGearLab's top pick for wind resistance. But its strength comes from a complex truss of multiple ribs and springs that makes it extremely top-heavy; when the wind catches the canopy, it's like holding a sledgehammer. That design plus a hard-plastic handle that's slick when wet makes for a losing combination.
GustBuster Classic: Though this GustBuster model offers a wider canopy and a cane handle, it has a similar construction to the Metro. One plus: The contours of the cane handle make it easier to manage in the wind. The Classic is a quality tool for a good price, but it didn't lead the pack in value or function.
Kazbrella: We were intrigued by the promise of this "reverse opening" umbrella (the Better Brella is another of the same kind), which closes by folding up instead of down. Supposedly this design makes it easier for you to stay dry while entering and exiting buildings and automobiles, and also keeps the umbrella from dripping on the floor. But in reality the mechanism is cumbersome, requiring a hard shove to open the umbrella. Its double canopy looks attractive—especially in the orange and blue color combo we received—but makes the umbrella awkwardly top-heavy. In our tests, the bulky canopy emphasized the effect of strong winds, which made holding the Kazbrella feel a bit like wielding a hammer. And if you store the umbrella handle up, as most people would, water still drips from the tip to the floor. To make it drip-free, you have to store it handle down, which could mean setting it directly into the pool of water at the bottom of an umbrella bucket.
Knirps Xtreme Vented Duomatic: This automatic umbrella feels hefty at 22.5 ounces, but its canopy handily opens to an impressive 48 inches—the size of many stick umbrellas. It's a good choice if you want the coverage but not the hassle of carrying a cane around town. It could still be overkill for most people.
Knirps T2 Duomatic: This model is light yet sturdy, with very good stitch quality. However, its handle is smaller and more slippery than some of the others—and its cost is significantly higher.
Niello Best Outdoor Umbrella: We took a chance on this one because of its attractive price, good reviews, and 10-rib design, which theoretically provides fuller coverage than the typical eight ribs. But we'll never know if that's true: In our tests, two ribs snapped after a single inversion. This one went straight into the garbage.
Senz Automatic: We had high hopes for this umbrella. Its main draw is its teardrop shape, which keeps your shoulders and back drier than a typical round canopy. Unfortunately, the long rear-facing ribs are weak; we damaged one just by cinching the canopy strap.
ShedRain Windjammer: This model suffered from poor build quality and did a poor job of keeping our mannequin dry in our shower test.
Standard Unbreakable: We previously recommended this umbrella as a more sophisticated (and expensive) option. Taller than the Davek Elite (a hair over 36 inches, end to end) and wider when opened (48 inches in diameter), the Unbreakable is 22 ounces but somehow feels lighter because of its exceptional weight distribution. We were surprised to see it billed as a self-defense weapon, though it does seem as tough as advertised (and as vividly demonstrated in the company's YouTube videos, in which it bests a punching bag, among other foes). Every time it bent and blew inside out in our blizzard tests, it snapped back into form looking no worse for wear. Unfortunately, the Standard Unbreakable has become unavailable on Amazon and difficult to purchase through the company's own website. But if you can find one, rest assured, it's a great umbrella.
Tadge Goods Windproof Travel Umbrella: This umbrella pretty closely resembles the Repel Easy Touch, as it has the same nine-rib design and an identical handle. But the Tadge Goods model is about 2 ounces heavier, making it a bit harder to handle during strong winds.
Totes Titan Super Strong Extra Large Folding Umbrella: This 48-inch model was the other oversize umbrella in our 2016 test. Unfortunately, a rib failed after just a few inversions. Because it's lightweight for its size (16 ounces) and not too pricey, we think it could be a fine sunshade in mild weather. But we can't recommend it for rain.
Totes Blue Line Auto Open/Close Umbrella: This umbrella is well-reviewed, and we recommend Totes's cane-style Blue Line as the best stick model. But the compact folding version we tested arrived with a 3-inch rip in one of the canopy seams that widened in the wind, and one of the ribs tore loose from another section of the canopy during our inversion test.
Tumi Medium Auto Close Umbrella: This umbrella's size and compactness are middle of the road, and it didn't stand out in any particular test, despite its premium price.
Sources

1. The Best Rain Umbrellas, OutdoorGearLab

2. Umbrellas, Good Housekeeping

3. Brett McKay and David Bastistella, The Gentleman's Guide to Umbrellas, The Art of Manliness, June 12, 2009

Slate has relationships with various online retailers. If you buy something through our links, Slate may earn an affiliate commission. We update links when possible, but note that deals can expire and all prices are subject to change. All prices were up to date at the time of publication.