By Wirecutter Staff
Giving your dog a new toy is an exercise in natural selection. No matter how cute or pricey it is, there's some chance that your pup will ignore the new plaything or rapidly tear it to shreds, either way leaving it for dead. Here we present the survivors: the toys that our pups have verified to be good for hours, or even years, of play that's engaging, ferocious, and cute.
Since dogs have their own preferences—and enjoy variety—take this list as a starting point. If you're preparing for a new dog or assembling a gift, we suggest presenting the canines in your life with a few to put to the test for themselves.
Tougher than a tennis ball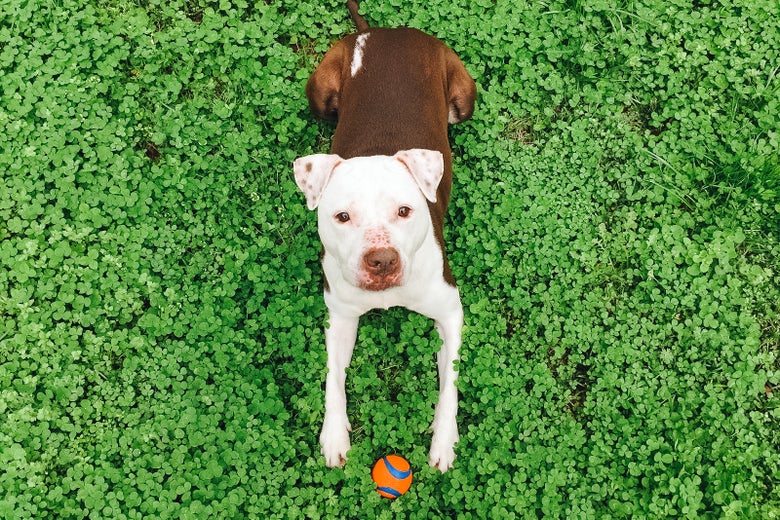 Bone (pit bull, 40 pounds, 6 years) loves to retrieve and chew tennis balls, but tears into them within minutes. The Chuckit Ultra Ball in medium is the same size as a standard tennis ball but made entirely of rubber. It's much more difficult to chew through, so she's able to chomp on it for a while (with supervision); the balls have lasted for up to a year. Plus, the Ultra Ball is bouncier on turf than most tennis balls, which makes for more stimulating games of fetch. The bright orange hue makes it easy to spot—even in tall grass. And the Ultra Ball floats in water, so she can fetch it from a lake, too.
—Tracy Vence, editor
Soundless squeakers
Some days Sutton (Chihuahua mix, 8 pounds, 1 year) has so much puppy energy left over from dog-park play that she just runs around the apartment, digs out all of her toys from the toy bin, and squeaks anything she can find for hours on end. I may be the worst pet parent ever, but all that squeaking can get annoying. So I was happy to discover Hear Doggy ultrasonic squeaker toys, because they use squeakers tuned to an ultrasonic frequency between 24 and 28 KHz that's silent to people but still makes a fun noise for dogs. To people it sounds like the squeaker died and there's just a little trapped air being pushed out, but apparently to a dog it still sounds like their favorite toy. Sutton gets just as excited when squeaking this thing as she does her traditional squeakers—fun times for her and a lifesaver for my ears.
—Kaitlyn Wells, staff writer
Earn those treats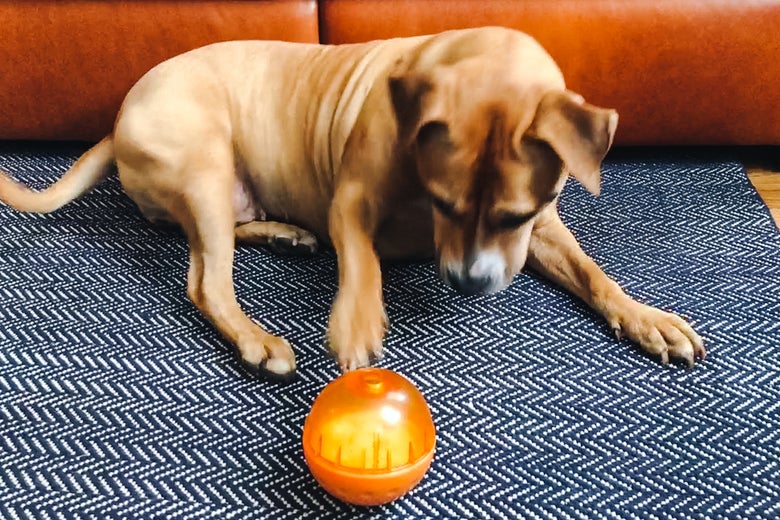 The food-dispensing OurPets IQ Treat ball has been a favorite in our home for years and keeps our dog Pinky (pit mix, 60 pounds, 9 years) mentally and physically active as well as entertained for a half hour or more at a time. To get kibble or treats out, she has to roll the ball or pick it up in her mouth and throw it. We can easily adjust the opening of the interior compartment to dispense less readily if she's up for the challenge (or go in the other direction if she's not). She loves this toy so much, she prefers eating her meals from it rather than from her bowl. This ball is also one of the longest-lasting dog toys we've owned; it gets a beating but has stood up to more than four years of near-daily use.
—Winnie Yang, editor
The chew toy that survived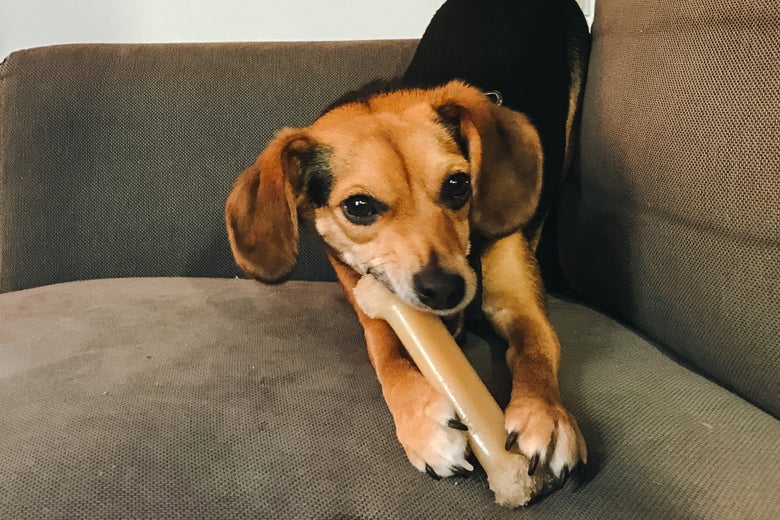 Soon after we adopted Ada (beagle mix, 16 pounds, 1 year), we learned we had a serious gnawer on our hands. Of all the elaborate toys we've impulse-bought to deter her from eating our belongings, the inexpensive Nylabone Dura Chew is one of the few that have withstood her teeth for more than a week. While the toy looks scraped-up at the edges these days, none of the plastic is actually coming off, as happens with most stuff she puts in her mouth (RIP to all the animal-shaped toys). The Nylabone's slim shape tucks easily into her travel carrier when we head out to visit family, and it keeps the peace while we're there. The classic design makes for some pretty adorable moments, too. It comes in a couple of flavors, but of the two we've bought, the original flavor is the one in heavy rotation. Don't overthink it.
—Shannon Palus, staff writer
Yummy, edible chew-toy alternative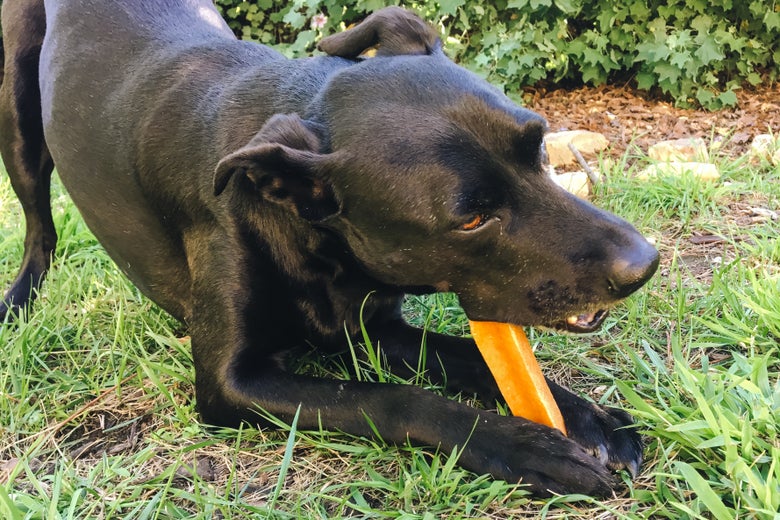 My Lab/whippet mixed pup Nora (45 pounds, 8 years) rarely cares for any kind of traditional dog toy. She's intimidated by toys that squeak, and toys that hit the floor with a loud thud. She doesn't play fetch unless other dogs are around. However, she does take to treats meant for chewing. After trying bully sticks (hurt her gums), antlers (made a terrible sound against her teeth), and others, I came across the Himalayan Dog Chew: a softer chew made from yak and cow milk. It's still tough enough that it lasts her a few days of on and off chewing but soft enough that I'm not worried it'll hurt her mouth. Once the chew reaches the last nubbin—which you don't want your dog to swallow whole—you can briefly pop it into the microwave to soften it into a cheesy treat.
—Daniela Gorny, associate managing editor
Bouncy ball with a twist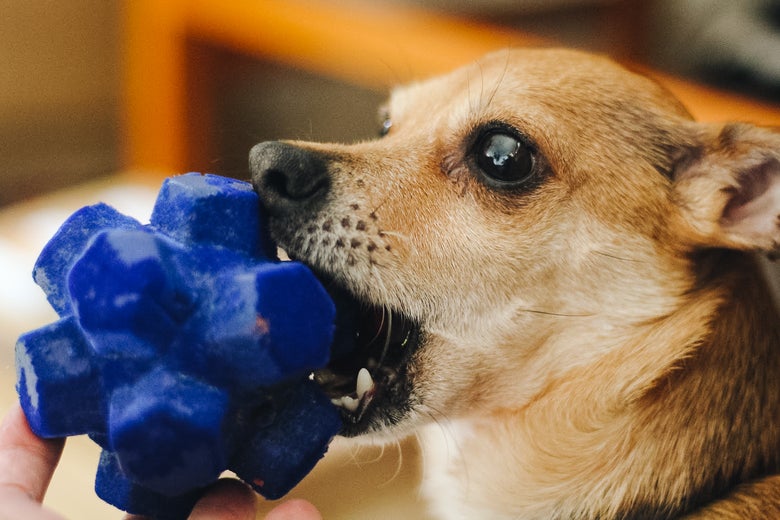 The Sprong feels soft and bounces and squeaks, and it's one of the only toys that have consistently kept the attention of my dogs (Ziggy and Lily, Chihuahua mixes, 11 and 12 pounds, 2 and 7 years, respectively). Other toys get shredded or elicit only a mild wag after a few weeks, but because the Sprong has no enticing stuffing to rip out and bounces in an irregular manner, it keeps the little pups on their toes. My toddler also steals the Sprong—all doggie toys are toddler toys. But big dogs, beware: The Sprong's individual nubs are Chihuahua resistant (our pups have had the same Sprong for five years now), but they may not stand up to the stronger jaws of larger dogs.
—Lauren Dragan, senior staff writer
More squirrels, more engaging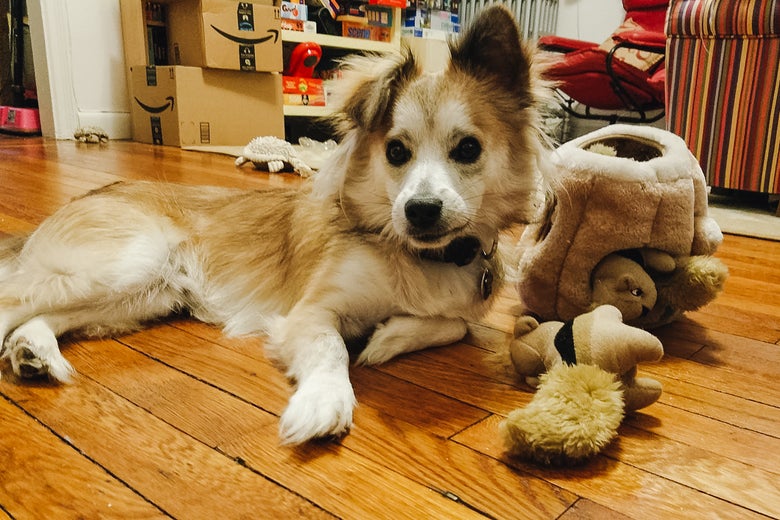 I was dubious that we really needed yet another plush toy, but after Gus (Chihuahua-poodle mix, 18 pounds, 18 months) loved playing with the Outward Hound Hide A Squirrel at a friend's place, I had to get one. He typically has trouble paying attention to squeaky toys for more than a few minutes at a time, but the more challenging setup of three squeaky squirrels in a tree-trunk-shaped pouch will keep him going for hours. He fishes squirrels out, then runs around like crazy with whichever one is left in his mouth last. I can send the next one sailing the moment he's back with the first, making it easy to tire him out. He also loves to chew on and shake the tree stump. The pieces are relatively tough too: After three months of near-daily playing, I have yet to do any mending to sew up holes (your mileage may vary—it's still a plush toy).
—Amy Roberts, staff writer
Just accept that it's going to get ripped apart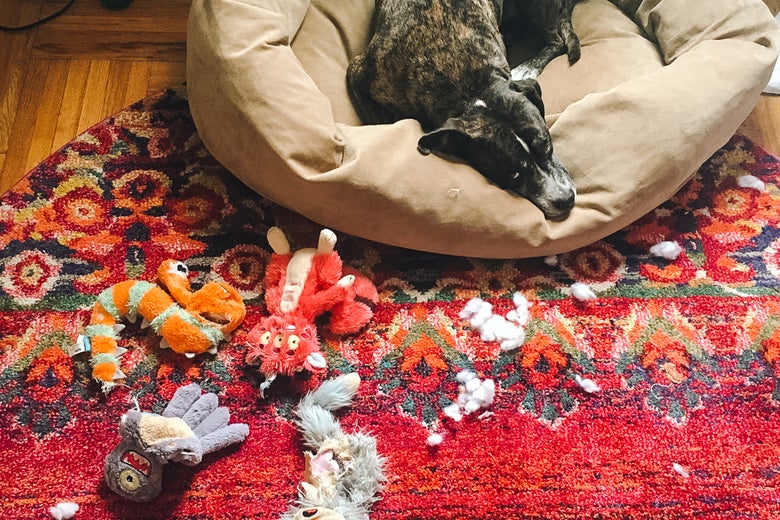 My pittie (Snoop, 55 pounds, 4 years) loves to destroy his toys, and the plush toys from BarkShop are made with the intention of being destroyed. Even so, they tend to last much longer than the other plush creatures I buy Snoop—some for weeks! The eight-armed, squeaker-filled Gus Gladhand is a good place to start. While they're not cheap—especially considering that they meet the trash can before too long—they are the only toys that can keep Snoop occupied for hours. Bonus: BarkShop has a loyalty program called the Destroyers Club, where you can earn credits on future purchases if you share photos of your pup destroying these toys. Who doesn't love sharing photos of their pup?
—Andrea Mathias, head of growth team
Read the original article on The Best Dog Toys.
Slate has relationships with various online retailers. If you buy something through our links, Slate may earn an affiliate commission. We update links when possible, but note that deals can expire and all prices are subject to change. All prices were up to date at the time of publication.