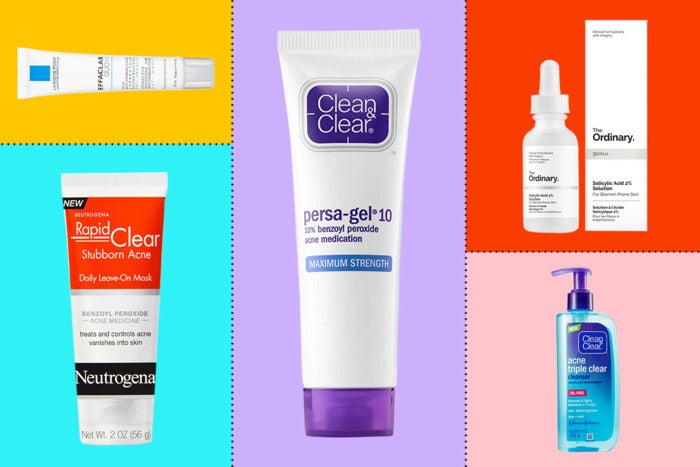 Cystic-acne sufferers know that a cyst is not the same beast as a standard pimple. While whitehead pimples sit on the surface of the skin (which, though unsightly, means they're easier to treat and conceal), cysts can linger under the surface of the skin like oil-filled balloons, growing bigger and more inflamed over time. The scarring can be severe, too, making skin appear pockmarked and fissured, which is why dermatologists approach it with a powerful combination of topical treatments and antibiotics, moving on to scorched-earth methods like Accutane or a hormonal drug like Spironolactone if those fail.
But the milder cases can benefit from some topical over-the-counter treatments, too: "OTC options should be limited to when you have only one or two cysts," though, says dermatologist Noelani Gonzalez, the director of cosmetic dermatology at Mount Sinai West. "Otherwise you should go see your dermatologist sooner than later to avoid any scarring." Here, we spoke with three dermatologists to hear more about the most effective cystic-acne treatments to use at home.
Clean & Clear Persa-Gel

Since benzoyl peroxide is often prescribed in office for handling cystic acne (it kills acne-causing bacteria within the hair follicle), it was the first choice among dermatologists I spoke to as an over-the-counter treatment. There are a couple of different options out there from face washes to topical creams to bodywashes, but dermatologist Ross S. Levy, of CareMount Medical — the director of dermatologic surgery at the Albert Einstein College of Medicine — says that typically "the benzoyl peroxide (5 to 10 percent) topical creams or gels are more effective than the cleansers or washes." The only danger with benzoyl peroxide to be mindful of is that it will stain clothing and pillowcases. Clean & Clear's Persa-Gel, which contains 10 percent benzoyl peroxide, is one of Gonzalez's go-to recommendations for treating cystic acne at home.
The Ordinary Salicylic Acid 2% Solution

Even better than one stand-alone cream is a multipronged combination of acne treatments. "A good place to start is to use a combination of salicylic acid, benzoyl peroxide, and a topical retinoid," says Joshua Zeichner, the director of cosmetic and clinical research in dermatology at Mount Sinai Hospital. "Salicylic acid helps remove excess oil from the surface of the skin and exfoliate the dead cells, while benzoyl peroxide kills acne-causing bacteria and helps reduce inflammation."

Because a combination of exfoliants can be irritating to the skin, though, Zeichner recommends sticking to a lower benzoyl-peroxide concentration like 2.5 percent, and something like a 2 percent salicylic-acid concentration, when combining. Here's a 2 percent salicylic-acid-and-witch-hazel solution from the Ordinary that would help.
Differin Adapalene Gel 0.1% Prescription Strength Retinoid Acne Treatment

And a retinoid, which we've touched on before, is beneficial for exfoliating the skin and purging your pores of dirt and oil, which is why Zeichner says they're helpful for cysts, too. He recommends Differin, the only prescription-strength retinoid that's available over the counter, and which many derms here have suggested to us before for acne-prone skin. He says you can use a pea-size amount and start applying it every other night as your skin gets adjusted to it (or combine it with benzoyl peroxide and salicylic acid for a stronger mixture).
Cortizone 10 Maximum Strength Ointment, 2 Ounce

Gonzalez says that you can even mix in a drugstore cortisone cream with a homemade blend of benzoyl peroxide and salicylic acid. It's not going to be as effective as an in-office cortisone shot, but it'll help reduce inflammation nonetheless.
Tea Tree 100% Pure, Best Therapeutic Grade Essential Oil

Or if you want something to help reduce redness, Gonzalez recommends a few drops of tea-tree oil, a natural anti-inflammatory.
Clean & Clear Acne Triple Clear Facial Cleanser With Salicylic Acid

There are packaged products that contain some combination of the aforementioned ingredients, too. Zeichner likes Clean & Clear's Acne Triple Clear face wash with salicylic acid in it, but says to sit with it for a bit to let it sink into skin. "Allow salicylic acid to sit on the skin while you sing the alphabet before rinsing, to ensure enough contact time for it to do its job."
La Roche-Posay Effaclar Duo Acne Treatment Cream With Benzoyl Peroxide

"Products like Effaclar Duo from La Roche-Posay have some of these ingredients," too, says Gonzalez: specifically, 5.5 percent benzoyl peroxide, with additional micro-exfoliating lipo-hydroxy acid.
Neutrogena Rapid Clear Stubborn Acne Daily Leave-on Face Mask

For an overnight solution or something that covers a larger surface area (rather than a smaller spot-treatment), Zeichner also recommends Neutrogena's rapid-clear leave-on mask. The idea is that you spread benzoyl peroxide all over your face, but it's not a wash-off mask, so you're getting a prolonged exposure to the antibacterial peroxide. He says it's helpful for treating the pimples you have and preventing new ones from popping up.
Medik8 Beta Gel Acne Treatment

And though none of the experts we spoke to specifically called this out, writer Frankie May Wong declared this salicylic-acid-enhanced Medik8 gel as her cystic-acne Holy Grail. She uses it sparingly to avoid it losing its efficacy, but thanks its blend of acne-fighting ingredients for her clear skin and the lack of scarring thereafter: "Another reason the Beta Gel seemed to work miracles could've been the combination of dioic acid (a rarer ingredient that otherwise only appears in the pricey but raved-about SkinCeuticals Blemish + Age Defense serum), azelaic acid, and niacinamide."
Traditional Medicinals Organic Spearmint Herbal Tea

Even something as simple as tea could be the ticket to decreasing your cystic-acne breakouts. Writer Crystle Martin credits spearmint tea (and lots of it) for reducing her regular cystic breakouts down to just once a month, which a dermatologist she consulted chalks up to its many health benefits. "Spearmint tea works due to the efficacy of the compounds inside it: flavonoids, menthol, limonene, and rosmarinic acids, which each have either anti-inflammatory, anti-bacterial, anti-fungal, or anti-viral properties (or some combination of these)."

Slate has relationships with various online retailers. If you buy something through our links, Slate may earn an affiliate commission. We update links when possible, but note that deals can expire and all prices are subject to change. All prices were up to date at the time of publication.
---