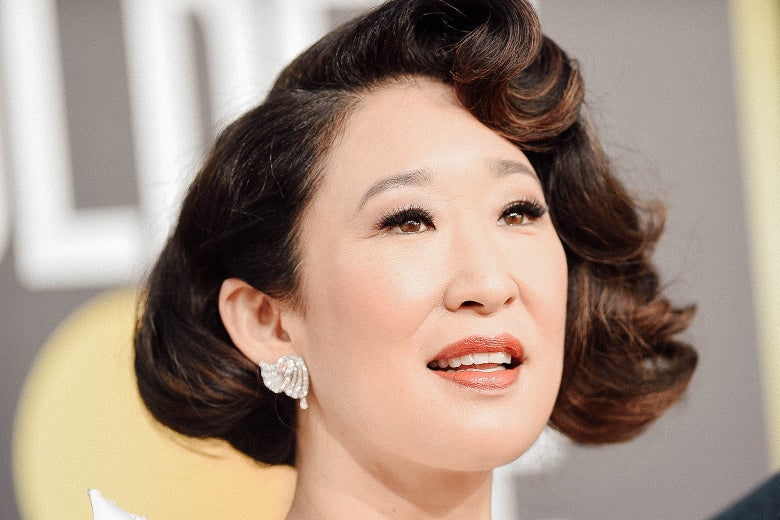 Last year's Golden Globes red carpet was a blackout, an ill-conceived protest against sexual harassment in the industry that fell flat. Actresses on the red carpet promised that the color boycott was more than a statement, that it would be a movement that would fundamentally shift the sexist undertones of the red carpet for good.
This year, that promise went … unfulfilled. Red carpet chatter was as frothy and idle as ever. One of the few people to wear a Time's Up–branded accessory was accused abuser Ryan Seacrest. (Another was Hollywood Foreign Press Association president Meher Tatna, who declined to participate in the 2018 blackout.) On E!, the fashion critics wondered aloud about what the skinniest actresses were eating and complimented those who looked like they'd "stopped aging."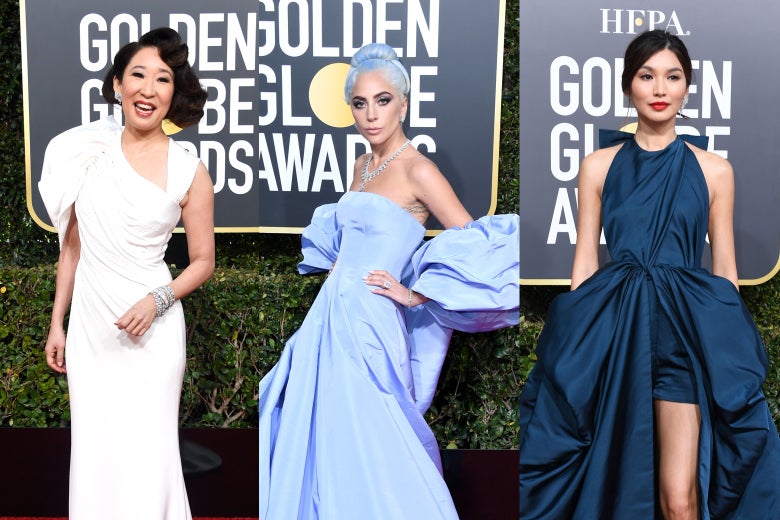 But hey, the outfits were great! Luxurious fabrics in structured silhouettes won the night, with host Sandra Oh arriving early in white Versace with a standout ruffle and similarly asymmetrical hair. Lady Gaga looked like a stairway to heaven in periwinkle Valentino with a marathon train and an updo dyed to match. Crazy Rich Asians' Gemma Chan wore an exquisite multi-tiered gown that was a party in the front (big bustle, booty shorts), business in the back (a demure bow).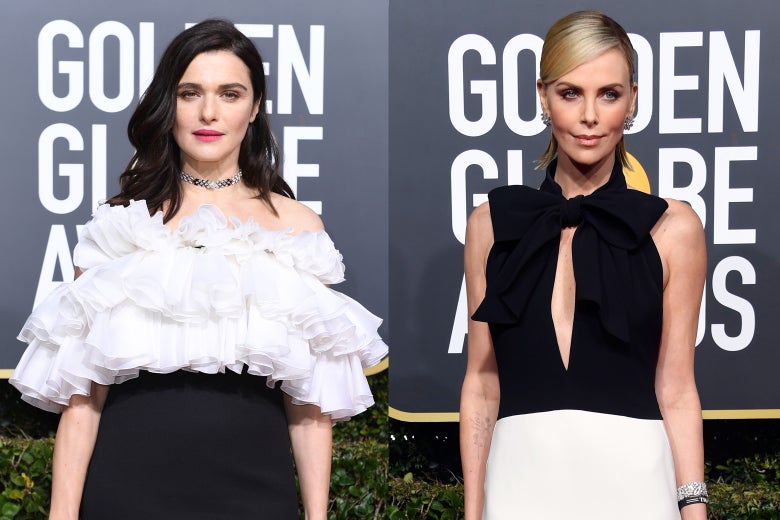 Rachel Weisz and Charlize Theron were on the color-blocking trend, in black-and-white getups set off with extra-feminine details.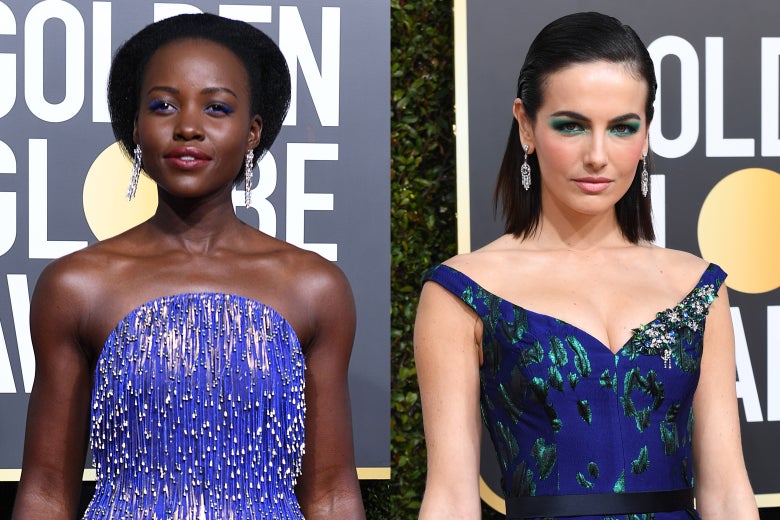 Saturated color was big after a year of all black, and a few actresses made their shades go the extra mile with matchy-matchy makeup. Lupita Nyong'o, in cornflower blue-beaded fringe that shimmered like liquid, and Camilla Belle, in midnight and jade Jason Wu with a gorgeous portrait neckline, wore the same striking blue tones on their lids and lashes.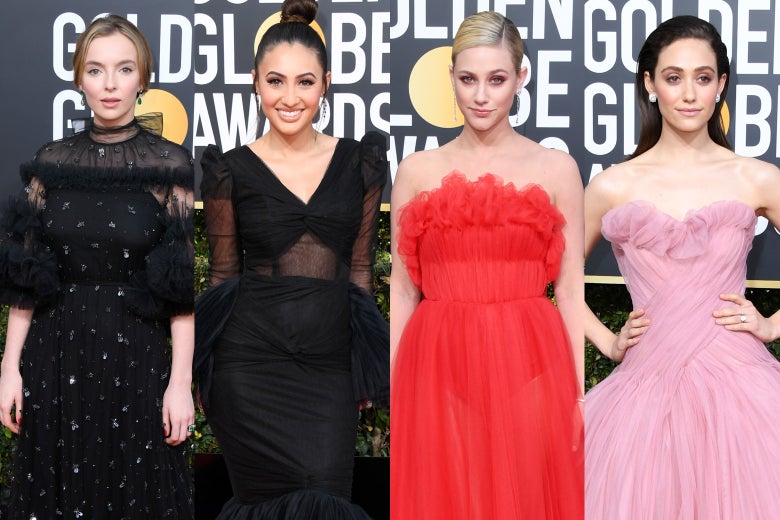 There were tons of tulle at Sunday's awards show, with light, fluffy layers floating all the way down the red carpet. Jodie Comer, who made Molly Goddard's pink tulle dress famous on Killing Eve, wore the fabric in a redundantly tufted Ralph & Russo dress with tiny insect-shaped beaded appliqués. Grown-ish's Francia Raisa took a more form-fitting tack with sheer panels and a mermaid silhouette. Emmy Rossum and Riverdale's Lili Reinhart went full princess with ruffles and bustles.
Tulle returned to its ballerina roots on Constance Wu and Kiki Layne, who wore elegant, muted neutrals with corset boning. Alison Brie brought out its sexier side with a visible spangled bandeau.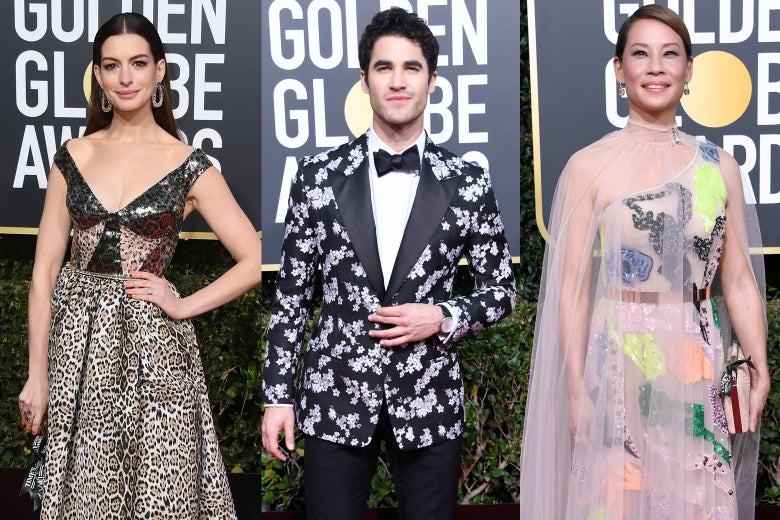 The Golden Globes is known as the looser, livelier show of awards season. (For one thing, there's conspicuous booze.) A few attendees embraced the spirit with bold, risk-taking prints. It was a bit of a surprise to see sparkly leopard print on Anne Hathaway, who usually goes for more conservative garb, but she looked fabulous. After dramatizing the story of an Italian fashion house on The Assassination of Gianni Versace: American Crime Story, Darren Criss wore floral Dior. Lucy Liu looked like she stepped straight out of a magnificent, glitter-glued Matisse collage onto the red carpet.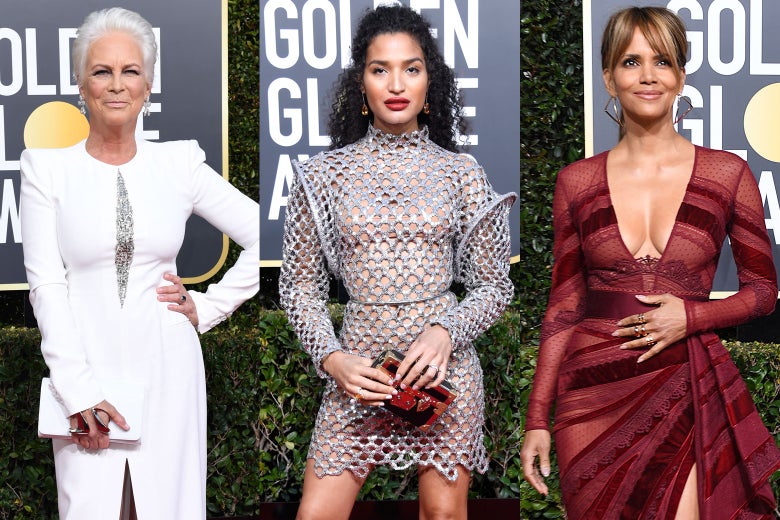 Mixed textures were incredibly sexy on Jamie Lee Curtis, who sported a sparkly faux-cutout on her chest; Indya Moore in thick netting that she described as Afrofuturistic "armor"; and Halle Berry, whose pasted-on lace and velvet Zuhair Murad confection should be illegal.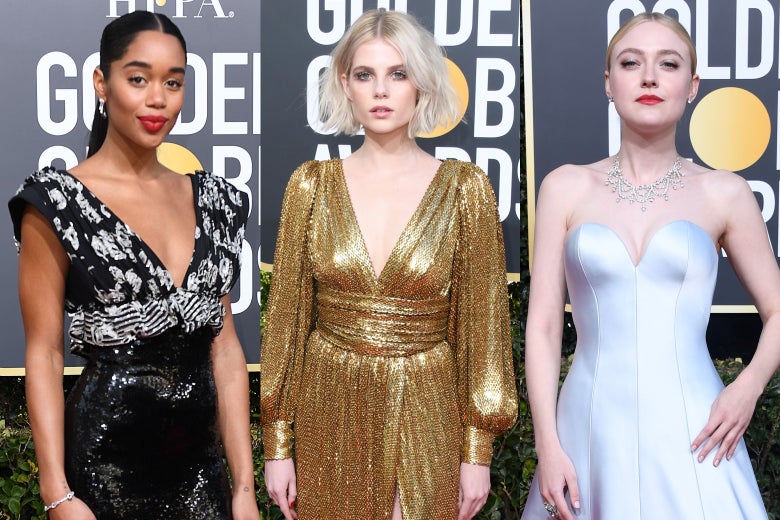 On the hair front, dozens of middle parts added classic structure to both sleek and messy looks. BlacKkKlansman's Laura Harrier, Bohemian Rhapsody's Lucy Boynton, and Dakota Fanning were stars of the style.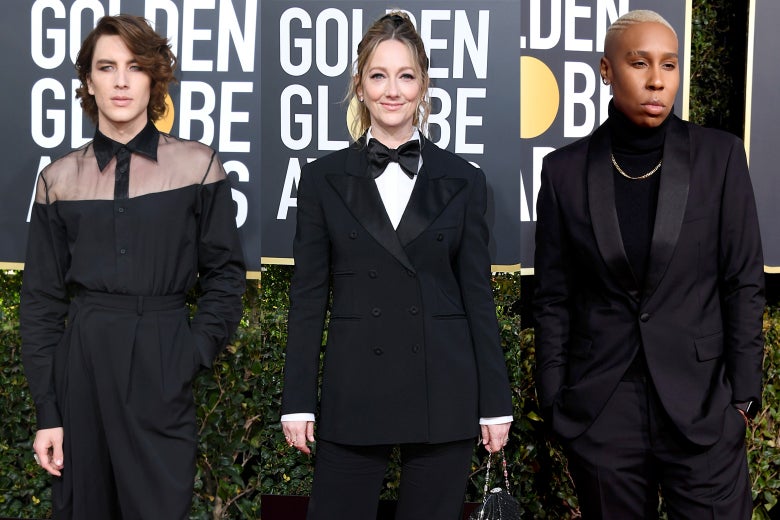 Some of the night's best looks were simple, all-black outfits with unexpected elements. Cody Fern of The Assassination of Gianni Versace: American Crime Story looked stunning in a sheer-paneled button-down, smoky eye makeup, blousy slacks, and antichrist-appropriate cloven shoes. Judy Greer wore a brilliantly exaggerated bowtie and wide-legged trousers with all the confidence of a Men's Wearhouse salesman. Lena Waithe was sharp as hell, mugging for photographers in a turtleneck sweater and gold chain under a well-tailored jacket with satin lapels.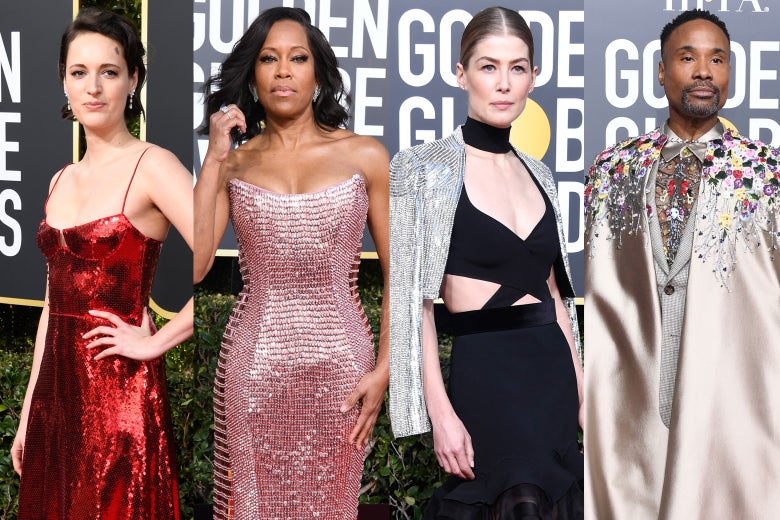 Sequins are always a favored texture at these sorts of things, so no matter how shiny the getup, it takes a lot to stand out. This year's success stories include Killing Eve creator and Fleabag star Phoebe Waller-Bridge in a slinky crimson number; Regina King in curvy-yet-angular bubblegum-pink scales; Rosamund Pike in a boxy coat; and Pose's Billy Porter in a twinkling top and preposterous cape he twirled for photographers.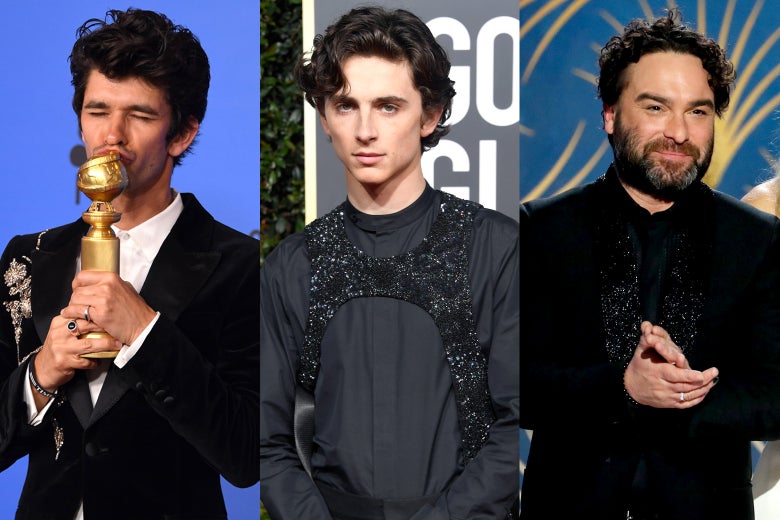 But spangles weren't just for the femmes this year! Timothée Chalamet topped the world's fanciest long-sleeved T-shirt with a glittering harness. An all-black suit looked sassier on The Big Bang Theory's Johnny Galecki thanks to his sparkly lapels. And Ben Whishaw could have passed for a Cinderella at the ball in a jacket adorned with a bejeweled bird, proving that glamour and whimsy don't have to be mutually exclusive.
Read more in Slate about the Golden Globes.
---